Tequila is a brand of spirit that most people have come to embrace. It is a unique drink with a strict distillation process, which every producer must adhere to, regardless of the product. Agavero Tequila Liqueur is not exempted.
The origin of this remarkable spirit is traced back to Jalisco, Mexico, the owners of tequila. They are experts in tequila production because their land is the best for cultivation.
In this article, we will be doing an Agavero Tequila Liqueur review, covering all there is to know about Agavero Tequila.
Let's get started!
Value for Price

Mixability

Sippability
Quick Facts
| Name: | Agavero Tequila Liqueur |
| --- | --- |
| Brand: | Agavero |
| Country: | Mexico |
| Spirit Style: | Herbal & Spice, Herbal Blend |
| Spirit Type: | Liqueurs/Cordials/Schnapps |
| ABV: | 32% |
Brand History
The master distiller Lazaro Gallardo created Agavero in the heart of the tequila-growing region of Jalisco, Mexico, in 1857. He designed a secret recipe to meet the classy taste of his friends. Thus, he established the Agavero Company to produce Agavero Tequila Liqueur, named after the 'Blue agave' plant from which this drink is made.
The production process of this specialty liqueur is straightforward. It starts by baking the heart of the Blue agave to elicit aguamiel (honey water). The water undergoes natural fermentation and double distillation processes. The result is a smooth tequila with its natural sweetness.
But it did not end there. Two distinct styles of tequila are created from the output: The Reposado, aged six months, and the Anejo, aged 18 months, in white oak casks. The essence of the aging (resting) is to allow the flavor of the white oak barrel to infiltrate the liquid.
After that, the tequila is hand-mixed with Aagvero's unique ingredient, the essence of Damiana Flower. The flower is indigenous to the Jalisco highlands and famous for its aphrodisiac qualities. You can enjoy the resulting liqueur, Agavero Tequila Liqueur, straight on the rocks or by blending it in a cocktail with a twist of lemon.
Besides, the company produces other tequila versions using nearly the same method. Recently, they have started creating eclectic gins, whiskey, and vodka.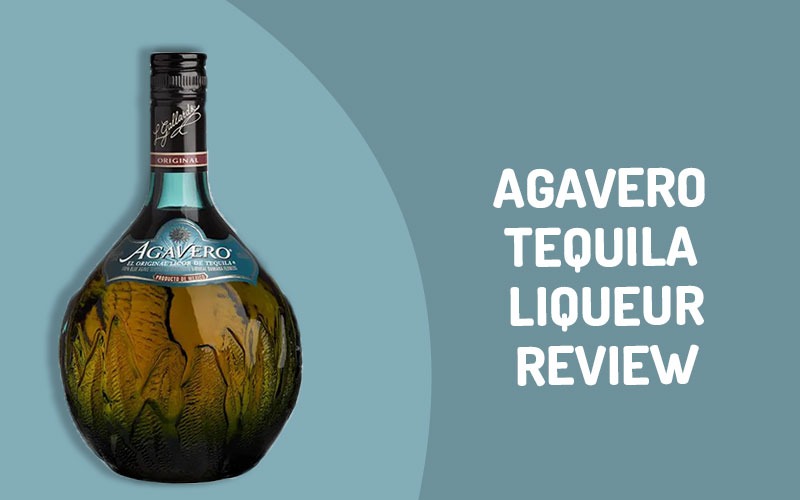 Agavero Tequila Liqueur Review
Appearance: This drink displays a golden amber color.
Nose: The whiff of caramel and butterscotch with coffee, dark chocolate, and black pepper spice crosses the nose at each sip.
Taste: Agavero Tequila Liqueur tastes slightly syrupy with complex vanilla, earthy agave, and rich honeycomb toffee. The flavor is sweet on the first sip but keeps heating up as the flavors become more pronounced with subsequent sips.
Finish: The mouth is left with lingering rich honeycomb toffee and elderflower-like floral notes. Generally, the effect is subtle, soothing, and smooth.
Taste summary: The most pronounced flavor in this liquor is the roasted agave, with its slightly earthy herbaceous, dark chocolate, coffee, and honeycomb toffee notes. This makes the liquor a better option for tequila-based cocktails than drinking it neat (which is not bad either).
Price: The price of Agavero Tequila Liqueur varies. However, on average, you can get a bottle at $79.99.
Alcohol: 32% ABV (64 proof) Agavero is a versatile spirit with 32% alcohol by volume (ABV) and 64 proof. This differs from the typical tequila, bottled at 80 proof. Hence, it may not be the best choice for tequila purists. But that does not mean it is not significant among the Mexicans.
In addition, you must check the bottle to know if it is made from 100% blue agave. There are diverse species of agave, but for a drink to be tequila, it must be made from at least 100% blue agave. Hence, you should not only look out for the alcohol content but ensure it is the original version you are dealing with.
If it is labeled Gold (Oro), you are dealing with a Mixto, which is below quality. A Mixto contains only 51% blue agave; it is colored and flavored with caramel to make it look like the aged version.
Again, even though it has 32% alcohol, it is better to drink Agavero Tequila Liqueur once you open it. When the bottle is tampered with, oxidation and evaporation will destroy the quality and affect the agave flavor.
Should you drink Agavero Tequila Liqueur?
Since Agavero Tequila Liqueur has less sugar and calorie, it will be a healthier option for your drink. But if you must combine it with other ingredients, you must be meticulous in understanding that the fundamental component will be affected. So, consider the tequila measure and the health implication of the other flavor in the mix. There are diverse reasons people take Agavero Tequila, some of them include the following:
May promote healthy skin: This spirit could help you achieve your skin goals if taken in moderation. In the past, agave was used to treat skin conditions. Hence, it can be used to detoxify and tighten the skin.
May help weight loss: Studies show that agavin (natural fructose found in agave) helps speed up weight loss. The plant's fiber can help keep you satiated, thereby eating less after drinking Agavero Tequila.
Appropriate for people with diabetes: People with type 2 diabetes may drink Agavero Tequila Liqueur in moderation. Because the sugars in agave are natural with no form of carbs, their blood glucose level may not rise much. Even at that, agave has other components that may positively influence glucose control. Therefore, compared to beer, sweetened beverages, or margaritas, tequila is more suitable for people with diabetes.
May promote a strong gut: Agavero Tequila Liqueur contains prebiotics responsible for healthy guts. Prebiotics are non-digestible ingredients that kindle the activities of probiotics (bacteria) in the colon. Note that taking alcohol excessively may cause gastrointestinal diseases.
Easy to sip: Aside from the health benefits of taking Agavero Tequila Liqueur, it is easy to drink. So, take the recommended amount occasionally, and you will enjoy a smooth mouthfeel with a blend of vanilla, oak, and agave.
How Best Is Agavero Tequila Liqueur Served?
The Mexicans prefer to take their tequila neat. But when it comes to their margaritas, they could add salt and lime to make them more inventive. It wouldn't be a bad idea to act like the owners of the world-celebrated tequila. A small glass in the evening will make an extraordinary moment. Here are different ways to try your Agavero:
Neat: Drinking your delicious drink pure and without any other ingredients, not even ice, is an excellent way of deriving pleasure from it. This is the most straightforward way to sip your tequila, except if you want to chill it.
On Ice: You can drink a glass of Agavero Tequila Liqueur on the rocks with a few ice cubes. Drinking it this way will help you get the taste of vanilla, oak, agave, and other perceptible flavors. One beautiful thing about it is that the flavors blend well and hit the spot. Some people squeeze a little lime into it. You can try it as well.
Cocktail: Add a few juices, like orange, lime, and pineapple with ice cubes, to your drink and gulp it down. Try it old-fashioned by mixing 1 ½ ounces of Agavero, one ounce of Cointreau, ¾ ounce of lime juice, and ¼ tsp sea salt for garnishing.
Perfect Pairings for Agavero Tequila Liqueur
You can seamlessly pair Agavero Tequila Liqueur with desserts, sandwiches, appetizers, and more. What's more, don't skip over those spicy, fatty, or salty food. They blend well with this tequila. Enjoy your Agavero neat, on the rocks, or in cocktails with any of the following:
Herb-rubbed grilled steak: Any cut will mix well with Agavero, especially the rich amounts of filets or steaks. As long as the grill is savory, bring it on.
Smoked food: Incorporate your Agavero Tequila Liqueur with charred flavors to bring balance. Try briskets, cheese, bacon, or even macaroni with a glass, and you will love the blend.
Dark chocolate: You can highlight the vanilla and oaky flavors of Agavero Tequila with chocolate cinnamon cake and chocolate ganache or make it simple with chocolate chip banana bread.
Popular Related Drinks
Agavero Tequila Liqueur has other closely related drinks people can choose from if they don't feel like taking it. If you are looking for a replacement for your Agavero, consider Agavero Orange Tequila Liqueur.
Agavero Orange Tequila Liqueur: mingles 100% blue agave infused with orange and pure agave nectar essence. It is sure to be the life of the party like its other Agavero counterparts. Besides, you can enjoy it neat, on the rocks, or in a cocktail.
Frequently Asked Questions – Agavero Tequila Liqueur
What are the ways to enjoy Agavero Tequila Liqueur?
Enjoy it straight, on the rocks, or in your favorite margarita.
Does Agavero Tequila Liqueur go bad?
Tequila does not quickly go bad. However, once you open it, try to finish it as soon as possible to retain its quality. The presence of oxidation and evaporation reduces the drink's quality and agave flavor profile.
What is Agavero Tequila made of?
Agavero Tequila Liqueur is created from 100% blue agave, is Anejo and Reposado-aged, and blended with the Damiana flower essence. This gives it unrivaled smoothness and flavor.
Cheers!
Agavero Tequila Liqueur is tequila with a difference. It has the presence of Damiana flower essence and 100% blue agave, which is the primary ingredient.
This drink is a natural sleep inducer, although it can be taken at any time of the day. Being of tequila product, you may get it at a costly price. However, drinking this comes with prestige.