Blow Job cocktail is a cocktail for the times as it has remained relevant for over three decades, serenading the taste buds of delightful drinkers with incredibly satisfying and refreshing tastes and flavors.
In this recipe guide, we will be looking at how this wonderful cocktail is made, the variants of this cocktail that exists, dishes you can pair with this cocktail and lots more
So, let's get started!
Blow Job Cocktail History
Blow Job Cocktail is a famous cocktail known for its playfully lewd name and its sweet, creamy taste that sends one to paradise while standing in a spot, with the glass of the cocktail in hand or on the lips.
The origins of Blow Job Cocktail is unclear, but it's believed to have originated in the 1980s as a playful addition to adult parties and events to make the party more merry and lively, especially whenever its name is called, which often attracts blushes or cheerful giggles here and there.
Many who attend garden parties and other small events are often seen clutching this drink due to how delicious and satisfying it is, and the best part about making this cocktail is how easy it is to put together.
Blow Job cocktail only requires three ingredients, which are easy to source for and the process of making the cocktail is so easy that some bartenders can do it with their eyes closed, so how about you try out this recipe and whip up something amazing for yourself?
Before you go ahead and mix a batch of this cocktail for yourself, remember that this cocktail contains a significant amount of alcohol and should be enjoyed in small quantities.
If you are in the mood to party hard or let loose, you can indulge yourself a bit, but knowing one's alcohol limit is key to enjoying this drink without having to lose sense of your cognition.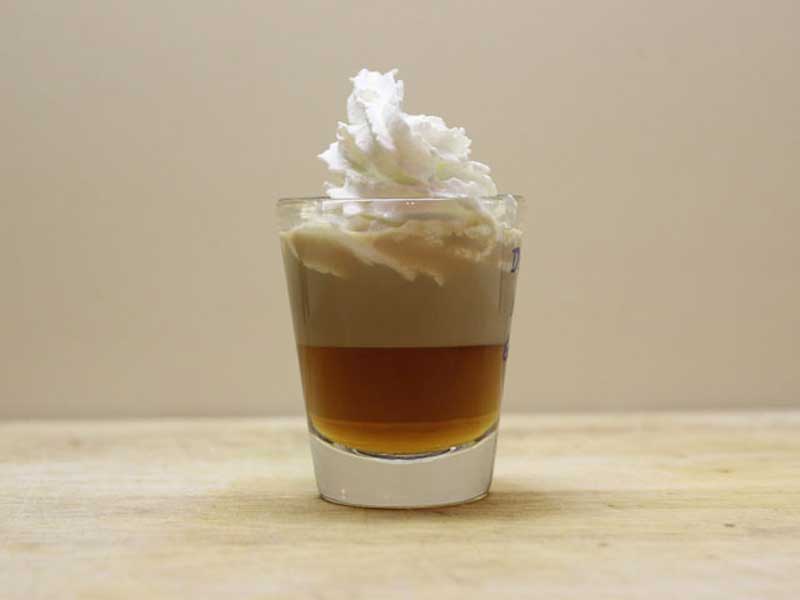 Why It Is A Must-Have
There are a whole lot of reasons why people choose to drink Blow Job cocktails. Aside from the amazing taste that many cannot resist, this cocktail has a lot of incredible features, appeal and a satisfying feel that makes it an ideal choice among many cocktails. Here is why this cocktail is popular.
Great Conversation Starter: A lot of people have used this drink as an icebreaker to start conversations with people they seem to be interested in talking to due to the attraction the name of the drink commands.
Asking a bartender for a blow job cocktail is sure to turn some heads and that might be your opportunity to either flash a smile to someone you have been meaning to talk to all evening or just simply raise your eyebrows with a smile on your face while you look at them.
Unique and Well-Balanced Flavor: The combination of Baileys Irish Cream Liqueur, Whipped Cream, and Amaretto Liqueur in Blow Job Cocktail creates a unique and well-balanced flavor that is sweet and indulgent.
The nutty and sweet taste of the Amaretto complements the rich and sweet taste of Whipped Cream, while the creamy and smooth texture of the Baileys Irish Cream ties it all together to create a perfect mix.
Perfect For Parties: Its playful name and indulgent taste are sure to be a hit with party-goers who enjoy sweet and fun cocktails. The taste is a darling on the taste buds of party goers too who enjoy its creamy texture and satisfying feel.
Easy To Make: Blow Job Cocktail is easy to make, making it a great option for those who want to try a new cocktail but don't have a lot of experience with mixology or how to combine ingredients to create an amazing serving of cocktails.
Most recipes for Blow Job Cocktail require only a few ingredients and simple steps to prepare.
Versatile: While the traditional Blow Job Cocktail recipe includes Whipped Cream, Baileys Irish Cream, and Amaretto liqueur, there are many variations of the cocktail that incorporate different ingredients; this makes Blow Job Cocktail a drink that can be customized to suit individual tastes.
Great Dessert Substitute: For those who enjoy sweet and indulgent desserts, Blow Job Cocktail is a great alternative. Its rich and creamy taste makes it a satisfying substitute for dessert, and its small serving size means that it won't leave you feeling too full or heavy.
Blow Job Cocktail Ingredients
The fact that Blow Job cocktail is made with simple, easy to find ingredients makes it something you can try out at home without having to go through the stress of combing through markets to find ingredients to use for this recipe. The ingredients needed for this cocktail include:
Amaretto Liqueur: Amaretto liqueur is made from almonds and apricot pits, which gives it a nutty and sweet flavor that is smooth on the tongue.
The presence of Amaretto liqueur adds a smooth texture to Blow Job cocktail due to its thickness and viscosity, which helps to create a creamy and indulgent mouthfeel.
Irish Cream Liqueur: Irish cream liqueur is made from Irish whiskey, cream, and other flavorings, giving it a rich and creamy texture and a sweet flavor. It's often used in cocktails to add a luxurious and indulgent touch, and it's a key ingredient in Blow Job Cocktail for this reason.
The creaminess of the Irish cream liqueur helps to tie all the flavors of the cocktail together, creating a smooth and cohesive taste. Its sweetness also complements the nuttiness of the Amaretto, creating a well-balanced and complex flavor profile.
Whipped Cream: Whipped cream is made by whipping heavy cream until it becomes light and airy, giving it a fluffy and creamy texture. It's often used as a garnish for cocktails to add an indulgent and decorative touch, and it's a key component of the Blow Job Cocktail for this reason.
The whipped cream in the Blow Job Cocktail adds a light and fluffy texture to the drink, which enhances the creamy and smooth mouthfeel of the Irish cream and Amaretto. It also adds a visual element to the cocktail, making it more visually appealing and enticing.
How To Make Blow Job Cocktail: Step-By-Step Instructions
Here are the simple steps to follow to make a standard serving of Blow Job cocktail.
Step 1: Use a jigger or a measuring cup to pour exactly 1/2 oz of amaretto liqueur into a shot glass or a cordial glass.
You can adjust the amount depending on your personal preference or the size of your glass, but the traditional recipe calls for this amount.
Step 2: Measure out 1/5 oz of Irish cream liqueur using a jigger or a measuring cup. Slowly pour the Irish cream on top of the amaretto, using a spoon or a pourer to help create a distinct layering effect.
This layering effect is what gives the Blow Job Cocktail its signature look, with the creamy Irish cream floating on top of the brownish amaretto.
Step 3: Add a dollop of whipped cream on top of the Irish cream layer, making sure it covers the entire surface of the drink. You can use store-bought whipped cream or make your own by whipping heavy cream until it's light and airy.
Step 4: Serve.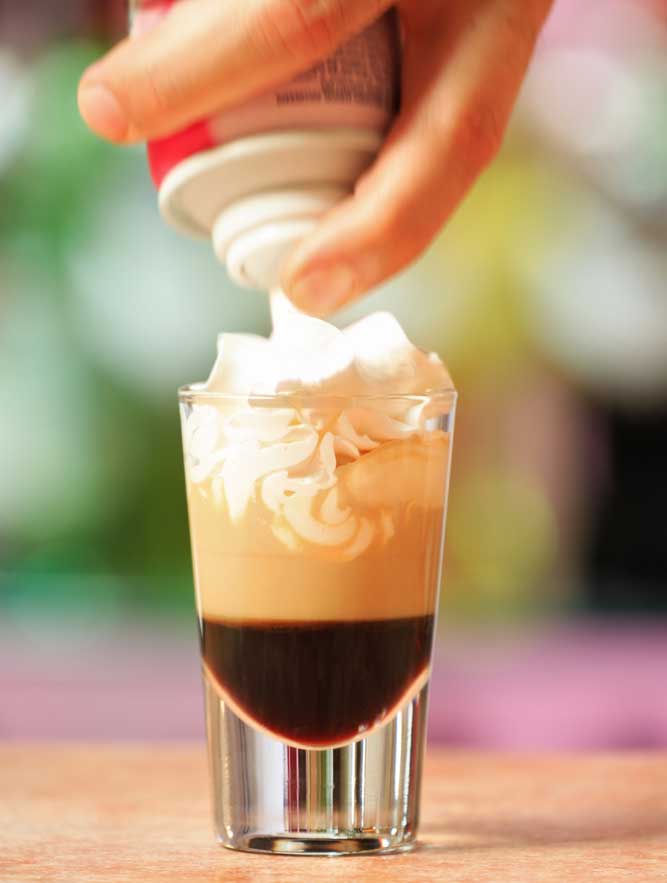 How Blow Job Cocktail Is Best Served
The Blow Job Cocktail is traditionally served as a shot or a cordial, which is a small glass designed for sipping liqueurs; to enhance the experience, you can serve the cocktail chilled by storing the glass in the fridge or freezer for a few minutes before pouring the ingredients.
Some people also like to rim the glass with sugar beforehand, which adds a sweet and crunchy texture to each sip, but we consider this absolutely unnecessary unless you choose to do so for personal reasons.
Another fun way to serve the cocktail is by using a layered shot glass or a shooter, which has separate compartments for each ingredient; this way, you can see the distinct layers of amaretto, Irish cream, and whipped cream in the glass, which adds to the visual appeal of the drink.
For garnishings, this cocktail needs no garnishing due to the type of cup it is served in and the fact that adding a garnishing will overshadow its appealing appearance.
Perfect Pairings
Blow Job Cocktail is best paired with meals that will highlight its wonderful taste and bolden its unique taste profile. Some meals you can pair this cocktail with includes:
Chocolate Desserts: The rich and nutty flavor of the amaretto in the cocktail pairs well with chocolate, making it a great accompaniment to chocolate cake, brownies, or truffles.
Fresh Fruit: If you're looking for a lighter pairing, try serving the cocktail with fresh fruit, such as strawberries or raspberries. The sweet and tart flavors of the fruit will complement the sweet and nutty flavor of the amaretto.
Sweet and Savory Snacks: The cocktail's sweetness can balance out the saltiness of snacks like popcorn or pretzels, making for a fun and unexpected pairing.
Spicy Wings: The sweet and creamy flavor of the cocktail can help to cool down your taste buds after eating Spicy Wings.
Cheese and Crackers: The nutty flavor of the amaretto in the cocktail pairs well with salty and savory snacks, like cheese and crackers or mixed nuts.
Blow Job Cocktail Variations
Deep Throat Cocktail: This variation is made by adding blue curaçao to the original recipe, giving it a bright blue color and a sweet and citrusy flavor.
Screaming Orgasm Cocktail: This version is made by adding vodka to the original recipe, creating a stronger and more potent cocktail.
Mind Eraser Cocktail: This variation is made by layering the ingredients instead of mixing them, creating a visually appealing and fun drink. The Kahlua is added to the bottom of the glass, followed by the Irish cream and Amaretto, creating distinct layers.
Buttery Nipple Cocktail: This variation is made by substituting Bailey's Irish Cream for the regular Irish cream liqueur, giving it a richer and creamier flavor.
Some variations also add butterscotch schnapps to enhance the sweetness and richness of the cocktail.
Slippery Nipple Cocktail: This version is made by adding a layer of Sambuca to the original recipe, creating a distinctive flavor and adding depth to the cocktail.
Frequently Asked Questions – Blow Job Cocktail
What type of glass should I use for this cocktail?
You can serve it in a small cocktail glass or a shot glass with a stem, and sometimes, people use just any glass; the important thing is to choose a glass that is small enough to be consumed in one or two sips, so as to fully appreciate the flavor and texture of the cocktail.
Can I make this cocktail without alcohol?
While the alcohol in the cocktail is a key component of its flavor profile, you can make a non-alcoholic version by using amaretto-flavored syrup and non-alcoholic Irish cream; this will give you a similar taste and texture to the original cocktail, but without the effects of alcohol.
Is the Blow Job Cocktail suitable for all occasions?
Blow Job Cocktail is a drink that is best enjoyed at informal gatherings or parties. It can be a great addition to bachelorette parties, birthday parties, or other festive occasions where a bit of playful indulgence is encouraged.
Can I make variations of this cocktail with different ingredients?
Absolutely! The Blow Job Cocktail is a versatile drink that can be adapted to suit your tastes and preferences. Some popular variations include adding Bailey's Irish Cream or Kahlua to the mix, or using different types of liqueurs to create new flavor combinations.
You can also experiment with different types of whipped cream or garnishes to add your own unique twist to the cocktail as listed in the variants section of this recipe guide.
Is Blow Job Cocktail only for adults?
Yes, Blow Job Cocktail contains alcohol and is only intended for consumption by adults of legal drinking age.
Cheers!
In conclusion, Blow Job Cocktail is a fun and delicious drink that's sure to liven up any party or social gathering. Its sweet and creamy flavor profile, combined with its playful presentation, makes it a must-try for anyone looking to indulge in a little bit of fun and frivolity.
Whether you're a fan of the classic version, or prefer to experiment with the many variations of this popular cocktail, there's no denying that the Blow Job Cocktail has a unique and unforgettable charm.
So how about you make a serving of this tasty drink at your next get-together and let the good times roll.
Print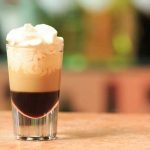 Blow Job Cocktail Recipe
---
Author:

Total Time:

5 minutes

Yield:

1

cocktail

1

x
Description
The Blowjob shot is a sweet, creamy and exciting drink perfect for you to go wild with at a party. This fun layered cocktail gets its fame from its spicy name, the way you drink it, and of course, its deliciousness!
---
1/2 oz

of Amaretto Liqueur

1/5 oz

Irish Cream Liqueur
Whipped Cream
---
Instructions
Step 1: Pour 1/2 oz of amaretto into the shot glass.
Step 2: Layer 1/5 oz of Irish cream on top of the amaretto.
Step 3: Add whipped cream on top.