Would you like to know what strawberry and kiwi taste when combined in a vodka drink? Both are two complementary flavors with distinct features.
Bringing these flavors together in a vodka mixture is a thoughtful way of offering alcohol lovers something spectacular.
This drink was created by Boosie Badazz, one of the hottest American hip-hop stars. It originated in South Carolina and has become a top American-flavored vodka.
If you are wondering what Boosie Juice Strawberry Kiwi taste like, we will be doing a Boosie Juice Strawberry Kiwi review in this article, bringing to the table all there is to know about this drink.
Let's get started!
Value for Price

Mixability

Sippability
Quick Facts
| Name: | Boosie Juice Strawberry Kiwi |
| --- | --- |
| Brand: | Boosie Juice |
| Country: | United States |
| Spirit Style: | Flavored |
| Spirit Type: | Vodka |
| ABV: | 40% |
Brand History
Boosie Juice is connected to hip-hop artist Boosie Badazz, a native of Baton Rouge, Louisiana. He gained fame in the early 2000s after signing with Pimp C's Entertainment.
It was his premier celebrity-endorsed product line and garnered a runaway success. Therefore, it is safe to say the brand is celebrity-backed.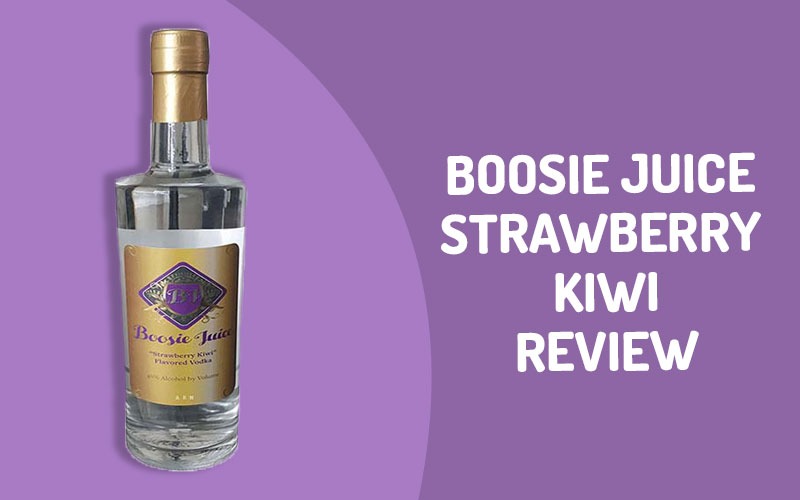 Boosie Juice Strawberry Kiwi Review
Strawberry Kiwi is an ultra-premium, all-natural strawberry-kiwi-flavored vodka. It is created to beat the summer heat, according to the owners.
Boosie Juice Strawberry Kiwi is among the smoothest vodka worldwide, with its unique flavor combination everyone loves. It is best served on ice or in a cocktail with a splash of pineapple juice or lemon.
Nose: Boosie Juice Strawberry Kiwi has a fruity, fragrant, and juicy aroma. You will get the undertone of the two base flavors – kiwi and strawberry.
Taste: The taste is refreshing, strong, and slightly sweet. Notes of strawberry and kiwi are apparent.
Finish: The end note is kiwi and strawberry with a sound bite.
Price: The average cost is around $30, which can be higher or lower depending on the shop or location.
Alcohol content: Boosie Juice Strawberry Kiwi contains 40% alcohol (80 proof), which makes it a highly alcoholic drink.
Should you drink Boosie Juice Strawberry Kiwi?
Since the 80s, the world has fallen in love with flavorful combinations, from infused water and soda to jams and smoothies. The strawberry and kiwi drink is another flavor combination that complements each other well. Boosie Juice balanced the sweetness of strawberry with the hint of kiwi tartness. What's more, the kiwifruit and strawberry taste great when blended. With vodka in the mixture, expect a blast of enjoyment.
Now, let us discuss what one can benefit from having a glass of Boosie Juice Strawberry Kiwi:
Nutritional benefits: both kiwi and strawberry are a nutritional powerhouse that should not be ignored. Boosie Juice Strawberry Kiwi has little fat, cholesterol, and carbs, which is good for the body. It also has a high amount of vitamins A, C, and E, making it highly antioxidants. This also makes it a cancer-fighting agent.
Vegan-friendly: Since the drink is plant-based, it can be a good vegan option for those strict on their diet.
Two unique flavors together: Strawberries and kiwis are a great source of nutrients. When they both add their flavors to the package, you can't help but fall in love. Even though they are good alone, a blend of both is heavenly. So, if you want to enjoy a complementary flavor in a vodka drink, you have Boosie Juice Strawberry Kiwi as an option.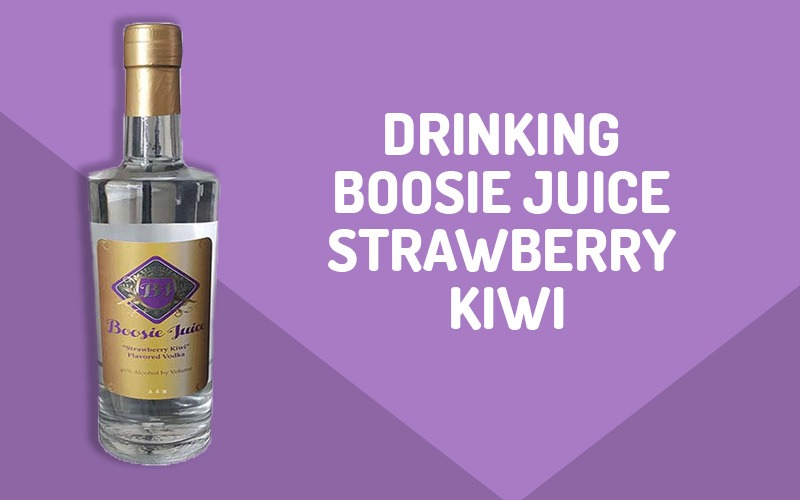 How to Serve Boosie Juice Strawberry Kiwi
As flavored vodka, this drink can be drunk straight as a shot or on ice. The strawberry-kiwi flavor will help to tone down the intense alcoholic nature of the vodka. Hence, it is easy to drink.
Another way to derive the best of Boosie Juice Strawberry Kiwi is by blending it with other drinks to make a cocktail. It can mingle with cranberry, citrus, pineapple, or orange juice. You can ice a few ice cubes or chill it before drinking.
You can make Mr. Grinch Cocktail using the drink. In a shaker filled with ice, add 3 oz pineapple juice, 1 oz Midori, ½ oz lemon juice, one mini bottle of Boosie Juice Strawberry Kiwi, and green sanding sugar for the rim (optional). Shake and strain over your glass.
Perfect Pairings for Boosie Juice Strawberry Kiwi
Boosie Juice Strawberry Kiwi can pair with lots of food due to its flavored nature. It creates a perfect balance in the palate when paired with salt, well-seasoned, or fatty food. Check out the following options:
Ham/sausage: Either sausage or smoked ham is bold in fat and salt. As such, it can perfectly blend with the refreshing flavor of Strawberry Kiwi vodka.
Pickles: The sour and salty notes blend well with vodka to enhance its taste and reduce the burn. Similarly, the flavor of Boosie Juice Strawberry Kiwi can make a perfect pair with pickles, giving a unique taste.
Sushi/sashimi: Sashimi is thinly-sliced raw fish or meat from Japan. Like sushi, the neutral vodka base mixes well with sashimi once both hit the palate. Both tastes improve each and give you a refreshing finish.
Popular Related Drinks
Boosie Juice has another brand of vodka that is also making waves in the United States. It goes by the name Boosie Juice Watermelon.
It is a watermelon-flavored vodka that includes only natural ingredients during distillation. This drink is distilled six times to obtain a smooth and natural flavor that distinguishes it from other drinks. It is excellent to drink on the rocks, mixed in a cocktail with a splash of fruit juice, or served with a fresh homemade watermelon glass. It is fruity, breezy, and captivating at the finish.
No doubt, Boosie Juice is one of the smoothest flavored vodka today. You can go for the Strawberry Kiwi or Watermelon flavor. They are both exceptional.
Frequently Asked Questions – Boosie Juice Strawberry Kiwi
How many calories are in Boosie Juice Strawberry Kiwi?
Boosie Juice Strawberry Kiwi, as a flavored vodka, is unlikely to have extra calories compared to plain ones. A 1.5-oz vodka has around 85 calories. Depending on whether you added other drinks like lime juice, there could be a variation.
What can you mix with Boosie Juice Strawberry Kiwi?
If you want to mix the drink in cocktails, there are various ways to make it unique. Since it is fruit-based, you can mix it with grapefruit juice, orange juice, Cointreau, Collins mix, or any other flavor. The beauty of having vodka as your base drink here makes it easier to go creative since it is neutral.
Are there various categories of vodkas?
Vodka can be plain, flavored, or fruit-based. They are all good and have high alcohol content.
Cheers!
Boosie Juice Strawberry Kiwi is a great drink that has dominated the market since its release in 2016. Like strong alcoholic drinks, ensure to drink responsibly.