Living up to its name, Butter Chardonnay is a top-quality wine gentle on the palate with a lingering finish. If you have ever wanted a unique chardonnay that will keep folks talking, you are on the right track if you purchase this award-winning drink.
Chardonnay is equivalent to California wine. The world started looking at Californian wine differently after a 1973 Chateau Montelena Chardonnay reached the top at the Judgment of Paris.
In this article, we would look at the history of Butter Chardonnay, its production process, its best pairings, and all there is to know about this drink.
Let's get started!
Value for Price

Mixability

Sippability
Quick Facts
| Name: | Butter Chardonnay |
| --- | --- |
| Brand: | Butter |
| Country: | California |
| Spirit Style: | Oak |
| Spirit Type: | White Wine |
| ABV: | 14.8% |
Brand History
According to Nielsen reports, Butter Chardonnay is the top-selling Chardonnay out of the 30 brands in the country. Since the first vintage release in 2010, the production of this wine has doubled. This feat cannot be achieved without the collective efforts of the JAM Cellars owners – John and Michele (JaM).
Sourced from a single-vineyard location between Los Carneros and Coombsville, Butter Chardonnay is a product of Napa Valley. The Napa vintners decided to create an explosive brand of Chardonnay, and the result is an ultra-premium wine that one can take any time.
The drink's success was mind-blowing, which lovers of wine can attest to. Besides, the drink melts in the mouth and is best for celebrations and late-night interactions.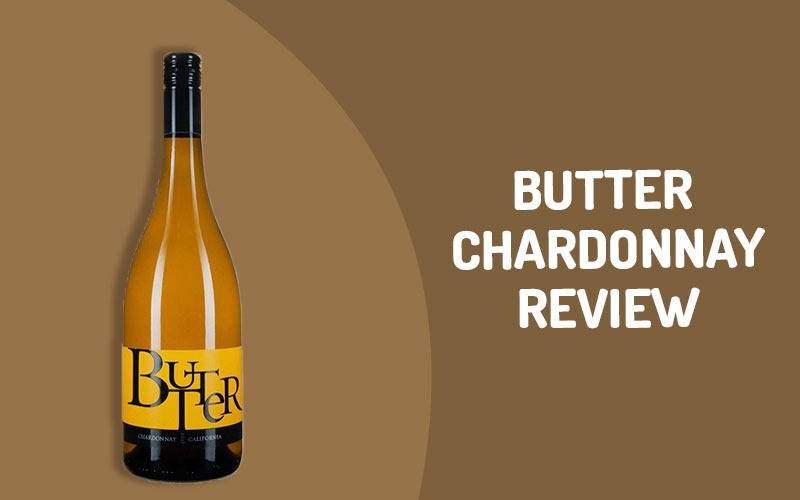 Butter Chardonnay Review
Made in the tradition of outstanding Californian winemaking, Butter Chardonnay is loaded, succulent, and easy to drink. It is cold-fermented and aged in a blend of oak, giving it the rich creaminess and vanilla finish it boasts.
Besides, this Chardonnay brand is double-fermented, giving it a buttery feel. There is a lot to know about this drink; keep reading as we unfold them:
Category: fans of Chardonnay are familiar with its classic description of green grape, citrus, and fig flavors, a complex aroma, crispy, and high tartness. Butter Chardonnay is a varietal of classic oak-aged style, delivering rich and creamy wine in the glass. Moreover, it is medium to full-bodied, with a bit of sweetness.
Nose: The aroma of this beautiful drink is a combination of baked-lemon and juicy, ripe stone fruit.
Taste: On the palate, Butter Chardonnay offers notes of roasted pineapple and caramel apple, perfectly complementing the intense, citrusy tartness and a creamy, smooth feel. Simply put, it melts in the mouth!
Tasting note: The note is medium body and dry.
Finish: The oak blend and cold fermentation give the drink a pleasant, long, vanilla finish.
Alcohol: 14.8%
Price: Butter Chardonnay costs around $30, excluding tax and delivery. You can purchase it lower or higher depending on the location.
Should You Take Butter Chardonnay?
The bold Butter Chardonnay is among the popular white wines in the United States. While it pairs with varieties of food options, it also offers some health benefits. If you are about to take a sip, you should bear in mind the following perks of your preferred drink:
Low in net carbs: Butter Chardonnay is a good option for those watching their weight because of its reduced carbohydrate. However, consuming the drink in moderation is necessary because it contains a considerable amount of alcohol. No one with fatty liver disease should taste it, as the alcohol content could worsen it.
Keeps the heart healthy: Taking Chardonnay in moderation can help prevent heart attack and other closely related diseases, including kidneys and blood vessels.
Lowers risk of type 2 diabetes: When taken in moderation, Butter Chardonnay can help to prevent diabetes while boosting the immune system.
Keeps the body rejuvenated: White wine has properties that activate the Sirtuin 1 gene, which helps to slow down the aging process.
Reduces risk of stroke: Since wine increases blood flow, helps with anti-clotting, and raises good HDL cholesterol, it is a sure bet in lowering the risk of stroke.
Now that you have known some of the advantages of drinking Butter Chardonnay, you can relax and enjoy it. Don't forget that drinking in moderate portions is still the best. You can make it fun with a good dessert, seafood, or grilled chicken.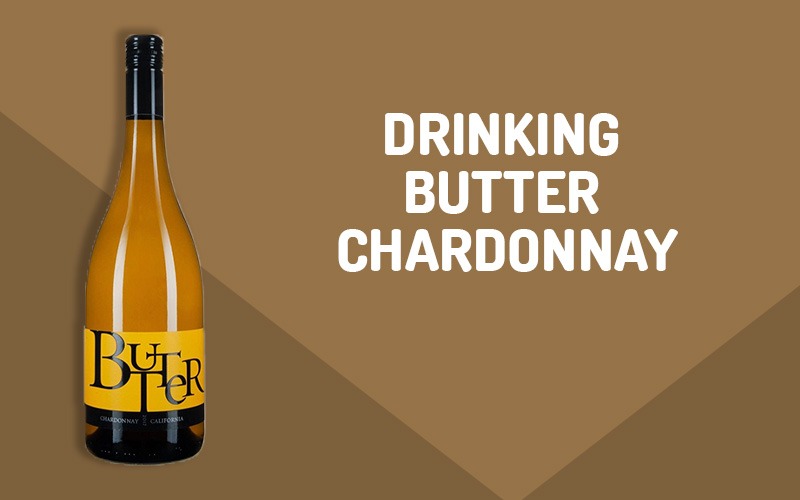 How is Butter Chardonnay Served?
Like any Chardonnay, this drink should be served chilled. If it is warm, it could make the alcohol taste hot. This also muddles the flavor; you wouldn't want to ruin your taste buds.
In addition, if it is too cold, the aroma and flavors will be muted, resulting in a bland mouthfeel. Hence, two hours refrigeration or 30 – 40 minutes in ice-water bath will be enough. If you are not able to finish it in one serving, you can replace the cork and take it back to the fridge.
Ensure to finish within two to four days so you can still enjoy the flavor. Once it exceeds that, oxidation will set in. When this happens, the wine will only be good for cooking.
Perfect Pairings for Butter Chardonnay
Chardonnay is a flexible grape with diverse expressions. If you are not a fan, you need to reconsider your stance. For a more refreshing outcome, Butter Chardonnay suits every palate. If you are wondering what to serve with your favorite wine, here are some ideas to get the party going:
Wine and cheese: Knowing which cheeses pair excellently with Butter Chardonnay is remarkable. It depends on your creativity and mood to keep it simple, elaborate, or arty. However, your favorite drink can pair with a triple-cream cheese, semisoft brie, or Monterey Jack. The outcome is splendid, with a rounded mouthfeel. Their taste is not overwhelming but balances with the wine's acidity.
Mac and cheese with creamy pasta: Lovers of classic Mac and cheese will enjoy the comfort they will obtain when they pair it with Butter Chardonnay. It is a match made in heaven. Add cauliflower, fresh peas, and toasted garlic breadcrumbs to the plate.
Carrot hummus with spring veggies crudités: We understand you might think there is nothing like carrot hummus. However, it exists and is served with locally grown vegetables and crackers. When blended with this creamy Chardonnay, the taste is new and captivating.
Coconut shrimp tortas: Keep it simple by selecting this food combination and serving it with slightly chilled Butter Chardonnay. It is filling and fabulous to the palate.
Popular Related Drinks
One may prefer other drinks if they don't enjoy Butter Chardonnay. They are closely related and won't be a bad substitute. They include Bread Butter Chardonnay, Woodbridge by Robert Mondavi Chardonnay White Wine, and Butter Cab. Here is why they are good options:
Bread and Butter Chardonnay: This drink is loaded with almond husk, vanilla bean, and hints of decadent crème brulee. The creaminess is balanced by a hint of tropical fruit and soft minerality, which leads to a lingering finish. It is another product of Napa Valley and pairs well with whitefish, chicken, shellfish, and mushrooms.
Woodbridge by Robert Mondavi Chardonnay White Wine: This is another Chardonnay brand worth tasting. It opens up an aroma of pear with a hint of oak and cinnamon. The taste offers flavors of apple and peach, which culminates in a toasty finish of oak and vanilla notes.
You can enjoy this Chardonnay alone, offering light to medium body and bright tartness. To derive the best pleasure, serve it slightly chilled. Besides, Woodbridge is an excellent pair with light appetizers and hearty sandwiches, including truffle risotto, seafood, and chicken.
It is packaged in a mini wine can, perfect for a single serving or sharing. This Woodbridge wine will keep you fresh and feeling silky all day. What's more, it has won multiple awards because everyone loves to wine their way with Woodbridge. It goes for around $30.
Butter Cabernet Sauvignon: Crafted in 2018, this brand of Chardonnay is a smooth and easy-to-love red wine. It is made from perfectly ripe succulent, dark-red cabernet fruits in the tradition of California winemaking. After that, the drink is aged in a specialty oak blend, adding a luxurious touch of vanilla and leading to a pleasant, lingering finish. Besides, Butter Cabernet is easy to drink and smooth upfront. The price is around $20.
Butter Knife Chardonnay: This Chardonnay is a slice of heaven straight from the heart of California. Offering silky pear, toasted spice, and baked apple flavor blends, you can't help but fall in love. The rich creaminess of Butter Knife pairs with creamy white sauces on pasta, poultry, and seafood. Moreover, the ABV is 13.5%, which makes it a moderately alcoholic wine.
Frequently Asked Questions – Butter Chardonnay
Does Butter Chardonnay have sugar?
As a wine, chardonnay has a little amount of carbohydrates, which means there is a presence of sugar in it.
How does Butter Chardonnay taste?
While it offers good taste and health benefits, this drink is a burst of flavors everyone should go for. You will enjoy a rich creaminess on the palate that blends with smooth vanillin-scented oak. Then, tropical flavors of honeydew and pineapple blend on the mid-palate, leading to a long finish.
What food goes well with Butter Chardonnay?
Diverse dishes taste perfectly with Chardonnay, especially the creamy, vanillin-oaked ones. Foods like seafood, pasta, veggies, chicken, etc., make it to the top list.
How many styles of Chardonnay exist?
There are two different styles of Chardonnay: The creamy, rich white wine, made from classic oak-aged style, and the un-oaked style of lean, minerally, and dry wine.
Cheers!
Butter Chardonnay is a must-have on your shelf if you love the idea of rich, creamy, white wine. It is luscious to the palate and easy to drink. Straight from the heart of California, this drink variety offers eclectic benefits and can pair excellently with many food options. Try it today!