Casino Azul Anejo Jaguar is a pride of Anejo tequila, with a beautifully shaped decanter and an inviting aroma that inspires thirst. It is a happy soul's favorite, scintillating the palate with its rich, fruity, and smooth notes.
Originating from the center of Mazahua, Mexico, is proof that Casino Azul Anejo Jaguar has a firm root. Besides, it combines history, art, and tequila of the highest worth, which makes it an expression that genuinely honors Mexico.
There is something extraordinary about the drink, which many have discovered, and a few are on the track to discover.  Here is a Casino Azul Anejo Jaguar review for you.
Let's get sipping!
Value for Price

Mixability

Sippability
⇒ Fun Facts ⇐
| Name: | Casino Azul Anejo Jaguar |
| --- | --- |
| Brand: | Casino |
| Country: | Mexico |
| Spirit Style: | Anejo |
| Spirit Type: | Tequila |
| ABV: | 40% |
Brand History
Created by Selecto Distillery, Casino Azul Anejo Jaguar is a product of 100% blue agave and bottled in a one-kind carafe.
There is not much about the company or the originators of the drink except that a prominent family owned it in Jalisco. Moreover, the drink is high quality and meets the standard requirements before being doled out to the public.
It has also won international and local awards, distinguishing it from the rest.
Casino Azul Anejo Jaguar is made from Mexico's finest blue agave plants, offering a classy and diverse flavor. The plants are harvested in the Jalisco Highlands and trimmed to obtain the heart of the agave.
The heart is slowly cooked in brick ovens to elicit the sugars. The plant is then crushed and fermented before distilling using a special distillation process.
At this point, only the purest of the liquid makes it to the next stage. The remains are aged in American barrel oaks, where they stay for at least 18 months. The essence of aging is to derive the best flavor from the drink. Besides, it is double-distilled for ultra smoothness.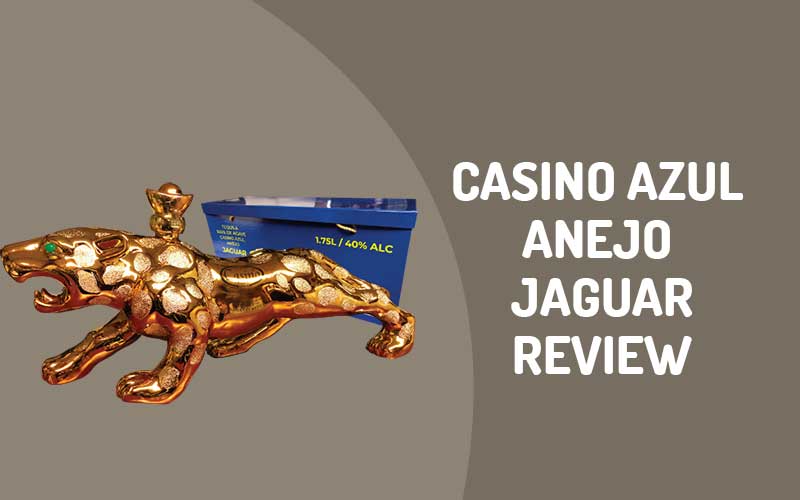 Casino Azul Anejo Jaguar Review
Palate: It does not matter if you are looking for tequila as a present for a loved one or if you want to enjoy it alone or mixed up as a cocktail. The drink provides the right feel and makes you crave more. It gives a delicious note of vanilla mixed with hints of fruits (nutmeg, oaks, clove, and orange marmalade) and an incredibly smooth mouthfeel.
Nose: While sipping, you will get complex fruity, oaky, and vanilla undertones, which are manageable.
Finish: Casino Azul Anejo Jaguar offers nice, smooth, lingering notes.
Appearance: The decanter is jaguar-shaped. Traditional recipes and values inspired every bottle, taking you back to its root. They are handcrafted and painted to differentiate each bottle from the other; only a work of art can do that. The complexity of the bottle is only matched by the content, which is made of 100% blue agave. Hence, it is safe to say that Casino Azul Anejo Jaguar is both decorative and delicious.
Color: The intense amber hue, with copper underlines, results from its 25-month rest in American oak barrels.
Price: The 1.75-liter (1/2 gallon) jaguar-shaped bottle costs around $200. There is a high demand for this drink, and many smaller retailers may cancel your order due to unavailability. Also, the price could be higher or lower due to location, personalities buying it, and the store where it is sold.
Alcohol content: 40% ABV (80 proof). This describes Casino Azul Anejo Jaguar as strong liquor, which should be taken moderately to avoid getting knocked down. As for tequila, people can easily be carried away by its unique taste and drink it excessively.
Pros & Cons
When it comes to tequila, everyone has a choice. However, they may not understand the perks of their choice beyond the taste. If you are a fan of Jaguar Tequila or about to join the bandwagon, here are the top reasons to sip a glass today:
Gluten-free: This drink is an excellent option for those with celiac disease or are suckers of gluten-free food. Since it is made from blue agave, it avoids the wheat problem, which is the root of gluten.
Mood elevation: Have you ever seen anyone upset holding a glass of cocktail? Unlike other liquors, Jaguar Tequila is known to be an upper, not a downer. Hence, you can count on a mood elevator whenever you need it.
Lowering blood sugar and cholesterol: Another perk of taking an agave-based drink is its ability to lower blood sugar levels and cholesterol. The plant contains agavins, a sugar from the leaf, which also triggers insulin production in the bloodstream. Similarly, they reduce triglycerides found in cholesterol.
Numb pain: When it enters the system, Casino Azul Anejo Jaguar expands the blood vessels and aids in conveying blood to all body parts. Thus, it reduces body pain.
Jaguar Tequila contains fewer calories, which is good for the body. It also has little carbs and sugar, so those who watch their weight can indulge. Drinking it neat or mixed in a cocktail would be best, and you are good to go.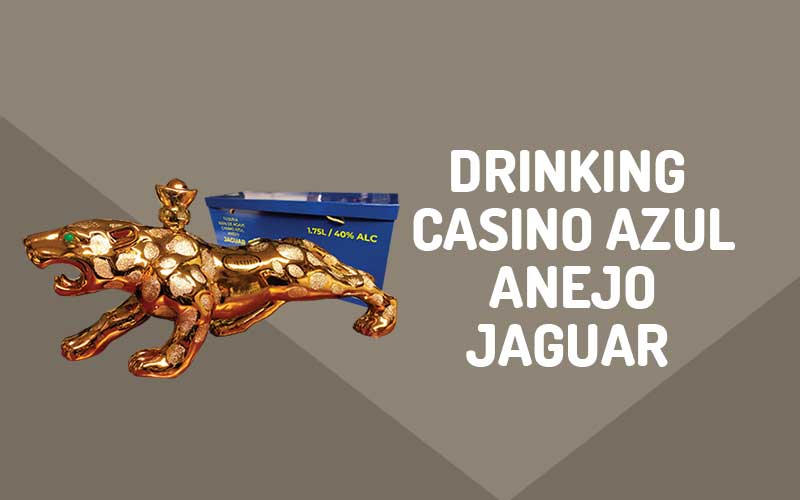 How Casino Azul Anejo Jaguar is Best Served
Although you can mix it into cocktails, the flavors of Casino Azul Anejo Jaguar are so unique that you can drink it neat or on the rocks. Hence, you can drink or blend it with other drinks to enjoy a cocktail.
The most common way to blend into a cocktail is the anejo old-fashioned. Mix it with bitters (not syrup or sugar), add a few ice cubes, and serve. Going creative and trying other flavors, like orange, lime, lemon juice, and soda, will be great for connoisseurs.
Perfect Pairings for Casino Azul Anejo Jaguar
Anejo tequila goes with diverse food and meats. Since Jaguar Tequila is of anejo family, it will surely pair with various food. The richer the flavor, the more likely it can pair with this drink.
Moreover, the spirit can be paired with the main course or as a nightcap. Here are some of the ways to have a blast with this drink as you pair it with your favorite meal:
Grilled meat: Try your Casino Azul Anejo Jaguar with rich cuts of meat, together with any BBQ sauce (mole, meat gravy, or veloute). Ribeye, duck breasts, prime ribs, and grilled chicken are the best.
Cheese: Accompany your semi-mature cheeses, bread, and red berry compote with a glass of Casino Azul Anejo Jaguar.
Chocolate: Whether bitter or sweet, pair your chocolate with a glass of this unique tequila. You can also add roasted banana or guava jam. Those with a sweet tooth can indulge their taste buds in something extraordinary. It is as good as a scoop of vanilla ice cream with your chocolate.
Chips and salsa: If you are Mexican, you will understand the extraordinary taste of chips and salsa and what it does to the palate. However, adding a sip of Casino Azul Anejo Jaguar gives it a rounded flavor.
Fried chicken: Try your Jaguar Tequila with hot, yummy, and crisped-skinned chicken. Nothing is tastier than the delicious flavor combination you will obtain.
Sandwiches: You can tell until you try. Don't miss pairing a Casino Azul Anejo Jaguar glass with banana, bacon, or peanut butter sandwiches. The sweetness of the banana and peanut with the meatiness and saltiness of the bacon is a beautiful blend with the vanilla and caramel flavor of the drink.
Sushi: Casino Azul Anejo Jaguar's vanilla and sweet notes were created for the sweet, buttery fish of sushi rolls. You should not miss it.
Popular Related Drinks
Aside from the Jaguar Tequila, Casino Azul has other varieties of tequila spirits that also cost high but have great value. Some of them include the following:
Casino Azul Anejo Tequila Aircraft Carrier Edition: This is another unusual decanter from the makers of Jaguar Tequila, but it is shaped like an aircraft. The content is also 1.75l, and the alcohol content is 40%. Besides, it has a pleasant aroma and is mild and smooth on the tongue, with a slight burning and extended ending. It has vanilla, agave, oak, and a rich, fruity flavor.
Casino Azul Grande Reposado Tequila Rifle With Gift Briefcase: This is another whimsical bottle from Casino Azul with a sweet fragrance of vanilla and fine leather. The color is golden, and comes with a briefcase because of its gun-like shape. As expected, it is made from 100% blue agave.
Casino Azul, Tequila Reposado: This tequila has a pale beige straw color, with a pleasant aroma of musty earth-like bottom and leathery wood. On the palate, it gives a smooth floral feel. It is something everyone should have in their bar because of its pleasantness.
Frequently Asked Questions – Casino Azul Anejo Jaguar
Is Casino Azul Anejo Jaguar good tequila?
Casino Azul Anejo Jaguar is one of the best tequila options out there. It has a hint of vanilla and fruity notes. Besides, tequilas are associated with celebrities, using them for relaxation and fun. These drinks help to elevate their lifestyle because they are the most sought-after worldwide.
What is the description of the bottle of Jaguar Tequila?
The bottle is fanciful and jaguar-shaped, making it difficult not to look the second time.
What is Casino Azul Anejo Jaguar made from?
Casino Azul Anejo Jaguar is premium tequila made from 100% blue agave and aged 18 months in American oak barrels. This results in smooth and intricate liquor with an amber color. Besides, it must be produced according to government guidelines to make it unique.
Cheers!
Casino Azul Anejo Jaguar is premium tequila made from the finest blue agave and packaged uniquely to give an excellent taste. It is among the best tequila, sold at a high price.
In addition, the drink is associated with celebrities, elevating their status and being part of their fun. It is worth every effort you make to get it.