Infused with a masterful blend of tropics, Ciroc is back to the market with another blast of vodka-based drink. Ciroc Passion Vodka is unlike other passion fruit-flavored vodka drinks. It is a drink worth the hype because it is distilled from fine French grapes.
Master Distiller Jean Sebastien Robicquet sits at the helm of affairs, controlling this family business dating back 500 years.
The company is situated in the heart of Villevert, France, in the famed wine region of Bordeaux. In this Ciroc Passion Vodka review, we will be bringing to the table all there is to know about his drink.
Let's get started!
Value for Price

Mixability

Sippability
⇒ Fun Facts ⇐
| Name: | Ciroc Passion Vodka Review |
| --- | --- |
| Brand: | Ciroc |
| Country: | France |
| Spirit Style: | Flavored Vodka |
| Spirit Type: | Vodka |
| ABV: | 30% |
Brand History
Ciroc is a brand of alcoholic beverages that has existed since 2003, with its root traced back to France. However, a British multinational alcoholic beverage distiller Diageo sits on the company's distribution arm.
The brand is known for its vodka, flavored products, and brandy. It is produced by Maison Villervert Distillery, owned by the Robicquet family.
Besides, its vodka is unique because it is derived from grapes rather than grains, corn, or potatoes. Jean Sebastien, an Oenologist, combined his distilling and enology skills to produce a range of Ciroc vodka and vodka-based drinks.
He has also been acknowledged as the 'Commandeur de Bordeaux' by the Great Council of Bordeaux Wines. This was to appreciate him for his endless production of premium and honest products.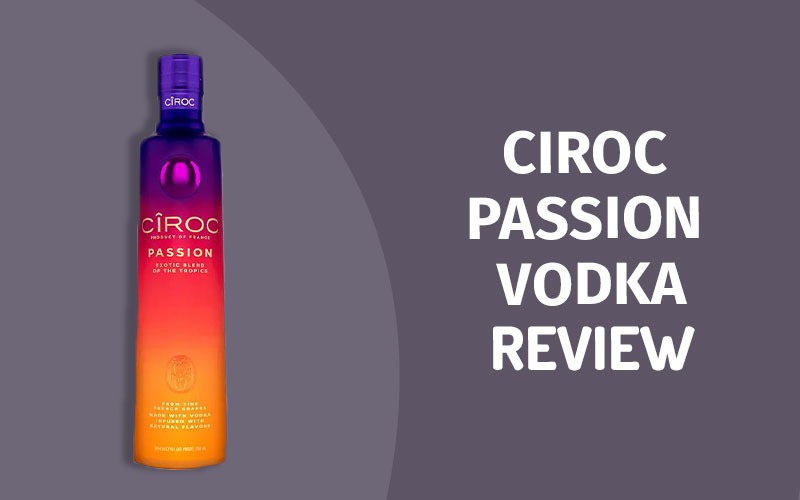 Ciroc Passion Vodka Review
The Ciroc Ultra-Premium Vodka distillation process ensures that only the best liquor is produced. Like the brand's products, Ciroc Passion Vodka is gluten-free and made from French grapes. It has a distinct flavor with fresh fruits as the natural base ingredients.
Ciroc Passion Vodka is meticulously infused with an exotic blend of diverse flavors from the tropics. At center stage, slight notes of pineapple citrus, mango, and hibiscus are identified. The resulting taste experience is succulently distinct and stylishly silky. To know about the tasting features, the following will guide you:
Process: Like all Ciroc Products, Passion is made from a vodka base crafted from a combination of Mauzac Blanc and Ugni Blanc grapes. The juice of these grapes is made into wine. It takes four bottles of these wines to make one bottle of Ciroc.
Next, the wine is distilled four times in a stainless column still, after which a fifth distillation follows in a classic customized copper pot still. Then, natural flavors are blended into the distillation before bottling at 30% ABV (60 proof). This happens at the Maison Villert Distillery in the South of France.
Nose: Ciroc Passion introduces itself with tropical and fresh juice notes and hints of exotic hibiscus.
Taste: At the front stage of the palate, sun-kissed notes of vibrant, juicy pineapple is experienced, while the mid-palate shows citrus notes. This fades into exotic hibiscus and tropical mango.
Finish: The experience finishes silkily smooth, leading to a fresh feeling.
Alcohol content: Ciroc Passion Vodka is bottled at 30% ABV (60 proof). If you are new to alcohol, you may add ice to it to reduce the alcohol volume.
Pros & Cons
This question is usually in the mouth of people trying to break into the habit of drinking vodka. They want to know what's in there for them. It is pretty understandable. If you are asking if you can take Ciroc Passion Vodka, the reasons below will guide your decision better:
Keeps the mouth clean: Many commercial mouthwash bottles contain alcohol, especially vodka. It helps in fighting harmful bacteria in the mouth. Drinking vodka in a measured amount can help to keep away mouth odor.
May protect heart health: Drinking Ciroc Passion Vodka may positively affect your heart's health. It reduces protein oxidation in the heart, which contributes to blood vessel hardening. So, take a glass in moderation for the sake of your heart.
Helps you stick to low carb: Cirok Passion can also hit you right in the carbs since it is nearly carb-free. This is better than taking beers or wines, whose carbs may be higher. Hence, if you are on a carb-restricted diet, taking vodka may be better than other alcoholic drinks. Don't forget to check the carb content of any drink you mix it with so you don't go overboard.
Reduces stress: Taking vodka in moderation can help to calm your nerves. This is one way to reduce stress.
Also Read: Black Maple Hill Bourbon Review
How is Ciroc Passion Vodka Served?
This spirit follows the usual process of taking related drinks. All you need is to get a glass and choose the following method.
Straight up: You can drink it straight from the bottle without chilling it or mixing it with anything. However, vodkas contain strong alcohol, so this method is not fully advised.
Ice-cold: Chill the drink and pour it into the glass before gulping it.
On the rocks: Serving your Ciroc Passion by pouring it over the ice in a glass helps water the alcohol content. This is a great way to drink it, especially if you are not a regular drinker.
In cocktail: Try it in mixed lemonade, grapefruit, or other desired methods. Everyday Passion is one method that Ciroc formulated, which is refreshing. The ingredients include 1.5 oz of Ciroc Passion, 1.5 oz orange juice, .25 oz Campari, 3 oz Club Soda, and ½ lemon squeezed. Add all the ingredients into a highball glass filled with ice, stir, and garnish with Mint or Edible Flowers. Then, serve it.
Perfect Pairings
It is ideal for pairing your glass of Ciroc Passion Vodka with the right food. This helps to bring out the natural flavor of the food. Indisputably, you will love the vibes your palate gives you. Some of the perfect food pairings for this delicious drink include the following:
Pickles: Pickles are low in calories, making them a great accompaniment to your Ciroc Passion. Enjoy the refreshing blend of salt and the smoothness of the drink. Add vegetables, like salads, to the pickles to reduce the overloading salt.
Cheese: Cheese is not meant for wine alone. Good cheeses combine with vodka flavors to give you a different feeling. But it can have more calories than you want. Hence, you may control the quantity of cheese going into your mouth. Taking a little at a time can balance it. What's more, the cheese's richness complements the Ciroc Passion's flavor.
Sashimi: You may not consider sushi when considering the perfect food for your Ciroc Vodka drink. However, sashimi can step in to quell the confusion. Complementing the freshness of this drink with the raw fish is priceless. Their flavors do not overpower the other. If that is not what you want, we can't say what else.
Caviar: This may be expensive, but nothing is wrong with spoiling yourself occasionally, especially on weekends. Add some toasted bread triangles to the platter, which will let your palate understand the extent you went to splurge it.
Related Drinks
Ciroc is well-celebrated for the exceptional quality of drinks it releases to the market. It has a wide range of flavored products of premium quality and vodka-based. There is nothing wrong with not wanting Ciroc Passion after our description. We hope any of the following will give you the satisfaction you crave.
Ciroc Honey Melon: This is the newest product with a limited-edition launch by the brand. It is created with vodka from fine French grapes and infused with honey, melon, and other natural constituents. The nose whiffs sweet, green melon with floral and delicately sweet honey hints. The taste is refreshingly excellent, with a distinct blend of sweet melon and delicate notes of honey and tropical flavors. This finishes with a sweet, green melon and a unique citrus taste.
Ciroc Mango: This rich and creamy-tasting liquor made with five-time distilled vodka from fine French is masterfully infused with mango and other natural flavors. The outcome is the most elegantly smooth and lusciously inventive drink you have ever known.
For tasting profile, the nose appears with bright tropical mango with hints of tang citrus. Similarly, creamy mango with undertones of citrus and other tropical flavors hits the palate and finishes with a smooth and creamy feel. Finally, it can be taken on the rock, as a shot, or mixed in your desired cocktail.
Ciroc Apple: Another explosion from the stables of Ciroc is the Apple flavor, which follows the same five-time distilling process and is infused with apple and natural flavors. On the nose, it appears with a bright, crisp green apple, whereas the taste is simply a succulent green apple that finishes silky and smooth. You can relish the flavor on the rocks, as a shot, or in cocktails.
Ciroc Ultra-Premium Vodka: Distilled five times from French grapes for an elegant, refreshing experience, this flavor is gluten-free. It also opens with refined, citrusy aromas and hits the palate with a silky and lightly sweet flavor enriched by natural grape notes. The finish is crisp and fine. Enjoy it in ice, as a shot, or in cocktails.
Frequently Asked Questions
Is Ciroc Passion Vodka good for making cocktails?
You can make cocktails using all Ciroc products. It is good with iced tea, soda, and fruity drinks.
What is the alcohol content of Ciroc Passion Vodka?
This drink contains moderate alcohol at 30.0% alcohol by volume (ABV).
Also Read: Chestnut Farms Bourbon Review
Cheers!
Ciroc Passion Vodka is one of a kind that deserves all the accolades. It is perfect for all occasions and can be taken neat, on ice, as shots, or in cocktails. Moreover, it is distilled five times for maximum smoothness and quality.