If you are over 21, chances are you have taken tequila at least once. While enjoying your shots or margarita, the last thing on your mind is the origin of such a drink.
The first version dated back to 1000 BC and was known as pulque, made from the fermented sap of the agave plant in northern Mexico. Since then, it has been progressively up the ladder for tequila lovers.
This article gives an honest Corzo Silver Tequila review, and we will include its origin to give you an idea of where it came from.
Let's get started!
Value for Price

Mixability

Sippability
⇒ Fun Facts ⇐
| Name: | Corzo Silver Tequila |
| --- | --- |
| Brand: | Corzo |
| Country: | Mexico |
| Spirit Style: | Blanco/Silver |
| Spirit Type: | Tequila |
| ABV: | 40% |
Brand History
Corzo is named in respect of Chiapa de Corzo town. The town was on the highland battleground where the last Native Americans fought with the Spanish Conquistadors.
The founding master distiller of Corzo Distillery used the name as a tribute to these indigenous people. The brand creates three variants of tequila: Silver, Reposado, and Anejo. In addition, it is the only tequila brand that uses sparging in its production.
The process involves microscopic air bubbles before bottling to let the tequila breathe. It combines science and art in the production process, creating one of the purest and most sophisticated spirits.
The Tequila Cazadores De Arandas produce Corzo tequila, S. De R.I. De C.V. (also known as Bacardi y Compania, S.A. de C.V.).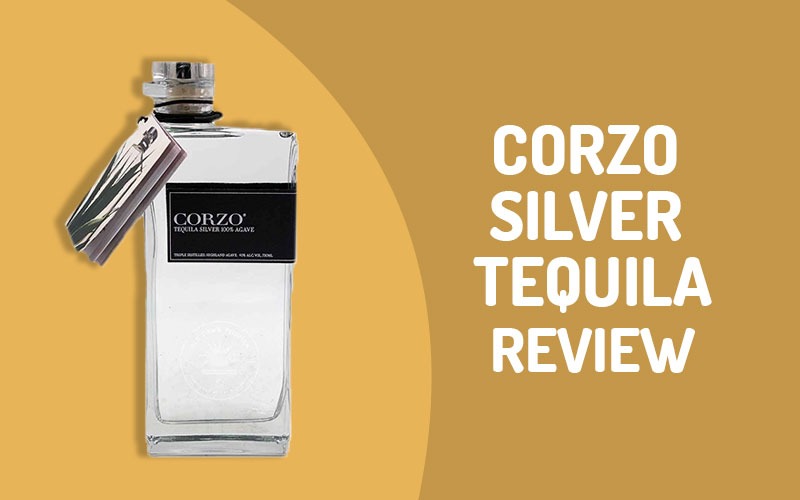 Corzo Silver Tequila Review
This remarkably pleasing and appetizing tequila contains notes of vanilla and citrus with a full aroma and flavor of blue agave. The production involves triple-distillation, which helps in giving it a clear, light to medium-bodied appearance. Its smoothness and cleanness make it easy to sip.
Category: Silver tequila is unaged tequila produced using the typical fermentation and distillation process of tequila production. It is lighter in texture and created from 100% blue agave. However, before bottling, the spirit is injected with little oxygen bubbles to enable it to rest and achieve a smoother taste.
Appearance: This exceptional tequila is packaged in a rectangular bottle dripping masculinity and sexual appeal. The neck is extremely short, with a small channel on the lip of the spout to ease pouring into the glass. Renowned art director Fabien Baron designed it.
Nose: The aromas that follow when you pour it into the glass include agave and lighter ones like spearmint, grapefruit, pineapple, black spices, and citrus zest.
Taste: In the mouth, this Blanco tequila is lighter with a velvety mouthfeel. The flavors are lightly sweet with fruity agave leading. As you sip, you will notice peppery heat and citrus notes.
Finish: The mouthfeel continues to the finish, making the exit smooth and easy. There is a lingering sweetness and hints of fruity agave and soothing mint.
Alcohol content: Like other tequila drinks, this silver tequila contains 40% alcohol by volume. This means caution should be applied when sipping to avoid getting inebriated easily.
Price: A 750ml bottle of this delicious drink costs around $50. Some shops go as high as $65.
Also Read: Quilt Cabernet Sauvignon Napa Valley Review
Pros and Cons
Corzo Silver Tequila is a blend of savory notes best enjoyed sipped or with high-quality mixers. You may want to consider the following before getting a bottle:
Pros
Blue agave flavor: The agave flavor in this drink is so much and makes it appealing. If you love the taste, you can sip it leisurely since it is light and aromatic.
Suitable for sipping: It is hard to argue the pleasantness of this Blanco tequila because of the distilling process involved. It is smooth and excellent on the palate, with an inviting aroma and delicate appearance. Unbelievably, it tastes better than it looks.
Cons
Bottle: It has a lovely bottle designed by popular art director Fabien Baron. This gives it a masculine and sexually appealing look. However, too much attention is given to the bottle, which is unnecessary.
Price: We understand that tequila is costly because of its celebrity status. But that does not justify the expense of this Corzo Silver. Besides, it is produced for all occasions and sells locally. An average person may look at it twice before paying for it.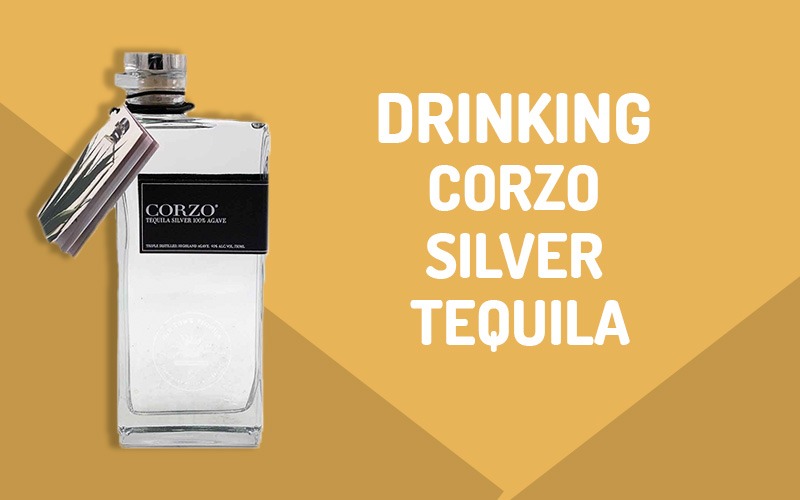 How Best Is Corzo Silver Tequila Served?
Although this tequila is unique, there is no special way to serve it other than the usual way of serving other drinks. You can sip it neat if you want to get the best from it. That does not mean on the rock or chilling it before sipping would not give the same effect. The most important thing is to flow with your mood. If you are planning to have a drink this evening, choose any of the following options for your comfort:
Neat: The most exciting way to enjoy this tequila Blanco is by sipping it neat. You don't have to chill or add any flavor to it. This method helps to bring out the natural flavor. Allowing it to sit for a few minutes before taking it is advisable.
Over ice: Pour it over a glass filled with some ice. It helps to calm the nerves with its cooling effect quickly. Another option here is to chill the glass before pouring this drink.
In cocktails: There are cocktail options for serving Corzo Silver. Whether you want a margarita or other cocktails, you will enjoy the flavor combination. We suggest March Madness if you love a grapefruit flavor blended with tart lemon and lime.
You only need two ounces of Corzo Silver Tequila, ¾ ounce of lime juice, 1 ounce of grapefruit juice, 3/8 orange Curacao, 3/8 sugar syrup, ice, and a lime slice.
Add the ingredients to a metal cocktail shaker with ice. Shake properly and strain into a martini glass. Then, garnish it with a slice of lime.
Perfect pairings with Corzo Silver Tequila
White tequila can be enjoyed in many ways by pairing it with favorite dishes. Everyone loves a glass of it with most Mexican dishes, but you can combine it in your way. The following are some guidelines and food options:
Taco dishes: From steak taco with cilantro to chicken taco with sage and tofu taco with jalapeno, there is no ending to what you can combine with this white tequila. It brings an excellent balance to the dishes.
Citrus dishes: Salad, seafood, sushi, chicken, or steak prepared with lime, lemon, or orange is great with this silver tequila. Their flavor notes easily blend to give the palate a unique taste.
Peanut butter, bacon, and banana sandwiches: The sweetness of the banana and peanut can pair with the hotness of unaged tequila to mellow the bite. Also, the bacon's meaty and salty notes can pair with this drink's citrus and fruity notes.
Popular Related Drinks
Corzo also produces the reposado and anejo versions of tequila. They are as excellent as silver tequila, and you can easily fall in love with them. They are explained further below:
Corzo Anejo Tequila: This tequila is matured in French oak barrels for around four months to give it the properties of anejo tequila. It has a light oily texture that clings to the glass when you swirl it. It also forms small legs that slide to the bottom. The color is darker than the usual anejo tequila. Hints of vanilla, oak, and tea with some herbal and agave notes are noticed in Corzo Anejo.
Corzo Reposado Tequila: It has a slightly earthy agave with hints of oak, vanilla, and ripe fruit flavors. The body is relatively light and oily and has a medium to short finish and slight bitterness of oak. The price is around $50 and is mild enough for people to enjoy. You will also love the appearance on your liquor shelf.
Frequently Asked Questions – Corzo Silver Tequila
Who makes Corzo tequila?
Bacardi produces it and is a premium tequila brand. Even though most tequilas are double-distilled, this company took extra time and resources to triple-distill them to achieve smoothness and lightness.
Where is Corzo's tequila from?
It is a product of Los Altos, Southern Jalisco, in Mexico, where most tequilas are produced.
What is the story behind Corzo's tequila?
The brand is named as a tribute to the town of Chiapa de Corzo. It is located on the highland battleground where the last Native Americans fought against the Spanish Conquistadors.
What is silver tequila best for?
It can be used for mixed drinks. But that is not all you can derive from it. You can sip it neat or on the rocks.
Also Read: Corralejo 99000 Horas Tequila Review
Cheers!
Here, we have helped with the information you want about Corzo Silver Tequila. It is a fantastic option if you are looking for light yet exciting tequila. The price may be high, but it is worth it.