Resting atop Daou Mountain in Paso Robles, the Daou vineyard is among the finest winemakers in Napa Hill. One of their award-winning wines is Daou Cabernet Sauvignon Paso Robles.
This is a perfectly blended wine made with cabernet sauvignon, merlot, petit verdot, and cabernet franc. It boasts a superb tannin level with tasting black olives and cherry notes.
Discover in this in-depth Daou Cabernet Sauvignon Paso Robles review everything to know about this drink and answers to all related questions.
Let's get started!
Value for Price

Mixability

Sippability
⇒ Fun Facts ⇐
| Name: | Daou Cabernet Sauvignon Paso Robles |
| --- | --- |
| Brand: | Daou |
| Country: | California |
| Wine Style: | Cabernet Sauvignon |
| Wine Type: | Red Wine |
| ABV: | 14.5% |
Brand History
Displaying rich flavors of blackcurrant, cocoa, and black cherry, Daou Cabernet Sauvignon Paso Robles is the next wine your shelf deserves. However, its production is only possible with the continuous efforts of the Daou brothers to make only the best. They are passionate about creating premium wines that reflect the region's terroir.
The focus is on sustaining farm practices and exceptional winemaking, reflected by the ideology behind Daou Cabernet Sauvignon, one of California's best.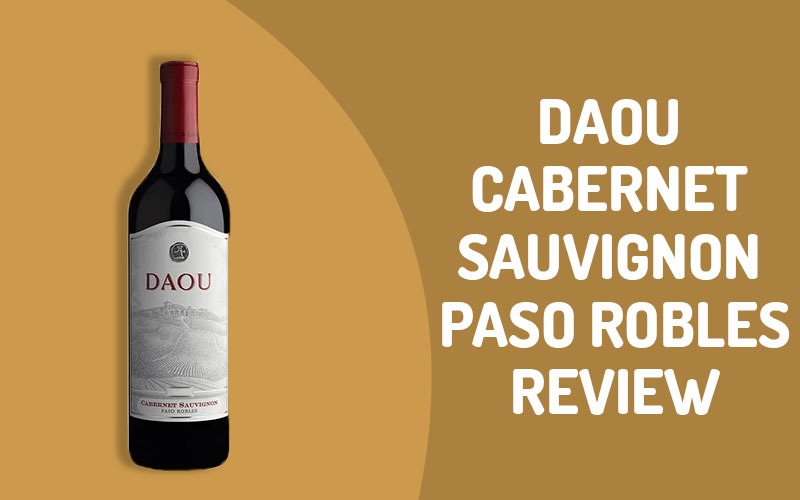 Daou Cabernet Sauvignon Paso Robles Review
This wine is mainly created from cabernet sauvignon (83.1%), petit verdot (9.1%, merlot (7.6%), and cabernet franc (0.2%). Besides, it is aged ten months in 50% new French oaks. Here is the makeup of Daou Cabernet Sauvignon and everything you need to know:
Category: Daou Cabernet Sauvignon Paso Robles falls under Californian cabernet sauvignon. Wine has existed since the 1800s, although its popularity started in the 1960s and extended to other states across the US and beyond. This dry and full-bodied wine category highlights the grape's signature green flavors, including black cherry and blackcurrant. They also tend to possess mocha, cedar, earthy, and dusty notes. Besides, its composition of moderate-to-high tannins makes it appropriate as a food wine. Combine it with nicely cooked pork belly, steak, burger, or chicken.
Appearance: Daou Cabernet Sauvignon has a deep ruby color, fat slow-falling legs, and dazzling clearness.
Nose: The aroma is complex and irresistible, with notes of black fruit, like cocoa, licorice, blackcurrant, and black cherry, and hints of vanilla and spice.
Taste: It is full-bodied, offering bold and rich flavors of blackcurrant and cherry, and balanced by acidity that keeps it refreshing. It also comes with smooth tannins, which provide a supple character to Daou Cabernet Sauvignon.
Finish: This wine is rounded by cocoa notes and hints of vanilla, leaving memories only great wines can leave.
Alcohol content: This cabernet wine boasts 14.5% alcohol by volume (ABV). This means its alcohol strength is normal for a wine. There is a thin connection between the sugar in the wine after fermentation, called Residual Sugar (RS), and the alcohol by volume (ABV) of the wine. During the grape fermentation, the yeast used transforms the juice into alcohol. If the grape has high residual sugar, it will produce dry wine with a high ABV.
Price: This drink goes between $20 and $30 per bottle. The cost is subject to the locality, point of sale, and other factors.
Pros and cons
Of course, you don't expect this wine to have negative comments because it embodies excellence. To know what we think about this wine, check out below:
Superior quality: This drink is an excellent quality cabernet sauvignon, well-balanced and full-bodied. It finishes long, classy, and fresh – an outstanding layered finish. The price is also remarkable for the quality.
Great price bargain: being one of the most notable wines from Daou vineyard in Paso Robles, the price is $20 – $30. It would be best not to miss relishing the enticing flavors of this wine by purchasing a bottle.
How Best is Daou Cabernet Sauvignon Paso Robles Served?
It is necessary to serve this drink the right way so you can enjoy everything. First, open the bottle one to three hours before drinking. It does not matter if you serve it at room temperature or chill it a bit because it is enjoyable in both situations.
In addition, once you remove the cork, oxygen enters the bottle and opens the drink. This action enhances the flavor and aroma of Daou Cabernet Sauvignon wine. If you don't want to speed it up, you can use a decanter to help expel sediments from the wine. Finally, to allow more air in, use a large glass to serve it. The presence of the air will further improve the aromas and flavors.
Perfect Pairings for Daou Cabernet Sauvignon Paso Robles
You may ask, "Which food pairs well with this hearty cabernet sauvignon wine?" The full-bodied, tannic structure of this wine makes it a complementary drink to flavorful and delicious dishes.
Grilled steak, beef stew, or roasted lamb: Daou Cabernet Sauvignon pairs with nearly all red meat. It is also great with sauces, in case you combine meats with sauces. Try it as much as possible, and you will love it.
Unconventional foods: Pair this wine with not-everyday foods like pizza or mushroom risotto. Their rich and savory flavors are great with the wine's tannins.
Do not combine it with rice or pasta: Their starches hardly mellow out the harshness of the tannins in cabernet sauvignon wines.
Vegetarian dishes: Try vegetarian food like ratatouille and lentil stew. They will be great on your taste buds when mixed with Daou Cabernet Sauvignon wine.
Popular Related Drinks
The Daou brothers have several highly-priced wines to their names. They are all as great as this Cabernet Sauvignon Paso Robles. You can check out their website if you want as many of them as possible in your collection. But before then, below are some of them:
2020 Estate Soul of a Lion: With a manufacturer's suggested price of $150, this wine needs no other introduction. It was named after the founders' father, Soul of a Lion, who is the crown jewel of Daou. It is a mark of their quest to produce unparallel and alluring Cabernet Sauvignon from the terroir of Daou Mountain. Made in 2020, this vintage wine arrives on the nose with a richness of mulberry, black cherry, and Oregon blackberry, underlined by a cigar box, dark chocolate, and leather. On the palate, smooth and voluptuous loads of black currant, ripe cherry, black raspberry, and cassis are identified. Then, its lengthy finish leaves a lasting impression of plum, blackberry, and espresso with a touch of white paper.
In addition, the barrel aging of this drink is 22 months in 100 percent new French oaks. It is also a blend of 81% cabernet sauvignon, 13% cabernet franc, and 6% petit verdot.
2020 Estate Mayote: This is an extraordinary wine only available to the inner caucus, and you must sign in to access it (heck the brand's website on how to go about it). It is priced at $125, which places it in a high position. Besides, Estate Mayote is named after the mother of George and Daniel Daou. It contains a robust blend that highlights the synergy between three classic Bordeaux varieties grown on Daou Mountain – cabernet franc (39%), merlot (34%), and petit verdot (27%).
Moreover, this 2020 vintage offers a refined bouquet of dark berry preserves, licorice, violets, and black cherry, accompanied by granite and ash mineral notes. Its barrel aging is 22 months in 100% new French oaks.
2020 Estate Cabernet Sauvignon: This is another quality wine highlighting the beauties of Daou Mountain. The Master Winemaker, Daniel Daou, masterfully curates it. Priced at $95, this 2020 vintage presents an aromatic nose of wild cherry, blackcurrant, and blackberry, with persimmon, graphite, plum, and cigar box, all underlined by a crushed limestone minerality. On the palate, voluptuous and vibrant flavors of fresh blueberry compote, blackberry, cassis, and kirsch appear. Its well-rounded tannins offer a great structure and body with a classy and lingering finish. Amazingly, Estate Cabernet Sauvignon is made with 100% cabernet sauvignon and aged for 21 months in 80% new French oaks.
Frequently Asked Questions – Daou Cabernet Sauvignon Paso Robles
How many calories are in a glass of Daou Cabernet Sauvignon wine?
According to the US Department of Agriculture, a five-ounce glass contains around 120 – 130 calories. There are seven calories per gram of alcohol. So, a wine with a high ABV will always have higher calories than those with a low ABV. Moreover, a dry wine contains four calories per gram, while the sweet one contains around 20 calories. Sugar and carbohydrate contribute to the calorie count.
Is Daou Cabernet Sauvignon sweet?
No, it is not sweet. It is a dry wine that offers pleasantness to the nose and palate.
What does Daou Cabernet Sauvignon Paso Robles taste like?
The Daou Cabernet Sauvignon is a wine you should drink. It delivers notes of ripe black cherry, blackcurrant, cocoa, and hints of other flavors.
What country is Daou wine from?
The Daou brothers, George and Daniel, are natives of the South of France. However, their wines are produced in Paso Robles, in Napa Hills.
Cheers!
Daou Cabernet Sauvignon Paso Robles is among the best when looking for a stunning wine. It offers a deeply complex flavor profile, which helps impress even the most delicate palate. With a bold and rich flavor complementing its tannins, be ready to experience a long and smooth finish.
Besides, this wine is perfect for all occasions, whether you want to celebrate your special wins or indulge yourself in an exquisite taste. So, get yourself a bottle and pop to a cheerful celebration.