Wine enthusiasts always count down to the celebration of yet another year of the documentation of the first variety of Riesling grapes. It is a different species of grapes that have been around for over 500 years.
Dating back to 1434, when its documentation took place for the first time, Dr Loosen Riesling could be all you need if you crave sparkling wine with an exciting taste.
This Dr Loosen Riesling review explains how Dr Loosen Riesling came to be, and why it stands out in both quality and quantity.
Let's start!
Value for Price

Mixability

Sippability
⇒ Fun Facts ⇐
| Name: | Dr Loosen Riesling |
| --- | --- |
| Brand: | Dr Loosen |
| Country: | Germany |
| Wine Style: | Riesling |
| Wine Type: | White Wine |
| ABV: | 8.5% |
Brand History
When looking for a unique wine that can give you value for your money, look towards Dr. Loosen Riesling by Ernst Loosen. It is among the best for wine lovers and does not look like it is losing its place soon. The fantastic person behind the creation of this wine, Ernst Loosen, has been managing the business with his brother, Thomas. However, it has been a family business for over 200 years.
They are established in the Mosel region to help everyone get the taste of Germany's extraordinary gift in the form of Riesling. The region is known for its cool climates, which result in wines with bold fruit flavors and high acidity. Moreover, the brothers own fantastic vineyards in Dr. Loosen Estate, where they employed viticulturists and winemakers who are part of the team that produced this addition to your basket. Their focus is on ensuring you purchase luxury at a cheaper price.
They maintain strict quality and standards, which they carry over in producing all their estate wines. They use only perfectly ripe and healthy fruits to sustain the wine's quality. Today this brand is globally recognized as the flagship for a rediscovered German Riesling culture. It has been a member of the VDP (Association of German Prädikat Wine Estates) since 1993. Continue reading as we unveil more about this elegant and exclusive wine from traditional vineyards.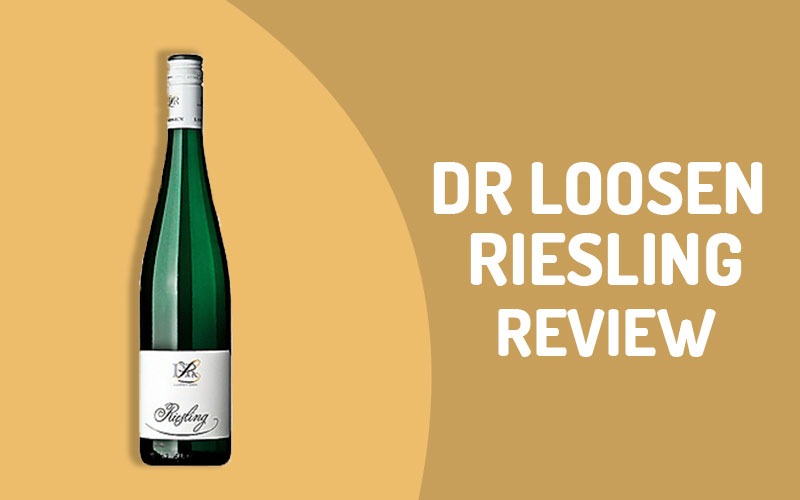 Dr Loosen Riesling Review
Dr Loosen Riesling is a white wine from the Riesling grapes grown in Germany. This wine displays the classic character of Riesling, crisp and refreshing. Besides, Dr Loosen is made entirely with the Riesling grape varietal. It can be enjoyed on its own or paired with classic food.
Category: Riesling is a German grape grown in all 13 regions. But Pfalz and Mosel are the leading regions with numerous hectares planted with this fruit. It takes time to ripen and contains high acidity levels. Rieslings grow in different soil types and can be used to create dry, off-dry, sweet, and sparkling wines. They have good aging potential, and their style depends on the region they are grown.
Appearance: It has a lemon color and thin-falling legs.
Nose: Aromas of pear, green apple, and flower escape from the bottle once opened.
Taste: On the palate, a fresh, crisp, and off-dry light-bodied wine is experienced. This is supported by honey, ripe apple, pear, and mineral flavors.
Finish: The palate fades to a lingering finish, leaving the mouth with a pleasant feeling.
Alcohol content: Dr Loosen's wine contains 8.5% alcohol by volume, which is relatively low compared to the average 15% for all wine.
Price: for a bottle size of 750 ml, the cost is around $13.
Also Read: Flecha Azul Reposado Tequila Review
Pros and Cons
This unique wine has several qualities that distinguish it from other mouthwatering wines. Consider the following before adding it to your items:
Pros
Intense fruit aroma: The aroma of this wine is strong and inviting. It is balanced by bright acidity and light sweetness that makes it unique. You will hardly resist it, and sharing it with friends and family makes it a good option for your weekend party or warm summer day.
Alcohol content: Dr Loosen contains 8.5% alcohol, which makes it a mild wine. Due to health issues, many people will jump at the opportunity to taste this wine. Its profile is crisp and refreshing.
Healthy: This alcoholic wine is good for your health when taken moderately. Since it is a fruity wine, it is safe for vegans, vegetarians, and those looking for gluten-free drinks.
How Best Is Dr Loosen Riesling Served?
The best way to serve Riesling is when chilled at 45 – 55 degrees Fahrenheit. If you can't time it, you can place it at the door of your fridge and remove it after a few minutes. If there is no fridge, consider a wine cooler to keep it cool and refreshing.
It would be best if you had a white wine glass to serve it. After pouring into the glass, there is no need for aeration or decantation. In addition, do not drink Riesling in shots or add ice to it. It is best sipped on its own after chilling it a bit. Don't forget that ice or any form of water waters down the wine and its components due to its delicateness. It also gives your cocktail a superb flavor and is super approachable. This drink can make an ideal aperitif or start a dinner party.
Perfect Pairings for Dr Loosen Riesling
If you are a fan of Riesling, you will not deny that it is versatile and perfect for most dishes. Its fruity aroma, sweet taste, and high acidity make it a food-friendly option. You can try it with salty food, fish, meat, seafood, and appetizers. Keep a bottle in the fridge and enjoy your weeknight or weekend meals with it. Here is what we mean:
Spicy chicken: well-spiced chicken got nothing on Riesling, as both know how to scintillate your palate with deliciousness. So, relax and let the wine run through the spiciness for a fantastic reward. Lemon chicken skewers with yogurt sauce, curry chicken skewers with lime, and Mongolian chicken are perfect for the show.
Asian dishes: This is another set of spicy meals to give a shot. Chill the wine so it can tame down the heat of the dishes. Whether noodles, curry dishes, or fried rice, you will surely have a spicy meal experience.
Roasted fennel pasta with lemon and ricotta: with its extra richness, this meal pairs exceptionally with Dr Loosen Riesling. It is best for a lovely dinner with tables surrounded by friends and laughter.
Turkey Swedish meatballs: packed with flavor, this meal is served in a traditional, creamy sauce over rice, egg noodles, or mashed potatoes. Pair it with your favorite Riesling and relish the flavor that hits your taste buds.
Popular Related Drinks
Loosen Brothers have a line of drinks made from mostly Rieslings. There is nothing wrong with having a collection of drinks from this fantastic brand. They also have low alcohol content, which suits those seeking related drinks. If that is what you plan to do now, here are some of the top you can select:
Loosen Bros Dr L Riesling: This bold, crisp, succulent Riesling is a top-selling Loosen Bros product. It is refreshing and symbolizes the delicate character of Riesling from the Mosel Valley. The distinctly delicious and stimulating wine is priced at a decent rate and can be enjoyed for all occasions. The palate is mild and crisp, leading to a drying finish.
Loosen Bros Dr. L Riesling Dry: This wine is pleasant to the taste bud but produced in a dry style, which pairs with virtually every dish. It is balanced and the dry version of the sweet Dr L Riesling. With both variants, you will be ushered into a distinct diversity in Riesling, taking you on another ride of a thirst-quenching experience. The prices are affordable for all classes.
Loosen Bros Dr L Riesling "Gray Slate": this elegant wine portrays the brilliant and mineral character of the Mosel region. It is produced off-dry for the same reason you won't stop taking a sip. It makes it a multipurpose drink and can be the favorite of most dishes. Loosen Bros "Gray Slate" is bold and colorful, with fruity, rare flavors in some wines.
Loosen Bros Dr L Sparkling Riesling: With an inviting aroma and delicious taste, this fruity wine is your best for a fun-filled celebration. Whether you want an in-house with family and friends or to host some rich folks in grand style, you can trust this sparkling wine for an adventurous experience. It is produced using the Charmat method, where a pressurized tank is used for the second fermentation to preserve the wine's bubbles. Ultimately, you will be left with vibrant, clean, sparkling wine with an irresistible aroma. It does not cost much to get one into your basket. Dr L Riesling Sparkling is also great for cocktails if you don't want to sip it neat.
Also Read: Wilderness Trail Single Barrel Kentucky Straight Bourbon Review
Frequently Asked Questions – Dr Loosen Riesling
What is Dr Loosen Riesling's wine?
Dr. Loosen Dr. L Riesling is a white wine made from the Riesling grape cultivated in the Mosel region of Germany. The celebrated winemaker Ernst Loosen and his brother produced it.
Is Dr Loosen Riesling dry or sweet?
It is neither dry nor sweet but off-dry. The alcohol content is only 8.5%, which is relatively low.
What is Dr Loosen Riesling good with?
Dr Loosen Dr L Riesling Dry is a crisp, dry, stimulating wine that pairs well with various dishes. From classic appetizers to chicken, pork, fish, cheese, and macaroni, there is an endless possibility of what you can pair it with.
Cheers!
We have highlighted much about Dr Loosen Riesling. If that is the next wine you plan to serve your guests, you can do so. It is a bottle of fun and taste, which can be obtained at an affordable price.