A glass of tequila is an excellent way to enjoy a restful evening. It helps to unwind and serve as a conversation starter.
You can't go wrong, pairing it with your favorite dish or creating a great margarita. You only need to pull out your chair on the patio, and pour yourself a glass while sipping intermittently.
In this Grand Mayan Extra Aged Anejo Tequila review, we would look at everything there is to know about Grand Mayan Extra Aged Anejo Tequila.
Let's get started!
Value for Price

Mixability

Sippability
⇒ Fun Facts ⇐
| Name: | Grand Mayan Extra Aged Anejo Tequila |
| --- | --- |
| Brand: | Grand Mayan |
| Country: | Mexico |
| Spirit Style: | Anejo |
| Spirit Type: | Tequila |
| ABV: | 40% |
Brand History
Gran Mayan is among the top tequila brands worldwide and is produced in the Valley region of Jalisco using blue agave plants. It is created by artisans in Mexico City, with lovely, handcrafted ceramic decanters that appeal to the eye. Each bottle is a piece of artwork, and the content is a wonderful masterpiece.
The company ensures the drink and its presentation attract attention. It produces only 3,000 liters of the liquid annually. Tequila connoisseurs globally understand the quality of Gran Mayan's products and do not joke with them. They are good enough to sip neat, and without lime or salt. Their rarity and special presentation will always endear them to the sweetest hearts.
In addition, the owner of Gran Mayan is Carlos Monsalve. He also co-owns Amate Tequila and other brands. For 18 years and more, he has been in the business and doing extraordinarily well. His intellectual property is the formula used in producing the tequila, as he pays attention to the sugar content.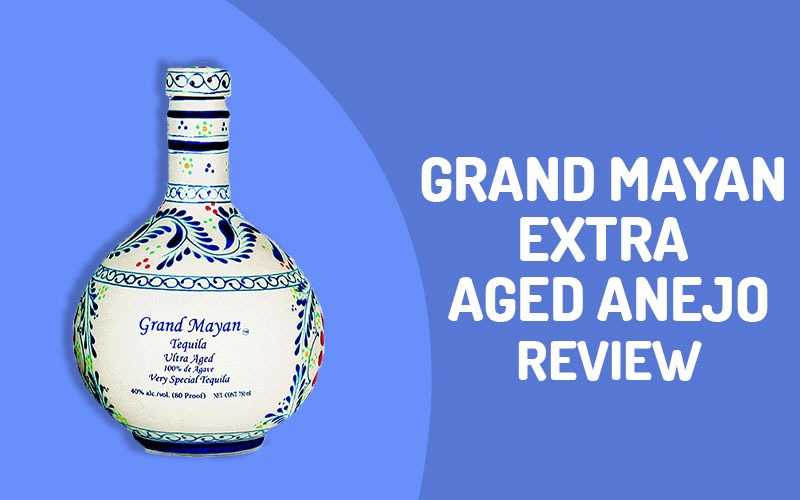 Grand Mayan Extra Aged Anejo Tequila Review
Gran Mayan is produced from central-highland blue agave using the highest production standards. It is aged for five years in American oak barrels, with a ten-year process of growing from agave plant to the bottling. Grand Mayan Extra Aged Anejo Tequila has an excellently velvety aroma, is pleasant on the palate, and finishes long and deep. Check out more information about it below:
Category: For a spirit to be regarded as extra anejo, it must be aged at least three years in American and French oak barrels. It is the crown jewel of tequila and is worth the hype. Extra anejo can be sipped neat, offering a smooth feel with flavor complexities.
Appearance: This spirit has a dark amber hue. The container is a traditional Talavera ceramic decanter beautifully handcrafted and hand-painted by local Mexican artisans. It is a spectacular piece of art that is worth every penny.
Nose: It offers smooth aromas of blue agave, chocolate, nuts, and hints of citrus.
Taste: On the palate, you will identify notes of sweet toasted oak, vanilla, caramel, dark chocolate, butterscotch, cream, and mascarpone.
Finish: The finish is lingering, sweet, and full-bodied, leaving a nice feeling.
Alcohol content: This spirit is bottled at 40% ABV (80 proof).
Price: A 750 ml bottle of Grand Mayan Extra Aged Anejo Tequila costs around $106.
Also Read: Saracco Moscato D'asti Review
Pros and Cons
This incredible Extra Anejo is one of the best you can lay your hands on. Aside from the different decanter, it houses meticulously aged tequila that is smooth and easy to sip. As the bottle says, it is 'very special tequila.' Consider the pros and cons below to guide your buying decision:
Pros
Beautiful bottle: Gran Mayan owns one of the best beautifully crafted bottles in the market. The container is appealing that before considering the content, you may have paid for it. You could even use it to design your bar; it is worth keeping.
Pleasantly smooth: The smoothness on the nose and tongue makes it easy for Gran Mayan Extra Age Anejo to go down. Again, the mouthfeel is so good that you can taste the agave, and every sip counts.
Reasonably priced: Paying over a hundred bucks for tequila of this kind is okay. Even though it has less boldness than expected, it tastes and looks great. So much tequila in this price category can't compete with it.
Cons
Weak cork seal: The cork needs to be more robust to protect this drink once opened and stored for a long time. Hence, if you open it, ensure to finish it in the shortest time possible.
Too woody: You can't escape the woodiness when this extra anejo touches your lips. Some people don't like it. But if you don't mind that, you can go ahead and get it.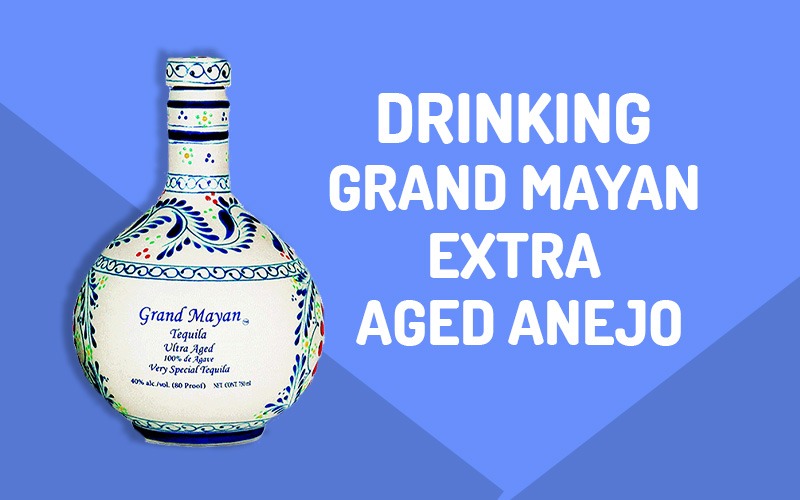 How Best is Grand Mayan Extra Aged Anejo Tequila Served?
Usually, high-quality extra anejo tequilas are taken neat. They don't require the rimming of glass with salt and lime because their flavors are complex enough. Nevertheless, if that is what you want, you can do so and still enjoy the satisfaction.
Another exciting way to drink tequila is by chilling the glass a bit and pouring the drink or filling the glass with ice and pouring this drink over it. Whichever way seems right to you is perfect.
Perfect Pairings with Grand Mayan Extra Aged Anejo Tequila
A meal complementing aged tequila should be included in everyone's timetable for relaxation after a stressful day. When it comes to food, Grand Mayan has no rivals. It offers the best flavor that can pair with the food, especially Mexican cuisine. See our list of the best food for your favorite tequila:
Tacos: Nothing beats sipping this spirit with your favorite Mexican dish. Taco is everyone's delight, and only few people may not welcome it. Taco, on the one hand, and this extra aged anejo, on the other hand, is a perfect way to start the night. While the taco brings its savory and salty flavor, this tequila balances it with its sweet element. The flavor notes cut through the heaviness of the meat and give your taste buds the poise it needs.
Raw fish: Nothing is more suitable than a Grand Mayan Extra Aged Anejo Tequila glass for a delightfully seasoned raw fish-like ceviche. Ceviche, a South American dish that contains raw fish, scallops, and shrimp, is popular for its tangy flavor juice because of its cilantro and lime juice base. It combines with the smoothness of this tequila to give you a heavenly taste. Your adventurous palate will thank you better.
Al carbon: This is translated as 'meat cooked over coal.' It is mostly lamb, beef, or fish, wrapped in warm house-made tortillas and garnished with lime and coriander. Pair this delicious dish with your glass of Gran Mayan tequila and let your palate remain loyal to you.
Popular Related Drinks
Gran Mayan is goldfish and can hardly be missing from the shelf. The appearance is lovely, and the attention the decanter gets is worth it. Consider other products of this brand to have a variety of them in your house. See the options below:
Gran Mayan Reposado: This rested tequila is produced with the purest blue agave from the central highland using premium production standards. It is aged in American and French oak barrels for six to eight months. Each sipping contains smooth, oaky, vanilla, and chocolaty notes. Bottled at 40% ABV, Gran Mayan Reposado is full on the taste buds, which leads to a layered and exciting long finish. It is excellent to share with family and friends over a plate of chicken or steak.
Grand Mayan Silver Tequila: This award-winning blanco tequila is slowly tripel-distilled. The outcome is this smooth and delicious tequila you can hardly say no to. It is light and crystal clear, with a fresh agave aroma and hints of citrus. It dances on every palate, leaving a long and refreshing finish. You can mix your Gran Mayan Silver Tequila into virtually any cocktail, which is why it is the favorite of tequila connoisseurs. It is bottled at 40% ABV.
Frequently Asked Questions – Grand Mayan Extra Aged Anejo Tequila
How old is Grand Mayan tequila?
Grand Mayan Extra Aged Anejo Tequila is aged five years and is rich and distinct. If you want tequila worth the price, you have it in this beautiful masterpiece.
What country is Grand Mayan tequila from?
It is a product of Mexico, made from 100% blue agave. It is best for all occasions and can be added to drinks for a refreshing cocktail.
Who owns Grand Mayan Tequila?
Grand Mayan Extra Aged Anejo Tequila is a product of Carlos Monsalve. He produces only a limited number yearly.
Also Read: Wilderness Trail Single Barrel Kentucky Straight Bourbon Review
Cheers!
Gran Mayan came prepared with its excellent, mouthwatering extra anejo that excites every palate. It is one of the best drinks, and the bottle appeals to the eye. It is perfect with most Mexican and other cuisines and can be sipped neat, on the ice, or mixed into cocktails. There is a lot to do with a glass of this delicious drink, as long as you have over a hundred bucks to invest in getting a bottle. Grand Mayan Extra Aged Anejo Tequila is a connoisseur's favorite; you can't go wrong with it.