This award-winning tequila is inspired by the circle of joy, peace, and life passed in the company of family and friends.
It is made of 100% agave azul, with each flavor defined by balance and sophistication. Combining individual flavor notes creates a harmonious blend at each process step.
Today, the drink production has gone beyond what Mexico can contain. While Mexico is still the drink's origin, other countries have come to embrace this drink.
This Mandala Extra Anejo Tequila review, brings to the table everything there is to know about Mandala Extra Anejo Tequila.
Let's begin!
Value for Price

Mixability

Sippability
⇒ Fun Facts ⇐
| Name: | Mandala Extra Anejo Tequila |
| --- | --- |
| Brand: | Mandala |
| Country: | Mexico |
| Spirit Style: | Extra Anejo |
| Spirit Type: | Tequila |
| ABV: | 40% |
Brand History
Tequila Mandala was established in 2016 by Master Distiller Jise Joel Garcia Barreto and cousins Arturo Lomeli Ibarra and Humberto Ibarra Reyes. The aim was to bring a unique premium sipping tequila to the United States liquor market.
They produce four distinct expressions, including Mandala Blanco, Reposado, Anejo, and Extra Anejo, all doing well in the market. However, the hallmark of their production remains the Extra Anejo. It comes in a handcrafted, hand-painted ceramic bottle, and has been represented in various countries.
The 'Mandala' transcends borders, cultures, and religions, touching the essence of humanity as a symbolic representation. It portrays the universal balance of joy, peace, and life itself.
Upon this notion, Mandala Extra Anejo Tequila is built. No bottle of Mandala is the same; they are all a piece of art to behold.
Mandala Extra Anejo Tequila Review
This tequila is delicious and smooth, which any tequila connoisseur cannot say no to. It has been aged in French oak for seven years. Here's the flavor profile:
Nose: Mandala Extra Anejo Tequila releases a whiff of toasted oak and strong fruit flavor.
Taste: It is addictive, soft, sweet, and fruity on the palate.
Finish: The flavor is harmoniously soft, with hints of vanilla, cooked agave, and oak that lead to a lingering and intense finish. The finish is pleasant to the palate.
Color: This drink comes in marvelous dark amber or intense gold with gold shades.
Process: Only mature agaves are selected and cooked in brick ovens. It is then double distilled to perfection and aged for seven years in Sherry Cask barrels to obtain a unique and unparallel flavor.
Alcohol content: It contains 40% ABV (80 proof) and bottled at 1 liter.
Price: This drink goes for $190 in most shops. However, depending on location and shop, it could be higher or lower.
Pros and Cons
Taking tequila in moderate shots is capable of improving your health. Too much consumption of alcohol does the opposite to the body. If you are planning to drink tequila this weekend, check out the following before uncorking a bottle:
Pros
Sweet flavor profile: Mandala Extra Anejo Tequila has a warm and inviting aroma that you may hardly resist. The flavor profile is very sweet, and the floral, vanilla, oak, and cooked agave notes add to its elegance. Its syrupy smoothness is another reason to consider this drink.
Promotes weight loss: The sugar in agave plants, called agavins, helps you to feel fuller. This, in return, makes you eat less and achieve your weight loss goal.
Promotes sleep: Taking Mandala Extra Anejo Tequila calms the nerves and relaxes the body. If you have issues sleeping, you can take a shot occasionally. However, do not depend on it for your sleep to avoid getting addicted.
Good for dessert: Its unique flavor profile makes it a perfect drink for dessert. If you have a sweet tooth and looking for something to keep you busy, you will enjoy a glass.
Numb pain: Pain is part of life, as they say. However, if you feel pain in any part of the body, you can drink a small quantity of this tequila to help dilate the blood vessels and allow free transportation.
Cons
Overly sweet: Although some people see it as being super sweet, others see the excessive sweetness as unnecessary. However, one cannot help but admire the beautiful bottle housing this delicious drink.
How Best is Mandala Extra Anejo Tequila Served?
This drink can be served neat and at room temperature, sipping it slowly to relish the exquisite and complex flavor. However, you can add ice cubes or chill it before pouring into the glass and downing it. It is that simple to drink and does not need excessive preparation. But if you want to make a margarita with it, it could be a deluxe main ingredient.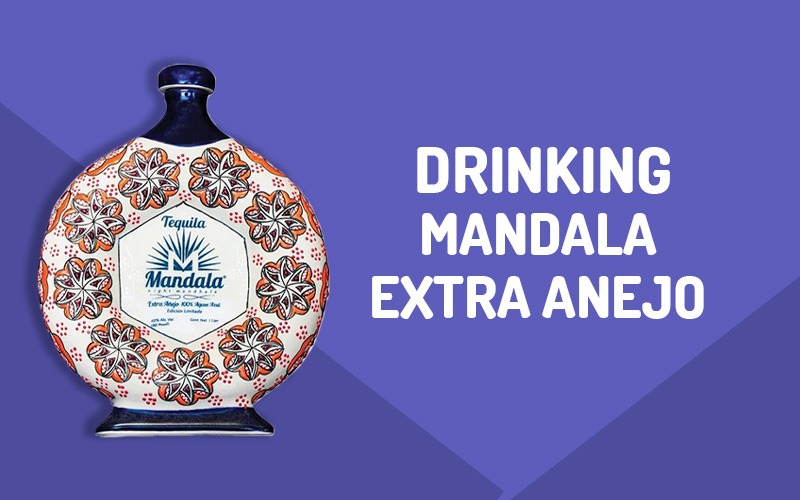 Perfect Pairings for Mandala Extra Anejo Tequila
A good glass of tequila with a dish of your favorite meal is what everyone craves. However, pairing the same food with a perfect tequila variant is heavenly. If you are wondering about the perfect food that can go with a glass of Mandala Extra Anejo Tequila, you can check out the following:
Fried chicken: Try it with hot and crispy-skinned KFC chicken; the meat's spicy flavor mixes with the drink's smoothness. You can chill the drink or drop a few ice cubes to make it excellent for the palate.
Bacon sandwiches: The meaty and saltiness of bacon strips can perform wonders on the palate when mixed with Mandala Extra Anejo Tequila. The vanilla and caramel flavors of the drink, together with the smooth finish, are the real deal. You can add bananas and peanuts to the sandwich to bring their sweetness and balance.
Smoked beef cheek: The barrel's sweetness and the beef cheeks' smokiness revive the palate and balance the proof of the drink.
Grilled steak: When you grill your steak over charcoal or wood and pair it with extra anejo, wonders happen. The smokiness from the meat enhances the tequila flavor. No better way to spend the evening than sipping this aged drink with a ribeye.
Popular Related Drinks
Mandala Blanco: Made from 100% agave azul, this full-bodied unique Blanco tequila is a great drink to consider. It is distinguished by its sweet aroma and flavor, resulting from cooking the agave plant in a traditional brick oven. As a Blanco, the color is crystal clear or silver, made in small batches. The aroma is fresh citrusy, and herbal, while the taste is smooth and delicate, leaving a sweet finish of cooked agave.
Mandala Reposado: Made with finely selected 100% agaves from the heart of Mexico, this Reposado tequila is a must-taste. It passed through a traditional brick oven before being aged for eight months in Sherry Cask Barrels. As aged tequila, the color is light amber, woodsy on the nose with light raisin and cooked agave aroma. On the other hand, Mandala Reposado is smooth on the palate with notes of oak and cooked agave.
Mandala Anejo: This is another brand of Mandala made from 100% agave azul. A lot of carefulness was employed in its process after selecting only mature agaves and cooking them in traditional brick ovens. It is also double-distilled to reach perfect flavor before aging them for 24 months in Sherry Cask barrels. This helps to make the taste unequaled. The color is strong gold with golden patches. It is soft, sweet, and fruity on the palate, leaving a pleasant and lingering finish as the cooked agave and roasted French aroma hits the nose.
Frequently Asked Questions – Mandala Extra Anejo Tequila
What is the difference between Anejo and Extra Anejo tequila expressions?
Once you get into the spirit's anejo version, you can be sure you are getting the real deal. It requires more aging and attention to detail than the Blanco and Reposado versions, extracting more flavor complexities. But if you want to go further, you can age it for over three years to get the extra anejo. For instance, Mandala Extra Anejo Tequila is aged seven years.
What is Extra Anejo?
In simpler terms, Extra Anejo is the crown jewel of tequila variants and deserves every accolade. It can be likened to a fine Cognac or whiskey and is best for sipping. Producing it takes a long time and expense, making it the most creative and varied tequila form.
Is Mandala Extra Anejo Tequila worth it?
When it comes to the pride of tequila, give it to extra anejo. It is crafted with complexity, making it easy to sip while enjoying every drop.
Cheers!
Mandala Extra Anejo Tequila is one of the best things that happened in the tequila industry. If you are a fan of celebrity drinks, you will love everything about it. It is sippable and less pricey than most tequila of its class. Grab a bottle from the store and add it to your collection.