Modelo Chelada Mango is a flavored beer drink that is a variation of the traditional Mexican Chelada known all over Mexico and enjoyed in countries all over South America and its surrounding nations.
The origin of this fine beer is traced back to Mexico where the love for Tequila and beers knows no bounds due to the country's family-friendship culture that fosters communal living and constant celebrations, calling for the best cans of Modelo Chelada Mango and other amazing drinks.
In this article, we will be doing a Modelo Chelada Mango review, bringing to the table all there is to know about this beer.
Let's get started!
Value for Price

Mixability

Sippability
Quick Facts
| Name: | Modelo Chelada Mango |
| --- | --- |
| Brand: | Modelo |
| Country: | Mexico |
| Beer Style: | Specialty Beer |
| ABV: | 3.5% |
| Price: | $3.49 |
Brand History
Modelo Chelada Mango was created by Grupo Modelo, a Mexican beer company that has been in the business of producing drinks for the Mexican market and other countries where it has distributorship agreements with corporations like Anheuser-Busch InBev and many others.
The company has been in existence since 1925 and it has held a large market share of the beer market in Mexico and Latin America where its products have won the hearts and souls of people.
The company's products have proven to be a perfect choice for people who want to have a great time and also enjoy fine blends of alcoholic beers that are made with a fruity twist.
The brand recently introduced a range of beer products, among which is the Modelo Chelada Mango beer that has become a game changer among top beers produced in Mexico and shipped to other countries where they are greatly cherished and demanded by the local beer market.
Needless to say, with over 80 years in the drinks business, this brand has hacked the art of creating masterpiece drinks that become the pillar in their respective markets where they are sought for their unique tastes and amazing flavors
Modelo Chelada Mango Review
Category: Modelo Chelada Mango Beer falls under the category of fruit beer or fruit-flavored beer, which makes it a vegan-friendly beer that everyone can enjoy irrespective of what their lifestyle drink choice is.
For clarity, fruit beer is a type of beer that incorporates fresh fruit extracts or fruit flavorings as a dominant flavor component to give the beer a fruity taste that is bubbly like a beer, but delicious like a fruit blend.
This beer category is characterized by a wide range of flavors, aromas, and colors that are imparted by the fruit or fruit extracts used in the brewing process, which in this case is a huge concentration of Mango to give the beer a tropical feel on the taste buds of people who favor it.
The ingredients used to make Modelo Chelada Mango beer, in which Mango is the most dominant of all ingredients used, makes the taste buds of customers leap with so much excitement from the various flavor notes present in the beer.
Notes: This delicious beer is a twist on the classic chelada cocktail, with the addition of mango flavoring and spices; the result is a sweet and tangy beer that is a perfect drink to pick up whenever you want a refreshing drink.
The mango flavor added to the beer is sweet and tropical, while the extra spices add a savory dimension to the drink that people enjoy and makes the Modelo Chelada beer stand out among many beers in its class of fruit beers made using pure fruit.
Modelo Chelada is a party lover's favorite due to its beautiful taste and amazing taste profile that you would find irresistible and charming on the tongue. The beer was made to satisfy even the driest thirst and it does its job of lubricating the throat effortlessly with its fine blend of flavors.
Flavor Notes (Taste): The flavor profile of Modelo Chelada Mango is sweet and tangy, with a prominent mango flavor that is balanced by the savory notes of the spices and the salty notes of the beer, which you will find absolutely enjoyable and pleasant in your mouth with every sip or gulp.
The beer has a light and refreshing taste, with a slightly spicy finish that lingers on the palate, which makes it a good choice on chilly winter days and also a perfect choice on a hot summer day if it is ice chilled and served with delicious meals like wings, barbecue chicken, fish or pork chop.
Overall, the flavor notes present in this beer is something you will surely find enticing and pleasant.
Alcohol Content: In the case of Modelo Chelada Mango Beer, it has an alcohol content of 3.5%, which is considered low compared to other types of beer in its class or beers that share similar flavors and ingredients with it.
Low alcohol content beers like the Modelo Chelada Mango beer are often referred to as light beers, and they have gained popularity in recent years due to health-conscious consumers who want to enjoy beer without consuming too much alcohol or getting too drunk to drive a vehicle.
Appearance: Modelo Chelada Mango Beer is produced in a can that is presented in a tall, slender can with the brand's distinctive logo prominently displayed on the front.
The beer itself has a bright, clear golden color with a foamy white head that dissipates quickly to give you a less-frothy drink to enjoy without having to struggle to get to your drink through a heavy layer of foam.
The mango flavor is added as a syrup or concentrate to the beer, giving it a light orange hue and a fruity aroma that makes the drink a vegan's choice drink any day and anytime. Needless to say, Modelo Chelada Mango Beer has an appearance that complements its sweet and tangy taste.
First Impression: The first taste impression one would likely get from the first sip of Modelo Chelada Mango Beer is a combination of sweet and tangy flavors. The beer itself has a light and crisp taste, which can provide a refreshing contrast to the more robust mango flavor.
The mango flavor is the most prominent taste, which provides a fruity and slightly tropical taste that is balanced by the savory and salty notes of the chelada-style beer.
Price: The price of Modelo Chelada Mango Beer can vary depending on the location and store where it is sold as some stores tend to sell cheap while some luxury stores, hotels, bars and restaurants might jack up the price at their discretion.
In general, the price of Modelo Chelada Mango Beer ranges from $9 to $36 for a six-pack of 12-ounce cans; this is because the cost of production for Modelo Chelada Mango Beer is slightly higher compared to regular beer due to the addition of mango and other natural flavors.
Modelo Chelada Mango Ingredients
The Modelo Chelada Beer contains Salt, Hops, Mango flavor, Water, Barley malt, Non-malted cereals, and Natural lime flavor. Here is a brief explanation of the ingredients in this beer:
Water: Water is the main ingredient in beer and helps to dilute the other ingredients, giving the beer its desired ABV (alcohol by volume) and overall flavor profile.
Barley Malt And Unmalted Cereals: These ingredients provide the fermentable sugars that are needed to produce alcohol in the beer during the brewing process. The type of malt and cereals used can also affect the color and flavor of the beer.
Hops: Hops are added to the beer during the brewing process to provide bitterness, flavor, and aroma. Hops can also act as a natural preservative, helping to extend the shelf life of the beer.
Natural Lime Flavor: This ingredient provides the characteristic lime flavor that is present in Modelo Chelada Mango Beer, adding a tart and refreshing element to the overall taste.
Mango Flavor: The added mango flavor provides a sweet and tropical taste to the beer, which complements the tartness of the lime and the savory notes of the chelada-style beer.
Salt: Salt is a key ingredient in chelada-style beers, providing a savory and slightly salty taste that balances out the sweetness of the mango flavor and the acidity of the lime juice. Salt can also enhance the overall flavor and aroma of the beer.
Although these listed ingredients are touted to be all the ingredients in Modelo Chelada Mango Beer, there is the widespread notion that there are more secret ingredients in this beer than the ingredients known by the public.
Why It Is A Must-Have
There are a lot of reasons why you should consider making this drink your go-to drink for all occasions, among which there are reasons like:
Great Taste Profile: Modelo Chelada Mango beer has an amazing taste profile that you will find enticing and satisfactory due to how well it tastes on the taste buds of people who see the drink as one of the best beers ever made.
Catchy Appearance: The beautiful appearance of the can of this beer and the tantalizing look of its content is sure to trigger a thirst for this fruit beer.
Unique Flavor Profile: The combination of mango, lime, salt, and spices in this beer creates a distinctive taste that is different from traditional beer styles. It offers a refreshing and fruity taste that some people might find appealing.
Ideal for Hot Weather: With its fruity and refreshing taste, Modelo Chelada Mango beer is a perfect drink to enjoy on a hot summer day, especially when served chilled. The combination of flavors in this beer makes it a thirst-quenching and cooling drink that can help beat the heat.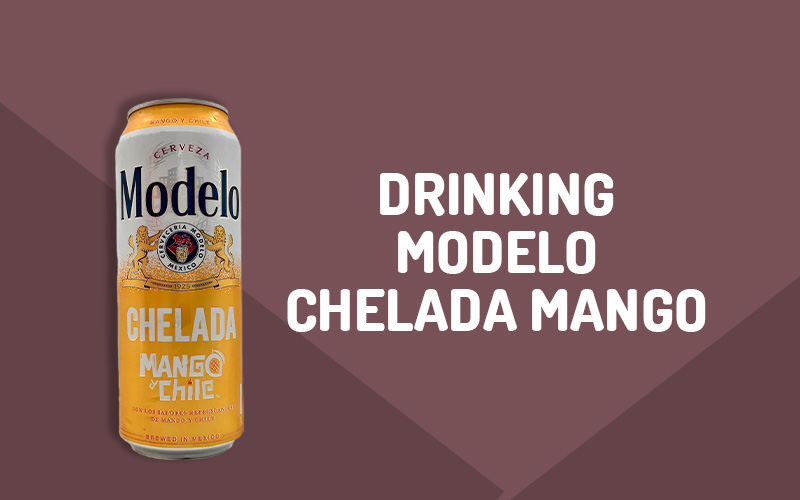 How To Drink Modelo Chelada Mango
To get the best of this beer, it is advised that you serve it in a way that will give you the desired taste, feel, and pleasure that you want. Here is a list of ways this beer can be served:
Serve It Ice-Cold: This beer is best served ice-cold to bring out the refreshing and fruity flavors of the mango and the savory notes of the beer.
Use A Chilled Glass: Chill the glassware you will use to serve the Modelo Chelada Mango beer. It helps keep the drink colder for longer.
Salt The Rim: Just like traditional margaritas, a salted rim pairs well with Modelo Chelada Mango beer. Run a lime wedge around the rim of the glass and dip it in coarse salt.
Add Fresh Lime: A squeeze of fresh lime adds a bright acidity that balances the sweetness of the mango and the saltiness of the rim.
Pair It With Spicy Foods: The savory flavors of the beer complement the heat of spicy foods, making Modelo Chelada Mango beer a great choice to pair with Mexican or spicy dishes.
Garnish With Mango And Lime Wedges: To enhance the fruity and refreshing notes of the beer, consider adding a slice of fresh mango and a lime wedge as a garnish.
Perfect Pairings
When it comes to pairing with dishes that will highlight and improve the overall taste of Modelo Chelada Mango beer, there are quite a number of meals that you can pair this drink with, and they are:
Wings: You can pair this beer with a plate of hot sizzling wings topped with some hot sauce to get a mouthful of delicious wings and refreshing Modelo Chelada Mango beer. The mango flavor in the beer is a great pair with the wings and both will give you a satisfying taste you will like.
Fruit Cake: Since the Modelo Chelada Mango beer is made using a blend of Mango that forms a significant part of its taste profile, pairing it with a fruit cake will make the whole drinking and dining experience even more wholesome.
Pie: Everyone likes pie, but everyone loves pie that is perfectly paired with a Modelo Chelada Mango beer served chilled. The beer goes well with pies due to the complexity in the flavoring of both pies and Modelo Chelada Mango beer, thereby creating a fine blend.
Popular Related Drinks
The Modelo Chelada family has a lot of drinks that make a fine collection of classic and unique beers that are made to serenade the taste buds of beer lovers with nice flavors and a satisfying feel. Some of the related drinks to the Modelo Chelada Mango beer include:
Modelo Chelada Especial: This is another product from the parent company that makes Modelo Chelada Mango beer. The ingredients used for this variant are tomato, salt, and lime.
Modelo Chelada Limón: This variant is made using lime and salt with the Modelo beer.
Modelo Chelada Pina Picante: This variant features Pineapple, various spices, and the famous Chelada beer.
Frequently Asked Questions – Modelo Chelada Mango
What is the legal age before someone can drink Modelo Chelada Beer?
The legal age before anyone can access alcoholic products is 18 years old and 21 years old in some countries. Ensure you check your local laws before trying to buy a Modelo Chelada Mango beer as it contains 3.5% alcohol.
Where Can I Purchase Modelo Chelada Mango Beer?
Modelo Chelada Mango Beer can be located nationwide using the Modelo company product locator. ALso, you can check local stores and bars near you, chances are that they serve Modelo or sell it but be sure to go with an ID.
Is Modelo Chelada Mango Beer Gluten-Free?
Modelo is made from malted barley which naturally contains gluten. The fermentation process significatively lowers the content of gluten, however, there are traces of gluten in all Modelo beers.
Is Modelo Chelada Mango Beer Vegan Friendly?
All ingredients in Modelo Chelada Beer are made from plants so it is absolutely vegan friendly.
Is Modelo Chelada Mango Beer Kosher?
No, Modelo Chelada Mango Beer is not Kosher certified.
Cheers!
Modelo Chelada Mango beer has proven over the years that it is a great choice if you need something nice and smooth to make your evening adventures worthwhile, or you want to start the day on a buzzy note with a little something before the adventures ahead begin.
Irrespective of why, where, or how you are grabbing a can of Modelo Chelada Mango beer, best be rest assured that the taste and flavors of this beer will make your reasons worth it and give you the perfect feel you will enjoy and relish for a long time.