Chances are you are yet to hear about elks; if you have, you may not have seen them. Old Elk Distillery built its company in an environment surrounded by these creatures. This can only happen in Colorado.
Bourbons are whiskeys produced in America with the people starting the process in the 18th century. It is strongly associated with the American South and Kentucky in particular. But it can still be produced elsewhere in the country
Stay put as this Old Elk Straight Bourbon Whiskey review would explain everything you need to know about Old Elk Straight Bourbon Whiskey
Let's get sipping!
Value for Price

Mixability

Sippability
⇒ Fun Facts ⇐
| Name: | Old Elk Straight Bourbon Whiskey |
| --- | --- |
| Brand: | Old Elk |
| Country: | United States |
| Spirit Style: | Small Batch Bourbon |
| Spirit Type: | Bourbon |
| ABV: | 44% |
Brand History
Old Elk is a distillery in Colorado focusing on producing one of the best straight bourbon whiskey using cutting-edge technology. However, it is essential to know that the company previously did not produce this drink. It used the facilities of other companies to make its drink in nearby distilleries.
After production, the drink is blended in Old Elk Distillery and bottled for public consumption. This method is prevalent among bourbon producers today. But the bourbon quality produced in this method still needs to be improved. It is why the company was called a 'Non-distiller producer.' It can mash, ferment, distill, and age at their Colorado distillery. The initial arrangement was to ensure work was going on, even though the facility was not ready. Since the significant production took place outside the state, it was called 'blended straight bourbon.'
In addition, Old Elk partners with two individuals to ensure good drinks are produced. One of them, Master Distiller Greg Matze, is named 'the soul behind the spirits.' Together with his team, he crafts the finest bourbon you would love. Aside from Colorado, the company has other New York and Indiana distilleries.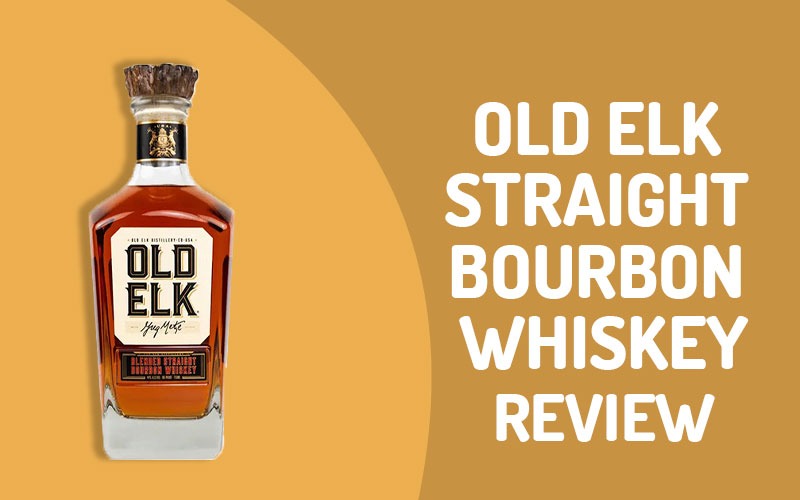 Old Elk Straight Bourbon Whiskey Review
Old Elk Straight Bourbon Whiskey combines straight bourbons, whose youngest is five years old. The mashbill contains 51% corn, 34% malted barley, and 15% rye. The amount of barley used is high, which adds to the whiskey's extra smoothness. Below includes other vital information about this drink:
Category: Old Elk is a straight bourbon whiskey. This category must initially be aged at least two years in new charred oak barrels at a concentration higher than 62.5%. The bourbon oxidizes and penetrates the oak wood, which gives it an oaky taste. However, corn whiskey is an exception because it is uncharred or used in oak barrels. In that case, the taste may never be like others because it needs some flavor notes added by the oak barrels.
Slow-cut processing: As a unique brand, Old Elk produces its bourbon whisky through a low-cut proofing process. This could cost additional time and money for them. However, the urge to provide the best version for the fans keeps them going. In proofing the alcohol, they added enough water for the liquid to reach the desired strength. It also gives it a lighter and finer flavor. The process of water addition is called slow-cut because of the gradual addition of water that takes weeks instead of hours. That is why you enjoy a smoother and more refined taste in each sip.
Nose: This Old Elk has pale caramel, a thick nougat layer, and vegetal aromas. The alcohol is also heavy on the nose, with corn husks, corn syrup, and spices following tagging along. The smell is pleasant but needs harder inhalation to bring out the notes.
Taste: It is medium-bodied with loads of cherry, followed by bourbon flavors of caramel, gingerbread, furniture polish, and oaky resin.
Mouthfeel: The mouthfeel is viscous and smooth, with approachable flavors.
Finish: The finish is short and nutty with a long alcohol note, marshmallow, and cola.
Alcohol content: Old Elk Straight Bourbon is bottled at 44% ABV, which is acceptable.
Price: It is retailed at an average of $55 per 750ml bottle.
Also Read: Castello Del Poggio Moscato Review
Pros and Cons
If you are planning a party and need to purchase some bottles of this drink, it is necessary to understand whether to proceed. The pros and cons below will guide your decision:
Pros
Uniqueness: It seems like another premium-priced bourbon in a beautiful bottle. However, if you dig deeper, you discover some compelling reasons to sip a glass. The name 'Greg Metze' is boldly written on the bottle. The agreement was that he would create smooth and easy bourbon. The high malted barley used for the production gave rise to it. The 'slow-cut' proofing process is another thing that stands it out. The essence is to preserve more delicate flavors produced during fermentation, distillation, and resting (maturation).
Satisfying: If you purchase this whiskey because of its taste, you will enjoy a satisfying flavor. It has all the ingredients in the right proportion.
Cons
Longer aging: It is usually aged four years but may require more aging to elicit extra flavors. This would also help it to lose its vodka and grassy notes from the high malt mashbill.
Value: At 88 proof and $50, this bourbon is on the high side. It is intended for the masses, not the socialite. It has the taste, aroma, and smoothness that attract everyone. However, it will not be surprising to see some dropping it back after checking out the price.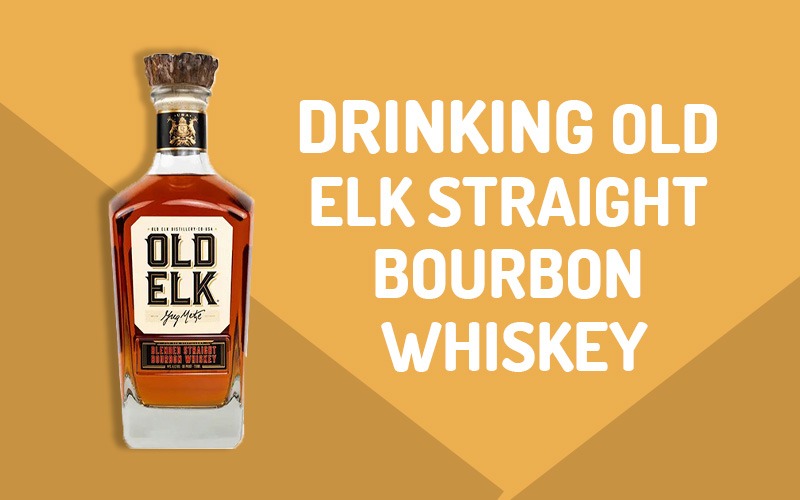 How Best Is Old Elk Straight Bourbon Whiskey Served?
This spirit is majorly served neat, on the rocks, or paired with other drinks to produce a cocktail.
Neat: You can pour it into a glass and sip. It goes down smoothly and does not leave a burn or bite.
On the rocks: This procedure is when you add ice to the glass before pouring this bourbon.
In cocktails: You can make numerous drinks with a combination of Old Elk Bourbon. Add them in the right proportion so no flavor overrides the other.
Perfect Pairings with Old Elk Straight Bourbon Whiskey
Serving bourbon with food is an age-long thing and has existed as far back as this drink's origin. Nevertheless, it is necessary to serve it with the right food to derive more flavors and balance the palate. Some of the foods to combine with it are explained below:
Salty prosciutto: When adequately salted, the flavors of prosciutto feel at home with bourbon. None overwhelms the other at each bite and sip. Both are silky, and that creates a perfect balance.
Hard cheese: If you want the cheese to be bold and bodied as this drink, try aged gouda or cheddar. They punch in their flavor with the same enthusiasm as this straight bourbon. Moreover, the cheese reduces the bite of the bourbon, leading you on at each bite and sip.
Ribeye: You can't ignore a delicious offering like this steak when pairing bourbon. The fatty ribeye mellows the bite of this spirit, and none overpowers the other. It is hard not to finish your steak with a glass of Old Elk Bourbon in your hand.
Chocolate: Grab a classic chocolate bar that melts in the mouth and gives your bourbon a nice pair. It does not matter whether it is a layered or a complete chocolate bar; nibble it between sips and ignite your taste buds. Sweet and bitter dark chocolates are perfect.
Berries: You make a fresh cocktail with berries and your favorite straight bourbon; why not enjoy the berries straight instead? Whether raspberry, strawberry, blackberry or any berry you could get, the blend with this delicious drink is priceless.
Popular Related Drinks
There are diverse straight bourbon whiskeys made with good ingredients and perfect for any occasion. If you are looking for an alternative to Old Elk Straight Bourbon, you may consider the following:
Wilderness Trail Small Batch Bourbon Bottled in Bond: This is produced by Wilderness Trail and is one of the unique bourbons. It contains 24% rye in the mashbill and displays the central part of its character from the grain. Though the nose dominates, the palate is smooth with a gentle spice and mentholated kick to the finish. The average price of Wilderness Trail Bourbon is $53.
Castle & Key Small Batch Traditional Bourbon 2023 Batch 1: This is another great brand for your bar. It comes from the renovated Castle and Key Distillery that stands tall in the former Old Taylor Distillery. This bourbon is proofed at 100, aged four years, and priced slightly above 50 bucks. Moreover, the flavor profile includes a blend of vanilla, sweet oak, and grain notes from its corn and rye mashbill. The average price is $55.
Four Roses Small Batch Select Bourbon: Four Roses is not only among the best bourbons, but it is also a popular drink. Notes of vanilla, oak, and caramel fill the mouth and nose with nuances of jasmine and ripe berries. With 52% ABV, the profile of this spirit evolves in the glass. The average price for Four Roses Bourbon is $60.
Frequently Asked Questions – Old Elk Straight Bourbon Whiskey
Who makes Old Elk Bourbon?
The founder of Old Elk Distillery is Curt Richardson. He founded and co-founded other establishments, such as Blue Ocean Enterprises, Inc.
When was Old Elk bourbon made?
Old Elk was created in 2013 when the owner ventured into distillation. He did not have prior experience, but with his team, he has proved qualified for the task.
Where do Old Elk source their whiskey?
The distillery is established in Colorado, although most distillates come from MGP.
Also Read: Tapatio Tequila Blanco Review (Is it Good?)
Cheers!
Old Elk Straight Bourbon Whiskey is one of the best you can add to your list. It is made with a high concentration of malt mashbill and has the right balance of flavor notes. It is sippable and goes down with your favorite dish.