Something unique about tequila makes it a favorite among most liquor enthusiasts. It has existed for ages and is not going into extinction anytime soon. Sauza 100 Anos Reposado is among the oldest tequilas produced as far back as 1873.
More attention was given to it as time progressed, and more sophisticated equipment was used to produce large-scale tequila. People outside Mexico discovered the fortune hidden in this drink and started marketing it, especially in the US.
Today, it has become a global phenomenon. This Sauza 100 Anos Reposado Review will discuss everything you need to about Sauza 100 Anos Reposado.
Let's get started!
Value for Price

Mixability

Sippability
⇒ Fun Facts ⇐
| Name: | Sauza 100 Anos Reposado |
| --- | --- |
| Brand: | Sauza |
| Country: | Mexico |
| Spirit Style: | Reposado |
| Spirit Type: | Tequila |
| ABV: | 75.5% |
Brand History
Manufactured by Casa Sauza, 100 Anos Tequila Reposado is one of the tequilas closely connected to contemporary tequila advancement. The company was established in Tequila, Jalisco, Mexico, in 1873.
There have been three generations since its foundation, and they have contributed to the tequila production process and quality improvement in the modern industry.
This tequila reposado is produced at La Perseverancia Distillery, which the original owners of Casa Sauza founded. As a reposado, 100 Anos Tequila is double-distilled and aged for at least two months in American white oak barrels. Moreover, it was the first tequila exported to the United States. So, it has a place in the American tequila history.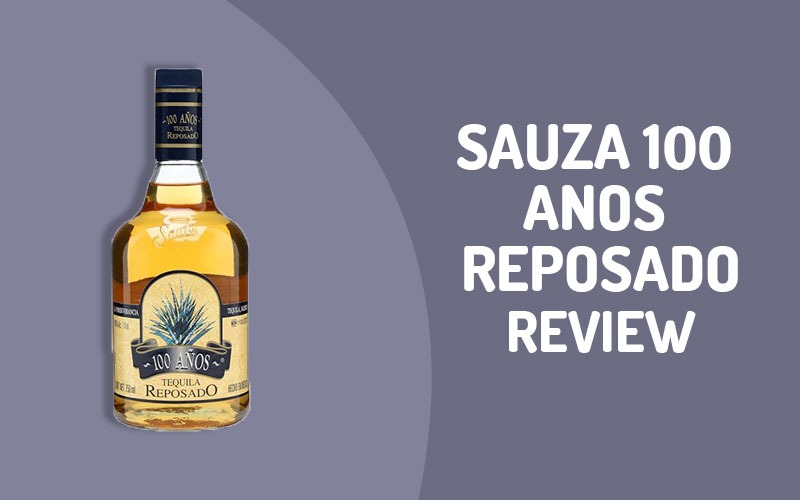 Sauza 100 Anos Reposado Review
Category: Tequila reposado is aged between two and twelve months in American white oak barrels. It is the best form of tequila for some people since it did not stay too long in the barrel. It is also great for sipping neat and hardly bites. Tequila reposado is versatile and may not take away the flavors of the food or other drinks it is paired with.
Color: This tequila is amber gold.
Nose: It has hints of oak, agave, and spices.
Taste: You will get notes of caramel, lightly toasted oak, cooked agave, and white pepper.
Finish: It ends with a warm, moderate bite and toasted oak finish.
Alcohol content: This spirit is bottled at 40% alcohol by volume (ABV).
Price: It costs around $20 to have this drink on your shelf.
Also Read: Chestnut Farms Bourbon Review
Pros and Cons
You may notice some favorable and unfavorable factors when buying or drinking this tequila. Below are some of them:
Pros
Suitable for mixing: This drink comes out well if you want to mix it with other drinks in cocktails. You will enjoy every sip and feel relaxed afterward.
Cheaper: For a popular brand, this tequila reposado is cheap. It may not be the best in the market, but it has good quality.
Cons
Strong bite: The first taste of 100 Anos Reposado shows a strong bite, making it challenging to identify other notes quickly. You may allow it to rest so the bite can mellow before sipping it. But this may allow additional flavor notes into the glass.
Extremely delicate: for a reposado, the tasting notes of this tequila are too mild. Its smoothness is not even, and it may take a new entrant some time to be acclimatized to it.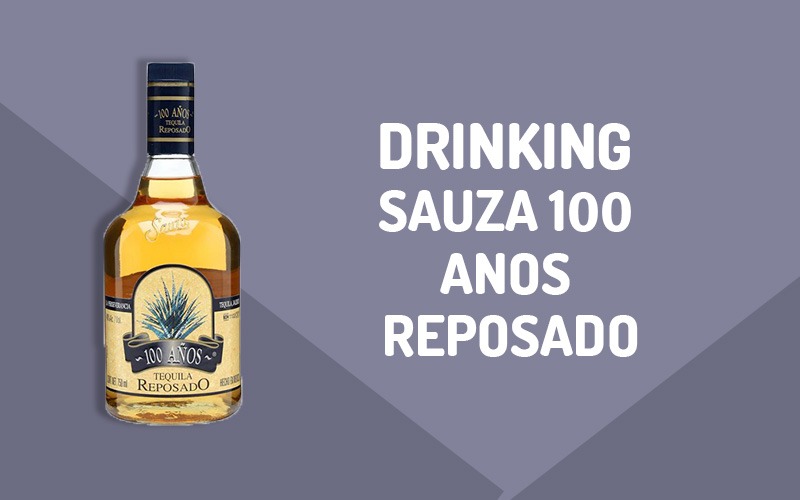 How Best Is Sauza 100 Anos Reposado Served?
This tequila is perfect for sipping on its own, over ice, or mixed into a cocktail.
Neat: Pour it into a glass and sip it without adding anything else.
Over ice: Place some ice cubes in a glass and pour your 100 Anos Tequila. Stir it a bit and sip. If you don't want it to mellow, drink it faster before the ice melts and mixes into this drink.
Cocktail: Several cocktail ideas are perfect for this tequila. Matador is a classic margarita you can try if you want something tropical.
To make Matador, combine tequila lime juice, pineapple juice, and angostura bitters into a shaker and mix. Strain into a cocktail glass and serve.
Perfect Pairings with Sauza 100 Anos Reposado
There is no ending to what we can do when it comes to pairing tequila and food. However, we must understand that our taste buds could reject certain food combinations with tequila reposado and other tequila variants.
In addition, Mexican street foods used to be the only dishes that came to mind when pairing tequila and food. But with vast knowledge of food combinations, many people could blend this drink with other cuisines like Caribbean, Latin, American, and African. This is why we have carefully selected the appropriate food flavors to balance your palate. Here they are:
Pork tacos: Tacos go well with tequila forms. However, meatier tacos like pork will be preferable for a reposado like Sauza 100 Anos. You may also try it with chicken tacos to get the same result.
Raw fish: Pairing Sauza 100 Anos Reposado with ceviche or seasoned fish tartare will give you reasons to keep biting and sipping. The seasoned flavor of the raw fish combines with this tequila to provide you with a heavenly feeling. Sashimi and sushi will also give you the same result.
Steak: You can combine a juicy steak with tequila reposado for a unique flavor. Steak fajitas are good options here. If you want to take your palate to another level, try it with a meaty burger, pulled pork, and other meaty dishes.
Popular Related Drinks
Casa Sauza has existed for several generations, serving the public with diverse tequila flavors. The 100 Anos Tequila has three variants of blanco, reposado, and anejo. Let's look at the Blanco and Anejo versions to see if you may consider them next time. You may also consider other reposado brands with good taste and quality.
100 Anos Blanco Tequila: Made from 100% blue agave, this drink is unaged and double-distilled with a special blend of column and pot stills. The distillation process brings a balance of the agave flavor and herbal notes. It offers aromas of caramel, oak, vanilla, and vegetal notes. This crystal-clear tequila is too sharp and needs to be allowed to open up a bit to reduce the bites. This may allow the entrance of light lemon notes.
Besides, it has agave and charcoal-infused flavor that may not be exactly what you want; but they are okay. 100 Anos Blanco Tequila is sold at around $19 per bottle; you can find it online. You can serve it straight, over ice, or as a refreshing cocktail with your favorite flavor mix.
100 Anos Anejo Tequila: This anejo is made from 100% blue agave and is rich in color and taste. It contains hints of oak, vanilla, caramel, agave, and spices. 100 Anos Anejo Tequila is smooth and can easily blend into cocktails with other juices. You can also drink it straight or on the rocks.
Hornitos Reposado Tequila: It is a popular tequila made from 100% blue agave. With a unique flavor and smoothness, this drink does not contain carbs, which is rare. You can trust Hornitos Reposado Tequila to satisfy you when looking for old tequilas. It is baked in a little oven called hornitos, mashed, fermented, and double-distilled. It is aged in former bourbon barrels for two months to one year before bottling.
Thus, this tequila is between the non-aged blanco and much more aged anejo. It comes in delicate light gold color with aromas of apple, agave, and herbs.
Frequently Asked Questions – Sauza 100 Anos Reposado
Who owns 100 Anos Tequila?
This tequila is owned and manufactured by Casa Sauza in Jalisco, Mexico. The company has existed since 1873 and is believed to be the originator of modern-day tequila.
How much alcohol does 100 años have?
100 Anos Tequila Reposado is made with blue agave plant and bottled at 40% ABV (80 proof).
Is Sauza a cheap tequila?
Sauza tequilas are sold at an affordable price of around $20 per bottle.
How do you drink Reposado tequila?
To enjoy 100 Anos Reposado Tequila, it is best to sip it slowly to allow you to relish the taste notes. You will also discover more hints of flavors that may not be mentioned here.
Is Sauza 100% tequila?
Sauza Tequila products are made from 100% blue agave plants. They are versatile and can be mixed into margaritas and other cocktails.
Also Read: Black Maple Hill Bourbon Review
Cheers!
This delicious tequila is one of the best you can get from Casa Sauza. It offers a great aroma and taste with a lingering finish. You can hardly find such in the market for a low price, owing to the brand's popularity and quality. Sauza 100 Anos Reposado is not just a tequila but a refreshing drink.