If you crave rich and smooth tequila with more pronounced oak and vanilla flavor, you will have no worries checking this out.
Sauza Tres Generaciones Anejo Tequila is aged in oak barrels to derive the best flavors. You get this when you purchase a tequila made in mexico by one of the best brands.
Mexico is one place to find original tequila from 100% blue agave plants. That is why the Sauza family took their time to establish the business from the source – in the heart of Jalisco, Mexico.
Today, Sauza Tres Generaciones Anejo Tequila has become a top brand globally and in this piece, we will be doing a Sauza Tres Generaciones Anejo Tequila review bringing all there is to know about this drink.
Let's get started!
Value for Price

Mixability

Sippability
Quick Facts
| Name: | Sauza Tres Generaciones Anejo Tequila |
| --- | --- |
| Brand: | Sauza |
| Country: | Mexico |
| Spirit Style: | Anejo |
| Spirit Type: | Tequila |
| ABV: | 40% |
Brand History
Don Cenobio Sauza established Sauza in 1873 at La Perseverrancia distillery. He could be called the father of tequila distillation because he was the first to refer to spirits from the blue agave as tequila.
He was the first to export the beverage to the United States and he also introduced new practices into tequila-making to improve the quality before the exportation.
His son, Don Eladio Sauza, advanced the company by establishing branches in Mexico City, Monterrey, and a concession in Spain. After that, his grandson, Don Francisco Javier Sauza, took over the company's leadership in 1931. This was how the three generations of the Sauza family established and expanded the Sauza business.
However, in the 70s, 80s, and 90s, a series of takeovers took place in the brand that eventually made it a part of Fortune Brands.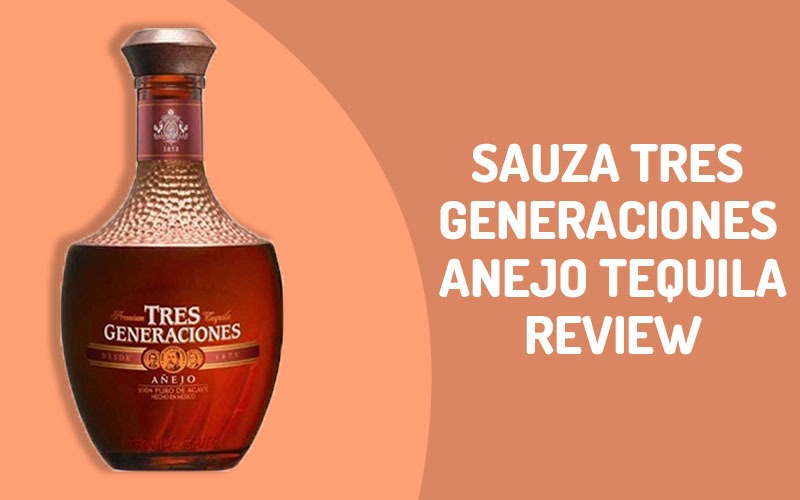 Sauza Tres Generaciones Anejo Tequila Review
Everything about this tequila says 'premium,' from the original taste to the beautiful bottle. The agave used is 100% original, and the complementary flavor is the smoky, rich flavor with oak and citrus. Upon uncorking the bottle, you will get the smoky whiff that allows you to enjoy the drink before you even pour it out.
Hence, if you want an easy-to-sip tequila that costs less than $50, we recommend this lovely anejo. There is more about Sauza Tres Generaciones Anejo Tequila to be unveiled. It promises to be fun all the way!
Appearance: As an anejo, the drink has a rich pale straw color, which is distinct and delicious. On swirling, it leaves a light layer on the glass, with some legs forming and plentiful beads. The body is big and well-balanced, the way tequila should be.
Process: Created in the lowlands of Jalisco in Mexico, this tequila is one of the best worldwide. The Sauza family used various modern distillery techniques to produce the drink. They first macerated the pines before cooking them in steel ovens. After that, they extracted the water for distillation thrice to ensure smoothness and complex flavor profile. The last process involves aging it in medium char bourbon barrels for at least one year to become anejo.
Packaging: The decanter is clear but heavily colored brown with a shiny copper accent on the neck region. It has a heavy bottom, which gives it a well-rounded balance. Its neck is fitted for a good grip. On top of the neck is a cork stopper with a large wooden top that makes the opening easier. The decanter color is so dark that you won't identify the content within, which leads to a false impression of the content's appearance.
First Impression: On first contact, you will notice fruit, some spice, citrus, and vanilla. Bay leaves, melon, spice notes, pale oak, traces of galangal root, and leather follow this. It is softer and fruitier than highland tequila.
Nose: The opening is an aroma of solid toasted oak, lightly cooked agave with a hint of vanilla and caramel sweetness.
Taste: It has rich, smoky, and complex flavors. You will get a full and balanced caramel, soft oak, and rich agave on the palate.
Finish: A lingering warm oak finishes quickly, leaving a feeling of white pepper and oak dryness on the mouth.
Alcohol Content: 40% ABV or alcohol by volume (80 proof). This means Sauza Tres Generaciones Anejo contains a lot of alcohol. If you drink it faster, it may hit back with the same momentum. It can kick in as fast as 10 to 20 minutes.
Hence, it would be best to sip it slowly to avoid getting drunk. Another thing is that since it has 40% alcohol by volume, it typically contains simple sugar and no additive. Hence, it would last longer than most spirits if opened. But if unopened, the shelf life is indefinite.
Price: A 750 ml bottle costs around $40 – $50.bGenerally, tequila is expensive. That is why it is a drink for celebrities. However, it does not mean a layperson cannot afford it. So, go for it if you have the money.
Also Read: Ghost Tequila Review
Should you drink Sauza Tres Generaciones Anejo Tequila?
Anejo tequila takes the flavor profile to another level due to the time it takes during the aging process. That is not all; below are some of the reasons to drink this tequila moderately:
Hangover: Sauza Tres Generaciones does not give you a hangover. It is a simple fact that tequila treats you exactly how you treat it. If you take it excessively, it will hit back with full force. But when you give it some respect and drink moderately, you will never experience any hangover. As long as it is an original version of this drink, made from 100% blue agave, you have nothing to worry about.
Health benefits: A shot before lunch can excite the appetite, while one after dinner can aid digestion. If you have high blood sugar, you can conveniently take Sauza Tres w Generaciones Anejo, as it only possesses simple sugar. The simple sugar breaks down easily and moves on. Other health benefits include alleviating stress, tension, and headache.
Classiness: Whether you argue it or not, tequila is a classy drink. It is a polished product that is not found anyhow. Sipping it commands respect. Plus, the price of this special drink is among the highest tequila goes for.
Sauza Tequila is packaged history: You are not only drinking tequila, but you are also drinking Mexico and three generations in a bottle. It is a respected drink worldwide, owing to its origin and the lowlands where it originated from.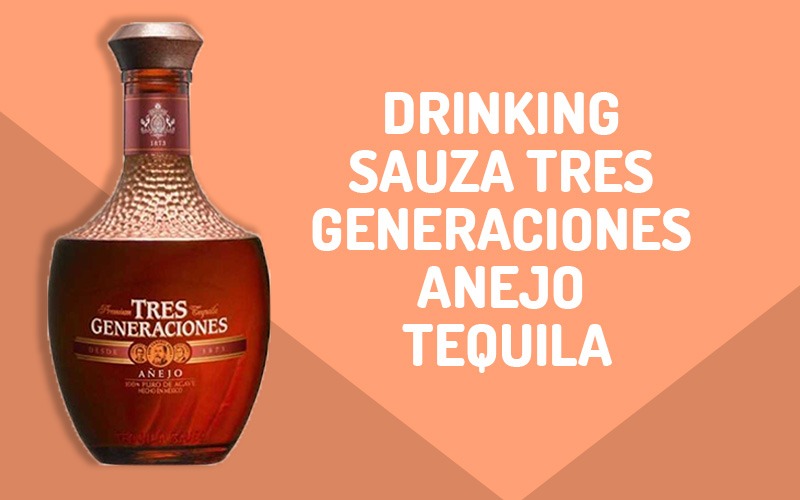 How is Sauza Tres Generaciones Anejo Tequila Best Served?
You can serve Sauza Tres Generaciones Anejo Tequila neat, on the rocks, or in a cocktail. If you want to serve it neat, you can chill it to make it cold and relaxing.
You can also make a cocktail using tequila and complex flavors of juice. For a serving, get a shaker and mix 1.5 ounces of Sauza Tres Generaciones, 1 ounce of peach liqueur, 1 ounce of coconut cream, 0.5 ounces of lemon juice, 0.5 ounces of pacharan liqueur, and 100g Frappe ice. Shake all for 45 seconds, pour in an old-fashioned glass, and garnish with lemon zest and red wine before serving.
Perfect Pairings for Sauza Tres Generaciones Anejo Tequila
What food pairs with Sauza Tres Generaciones Anejo Tequila, you may ask. An array of food can be served with your favorite drink. Since this anejo tequila is unique, you can enjoy it during the main course or with a dessert if you want something light. Try steak fajitas, dessert, grilled fish, or savory food to elicit its agave and oaky flavors. Here is what we mean:
Grilled or raw fish: ceviche, oysters, tartare, and other fish that can be eaten raw would be a perfect match for Sauza Tres Generaciones. You can try it with sushi, sashimi, seafood, or grilled fish.
Veggies: Try your grilled or fresh vegetables with your favorite tequila's full-bodied oak and vanilla flavor. Both blend perfectly and give the palate a delicious mix.
Steak: Savory steaks' bold and rich flavor will pair significantly with this anejo tequila. It feels like heaven as they hit your palate.
Chocolate: The oak and agave flavors of anejo tequila can match dark chocolate and give your taste buds something to relish.
Popular Related Drinks
Aside from the Sauza Tres Generaciones Anejo, the business produces other brands of tequila you would love. They include Reposado, Plata, Crystalino, Cenobio's Batch Plata, and La Colonial Reposado.
Tres Generaciones Reposado: This sweet and spicy tequila is made from 100% blue agave and is triple-distilled for smoothness. It is then rested in American oak barrels for at least months.
In addition, Tres Generaciones Reposado is bright gold. The aroma is pepper, herbs, and spice, balanced with light oak notes. It also has an initial spicy taste with toasted oak and fresh agave and herbs in the background. Lastly, the finishing of this reposado is dry with long white pepper.
Tres Generaciones Plata: This smooth and clean tequila is an un-aged crystal clear version from 100% blue agave. It is also triple-distilled, resulting in its velvety and agave flavor. It is clear and colorless, with mild-fleshy agave and hints of citrus and sweet floral notes on the nose. The background taste is the spiciness of herbs and agave balanced by a bite or burn. In the same way, the finish is lingering white pepper that is clean and cool.
Tres Generaciones Cristalino: The drink is unique and velvety, triple-distilled from 100% Weber blue agave. It is rested in American white oak for at least one year to improve its character – unique flavors and a smoky finish. Besides, it is filtered via diatomaceous earth to extricate the hue, balancing the flavor profile silently.
Frequently Asked Questions – Sauza Tres Generaciones Anejo Tequila
Why is Sauza Tres Generaciones an anejo?
Tequila is of three forms: Blanco, Reposado, and Anejo. There are also other versions in form of extra-anejo, and a mixture of different versions of tequila. To be called an anejo, the tequila must be allowed age or mature in American oak barrels for at least 12 months. This gives it firm flavor profiles and notes of toasty vanilla, brown sugar, dry fruit, citrus, etc. Sauza Tres Generaciones is perfect for sipping neat, on the rocks, or in cocktails.
Is Sauza Tres Generaciones Anejo Tequila made on strict terms?
Mexico's Tequila Regulatory Council (TRC) sets the standards that every tequila industry must allow the anejo version to age in oak barrels for at least one year. This adds to the complex signature flavors and amber color of the drink. So, always read the label accurately to ensure the production complies with the strict standard of TRC.
How long was the drink allowed to age?
The agave flavor was allowed to rest in toasted American oak barrels for 12 months to derive the oak flavor for the tequila. Before resting, the drink was triple-filtered to obtain a smooth and rich flavor.
What mixes well with Sauza Tres Generaciones Anejo Tequila?
The spirit can be sipped slowly directly, in ice or other mixtures. The strong flavor can overpower a mixed beverage. That is why using simple traditional cocktail ingredients like orange, lime, grapefruit, and other juices or sodas is better. You can also muddle your Sauza Tres Generaciones with jalapeno with a little sugar and lime.
In addition, it pairs well with desserts, sandwiches, and appetizers. You can sip it with the food or after dinner to culminate the day. If you are a cigar fan, blending both won't be bad.
How many versions of tequila does Tres Generaciones produce?
There are three primary variants of Tres Generaciones Tequila, and they are:
Tre Generaciones Plata: Made from 100% blue agave, triple-distilled, and bottled unaged.
Tre Generaciones Reposado: Made from 100% blue agave, triple-distilled, and aged four months in American oak barrels.
Tres Generiaciones Anejo: made from 100% blue agave, triple-distilled, and aged 12 months in toasted American oak barrels, giving it a rich, dark hue.
Aside from these three, the company produces other brands. You can visit their website for more information.
Also Read: Wycliff California Champagne Brut Review
Cheers!
Even though many people appreciate the effort in producing Sauza Tres Generaciones Anejo Tequila, some still feel it is not worth becoming a favorite. The argument is that it is easy to find, and the price for the value is exceptionally high. To them, they feel loosely ripped off for the quality.