Shock Top Twisted Pretzel Wheat is a limited-edition brew, providing a delicious flavor and nose of a bakery-fresh pretzel in Belgian-style wheat ale.
Popular for their Belgian white brew and raspberry wheat, Shock Top Brewing Company is among the best in the US. They also produce seasonal beers.
Shock Top was first crafted in 2006 in Fort Collins, Colorado, as 'Spring Heat Spiced Wheat.' However, the ale is brewed at the Anheuser-Busch headquarters in St Louis, Missouri.
This Shock Top Twisted Pretzel Wheat Review features everything there is to know about this US locally produced beer.
Let's get started!
Value for Price

Mixability

Sippability
⇒ Fun Facts ⇐
| Name: | Shock Top Twisted Pretzel Wheat |
| --- | --- |
| Brand: | Shock Top |
| Country: | United States |
| Beer Style: | Wheat Ale, American Pale Wheat Ale |
| Beer Type: | Ale |
| ABV: | 5.2% |
| Released: | 2016-Present |
Brand History
It all started in 2006 when the drink was a seasonal brew called 'Spring Heat Spiced Wheat.' That same year, it won gold and bronze in the 2006 and 2007 North America Beer Awards for best Belgian White.
After they had 'shocked' the world with their grand arrival that was capped with a win, the brand decided to change the name of their trademark ale to 'Shock Top,' which has remained to date. Moreover, the company has since grown past its signature Belgian White to diverse beers with diverse flavors for every taste bud.
In 2014, it released the Twisted Pretzel Wheat just before National Pretzel Day on April 26. It is a limited edition beer that was first released as draught at some locations and more than 150 beer festivals countrywide. Using quality ingredients, the company made a beer everyone likes after discovering that people are snacking on pretzel beer more than before.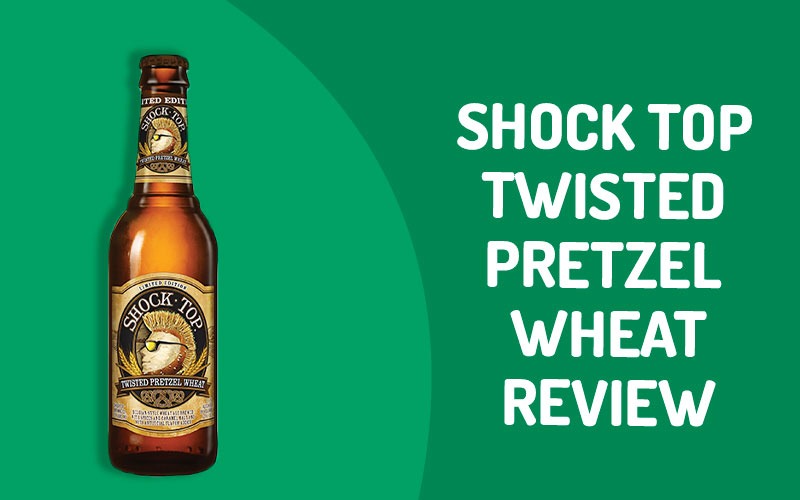 Shock Top Twisted Pretzel Wheat Review
This Belgian wheat ale is an exciting beer. You may wonder if a pretzel beer will amount to anything good, and the answer is that it is beyond being good. It is a delicious drink with copper-colored pours that top off with a two-finger head. The calories are not much, just 256.
In addition, it is caramel and biscuit-flavored, with diverse aromas that tend towards toasted malts and pretzels. You can't say it is overly sweet, bitter, or highly carbonated. Everything is just right.
Appearance: It is dark brown, with a slightly hazy body. The body is translucent, revealing its carbonation. The pour is a two-finger, off-white, foamy head that retains and laces excellently.
Nose: The smell is the best aspect of this warm, soft, Twisted Pretzel Wheat. It comes off with plenty of wheat and baked goods like a movie theatre or sports arena scents.
Taste: Since the smell of this ale delivers as it should, one would hope the taste would follow suit. Sadly, it tilts toward a mild Dunkelweizen. It opens with lightly roasted malt, wheat, and chocolate. The palate is so mild, and spices are hard to identify.
Finish: The mouthfeel of Shock Top Twisted Pretzel Wheat is light and a little underwhelming. It is not so crisp, but not paper thin, either. It comes in full body with a smooth texture.
Alcohol content: 5.2%
Pros and Cons
The likability of this beer is far and impressive. However, we want to point out some observations, and hopefully, you will notice once you crack your bottle open. Consider the following:
Pros:
Spot on: If you are into novelty beers, you will love the Shock Top Twisted Pretzel Wheat. It is also perfect for a nice dinner and has a low ABV.
Cons:
Enduring beer: Novelty beers are few and far between, which made the Twisted Pretzel a 'savior' once it landed. The nose is a pretzel, but the taste bud hardly recognizes it. It is too mild to be one, and you can't say it is refreshing; only a pedestrian drinker can endure.
Not suitable for the fire: If you want a cigar, beer, or something to play around the fire with, you may go for something else. It does not give the satisfaction you may desire. However, someone else may find it amusing.
Also Read: Black Maple Hill Bourbon Review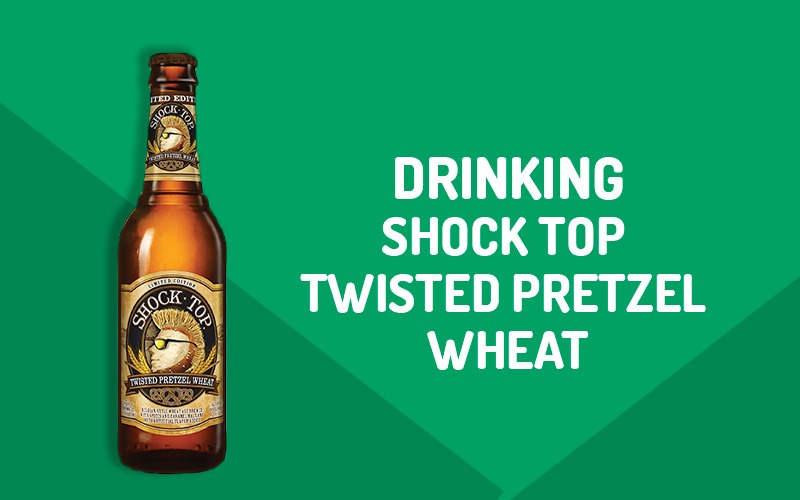 Drinking Shock Top Twisted Pretzel Wheat
This drink is best poured into a pint glass. You can serve it cold or over ice with citrus garnishing. The glass has a broad opening that narrows at the bottom, allowing the head to form. Another method is to add it in one shot of Grand Marnier.
Perfect Pairings
If you are sipping the Shock Top Twisted Pretzel Wheat, you can enjoy it with crunchy popcorn or soft pretzels. It also goes well with buffalo wings, spicy food, salads, pastries, and fish. If you are taking it with a clean taste, it will complement the flavor. You won't find it daunting pairing this beer with any dish because it easily goes off with food, especially your everyday food.
Popcorn: The crunchy popcorn enhances the near-crisp taste of this beer. You will feel it right as both bring balance to the mix.
Fresh summer salad: Leafy greens and cucumber give wheat beers the balance they deserve. Whatever the beer flavor is, especially with fresh-bake and citrus notes, the combination will always hit the spot. Experimenting with creamy dressings like sliced boiled eggs, ham, or turkey to garnish will spice up the pairing.
Lighter fish: Both in flavor and weight, Shock Top Twisted Pretzel and more delicate fish will always combine well. A squeeze or slice of lemon will add some freshness to the whole thing.
Fruit salad: A bowl of fruit salad is fruity refreshment that deserves a bottle of wheat beer. Why not go for this combination if you want something light for lunch?
Here, you are with your favorite Shock Top Twisted Pretzel with the above food pairings. However, it does not hurt to experiment with some other foods in your locality. Tacos, pizzas, sushi, and others will surely be grand when you prioritize them.
Popular Related Drinks
We all have our favorites regarding what to eat or drink. Whether you are looking for an alternative to discover new favorites, or your favorite Twisted Pretzel Wheat is nowhere to be found, you can check the list below for top options. What's more, drink safely and responsibly.
Allagash White: This has been a favorite choice among beer drinkers since 1995, when it was established by the Allagash Brewing Company of Portland, Maine. Allagash boasts 5.0% ABV with its Belgian wheat-inspired flavors. It is brewed with Curacao orange peel, coriander, and other spices, which creates a refreshing, easy-to-sip concoct.
With a slice of orange, you won't stop talking about Allagash White. It pairs well with hearty sandwiches, cheeses, grilled meats, and other pub food. Besides, you can find it in supermarkets and restaurants across the USA.
Avery White Rascal: Brewed by the Avery Brewing Company in Boulder, Colorado, this silver medal-winner Belgian-style wheat beer is a must-drink. It is an award-winning beer with an ABV of 5.6% with a signature blend of Curacao orange peel and coriander. Avery White Rascal is great with fruity flavors.
Blue Moon: Almost everyone in the US knows Blue Moon, or someone knows someone that knows it. It is that popular, and anyone can fall in love with it. Blue Moon is brewed by Coors in Denver, Colorado, and boasts 5.4% alcohol by volume (ABV). Moreover, it is sippable and usually garnished with an orange peel.
Dogfish Head Namaste: With its headquarters in Milton, Delaware, Dogfish Head Brewery came up with this Belgian-style wheat beer to entice the public. It is brewed with lemongrass and goes down easy. It is subtly sweet with an ABV of 5.0%. Unfortunately, it may not be easy finding it in some restaurants.
Frequently Asked Questions – Shock Top Twisted Pretzel Wheat
What kind of beer is Shock Top Twisted Pretzel Wheat?
It is an American pale wheat ale with an ABV of 5.2%. It aims to reunite the taste of cold beer and warm, bakery-fresh pretzels.
How much alcohol is in Shock Top Twisted Pretzel Wheat?
It clocks in at 5.2% ABV. This makes it a light beer you can crack open and pour. It will hardly give you a hangover.
Is Shock Top Twisted Pretzel Wheat?
Shock Top Twisted Pretzel Wheat is medium-bodied and brewed with orange, lemon, lime peels, and coriander. It is an unfiltered Belgian-style wheat ale.
What is Shock Top Twisted Pretzel Wheat made of?
The Twisted Pretzel ale is created with wheat, caramel malt, pretzel flavor, and orange peel. These combine to give it a soft mouthfeel, pretzel flavor, and dark caramel color.
Besides, the hops in it open up to a subtle grassy taste, although you will hardly identify it. However, the shining star of the drink is the pretzel, which comes in during the brewing process.
Also Read: Mississippi Mud Black & Tan Review
Cheers!
Shock Top Twisted Pretzel Wheat is not a usual Belgian-style wheat beer because of its uniqueness. It is easy to sip and great for a small party with friends. You can also pair it with almost every food and snack without hassles. If you are confused about picking a bottle today, you may be doing yourself a disservice if you don't. So, yes, go ahead and crack it open.