Truly Hard Seltzer is a top-selling seltzer in the United States. It focuses on delivering flavored seltzers in a variety of packs.
This is one of the brevrages to try out when hanging out with friends and family as it provides different unique tastes to match different choices.
This Truly Hard Seltzer Poolside Variety Pack review, brings to the table everything there is to know about Truly Hard Seltzer Poolside Variety Pack.
Let's get sipping!
Value for Price

Mixability

Sippability
⇒ Fun Facts ⇐
| Name: | TRULY Hard Seltzer Poolside Variety Pack |
| --- | --- |
| Brand: | TRULY |
| Country: | United States |
| Beer Style: | Hard Seltzer |
| Beer Type: | Seltzers & Flavored Beverages |
| ABV: | 4.5% |
Brand History
Truly Hard Seltzer was established because its owners wanted to avoid drinking uninspiring beverages. They wanted something different from the usual with all the flavors but without carbohydrates, sugars, and calories. They wanted something boozy but different from the beers, wines, and cocktails that everyone is used to.
Hence, they settled on a simple beverage with natural ingredients, hints of fruits, and no artificial sweeteners. After almost 1,500 testing hours for over 130 recipes and more than 2000 seltzer drinkers in major US cities like Chicago, Dallas, and Boston, they were satisfied with the results. Their products are ideal for beach parties, poolside discussions, cookouts, bars, summer picnics, or just relaxing on the balcony.
Truly products are making waves because they don't leave a bitter aftertaste like most drinks in their categories. Truly Hard Seltzer comes in various cartons of diverse flavors.
Some of them include the tropical mixed pack of mango, pineapple, watermelon & kiwi, and passion fruit; the berry mixed pack of blueberry & acai, black cherry, wild berry, and raspberry; the mixed citrus pack of orange, lime, lemon, and grapefruit; and a tropical pack of peach, pineapple, mango, and coconut.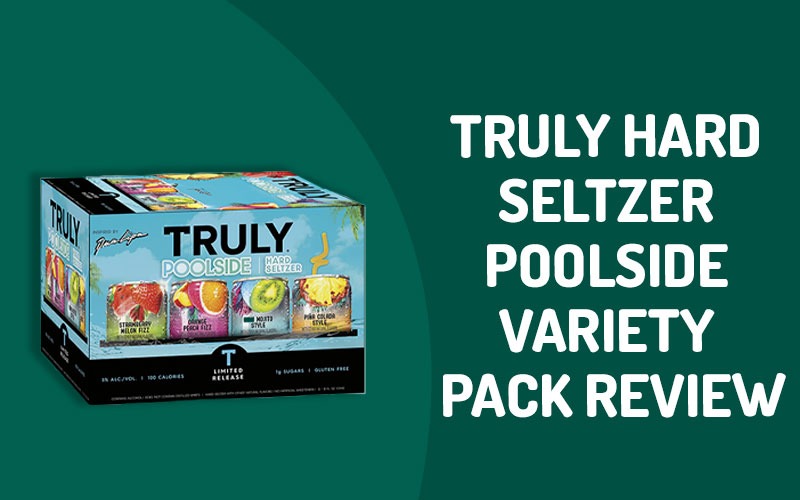 Truly Hard Seltzer Poolside Variety Pack Review
Grammy Award-winning pop star Dua Lipa handpicked this Poolside Variety Pack. Truly Hard Seltzer partnered with her to bring this refreshing pack to your doorstep. It contains four fresh, new flavors. They taste different and make the experience worth every drop.
Truly Poolside Pack is made from a sugar alcohol base with unfiltered water, natural flavors, and stevia sweetener. These drinks are flavors waiting to be explored. We will look at them individually to help you explore the drink you are about to purchase.
Category: Hard seltzer, also known as spiked seltzer or hard sparkling water, is an alcoholic beverage that contains alcohol, carbonated water, and diverse fruit flavors. They are packaged in cans, each with 5.0% alcohol, 100 calories, one gram of sugar, and two grams of carbohydrates. Hard seltzers are also gluten-free. They are mostly found in the United States.
Truly Kiwi Mojito Style
Note: This drink opens with an aroma of minty strawberry, kiwi, pineapple, and citrus. Later, banana notes appear and gradually build into a sour strawberry and banana taffy peak, which peters with tangy pineapple.
Taste: On the palate, strawberry, kiwi, pineapple, and citrus notes appear. They are joined by banana and mint, which later become more prominent, taking on a creamy milk-chocolate mint taste.
Finish: The mint remains to the end with citrus and tropical fruit.
Alcohol: This hard seltzer only contains 5.0% ABV, making it a mild drink. Consider it if you want a drink that does not get you easily boozy.
Truly Orange Peach Fizz
Nose: It enters with notes of peeled orange and sliced peach.
Taste: The palate leads with the sweet orange notes, which build to a sugar-dusted-ripe peach peak and fade with juicy orange.
Finish: The finish lingers with orange juice and canned peaches in syrup.
Truly Strawberry Melon Fizz
Nose: The aroma enters with Fanta Strawberry and candied watermelon (Jolly Rancher Watermelon candy, in particular).
Taste: The candied watermelon leads, building to a Strawberry Starburst peak. Then, it goes down with strawberry bubblegum.
Finish: Truly Strawberry Melon Fizz finishes with tangy citrus, Watermelon Jell-O, and sour strawberry gummy bear.
Truly Poolside Piña Colada Style
Nose: The aroma is filled with sweet pineapple and creamy coconut.
Taste: The aromatic pineapple and creamy coconut appear on the palate, peaking to a piña colada. Then, the whole taste fades into tangy pineapple, coconut buttercream, and molasses.
Finish: Poolside piña colada taste lingers to the end. It combines the taste of pineapple and coconut until finished.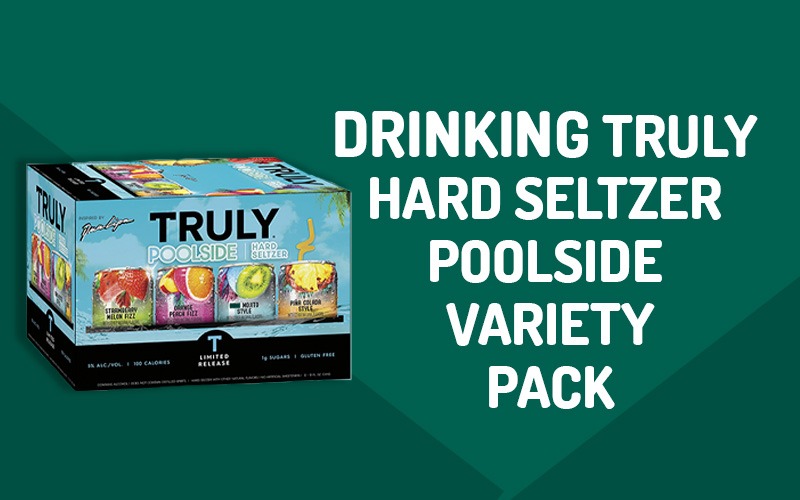 How Best is Truly Hard Seltzer Poolside Variety Pack Served?
Serving this drink requires a straightforward method. You can serve it chilled in a glass or sip it from the can. Add ice and a lime wedge to a chilled glass to make it more stimulating. To do so, add some ice cubes to a glass. Squeeze the lime wedge and place it inside halfway through pouring this drink before filling the top of the glass.
Popular Related Drinks
Truly Vodka Seltzer Peach & Tangerine: The summer-ripening peach is a perfect blend with tangerine for a fruity outcome. Combined with premium vodka, you will get Truly Vodka Seltzer Peach & Tangerine. This drink smells like summer, with a pleasing aroma that places you in a better mood. It does not matter if you drink indoors or outdoors, the drinking experience comes with many bubbles.
Truly Vodka Seltzer Pineapple & Cranberry: Pineapple and cranberry have nothing in common. However, Truly Hard Seltzer can innovatively pair them with premium vodka to wow its customers. The flavor is enjoyable, and you will be amazed if you are a curious taster. You will first get the sweet pineapple flavor before the tanginess of the cranberry enters. When you pour the drink from the can to the glass, you will get a pink color, which isn't bad.
Truly Vodka Seltzer Blackberry & Lemon: Both blackberry and tart lemon flavors are obtained naturally. If you have high expectations of them, you will be pleasantly surprised. The strong berry scent overpowers the light lemon, and you can tell the company carefully selected both flavors. If you love lemon-inspired seltzers, you will enjoy the Truly Blackberry & Lemon Vodka Seltzer option. It makes a great addition to any poolside or beach party.
Frequently Asked Questions – Truly Hard Seltzer Poolside Variety Pack
What is a Truly drink?
Truly is a seltzer drink company with 5.0% alcohol, 2 carbs, 100 calories, and no gluten. They come in different variety packs with four cans of four different flavors in each pack. You can enjoy them anywhere, whether indoors or outdoors.
Who owns Truly?
Truly Hard Seltzer is a branch of Hard Seltzer Beverage Company, LLC, affiliated with the popular Boston Beer Company.
Is Truly Hard Seltzer Gluten Free?
All Truly Hard Seltzer products are gluten-free and made from natural flavors and cane sugar. They are also vegan-friendly.
Cheers!
Truly Hard Seltzer Poolside Variety Pack contains a lot you should not miss. It is a warm drink with little alcohol, which makes it hard to knock you off. If you are looking for a summer drink that you can crack open anywhere and drink, then you can go for any of the flavors in this pack.