The acceptance of tequila as a standard drink has increased in recent years, making it one of the most celebrated drinks. It is primarily found in upscale liquor bars, showcasing taste and quality.
This drink has a newfound attraction towards it is linked with its enhancement of the quality and reputation among spirit lovers. If you savor it, you will be pleasantly surprised at the smoothness and lingering experience.
Hence, this 1921 Crema Tequila review explores everything there is to know about 1921 Crema Tequila and why you would love it.
Let's get sipping!
Value for Price

Mixability

Sippability
⇒ Fun Facts ⇐
| Name: | 1921 Crema Tequila |
| --- | --- |
| Brand: | 1921 |
| Country: | Mexico |
| Spirit Style: | Cream |
| Spirit Type: | Liqueurs/Cordials/Schnapps |
| ABV: | 15% |
Brand History
You may think the name '1921' signifies that this spirit was created in 1921. Interestingly, it was created in 1996 to create tequila cream with ultra-premium quality while sharing a part of Mexican culture with other parts of the world. '1921' was the end of the Mexican revolutionary war, and that was the history behind the production of this tequila.
It represents the Mexican culture and most treasured tradition.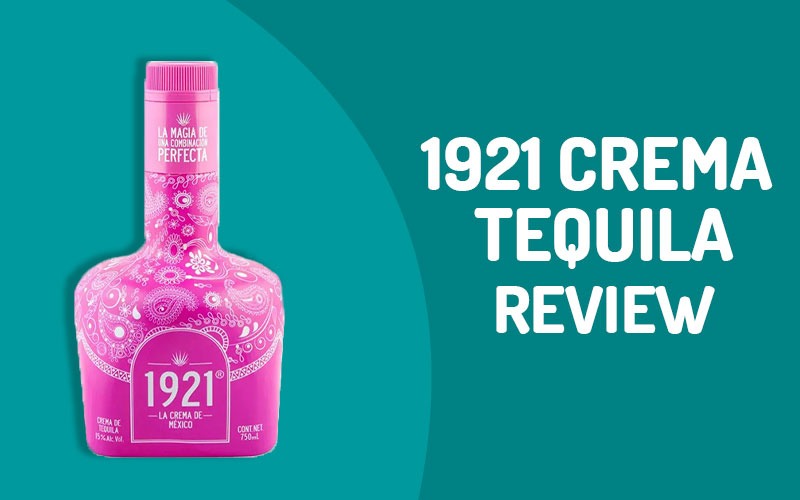 1921 Crema Tequila Review
It takes only a sip to recognize this premium-quality cream tequila. It is soft and gentle, making a priceless addition to any drink. The shelf-life is about 18 months. Moreover, the production process is the same as that of traditional tequila.
Category: Cream tequila combines the soft taste of cream with high-quality tequila. In the case of 1921 Tequila Cream, Blanco tequila was used. This exciting blend has an agave aroma, hints of coffee, and caramel, with a creamy mouthfeel.
Appearance: The bottle comes in green or pink, bearing the same spirit. It is a squat square with a beautiful visual appeal. It is also cork-sealed with waxy plastic over it that can be removed with a tear strip. A back sticker on the bottle says you do not need to refrigerate the product.
In the glass, this 1921 Crema Tequila is rich brown and cream-like. It is best to shake the bottle before pouring the content. If not, you may experience a lumpy mouthfeel.
Nose: It has a welcoming and fresh caramel, nutmeg, and cinnamon aroma. The aroma is rounded by agave notes that invite you to sip from the glass.
Taste: 1921 Crema Tequila hits the palate with subtle vanilla, coffee, and cinnamon, which are sweet and gentle. This could be attributed to its low alcohol grade.
Finish: This is long and well-balanced with supreme deliciousness. The mouthfeel is creamy and appreciative.
Alcohol content: The alcohol by volume of this drink is 15% (30 proof), which is relatively low.
Price: It costs around $30 – $40 to have a bottle of 1921 Tequila Cream on your liquor shelf.
Also Read: Castle and Key Bourbon Review
Pros and Cons
1921 Crema Tequila is excellent tequila with an international standard. Here are the pros and cons before purchasing it:
Pros
Unique: This spirit is unique and can be used as a digestive. It is also appropriate to combine it with desserts. As a tequila cream, it is smooth and tasty with no artificial undertone.
Every taste: It is perfect for everyone. Whether you want high-quality or cheaper tequila, you will find what you want in each bottle.
Low in alcohol: The alcohol content is negligible compared to standard tequilas. Thus, it can be considered a mild drink.
Dessert drink: This tequila is best considered for dessert, although you can drink it neat or over ice. The mouthfeel, taste, and aroma are outstanding. The flavors are complementary. 1921 Tequila Cream is perfect for food pairing or an after-dinner drink.
Cons
It may be lumpy: Shaking the bottle before pouring the content is best. If not, you may experience a lumpy mouthfeel. This may spoil the whole fun.
Short shelf life: This creamy tequila lasts between nine and 18 months, which is against the typical shelf-life of tequilas. Undoubtedly, it is caused by the presence of the liqueur.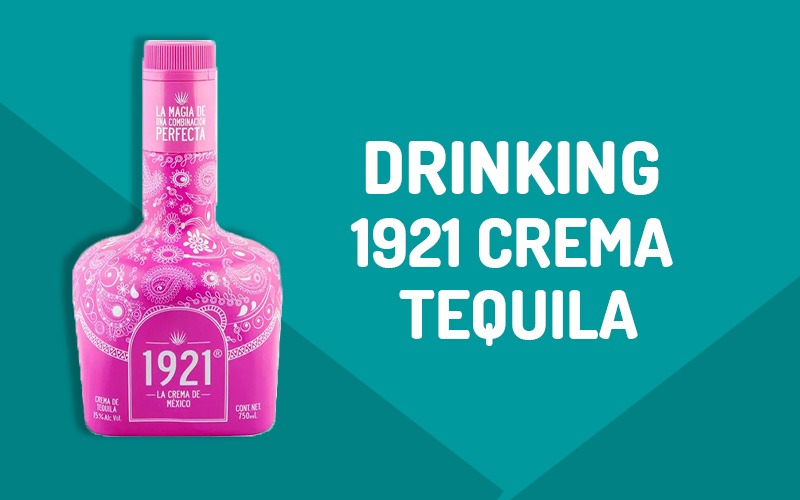 How Best is 1921 Crema Tequila Served?
This cream tequila is perfect for all occasions. You can serve it neat, chilled, on the rocks, or in a cocktail. It is rich and creamy and can be taken without any supportive food. Here are possible ways to enjoy your glass:
Neat: Sipping it neat is a great way to enjoy the original flavors of this creamy drink. Even the manufacturer suggests that it can be drunk without chilling it. Hence, if you are looking for a companion by your poolside, after a meal, or with friends, you can take it as it is.
On the rocks: Pouring 1921 Crema Tequila over ice is a fantastic way to enjoy it. Stir it a little after pouring it, and relish the coolness accompanying each sip.
In cocktails: There are numerous cocktail recipes to make with this tequila. One of them is the 1921 Tequila Cream Coffee.
To make it:
Get two once 1921 Crema Tequila, ¾ once Kahlua, hot black coffee, and sugar to taste.
Put them in a mixer and shake well.
Pour the mixture into a glass and top with whipped cream before garnishing with grated cinnamon.
Perfect pairings with 1921 Crema Tequila
Thanks to the creamy notes on the palate, Tequila Cream 1921 is balanced with many food options, from savory to spicy. If you are not drinking it as a stand-alone, you should consider pairing it with the following dishes:
Fish dishes: Whether fried and served with sides, grilled with vegetables, or served raw like sushi, you will enjoy an excellent taste when you pair it with this tequila.
Tacos: Any dish of tacos is open to pair with cream tequila. They match perfectly when prepared with ginger, cilantro, sage, or chili pepper. The flavor's spiciness gives this drink's notes a welcoming effect.
Citrus-based food: Consider citrus salad or citrus-marinated chicken or steak before grilling. It provides an outstanding balance with this tequila. Try it with lemon, lime, or orange, and you will not be disappointed.
Desserts: Most desserts complement this silver-tequila-based drink. The sweetness in the food will make an awesome after-dinner treat with it. You will not go wrong with your choice, from milk and dark chocolates to salted caramel, apple pie, and more.
Cheese: In the history of cheese and drink pairing, it is hard to call tequila to mind. However, tequila has elegant notes that go well with cheeses. Sharp, spice, hard, or soft cheeses work well with margaritas. Hence, you can try any of them with a creamy tequila cocktail.
In addition to the above, you can try other dishes with this creamy spirit to discover more flavors that can pair with it. Explore your traditional cuisine and identify those that would make it to your next tequila party.
Popular Related Drinks
If you walk into a shop and do not find a bottle of 1921 Crema Tequila, what other options would you go for? Don't worry about cracking the code; we have done that here. Consider any of the following if you are looking for alternative or complementary cream tequila:
Sargetno Tequila Strawberry Cream: This combines a delicious strawberry taste with a touch of agave to provide an alluring sip. It is made with milk-based cream, which gives it a subtle feel. You can serve it chilled or with ice, but shake it properly before pouring. Once opened, store it in a cool place below 30 degrees Celsius. Sargento Tequila is ideal for a small party with friends or when you feel like staying alone.
Rose Strawberry Cream Tequila: Created by the US-based Tequila Rose Distilling Company, this strawberry cream liquor is bold and innovative. It is a unique drink with a silky pairing of strawberry cream with a touch of tequila. Rose Strawberry Cream Tequila is the 'little black dress' of cream liqueurs. A tempting classic like this makes a bold appearance on all occasions.
Vespertino Tequila Cream: This cream liqueur is made with fresh dairy cream, silver tequila, caramel, cinnamon, and hints of vanilla and cocoa. It is a perfect friend for an evening hangout. You can serve Vespertino Tequila neat, on the rocks, or in addition to coffee.
Frequently Asked Questions – 1921 Crema Tequila
What is 1921 Crema de Tequila?
This unique handcrafted drink blends the velvety taste of cream (mocha flavor) with authentic and ultra-premium tequila. It has a complex flavor that is balanced with a creamy mouthfeel.
How much alcohol is in 1921 tequila?
This liqueur contains only 15% alcohol and 30 proof per bottle, which is not as high as the typical tequila alcohol content.
What does 1921 tequila taste like?
1921 Crema Tequila has a mild and sweet taste with cinnamon, vanilla, and coffee notes.
Also Read: Don Julio Anejo Tequila Review (Is it Good?)
Cheers!
Here, you have your 1921 Crema Tequila, a smooth and delicious liqueur for all occasions. It is a perfect companion when every other thing fails and does not contain high levels of alcohol. But do not let that lure you into drinking excessively. A sip at a time will make a great moment.