With meticulously selected agave Espadin which matured between eight to ten years, you should expect nothing short of premium mezcal.
400 Conejos Joven Oaxaca Mezcal is traditionally created using a stone oven or horno, horse-drawn tahona, and copper distillation.
Don Tacho brings this excellent mezcal to your doorpost from the heart of Santiago Matatlan, Oaxaca, in Mexico.
In this 400 Conejos Joven Oaxaca Mezcal Review, we would get to know what makes 400 Conejos Joven Oaxaca Mezcal unique among many.
Let's get started!
Value for Price

Mixability

Sippability
⇒ Fun Facts ⇐
| Name: | 400 Conejos Joven Oaxaca Mezcal |
| --- | --- |
| Brand: | 400 Conejos |
| Country: | Mexico |
| Spirit Style: | Joven |
| Spirit Type: | Mezcal |
| ABV: | 40% |
Brand History
Maestro mezcalero Don Tacho traditionally creates 400 Conejos Joven Oaxaca Mezcal. It is named after the ancestral belief that 400 rabbits (centzon-totchin) occupied agave spirits.
Hence, one of the 400 rabbits will control anyone who consumes the agave spirits. Unfortunately, no one ever knew which rabbit would control you if you ingested mezcal. The rabbits have distinct personalities that make you think and act a particular way, too. Strange, isn't it?
Created in Oaxaca, the distillation of this spirit is a unique blend of Espadin and Tobala leaves. 400 Conejos Joven Oaxaca Mezcal are marketed majorly for cocktails. Besides, it is sold in Mexico at 38% ABV, while it is 40% in the United States.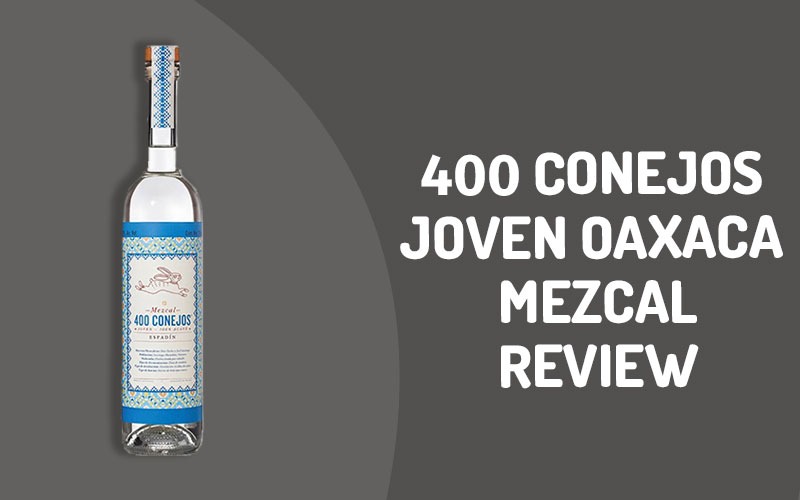 400 Conejos Joven Oaxaca Mezcal Review
This mezcal highlights some of Mexico's robust notes of herbs and citrus, which is enhanced by the natural smokiness of the traditionally cooked agave. The details of the taste profile are explained below:
Appearance: It is beautifully amber in color and has a full body. You will notice a beautiful viscosity when you pour it into the glass.
Taste: This mezcal is soft with hints of chocolate and caramel, which can easily blend with sweet notes of cooked mezcal. The first sip may put you off guard because it has a smoky bite. However, it fades into the smooth, delicious notes that follow.
Nose: 400 Conejos opens with notes of campfire and ash, followed by hints of ripe fruits and herbs. Undoubtedly, this is potent, as the first aroma could make your nose burn. But never mind, it is agave in action.
Finish: The pleasant notes lead to a medium-long and smoky finish. There is warmth in the throat, which does not fade quickly.
Alcohol content: This mezcal contains 38% ABV, the standard for each bottle from Mexico. However, those produced in the United States are bottled at 40% ABV.
Taste summary: 400 Conejos Joven Oaxaca Mezcal is a darn lovely drink. It has a great taste, aroma, and finish. If you crave something earthy and smoky, never walk past the bottle because there lies the pleasure.
Check Out: Chestnut Farms Bourbon Review
Pros & Cons
Mezcal has a robust flavor and is one of the most delicious drinks you can hardly resist. You can produce diverse cocktails with diverse textures and flavors from it. The benefits of consuming 400 Conejos Joven Oaxaca Mezcal cannot be overemphasized. Below are some of them:
Improves digestion: If you accompany a heavy meal with 400 Conejos, it increases the digestive enzymes in the stomach to speed up digestion. This also lowers inflammation.
Relieves stress and anxiety: When you feel nervous because of overwhelming conditions, a glass of mezcal may be all you need to calm your nerves. This drink relaxes the body and generates a feeling of relief, making you feel less stressed as you crack jokes with friends.
Flavor variety: 400 Conejos has flavor complexities that come together to appease your palate. The aroma is also excellent and makes drinking it a pleasure. The smoky flavor is unique; you may want to try it.
Helps you sleep well: This beverage is relaxing and helps fight insomnia. Drinking a glass may help you fall asleep seamlessly. It is recommended to drink it before you go to sleep, but ensure not to rely on it to avoid addiction.
Artisanal spirit: Mezcal is the world's most artisanal spirit because it is made the same way. The production technique now is the same one used many years ago. Hence, it is an ancestral spirit with no plans to go into extinction.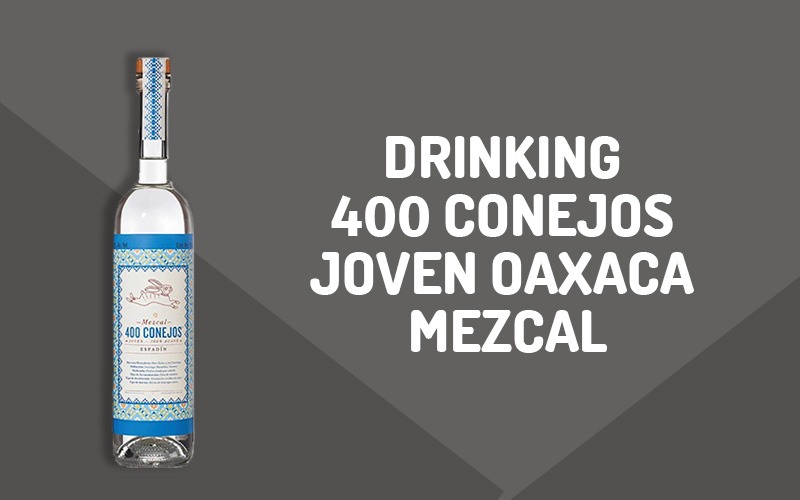 How Best is 400 Conejos Joven Oaxaca Mezcal Served?
This liquor can be served the same way most alcoholic drinks are served. It can be taken neat, on the ice, or mixed with cocktails. Whichever way you choose is great. All you need to do is to ensure not to drink excessively for your health. To make cocktails, you may consider this Agave Manhattan:
How to make Agave Manhattan 
You need: ¼ once 400 Conejos Joven Oaxaca Mezcal, ¾ ounce sweet vermouth, 2 ounce Gran Centenario Anejo Tequila, 2 dashes Angostura bitters, and orange peel and maraschino cherry to garnish.
Put all the ingredients in a mixing glass with ice cubes and blend. Strain into a martini glass and garnish with orange peel and maraschino cherry.
Enjoy your 400 Conejos Joven Oaxaca Mezcal slowly and with friends.
Perfect Pairings
400 Conejos Joven Oaxaca Mezcal, with its smoky and flavorful content, is sipped or combined with salty snacks in Mexico. However, with the emergence of more varieties of agave spirits and the expansion into the US, chefs started experimenting with diverse dishes to bring out the richness of mezcals. Hence, it is no longer paired with only tacos or burritos, but other exotic cuisines have appeared. Check out the following ways to enjoy your delicious 400 Conejos Joven Oaxaca Mezcal if you don't want to sip it on its own:
Goan cuisine: This Portuguese-rich cuisine is prepared with distinct flavors because traditional-cooking methods were used. It made it a bit smoky and spicy, so this mezcal can blend well with it.
Cheese: A perfect pairing for this excellent drink is a cheese plate focused around a washed-rind cheddar-style cheese. Round out the plate with fresh Cape gooseberries, pickled mustard seeds, and local honeycomb, adding complexity to the blend.
Desserts: Hardly will you see a person who does not like desserts! The lingering flavor of 400 Conejos Joven Oaxaca Mezcal pairs well with vanilla and coconut. Hence, you can try it with Southeast Asian coconut desserts. Condensed milk, chicory, and dark roast coffee are also excellent.
Salad: Tomato salad with many herbs is an excellent match with this smoky spirit. The savoriness of the tomato and the spiciness of the herbs (basil) come together with the smokiness of the mezcal to perform wonders for your taste buds.
Seafood: Seafood is another mouthwatering food to pair with your 400 Conejos Joven Oaxaca Mezcal. Tuna ceviche, for instance, brings its tangy, sweet, and fruity notes to combine with the smoky notes of this spirit to give you the taste you cherish.
Popular Related Drinks
One can opt for other mezcal drinks if 400 Conejos Joven Oaxaca Mezcal is not on the shelf. The following will make a good weekend companion:
Koch El Mezcal Artisanal Barril: Made with 100% wild maguey Barril by maestro mezcalero Adrian Bautista in Rio de Ejutla, this mezcal is smoky and herbaceous. Opening the bottle, you will get fruity and citrusy tones with a touch of smoke. The taste is slightly smoky, herbal, sweet, and dry flavor. To enjoy it, allow it to sit in the glass before kissing and getting it down slowly.
Besides, Koch El Mezcal Artisanal Barril is family-owned and is managed by the fifth generation in Oaxaca. The goal is to preserve the mezcal culture, resulting in affordable artisanal mezcal. Each batch may vary slightly because it is handcrafted, but the quality remains the same. It is bottled at 47.06% ABV and 750 ml per bottle.
Aguas Mansas Tobala Mezcal: This is another award-winning mezcal made from a maguey plant that grows in mountainous areas and stony soils. It is one of the most-appreciated mescals from Oaxaca. Drinking Aguas Mansas Tobala Mezcal stirs something 'agave' in you as each liquid pours with liquid stories of its history. It is made traditionally with a conical ground oven and a stone grinding when fermented in a wooden tub and distilled in copper stills.
In addition, the aromas are robust, with a deep smoky character and wild herbs and straw notes. The flavors are dairy-like with macadamia and anise notes, as you taste it. It is bottled at 45% ABV, and each bottle contains 750 ml.
Mezcal Vago Tobala Emigdio Jarquin: Produced by maestro mezcalero Emigdio Jarquin in Miahuatlan, Oaxaca. He is famous for his distilling prowess; all his mezcals are of premium standard. Vagol Mezcal is not different.
It has untanned leather, and dried mint, watermelon, and cucumber aromas. The taste is of macadamia, epazote, quince, licorice root, and black pepper. These finish with a kick of French buttercream, chocolate, and a bit of grassy herbal note. Besides, this mezcal is bottled at 50.86%.
Frequently Asked Questions – 400 Conejos Joven Oaxaca Mezcal
How is 400 Conejos Joven Oaxaca Mezcal made?
This spirit is delicately created from 100% Espadin agave using traditional techniques. Only the best Espadin is meticulously selected and cultivated. When ripe, the plant is harvested using 'jima' and taken to the 'palenque,' traditionally cooked using cone-shaped wood ovens.
The wood is lit, and volcanic rocks are placed in pyramidal. The agave piña is cooked for three to five days and milled using a horse-pulled stone. Next is the fermentation process, which takes place in a wooden tub where the piña is stored.
How do you identify a good mezcal?
Centuries ago, mezcal was only made in Mexico until recently when it became popular in the US. The word mezcal is derived from the Nahuati word 'mexcalli,' meaning 'oven-cooked agave.' To identify mezcals, you must first find out their origin. For instance, those from Oaxaca are typically smoky, those from Puebla are sweeter, those from Guerrero are bitterer, and those from Michoacán are usually fruity. The taste you get depends on the place where the agave plant originates.
Check Out: Sam Houston 15 Year Old Bourbon Review
Cheers!
Drinking 400 Conejos Joven Oaxaca Mezcal hits differently because of its spectacular flavor notes and smokiness. It is an excellent drink for new entrants and does not lead to addiction if you drink responsibly.