When searching for premium bourbon, you won't go wrong with a Sam Houston 15 Year Old Bourbon bottle. It is the oldest bourbon from the stables of Western Spirit Beverage Company.
You cannot talk about this drink without mentioning its country of origin. It can be traced back to Bowling Green, Kentucky, where the company was established.
Sam Houston 15 Year Old Bourbon is not your regular bourbon, this article covers a Sam Houston 15 Year Old Bourbon review, bringing to the table all there is to know about this drink
Let's get started!
Value for Price

Mixability

Sippability
Quick Facts
| Name: | Sam Houston 15 Year Old Bourbon |
| --- | --- |
| Brand: | Sam Houston's |
| Country: | United States |
| Spirit Style: | Small Batch Bourbon |
| Spirit Type: | Bourbon |
| ABV: | 51.5% |
Brand History
Although the spirit is named after Sam Houston, he is not the man behind the brand. They only attributed the drink to his personality.
Born in the 1800s, Houston was a significant figure in US politics. He was a congressional representative and governor and twice presided over the Republic of Texas. Saying he was one of the bedrocks of Texas's independence is not out of place.
However, before dabbling in politics, he was a fierce soldier and battle strategist. He led a small team of 350 men against Mexican General Santa Anna, who was with a more prominent host. They captured Santa Anna and his team, forcing them to sign the Treaty of Velasco that led to Texas's independence.
Sam Houston was bold and patriotic, the reason the brand highlights his achievements in every sip of the drink.
Sam Houston is owned and operated by the Western Spirits Beverage Company in Bowling Green, Kentucky. They also own other brands, including Bird Dog Whiskey, Calumet Farm Bourbon, and Lexington.
Sam Houston 15 Year Old Bourbon Review
Aged for 15 years, this drink is unusually one of the best bourbons in the US. Considering its lengthy aging process, it is worth every dollar. Before purchasing one, check out the flavor profile to understand more about it.
Process: Aged for 15 years, Sam Houston 15 Year Old Bourbon is delicious premium bourbon worth the binge. It is the oldest the brand has offered to the public so far. The lengthy maturing process adds some woodsy flavor while retaining smoothness and refinement. It takes 15 years for each drink to go through the process in American oak barrels. Besides, they are charred at the #4 level.
Sam Houston i5 Year Aged Bourbon is distilled from a 74 percent corn-heavy mash bill, 18 percent rye, and 8 percent barley.
In addition, the company created limited edition bottles from certain barrels in private reserves and bottled at 103 proof (51.5% ABV). This is why no batches are the same, as they are created to highlight the drink's uniqueness. Annually, Sam Houston releases special batches for its unique customers worldwide.
Palate: Sam Houston is sweetly woodsy, with peppery spice and spearmint. You will also find hints of fruit flavors.
Nose: The aroma is spicy, with rye and nutmeg in the background. You will also get woodsy, sweet oaky, and cedar notes. Hints of vanilla, cherry, and leather follow this.
Finish: Towards the end, you will notice a predominant woodsy and spicy, licorice and blackberry, and heavy barrel char notes. It pleasantly lingers with an expectant heat.
Appearance: This bourbon is heavy in copper color, close to thick and vibrant orange.
Price: A 750 ml bottle costs around $150, which is a great bargain, judging by its quality.
Taste Summary: Sam Houston 15 Year Old Bourbon Whiskey is enjoyable. From the nose to the finish, it is something you don't wish to end. The fruity flavors that hit the palate offer an enjoyable experience, even getting more exciting as it moves to the finish.
Also Read: Tequila Rose Strawberry Cream Liqueur Review 
Should you Drink Sam Houston 15 Year Old Bourbon?
There are several benefits of giving your palate to this liquor. It is not an ordinary drink that you can just uncork, pour into a glass, and sip. Thus, you need to understand what you are taking into the body. Here are some of the good sides of drinking Sam Houston 15 Year Old Bourbon:
Stress reduction: Due to the nature of our jobs, stress has become a considerable portion of our everyday lives. Sadly, it is the leading cause of most premature deaths. The good news is that drinking a small quantity of bourbon can calm the nerves and reduce stress.
Improves the immune system: Sam Houston has many antioxidants that can help eliminate free radicals and keep the immune system healthy. The antioxidants also help to protect the body against diseases.
Prevents blood clots: This bourbon helps to prevent blood clots that could have resulted in strokes, heart attacks, or other health conditions. The drink also helps to maintain a healthy circulatory system.
Enhances cognitive function: Sam Houston 15 Year Old Bourbon may help to lower the risk of developing dementia in adults. The antioxidants in the spirit contribute to it.
Elongation of life: Drinking a moderate quantity of Sam Houston 15 Year Old Bourbon lowers the individual's mortality rate. This was according to research.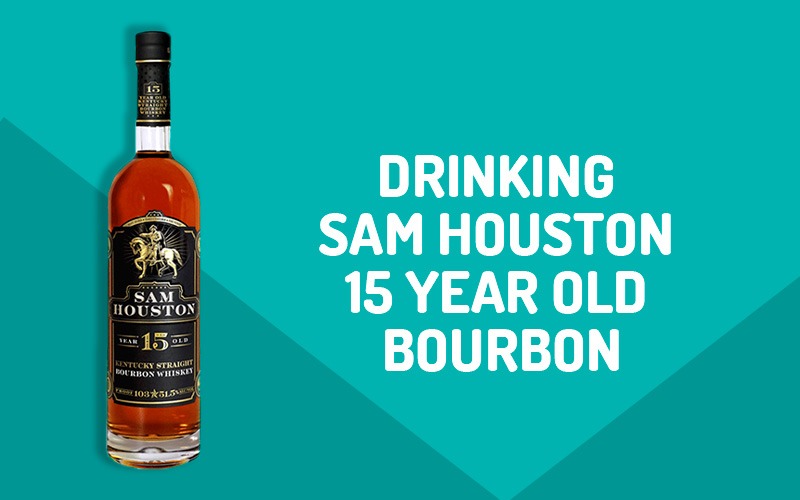 How Sam Houston 15 Year Old Bourbon is Best Served
It is a great drink that can be served as you desire. However, it has a complex and delicate flavor, which may not easily blend with other flavors. Hence, it is risky to try it in cocktails. The best way to consume this spirit is neat or straight. However, there is no harm in being creative with your taste buds.
If you drink it neat, serve it from the glass at room temperature or chill it a little. On the other hand, you can drink it straight or on the rocks by pouring it into a glass filled with ice and serving.
Perfect Pairings for Sam Houston 15 Year Old Bourbon
You probably are asking if pairing bourbon with food is possible. The answer is yes. First, pour yourself a glass of old bourbon as we dig into the kind of food that does the job better.
Pairing your Sam Houston with foods with similar flavors and boldness is best. However, there are no universal rules to the pairings. Let's find out!
Chocolate and coffee: Coffee-flavored food and desserts can pair with this drink since it has a smoky flavor related to coffee and cacao beans. The same thing goes for chocolate. Try a few pieces of vanilla or milk chocolates, and you won't stop smacking your lips. Baked goods will also work wonders pairing with this delicious spirit.
Fatty meats: With its high alcohol content, Sam Houston 15 Year Old Bourbon typically goes well with fatty food. Try coating your mouth with salmon, mackerel, or ham and sending it down with bourbon. The blend does fantastic things to your taste buds.
Cheeses: Another option is combining this spirit with cheeses. Cheddar or Gouda will make great complements here. If the cheeses are aged, it adds to the taste buds. The age brings a new combination to the blend, and everything goes down smoothly.
Spicy food: Pairing Sam Houston with a spicy meal can overwhelm the palate because of the high alcohol content. The heat from the pepper or seasoning could be excessively much for the palate. However, it can be fun combining them if you love exploring options.
Smoked food: While spicy food may not pair well with Sam Houston 15 Year Old Bourbon, smoked food is a sure bet. Combine it with grilled meats, like fatty steaks or ribeye. The charred oak flavor will work wonders on the smoked from the grill.
Popular Related Drinks
If you don't have a craving for Sam Houston 15 Year Old Bourbon, you consider any of the alternatives:
Basil Hayden's Kentucky: This drink is rye heavy at 27 percent, with 63 percent corn and 10 percent malted barley. It is aged eight years inside charred American white oak barrels and bottled at 80 proof. On the tongue, it provides notes of vanilla, light brown sugar, and citrus, while the aroma is heavy on butterscotch and honey.
The cost of a 750-ml Basil Hayden is $35.
Woodford Reserve: This is a superior choice for those who want it on the cheaper side. It is a more affordable version of Sam Houston, using almost the same volume as the mash bill. Woodford Reserve is aged between six and seven years in virgin white oak. The flavor is fundamental; vanilla, honey, and marshmallow take center stage on the palate. It is not a bad drink, but nothing special about it.
The cost of a 750-ml bottle of Woodford Reserve is about $35.
Four Roses: Rich and sweet, Four Roses possesses heavy notes of vanilla, brown sugar, and cherry, with hints of chocolate. The finish is long and dry with light oaky notes. It is a complex drink but approachable. For a single barrel, it is a great bargain.
Even though the cost of small-batch whiskey has risen over the years, Four Roses remain below $50, which is commendable. Besides, it has 100 proof at 50% ABV.
Frequently Asked Questions – Sam Houston 15 Year Old Bourbon
Where is Sam Houston 15 Year Aged Bourbon sourced from?
Sam Houston 15 Year Aged Bourbon is a product of Kentucky in the United States. It is produced by the Western Spirits Beverage Company, which also has other brands to its achievement.
What is bourbon?
In a brief term, bourbon is America's darling, offering a smoky and vanilla taste. It is among the world's best whiskies. Bourbon is unique because it is grain-based, which ruled the world in the 18th century. The spirit was the rave of the moment for a while before nearly going into extinction by the early 20th century.
Today, bourbon has bounced back and become the most sought-after spirit in South America. Although it may serve as an after-meal drink, this golden drink has a place on the table.
Is Sam Houston bourbon rare?
Each batch of Sam Houston is different. They may have the same flavor profile, but they are crafted so that they are unique to the taste buds. That makes it rare bourbon.
Also Read: Sauza Tres Generaciones Anejo Tequila Review
Cheers!
Sam Houston is worth the splurge, considering its elegant, complex flavors and aging length. It was created from special barrels in a private reserve, offering woodsy and spicy flavors.
It is worth every penny you will pay if you are about to pick one of these exclusive batches on the shelves or liquor store. It is a scarce commodity, and the experience you derive from drinking it is priceless.