Learn how to make Aguadito De Pollo (Peruvian Chicken Soup) recipe, its quite easy to prepare and features delicious flavors.
Have you thought of trying out aguadito? Aguadito De Pollo is known to be the Peruvian variation of chicken soup.
This soup is in the category of succulent and hearty soups, bursting with textures and flavors. You can have this serving for lunch as a complete meal, and maybe with some dessert.
We have chicken, veggies, and rice to be the base of this soup, however making Aguadito De Pollo, the Peruvian variation, will see you puree some cilantro, onions, chile peppers, lime juice, and garlic in a blender.
And before serving, stir in the mixture into the chicken and rice, which gets you a glowing green, fresh and vibrant soup.
Variations of Aguadito include fish, duck, turkey, mussels, or scallops..all these versions are quite a taste, so it's all up to you.
You can have this meal with a beer to bring the best of flavors, but you can decide to cross that out of the recipe.
This is a perfect recipe for a bridge between summer and winter…let's get to know how to make Aguadito De Pollo.
AGUADITO (PERUVIAN CHICKEN SOUP)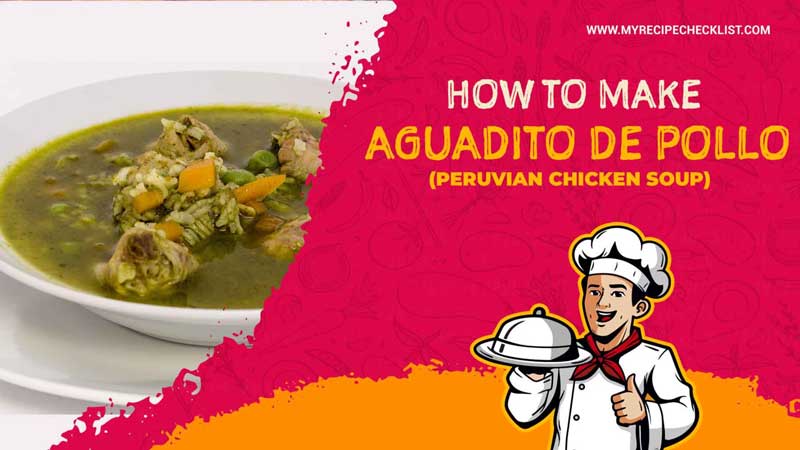 Aguadito De Pollo is not just your simple chicken soup. Its magical cilantro sauce makes takes your simple chicken soup to another level…magical is quite the word.
Before you begin preparing your soup base, start the process by sauteeing some poblano onions and pepper and garlic, and your aji amarillo paste. You can decide to use a jalapeño pepper or serrano.
Sauté the combination in your stockpot till they are quite soft and well cooked.
Transfer the cooked combination to a blender and allow it to cool down for quite a bit as you take to making the rest of your delicious soup.
Simmer your soup for a while to get the rice and potatoes nearly cooked and good to go, then continue with finishing up your sauce.
Continue your sauce by just adding some fresh cilantro leaves and lime juice into the blender and puree the mixture for about a minute till it's pretty smooth.
When your soup is good to go, stir in your cilantro sauce at the very last minute until a good combination is formed. You can garnish with some green onions and cilantro.
Now your Peruvian Chicken Soup is ready to be served!.
If you like, you can decide to make your version so spicy. The traditional version of this soup uses aji chiles as its heat. You can substitute the aji amarillo paste with is easy to find in the U.S.
You can add as much as you will like or as little, it's all to your taste.
Feel free to add a jalapeño or serrano pepper if you can't get your hands on the paste, or you can skip adding the chile peppers if you don't enjoy spicy food.
Aguadito De Pollo (Peruvian Chicken Soup)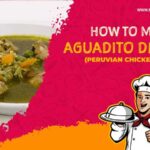 Learn how to make Aguadito De Pollo (Peruvian Chicken Soup) recipe, its quite easy to prepare and features delicious flavors.
1 large poblano pepper (cored and diced)
1 tablespoon avocado oil or olive oil
1 small white onion (peeled and diced)
5 cloves garlic (peeled and minced)
1 tablespoon aji amarillo paste (or 1 jalapeño or serrano pepper, cored and diced)
2 cups diced or shredded cooked chicken
6 cups chicken stock (divided)
2 large carrots (peeled and diced)
1 pound Yukon gold potatoes (diced)
1/2 cup brown or white rice
1/2 cup peas
1 bunch cilantro leaves
2 teaspoons ground cumin
Lime juice (1 lime)
Additional garnishes (optional): more fresh cilantro leaves and sliced green onions
Using just over medium-high heat, heat the avocado or olive oil in a stock pot. Add your diced white onion and poblano pepper and allow to sauté for five minutes, occasionally stir as you sauté till the onions are translucent.

Add the aji amarillo paste or diced jalapeño or serrano and garlic as you stir, sauté for an additional 1-2 minutes to get the garlic fragrant. Pour the mixture into a blender and allow it to cool.

Get your stock pot back on the heat. Add the chicken stock (5 cups), cooked chicken, carrots, potatoes, rice, cumin, peas, and stir the mixture. Take the combination to a simmer state and reduce the heat, maintaining a medium-low temperature to keep a low simmer of the mix.

Cover the pot partially as you cook for 25-30 minutes, as you take to starring the mixture occasionally. This will see the potatoes become fork-tender and the rice, cooked.

When the soup is ready and good to go, add the remaining cup of chicken stock, cilantro leaves, and lime to the blender, which contains the sauce and pureé until you get a completely smooth mixture, this should take about 1-2 minutes.

Mix the cilantro sauce into the soup and stir until well mixed. Taste and season your Aguadito De Pollo with black pepper and salt as needed.

Serve with garnishes as desired.
You can add the 1/2 cup kernel corn if you would like that. Also, you are welcomed to add some traditional recipes and some diced red bell pepper. If the soup is too thick for your liking, you are free to add more chicken stock.
DID YOU MAKE THIS RECIPE?
Tag @MYRECIPECHECKLIST on Instagram and hashtag it #MYRECIPECHECKLIST