With blasts of ripe-peach flavors, Barefoot Fruitscato Peach is an invitingly delicious drink for great minds. The peaches are handpicked and processed into a crisp drink that entices the palate.
Barefoot is an award-winning brand from the heart of California. It has over 4,200 wineries, from homegrown to international distributions.
One of its products, Barefoot Fruitscato Peach, is a great pair with your favorite desserts, sandwiches, and appetizers. Here, we are going to take a robust look at this drink with everything you need to know available.
Let's get started!
Value for Price

Mixability

Sippability
Quick Facts
| Name: | Barefoot Fruitscato Peach |
| --- | --- |
| Brand: | Barefoot |
| Country: | California |
| Wine Style: | Muscat/Moscato |
| Wine Type: | White Wine |
| ABV: | 6.5% |
Brand History
Around the early '60s, Davis Bynum created Barefoot Fruitscato in Alameda County, east of San Francisco, California. He produced and sold Barefoot Bynum for nearly ten years, focusing only on premium Pinot Noir from Russia River Valley. Later, he sold the brand to Michael Houlihan and Bonnie Harvey, who rebranded it in 1986.
However, the duo sold the company to E & J Gallo Winery in 2005. Barefoot was selling around 600,000 cases countrywide when this bargain was made. Currently, the brand is the most awarded in California for wines selling below $15 and sparkling wines under $20.
In addition, Barefoot sources its grapes from Californian vineyards, although their primary source is Cowell Ranch in the Central Valley, with 3,500 acres. Barefoot Wine and Bubbly sold around 10 million cases countrywide in 2010.
The brand's history will not be told without mentioning the brain behind the winemaking in the person of Jennifer Lynne Wall. She became an employee of Barefoot Cellars Winery in 1995.
Shortly after that, she crafted the present Barefoot wine style, which is fruity and food-friendly. There are 12 wine varietals and six sparkling wines, including Barefoot Fruitscato Peach.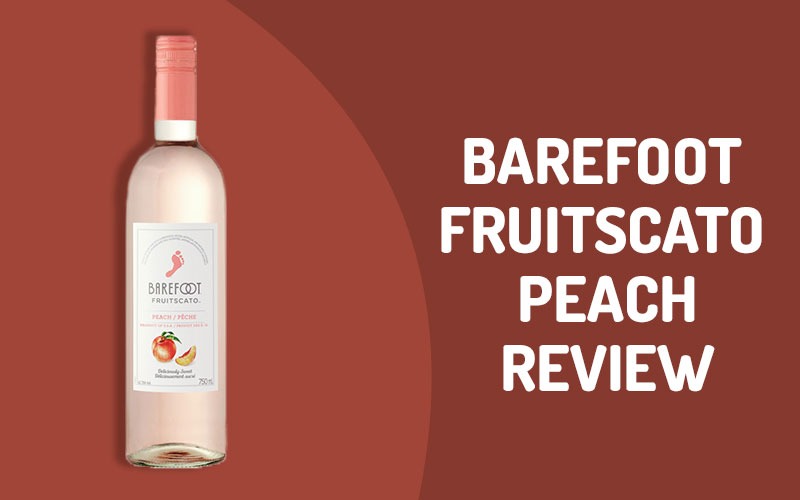 Barefoot Fruitscato Peach Review
Life is fun when we share our favorite wine with our loved ones. Barefoot Fruitscato Peach is a wine for every palate, creating curiosity and good vibes wherever it is shared. It is a blend of sweet Moscato with the natural flavors of succulent peach. Here's all you need to know about the wine:
Taste: On the palate, Barefoot Fruitscato Peach smacks with ripe peach and strawberry candy flavors with hints of acidity. With this flavor mixture, the drink is moderately sweet.
Nose: It scintillates the nose with a blend of peach, honeysuckle, watermelon, and apricot aromas as you raise the glass.
Finish: The drink is stimulating and balanced with a sweet, light, and crisp finish.
Style: It is non-oaky, fruity, succulent, velvety, crisp, and bold.
Appearance: In the glass, the color is medium reddish-purple.
Alcohol: 7.5% ABV. Having this low content of alcohol makes it an especially easy-to-drink wine. Moreover, this level of alcohol cannot get you drunk with a few glasses, especially if you space each sip. However, factors, such as your health and how much alcohol you are used affect the quantity that can get you drunk per time.
Price: Barefoot Peach Fruitscato costs nothing less than $6 and could be as high as $11, depending on the location.
Should you Drink Barefoot Fruitscato Peach?
Peach wines are excellent drinks because they pose great health benefits and are also great for sipping during the summer months. For health benefits, Barefoot Fruitscato Peach cleanses the kidney, strengthens the immune system, and reduces the probability of obesity. Here are some of the reasons this drink should make the top list of the wine of the month:
Richness: The drink is rich in fibers, vitamins, and minerals, with doses of antioxidants. The antioxidants help to keep you from aging while protecting you from diseases. It is out to do the body well; taking a glass will offer you all that.
Weight loss: Wine is associated with weight loss, even though only a few know. The water content of peach helps keep the body hydrated, which also cuts down excess fat. Some fatigue disorders can also be treated by taking a moderate amount of Barefoot Fruitscato Peach.
May aid digestion: The drink provides the intestine with beneficial bacteria, which produce short-chain fatty acids that feed the gut cells. These acids help to lower inflammation and enhance symptoms of digestive disorders. Moreover, they help the rate of gut contractions, which enables the appropriate tempo to push food effortlessly.
May boost a healthy heart: Barefoot Peach drink contains compounds that can lower risk factors for heart diseases. These include high blood pressure and cholesterol levels.
Skin protection: The wine can keep your skin healthy and improve its texture because of its components. They maintain moisture and keep against sun damage.
Barefoot Fruitscato Peach has other benefits, including cancer prevention, reduction of allergy symptoms, a boost of the immune system, lower blood sugar level, protection against toxins, and a good pair with your food.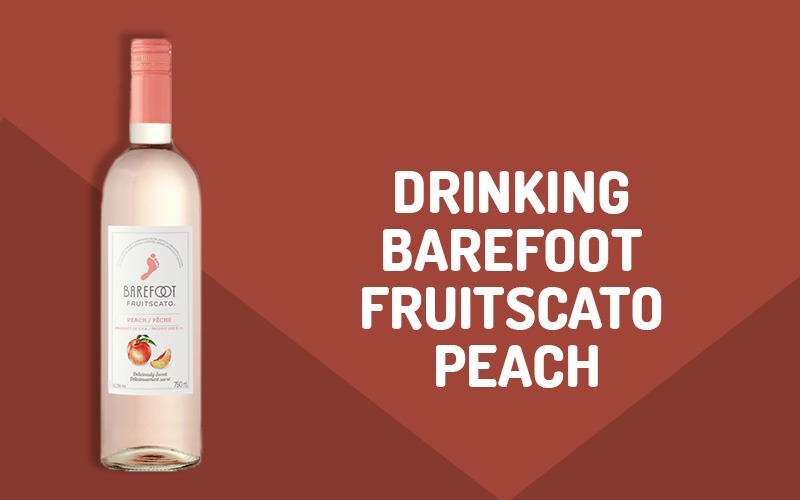 Drinking Barefoot Fruitscato Peach
Barefoot Fruitscato Peach can be taken neat or on the rocks. You can chill it a bit before serving it neat. It is best because relaxing the drink before serving softens its sweetness to bring out the fruity and floral flavors. It is always preferable to serve it cold than warm.
Don't worry if it is too cold; it is still better than not chilling it.
In addition, if you want to enjoy the rocks rolling in and melting away, you can throw in a few ice cubes and get to work. It will make for an energizing drink, no doubt. You can taste it before serving it to ensure it is excellent.
Also Read: Lunazul Blanco Tequila Review 
Perfect Pairings for Barefoot Fruitscato Peach
When you pair your favorite Barefoot wine with complementary food, you are on your way to a memorable ride.
Spicy popcorn: Combine a sip of your velvety Barefoot Fruitscato Peach with a handful of your favorite spicy snack, and you will see the magic happening. They easily blend and give a perfect flavor for relaxation.
Fruit desserts: Whether pies, cobblers, or semifreddo, any dessert comprising fruit or berry, can match the natural fruitness of Barefoot Fruitscato Peach. The sweet peach flavor complements the creaminess of ice cream, rice pudding, or any other dessert.
Spicy food: Barefoot's sweetness and low alcohol content suppress the overwhelming power of the food. Pair your drink with Japanese, Mexican, or any other spicy cuisine. Note that if the alcohol is much, it could intensify the spiciness of the food.
Cured meats: The high salt content of meats harmonizes with the sweetness of Barefoot Fruitscato Peach. Salami, jamon iberico, or prosciutto, are good to go with your drink.
Nuts and seeds: Nuts are salty, and so are seeds. When you complement their saltiness with the sweetness of this drink, you will enjoy a balance on the palate.
Popular Related Drinks
Barefoot Moscato has around 12 natural fruit flavors that you are uniquely packaged. Their alcoholic levels are not the same, which means they are truly distinct, offering different benefits. Below, you will find some of them:
Barefoot Lemonade Fruitscato: Created with sweet Moscato and the natural flavors of lemon, this delicious blend is a must-taste. Its aroma is fresh-squeezed lemons, making every day sweeter.
Barefoot Strawberry Fruitscato: This mix of sweet Moscato and natural, sun-kissed strawberries. The aroma and taste include a blend of raspberry, cacao nib, and a hint of menthol. It provides a sweet light-to-top medium body, with a tingling crisp and accents of raspberry iced tea finish. The flavor is sure to please your sweet tooth. Barefoot Strawberry Fruitscato is perfect for fish and chips, chicken piccata, or tuna casserole.
Barefoot Apple Fruitscato: This delightsome sweet Moscato mixes with the natural flavors of crisp and juicy apples. The bottle has an easy-to-open screw cap, meaning no wine opener is needed to uncork it. Besides, serve it chilled or over ice to get the best of the flavor. The ABV is 6.5%.
Barefoot Pineapple Fruitscato: This bursts the palate with pineapple flavors and an exotic floral scent. It gives tropical vibes without sunburn. To get a blend of savory, sweet, and juicy flavor, combine it with Hawaiian pizza and enjoy.
Frequently Asked Questions – Barefoot Fruitscato Peach
Is Barefoot Fruitscato Peach sweet?
This Barefoot wine has delicious natural flavors of succulent peach and apricot. It is lightly sweet, invigorating, and served chilled to enjoy the taste.
What are the nutritious fats for Barefoot Peach Wine?
240 ml of this Fruitscato contains 19g carbs, 0g fat, 0g protein, and 160 calories.
Where is the Barefoot company located?
Barefoot is a California-based winemaker with sparkling wine varieties. The alcohol content in each drink is different, depending on the wine style.
Can people with heart diseases take Barefoot Peach Fruitscato?
They may take the drink if the doctor recommends so. No one with health challenges should take alcohol impulsively, except the doctor advises they take a small quantity at a time.
Also Read: Boosie Juice Strawberry Kiwi Review 
Cheers!
Barefoot Peach Fruitscato is a burst of peach and apricot flavors in a Moscato wine. It entices the taste buds with a blend of rich and creamy flavors, making it a unique drink. Pair it with savory dishes, nuts, cheeses, meats, and other sandwiches.
Besides, the health benefits cannot be overemphasized; you only need to drink it in moderation. If you plan to buy a bottle this weekend, it would be a great decision since the drink is cheap and has little alcohol quantity.