Since after its prohibition, bourbon lovers were starved of their favorite drink for years. But that would not continue because recently, many distilleries have risen to revive the industry, which has seen the creation of various Kentucky bourbons.
Straight Kentucky Bourbon bottled at 100-proof product bears the name and badge of the U.S. Army's 82nd Airborne Division, which is renowned for its parachute assault operations.
In this Boundary Oak 82nd Airborne Bourbon Whiskey Review, you would learn about the Boundary Oak 82nd Airborne Bourbon Whiskey and why this premium bourbon is loved by celebrities, connoisseurs, and the masses.
Let's start!
Value for Price

Mixability

Sippability
⇒ Fun Facts ⇐
| Name: | Boundary Oak 82nd Airborne Bourbon Whiskey |
| --- | --- |
| Brand: | Boundary Oak |
| Country: | United States |
| Spirit Style: | Small Batch Bourbon |
| Spirit Type: | Bourbon |
| ABV: | 50% |
Brand History
Nestled in the heart of central Kentucky, Boundary Oak Distillery is home to Kentucky's incredible bourbon distillery. A waterfall, woods, and limestone springs surround it. It all started when the Goodin Family of Kentucky established Goodin Fort in old Boston. Master Distiller Brent Goodin envisioned a distillery on the land of his birth. That was after several years when his ancestor Samuel Goodin established the fort.
After several research, paperwork, preparation, and investing virtually a million dollars, Boundary Oak Distillery obtained its licensure. Formally, it began the first liquor production in Hardin County, Kentucky, in 2013. This was since the beginning of Prohibition. It also produces Kentucky Moonshine 101 proof, Kentucky Moonshine 121 proof, Kentucky Amber, Blackhorse 1901 American Whiskey, etc., sold at retail outlets.
The distillery aims to produce aged American native spirits that stand the test of time. They also made provisions for tasting tours within the week if you want to visit and see things yourself. Besides, the distillery is endorsed by the son of General George S Patton in collaboration with the Patton Museum of Leadership for its barrel-aged spirit called Patton Armored Diesel. Patton Armored Diesel is a cane sugar spirit aged in used bourbon barrels.
To celebrate the bravery of the US Army's 82nd Airborne, Boundary Oak 82nd Airborne Straight Bourbon was created. It was a collaborative effort of the Boundary Oak Distillery and 82nd Airborne Division Association members. This drink is fondly called 'operation bourbon' and was initially released in July 2020 in limited quantities.
Boundary Oak 82nd Airborne Bourbon Whiskey Review
This premium bourbon contains a mashbill of 75% corn, 21% rye, and 4% malted barley. It is aged at least two years and finely bottled at 100 proof. Below is all you need to know about the content of the bottle you are about to pour into a glass:
Category: This drink is a straight bourbon whiskey, a kind of American whiskey made from at least 51% corn. It is aged in charred new oak barrels for at least two years, with a sweet, smoky flavor resulting from the barrels. Moreover, its color is between light gold to deep amber. Straight bourbon is bottled at around 40% ABV or 80 proof and must contain no additives except distilled water. Its unique taste makes it a favorite among whiskey connoisseurs.
Appearance: Boundary Oak 82nd Airborne Bourbon is presented in unique collectible bottles decorated with the color and official logo of the 82nd Airborne. This bottle's artistic quality also features Airborne's word, followed by the proclamation, 'America's Guard of Honor.' There is a blue wax cowl covering the upper third of the bottle. Another distinctive feature is the AA (All American) patch that is obvious on the bottle, signifying the unity of the members from the 48 states during World War 11.
Color: This drink has a light amber hue.
Nose: It offers hints of oak, vanilla, and char seasoned with caramel.
Taste: On the taste buds, smooth notes of warm spices, vanilla bean extract, and leather are noticeable.
Finish: It ends with a warm long dry finish that is smooth and pleasant on the tongue.
Alcohol content: Boundary Oak 82nd Airborne Straight Bourbon has bottled at 50% ABV (100 proof), which makes it highly alcoholic. Thus, it would be best to drink it in moderation.
Price: This drink costs around $100 per bottle.
Also Read: Gran Centenario Leyenda Extra Anejo Tequila Review
Pros and Cons
82nd Airborne Bourbon Whiskey is a fantastic drink that has gathered positive reviews from different quarters, and everyone attests to its original and exceptional quality. However, there could also be some drawbacks that may affect patronage. Here are what to look out for:
Pros
Unique bottle: The bottle is a beauty to behold. You can add it to your bourbon collections on the shelf for decoration. Its artistry design is a bonus, meaning you are buying the content and the container.
Flavor profile: A complex but balanced flavor profile would please any bourbon connoisseur. Plus, the flavor can mix into different cocktails and be paired with diverse food flavors. It is worth a try if you want exceptional and flavorful bourbon.
Good sipping: The flavor profile balances well on the palate. You can easily sip it without experiencing any burn, although using it as part of your favorite cocktail does not disappoint. So, if you love whiskey, this bourbon will be great for your collections.
Cons
Aging: The nose and palate of this bourbon are quite young and easily identifiable as a drink that spent less time in the barrel.
Quite dull: for a 100-proof, 82nd Airborne Bourbon is surprisingly light on the palate. That is not all; it is bland and may need extra touches. However, it is generally okay.
A bit expensive: It is exciting to want to lay a hand on a drink that is produced in honor of the American military and to preserve history. However, it should not be a strong reason to place the price high and above some whiskeys in its range.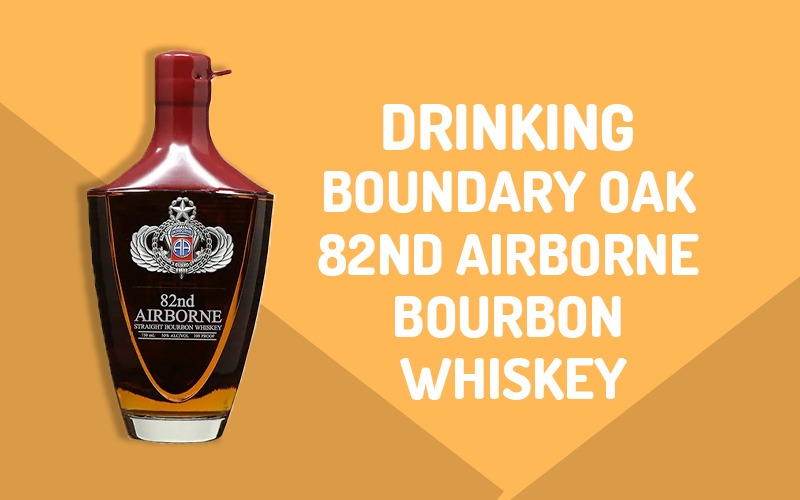 How Best is Boundary Oak 82nd Airborne Bourbon Whiskey Served?
This whiskey can be enjoyed neat or on the rocks. It adds fun to every sip, especially when paired with other drinks, dark chocolate, or aged cheese.
Neat: You can drink this bourbon on its own by pouring it into the glass and sipping it occasionally. It is smooth and does not bite or leave an appalling aftertaste.
On the rocks: pour it in a glass containing a few ice cubes, stir a little, and consume. You can consume it as quickly as possible to avoid being watered down by the ice.
Perfect Pairings for the 82nd Airborne Bourbon
Having bourbon once you return from work or during a happy hour is common nowadays. Seeing people enjoying bourbon as a pre-dinner drink is also an everyday occurrence. You may be right about your choice, but pairing it with food options is worth trying. If you don't know where to start, we are here to help you. Consider the following dishes for your next dinner:
Fatty meats: 82nd Airborne Bourbon has high alcohol content and may be selective in food choices. Try coating your mouth with ham, salmon, and other fatty meats. The fat and bourbon in your mouth perform wonders.
Aged cheeses: This is another amazing discovery with your favorite bourbon. Consider aged gouda or cheddar; you will experience a pleasant surprise on your palate.
Spicy and smoky food: Spicy dishes can be overwhelming in the mouth with this bourbon because of its high alcohol content. However, experimenting with diverse spicy food to identify the one that hits the spot is heavenly. Consider jerk or paprika-seasoned food for the experiment.
Another fantastic option is pairing it with smoky flavors. Grilled meats like steaks and ribeye will complement the charred oak flavor of the 82nd Airborne Bourbon.
Desserts: Milk and chocolate-flavored desserts will perfectly combine with this whiskey. Dark chocolate and baked goods will also be favorable.
Popular Related Drinks
Boundary Oak Distillery produces other whiskeys you can't say no to. There are also other options from diverse distilleries in Kentucky that are doing amazingly well in creating this drink. If you want something to add to your cart, you can choose the following:
101st Airborne Abe Bourbon: This lovely custom-made decanter with a smooth blend of flavors is bottled at 101 proof (50.5% ABV). It was produced in honor of the heroic men and women of America. 101st Bourbon is aged two years with a blend of wheat and rye. If you love 82nd Airborne Bourbon, you will appreciate this one, too.
Blackhorse 1901: Created from a blend of whiskeys and bourbons aged three to ten years in French oak barrels, this drink is another commemorative American whiskey. Blackhorse 1901 is 80 proof with rich notes of butterscotch and oak. It is handcrafted in honor of the 11th Armored Cavalry Regiment, popularly called the Blackhorse 1901. The regiment was established in 1969 and incorporated a year later, with its troopers dedicating their lives to American freedom.
Lincoln Kentucky Bourbon: Boundary Oak Distillery produced this whiskey to honor the birthday of the 16th US President, Abraham Lincoln. It is one of its newest editions of Kentucky straight bourbon, with high proof of 115. It has a pleasant mouthfeel with notes of rich, dark brown sugar.
Frequently Asked Questions – Boundary Oak 82nd Airborne Bourbon Whiskey
Who makes 82nd Airborne bourbon?
It was made by Boundary Oak Distillery, which is a premier, family-owned distillery in Kentucky. Also, it was established in 2013. They use fresh water from a limestone well to distill various small-batch bourbons.
Also Read: SQRRL Peanut Butter Whiskey Review
Cheers!
The 82nd Airborne Bourbon is an exclusive and flavorful small batch that pleases the nose and taste buds. Its two years of aging process in new charred oak barrels provide a rich and complex flavor that is the delight of connoisseurs. Besides, offering a rich and smooth finish with notes of vanilla, oak, smoke, and caramel makes it a perfect hit for any occasion. It does not matter if you want something to sip or mix into a cocktail; this bourbon is a great choice.