In recent years, the whiskey industry has experienced a turnout, producing many nutty drinks and flavors. One of those is SQRRL Peanut Butter Whiskey, a premium-quality flavored whiskey bottled at 70 proof.
It is famous for its unique whiskey character, representing the height of Flavored Whiskey fineness. It is worth adding to your liquor cabinet.
This fine and discernable drink is a product of the valued Illinois distiller Jim Beam Flavored Whiskey. It is unequaled and excellent in flavor and quality, and in this SQRRL Peanut Butter Whiskey review, we will get to know why.
Let's get started
Value for Price

Mixability

Sippability
⇒ Fun Facts ⇐
| Name: | SQRRL Peanut Butter Whiskey |
| --- | --- |
| Brand: | SQRRL |
| Country: | United States |
| Spirit Style: | American Whiskey |
| ABV: | 35% |
| Release Date: | 2018 - Present |
Brand History
This American-flavored whiskey is a truly American drink owned by the iconic Beam Family. Jim Beam, the founder, established the company in 1795 and has left a legacy for seven generations, producing one of the most prominent whiskey brands in the world.
The spirit was originally labeled Old Jake Beam Sour Mash by originator Johannes 'Jacob' Jim. It was also manufactured in Clermont, Kentucky, by Beam Suntory, who bought the business in 2014.
In the 40s, the Beam business grew into a brand, including holding stock in famous labels. Basil Hayden's, Baker's, Knob Creek, and Booker's are some of the labels. Similarly, it produces other flavored drinks like honey, maple, and vanilla, using Jim Beam as the brand name.
Jim Beam is currently the best-selling bourbon worldwide, employing the same quantity of corn, barley, and rye in its mash bill over 200 years ago. Regarding consistency and quality, this brand is at the top, and America can never forget its contribution to the growth of the whiskey industry.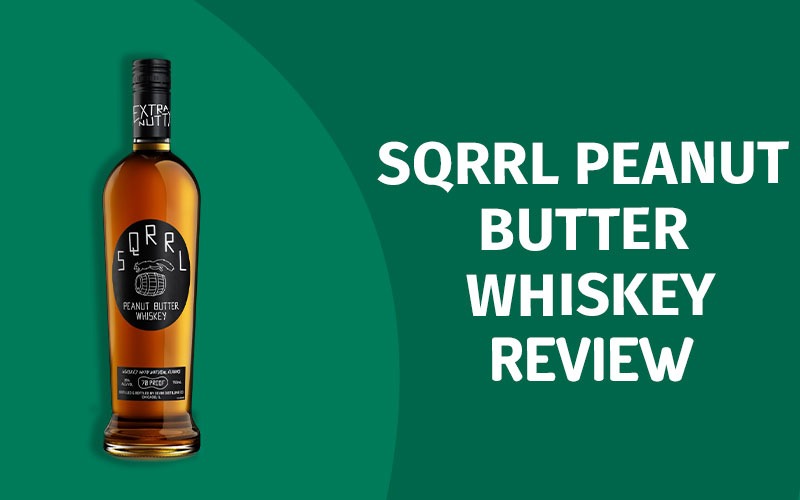 SQRRL Peanut Butter Whiskey Review
Made with American whiskey, this Jim Beam Peanut Butter Flavored Whiskey is extra smooth and slightly sweet. It is created with a squirrelly attitude, offering an irresistible flavor to your taste buds. The flavor profile below will give you many reasons to pick a bottle on your way from the shop:
Color: The drink is colored with caramel, giving it an amber form with golden hues.
Nose: The aroma gives a freshly roasted peanut, balanced by chocolate and butterscotch.
Taste: On the palate, you will get the same flavor as what passes through your nose. It is smooth enough for sipping or added as a kick to your favorite mixed drink. But know that the freshly roasted peanut taste will always take the lead.
Finish: SQRRL Peanut Butter Whiskey offers a lingering sweetness of roasted peanut and butterscotch towards the end. An orange flavor peeks in occasionally with an undertone of a warm honey flavor. Finally, you will have a mild whiskey burn as the sweetness sticks around.
Alcohol: This drink is bottled at 35% ABV and 70 proof. Thus, it can be considered mild alcohol and perfect for new-entrant drinkers. So, if you need something to introduce your palate to whiskeys, you have this spirit to go for.
Price: This drink does not cost an arm and a leg. The average price is $20, and it is easy to find. Most retail outlets and online vendors sell flavored whiskey.
Also Read: Mamamango Moscato Review
Pros & Cons
Peanut butter drinks are great drinks with exceptional tastes. The recipes are more refined and adapted to suit the palate with little sweetness. To know the overall reason to take this drink, you should check out below:
Pleasant flavor: SQRRL Peanut Butter Whiskey promises to make an exception if you are not a big fan of whiskey. Its taste is not the usual whisky or bourbon but of a flavored drink with a hint of whisky bite. There are numerous whiskey converts and purists to show for it. Anyone who does not like whiskey usually falls for peanut butter whiskey.
Affordable price: This drink is around $20, which is reasonable. It is bottled at 70 proof, which is not up to the standard 80; that extra is measured by the price, which is relatively lower than the usual whiskey. Hence, if you want to go for something cheaper, this spirit will give you value for your money. Besides, the low price does not affect the rich taste.
Simple serving: SQRRL Peanut Butter Whiskey does not need much preparation before consumption. You don't even have to chill it before consuming it. You can pour it into the glass and gulp or over the ice. If you want to mix it into cocktails, everything is easy, and the peanut butter taste always stands out. Just sit back and sip.
How Best to Serve SQRRL Peanut Butter Whiskey
SQRRL Peanut Butter Whiskey can be savored neat or on the rocks. The smoothness allows you to enjoy the drink's complex and unique flavor.
You can also mix it into cocktails, either old-fashioned or modern. The spirit offers diverse taste profiles you will love in your drink. So, don't be shy to try this excellent American drink in different methods, so long as your palate won't say no. It does have a subtle peanut flavor and is ideal for someone who wants a light drink.
Besides, you can mix it into berry or cherry-based liqueur; you will enjoy the wonders of the twist. Spiked hot chocolate is another option not to resist. The peanut butter sweetness rarely hides behind.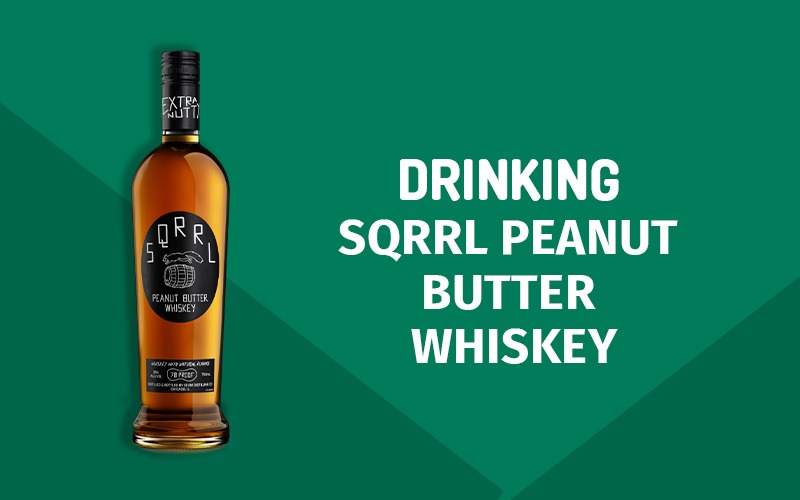 Perfect Pairings
You may ask, "What food pairs with SQRRL Peanut Butter Whiskey?" The simple answer is "several foods." Since peanut itself goes with just any food, any drink from it won't be different from the whiskey:
Fruit: SQRRL Peanut Butter Whiskey goes with several fruits, whether fresh or dried, as long as they can go with peanuts. However, try to avoid pairing it with citrus fruits because the strong taste of the fruit can be overpowering. However, you can't go wrong with most other fruits. Apples, strawberries, melons, avocados, and bananas are the real deal.
Desserts: What's better than ending your day with a glass of SQRRL Peanut Butter Whiskey and a sweet treat? Undoubtedly, chocolate, as a dessert, goes with just any drink. Try the drink with good dark chocolate to enhance its peanut butter flavor.
The charred taste of toasted marshmallows is another complement to peanut butter whiskey's complex and sweet notes. Your campfire in late summer will appreciate you if you combine both. One more, and caramel candy or sauce will give the peanut notes of this drink a great match.
Main course food: Refrain from undermining the power of peanut butter whiskey when pairing it with main course foods. Grilled chicken wings, with their smoky, rich flavor, elicit complex notes of peanut butter whiskey.
Pasta is another main course that perfectly matches the flavor profile of SQRRL Peanut Butter Whiskey. Try this when you want a non-traditional pairing since pasta dishes are more Italian.
Ensure to bring pork to the pairing spree. Its relatively mild flavor pairs perfectly with the complexity of this drink. Pulled pork, slow-cooked pork belly, pork ribs, or pork chops are all good to go.
Honey: This will give your SQRRL Peanut Butter Whiskey glass a peanut and honey sandwich flavor. Simple honey syrup or honey whiskeys are good examples.
Popular Related Drinks
Peanut butter whiskeys are relatively new drinks that penetrated the market in the 60s and gained public acceptance almost immediately. The first taste of the drink was not so good until the makers could get what the buyers wanted, which could also stand the test of time. Here are some of the top peanut butter whiskeys you can trust:
Screwball Peanut Butter Whiskey: This Californian whiskey brand is the world's first, which bartender Stephen Young and his wife Brittany Meryl Young established. The locals accepted the drinks, prompting the manufacturers to take them outside the confines of the immediate environment. The whisky has a medium oak appearance, with warm peanuts and honey whiffs. It is unobtrusively smooth with a solid taste of vanilla.
Ole Smokey Peanut Butter Whiskey: This is the most famous brand of peanut butter whiskey, with no competitor regarding the price. The taste is balanced and smooth, with a whiff of honey, buttered popcorn, and shortbread.
Sheep Dog Peanut Butter Whiskey: It is reddish-brown with a fine, matured, straight bourbon fragrance, which includes oak, caramel, and corn. It does not have natural peanuts in the production process. Rather, vanilla, butterscotch, and caramel notes balanced the peanut offering. The taste is vibrant and smooth, honeyed with traces of corn and oak.
Frequently Asked Questions
Does freezing SQRRL Peanut Butter Whiskey ruin it?
Although you can chill spirits, whiskey is not a good option. When frozen, SQRRL Peanut Butter Whiskey becomes glutinous, resulting in dulled flavor. Keep it at room temperature and enjoy the freshest flavor.
Is whiskey stronger than tequila?
Both whiskey and tequila are classified as spirits. While tequila is created from agave plants, whiskey is distilled from different grains. A shot of whiskey has a higher alcohol content than that tequila. So, whiskey is more potent than tequila.
Is SQRRL Peanut Butter Whiskey healthy alcohol?
Although alcohol is generally not a healthy drink, when consumed in moderation, whiskey is good for the body. Besides, it does not contain much sugar, which makes it a healthier option than beer and sugary drinks. Legally, the recommended quantity of alcohol for women is one drink per day and two for men. Anything higher than that is excessive.
Also Read: Herradura Legend Review 
Cheers!
SQRRL Peanut Butter Whiskey is exactly what you see on the label: the peanut flavor is evident in taste, smell, and finish. Taking on this old favorite drink is fun, especially if you want something outside the classics.
If you are not a seasoned drinker, this one is a great option, as it is mild on the palate and does not knock down easily. Moreover, the price is affordable, making it an excellent basis to penetrate the world of peanut butter whiskey.