Having sold millions of cases worldwide, Captain Morgan is a popular rum brand. It has continued to grow in market share and diversity, with around 17 flavors and more to come.
Besides, it uses home-grown spices from the Caribbean Islands, blended into a rum mixture at the last production stage.
Rum has a long and rich history in Japan. Around 1655, it became a currency and had much weight in the market.
This Captain Morgan Cherry Vanilla Rum review explains in a robust way everything there is to know about Captain Morgan Cherry Vanilla Rum.
Let's get sipping!
Value for Price

Mixability

Sippability
⇒ Fun Facts ⇐
| Name: | Captain Morgan Cherry Vanilla Rum |
| --- | --- |
| Brand: | Captain Morgan |
| Country: | United States |
| Spirit Style: | Spiced Rum |
| Spirit Type: | Rum |
| ABV: | 30% |
Brand History
Established in 1943 by Seagram's company, Captain Morgan is a successful brand name in the world of rums. It uses recipes from cane sugar and secret spices aged in white oak barrels to produce its rums. Since its inception, the brand has boasted diverse flavors, including cherry vanilla, silver spiced rum, and black spiced rum. These rums are among the best in the world.
The company was, in 2001 sold to a British company, Diageo, by Seagram's, which turned out to be a huge bargain. Meanwhile, it is named after the 17th-century Welsh pirate of the Caribbean, Sir Henry Morgan of 1635. Sir Morgan contributed to British war efforts in some negative way. Regardless of that, he has become a known figure in this company.
Another company achievement is making a profit of $224 million in 2014 in the US. This made it the second-largest liquor-producing company in America. Since then, their growth has kept recording more impact each day. Captain Morgan Cherry Vanilla Rum is a perfect blend of signature rum, sweet dark cherries, and rich and creamy vanilla to give a classic flavor combination. It is available for a limited time, and we are here to explain more about its components.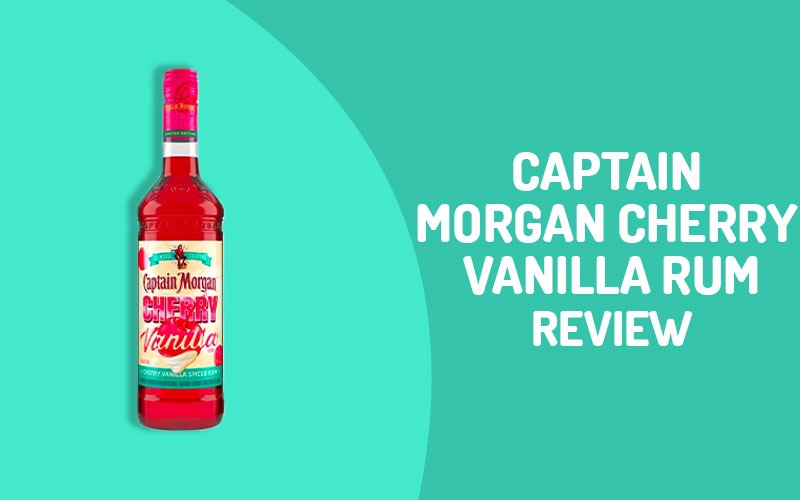 Captain Morgan Cherry Vanilla Rum Review
With a fruity and flavorful combination of vanilla and black cherry, this rum provides a mouthwatering glass of nostalgia and a classic taste. It has 87 calories and 3.6 carbs. Besides, it brings a blast of sweetness to your occasion and gives you something to look forward to. You can enjoy it neat, on the rocks, or as a cocktail. Here is all you need to know about Captain Morgan Cherry Vanilla Rum:
Nose: The aroma opens up with notes of sweetness and cherry bubblegum, akin to cherry and vanilla colas. It sparks the atmosphere with sweetness and hints of acidic freshness.
Taste: The vanilla is more pronounced on the palate. The candy-like cherry follows this, while offering a milder flavor. However, the flavor distribution on the taste buds makes the whole taste well-rounded and pleasant.
Finish: It ends with molasses and cherry cream cheese Jell-O, leaving sour cherry, spice, and a warm mild peppery sting in the background. It may not be as sweet as anticipated, but it is tasty.
Alcohol content: Captain Morgan Cherry Vanilla contains 30% alcohol by volume 80 proof).
Price: It is sold in the US and Canada at a suggested retail price of $15.99 per 750 ml bottle. It is available for a limited time and will never collect dust on the shelf due to the demand.
Also Read: Mississippi Mud Black & Tan Review
Pros and Cons
To many people, the arrival of Captain Morgan Cherry Vanilla brings an explosion of sweetness to their party. This makes them look forward to a beautiful moment with loved ones, and this drink at the center of the occasion. Since many are in tune with it, chances are you will be on the side of the crowd. However, here are the reasons to pick up or drop back a bottle of this cherry and vanilla-flavored rum today:
Pros
Summer special: With an evocative toast, this drink has become everyone's favorite summer sipper. The sweetness and flavor balance makes it a perfect drink for the occasion, driving your palate to another level. So, as the season heats up, it is time to chill with Captain Morgan Cherry Vanilla.
Instantly recognizable: This flavored rum has a place on the table. Whether you want to drink it neat, over ice, or in a cocktail, it will always give you the desired flavor. It brightens the moment and releases fun into the air. No matter what you may be experiencing, the first sip crashes every negative feeling.
A step back in time: This vanilla and the cherry flavor does not only define nostalgia; it takes you back to the 50s with lots of memories gushing into each step. It is a way to modernize the ol' time drink.
Perfect balance: That's the perfect description! The sweet highlights of the cherries combine with the rich and creamy vanilla to give a delightful balance. Where one note hits a part of the taste buds, the other harmonizes it.
Flavor experimentation: You are faced with the flavor you love, which gives you the perfect opportunity to experiment with other flavors in a cocktail or ice cream. This gives you the confidence to be creative with your choice of flavor and garnish it as you desire.
Cons
There is no bad memory with this Captain Morgan rum. If you plan to add a bottle to your shelf this weekend, go ahead and enjoy the fun with friends.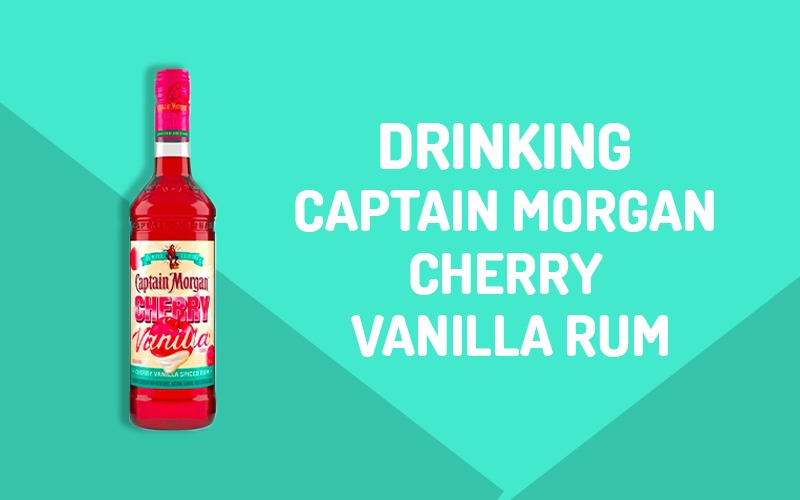 How Best Is Captain Morgan Cherry Vanilla Served?
There are various ways to spike your conversation with this delicious drink. You can sip it on its own, on the rocks, or blend it with other juice to give your desired cocktail.
Neat: To drink it neat, you only need to pour it into your glass and serve without chilling or mixing it into any other flavor.
On the rocks: Place some ice in a glass and pour this drink over it. Stir it a bit and consume.
In cocktails: There are diverse cocktails you can make various cocktails with this drink. If you like experimenting with new flavors, there is a lot you can achieve with Captain Morgan Cherry Vanilla.
Cherry Vanilla Cola Float is one of them. It is prepared by adding only three ingredients, vanilla ice cream, cola, and Captain Morgan Cherry Vanilla. It is easy and tasty to prepare.
Popular Related Drinks
Captain Morgan brand came prepared; that is why they have diverse spiced rums in the market. You can choose from a selection of your favorite flavors, and here are some of them:
Captain Morgan Original Spiced Rum: Spice up your occasion with this classic drink. It is a secret blend with caramel and vanilla notes that create a smooth and medium-bodied taste. Per serving contains less than one gram of sugar, no protein, no fat, 35% ABV, and 86 calories. It is gluten-free and perfect for cocktails. The taste includes subtle notes of dried fruits, honey, caramel, and vanilla with a flavorful and unique finish. This original spiced rum is ideal if you are looking for a sippable alternative to Captain Morgan Cherry Vanilla Rum. So, level up your taste buds anytime.
Vita Coco Spiked with Captain Morgan Piña Colada: This tropical drink is ready-made for you to step up your cravings. It is packed with Caribbean rum, coconut water, and creamy coconut and ripe pineapple flavors. Once chilled, each sip hits the spot differently. You are free to garnish it with any flavor of your choice. Finally, it has 5% alcohol by volume and is refreshing to the last drop.
Captain Morgan Sliced Apple: This alluring and refreshing spirit inspires a get-together of friends to celebrate their small wins. It has a sweet, succulent, and crispy taste of fresh sliced apples. Each 50-bottle is 70-proof and gluten-free. This drink is perfect for every occasion. You can enjoy it on the rocks or as a shot.
Perfect Pairings with Captain Morgan Cherry Vanilla Rum
When you wonder what to pair with your favorite spiced rum drink, you will have many options. Consider the following:
Cheese: It is hard to go wrong with cheese when looking for the perfect food for a drink. You will love your choice whether you want grilled cheese sandwiches, fresh-cut slices, or shared plates full of fried mozzarella cheese sticks. Mature and not overly sharp cheddar or aged gouda pairs well with rum.
Salads: It is all about the greens when pairing salads with rum. Add roast chicken, goat cheese, cucumber, sunflower seed, etc., to the salad for an optimum flavor.
Fish: A good Captain Morgan Cherry Vanilla Rum cocktail will pair significantly with fish. However, it would be best to select the flavor to avoid a contrasting taste selectively. Consider ceviche, cod, salmon, or tilapia for an unforgettable experience.
Meats, pies, and desserts are excellent options to spark the experience. They efficiently complement the vanilla and caramel notes of the drink to enrich your taste buds.
Frequently Asked Questions – Captain Morgan Cherry Vanilla Rum
What would you mix with Captain Morgan Cherry Vanilla Rum?
Various flavors can complement the profile of this unique rum. You can go for soft drinks, soda, fruit juice, lemonade, cream soda, and ice cream.
What does Captain Morgan Cherry Vanilla taste like?
This drink provides a signature taste of spiced rum with rich and creamy vanilla, dark cherries sweetness, and spice notes, creating a classic drink.
What is Captain Morgan Cherry Vanilla's alcohol content?
Captain Morgan Cherry Vanilla Rum is 60 proof, which means it has an alcohol content of 30% ABV. This is the same amount you can find in similar flavored drinks.
Also Read: Ciroc Passion Vodka Review
Cheers!
Captain Morgan Cherry Vanilla Rum is a perfect drink with a unique taste that gives you value for your money. It contains 30% ABV, is gluten-free and is low in calories and carbohydrates. This spirit is everything you desire to make your occasion a memorable one. You can find it in most retail shops in the US.