Ciroc celebrates another addition to its product, and it's here to stay. Ciroc Summer Citrus Vodka is perfectly flavored for a summer season toast. You will love it; everyone does.
The origin and core ingredients are probably the primary reason everyone falls in love with this golden drink.
Tracing the drink to its origin, one would arrive at the heart of France. Ciroc Summer Citrus Vodka is made from fine French grapes.
This article covers all there is to know about Ciroc Summer Citrus Vodka, we will be exploring the history of this drink, a quick review, ways it is best served, and lots more.
Let's get started!
Value for Price

Mixability

Sippability
Quick Facts
| Name: | Ciroc Summer Citrus Vodka |
| --- | --- |
| Brand: | Ciroc |
| Country: | France |
| Spirit Style: | Flavored Vodka, Citrus |
| Spirit Type: | Vodka |
| ABV: | 35% |
| Released: | 2021-Present |
| Price: | $25 |
Brand History
For over 500 years, this family establishment has existed and served generations of customers. While Ciroc Vodka was founded in 2003 by enologist Jean-Sebastien Robicquet, its root is traced back centuries. The Robicquet family has made spirits and wine in France with only fine ingredients.
Having a degree in enology (study of wines and winemaking) made Jean-Sebastien vast in business knowledge. He combined winemaking and distilling skills to start a new line of wine – Ciroc – by distilling it into vodka. Besides, it has proven successful over the years.
The brand went further to partner with Sean Diddy, a rapper and entrepreneur, who took over the marketing and promotion aspect of the business. They entered into a collaboration in 2007 to share the profit 50-50, which has been upheld to this day.
In addition, the alliance also helped to publicize the brand and, ultimately, resulted in more sales.
The grapes are hand-picked and made into wine at the historic Distillerie de Maison Villevert in Chevanceaux, South France. It is then distilled five times (instead of four) to give it a unique citrus flavor. At the fifth distillation, the remains are taken to a traditional, custom-made copper pot still to create Ciroc Summer Citrus Vodka.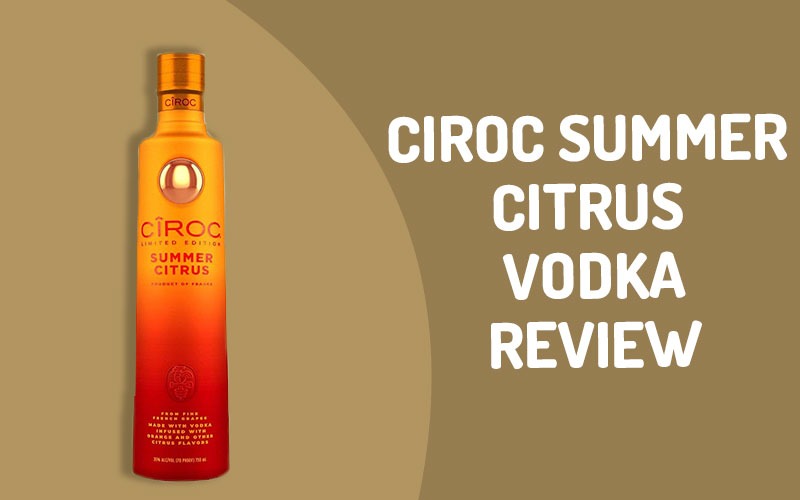 Ciroc Summer Citrus Vodka Review
Ciroc Summer Citrus is a drink masterfully blended with orange and other tangy citrus flavors. It is perfect for poolside relaxation or at home on a weekend evening. It can be enjoyed eclectically, as it retains its flavor, regardless of how it is served. We will give you more fun things about Ciroc Summer Citrus Vodka and why it should be in every home.
Nose: The drink opens with a sun-kissed whiff of juicy blood orange with fresh, squeezed citrus notes.
Taste: Summer Citrus offers hints of lime zest, culminating in a sleek finish.
Finish: The finish is velvety smooth, with a mild peppery sting.
Taste Summary: Ciroc Summer Citrus Vodka notes are closer to a natural flavoring profile than real fruit. Of course, it is made with fruit flavors. Nevertheless, some additives were involved, which took away a little of the natural profile. Sweet notes first hit your palate before disappearing into a fruity balance.
Appearance: The bottle is packaged in a stunning sunset appearance. The bold orange and red bottle was one of the most beautiful bottles people had ever seen.
Nutritional facts: A single serving of Ciroc Summer Citrus contains 0g of carbs, 0g of fats, 0g of protein, and 97 calories. It is ideal for vegans, is gluten-free, and does not contain artificial flavors or hues. Thus, it is an excellent choice for those looking for a low carbs or calorie vodka for a great taste.
Price: The drink is less than $30, excluding tax.
Alcohol Content: 35% ABV and 70 proof. Ciroc Summer Citrus has 35% alcohol by volume and 70 proof, which makes it moderately strong. Many flavored vodkas and related liquors are bottled at 35 percent ABV. Each ABV is multiplied by 2 to get the proof; hence, the 70 we have here.
Any drink with 70 proof is on the lower side of the scale. Generally, the higher the proof, the higher the alcohol strength. Always ensure to drink responsibly.
Also Read: Missionary's Downfall Cocktail (Recipe & Ingredients) 
Should you Drink Ciroc Summer Citrus Vodka?
Drinking a glass of Ciroc Summer Citrus Vodka will give you an incredible experience when you drink moderately. It is sippable and easy to drink. Below are some of the reasons you should not let go:
Keeps the mouth clean: Naturally, vodka is a disinfectant, and various types of mouthwash are made with it. The reason is that it has bacteria-killing properties that aid the process.
Can protect the heart: Drinking Ciroc Summer Citrus Vodka regularly can affect the heart. It reduces protein oxidation in the heart.
Zero carbs: The drink contains no carbs, which is good news for those watching their weight. It also has fewer calories and no fats. So, grab a bottle and have fun.
Reduces stress: When taken in moderation, Ciroc Summer Citrus will help to calm the nerves after a stressful day. It does it by helping the cortisol (stress hormone) to recover after a hectic day.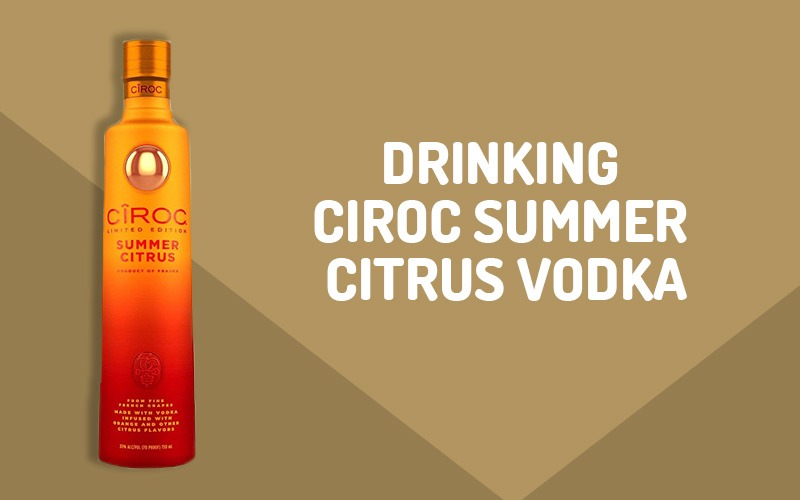 How Ciroc Summer Citrus Vodka is Best Served
Ciroc Summer Citrus Vodka is a flavored drink that retains a part of its naturalness. It does not require much preparation before you can gulp it down.
Neat: Drinking it neat or on the rocks is a popular way to enjoy it since it is sippable. Mixing with chilled or sparkling water on a warm summer day, you can also enjoy it. Another way is by adding a few ice cubes and sipping.
Cocktails: You can make varieties of cocktails with Ciroc Summer Citrus Vodka by blending it with different flavors. One of them is the Citruses Sunrise.
It requires 1.5 oz Ciroc Summer Citrus, 3 oz orange juice, 1 oz pomegranate or Cranberry juice, a highball or rocks glass, and an orange wedge for garnishing. Fill a highball glass with ice and add the Ciroc citrus and orange juice. Top it off with cranberry or pomegranate juice. Then, garnish with the orange wedge and serve.
A second cocktail option is to try a Golden Hour Cosmo. Fill a cocktail shaker with ice and add 45 ml of Ciroc Summer Citrus Vodka, 15 ml of fresh lime juice, 15 ml of Cointreau, and 30 ml of cranberry juice. Shake the mixture properly and drain into a chilled cocktail glass. Finish by garnishing it with a slice of lime and serve.
Drinking Summer Citrus is fun because it is ideal for a summer holiday with friends and family or an after-dinner quiet drink. The inside harboring the sweet Summer Citrus Vodka made it more inviting.
Perfect Pairings for Ciroc Summer Citrus Vodka
Pairing Ciroc Summer Citrus with different food will give a unique taste to your taste buds. Its fruity flavor will combine with various dishes and provide an excellent feel. Try it with the dishes below:
Bread: Pair Ciroc Summer Citrus with dark bread, such as rye, to blend with the bold flavor of the drink. It does not matter if the bread is buttered; a glass of this unique drink will make it enjoyable.
Cheese: Cheese is not only kept for wine connoisseurs. Dill or good cheese will complement this vodka drink and give you something to reminisce about.
Pierogi: While the snacks could be heavy, it is a hearty meal complimenting a glass of Ciroc Summer Citrus. The spicy flavor will perform magic when it meets a sip of the drink.
Sausage: Try the drink with Polish-style sausage, pork tenderloin, or smoked hams, and you will love the outcome.
Popular Related Drinks
In the same category as Ciroc Summer Citrus Vodka, other drinks exist. They have unique flavors that stand them out. However, in terms of price and quality, they are in the same group. They are produced by the same company, using almost the same distillation process. Here are some of them:
Ciroc Watermelon: This delicious and refreshing vodka drink infused with succulent watermelon is a must-taste. The flavor is light and sweet, ideal for sipping neat or summer cocktails. Ciroc Watermelon is low in sugar and carbs, has 70 calories per 1.5 oz serving, and is gluten-free. Ciroc produces using cold-fermentation of grapes while infusing the natural watermelon flavor. The finish is smooth, and the aroma s sweet.
Ciroc Ultra-Premium Vodka: Made from vodka and distilled five times from French grapes, this drink is one of the best products of Ciroc. The fifth distillation was at the historic Maison Villevert Distillery in the South of France. Moreover, its taste is premium, with remarkably fresh and citrus notes.
Although different flavors were used, Ciroc Ultra-Premium Vodka is distilled using the same process as Ciroc Summer Citrus.
Limited Edition Pomegranate: This distinct flavor from Ciroc was masterfully infused with pomegranate and another natural process during distillation. It offers delicious hints of fresh strawberry and notes of red berry, all covered in fruity and flavor pomegranate bursts.
Frequently Asked Questions – Ciroc Summer Citrus Vodka
How many carbs are in flavored vodka like Ciroc Summer Citrus?
The carb count is different across flavors. Some vodka drinks contain little or no carbs, while some contain as high as 11g per serving. Nevertheless, many companies use natural ingredients and no added sugar for their drinks. Such drinks may have zero carbs.
Are there calories in flavored vodka?
Usually, 70-proof vodka, like Ciroc Summer Citrus, has 85 calories, while 100-proof vodka has 124 calories. However, you must ensure not to confuse vodka drinks with flavored vodka. The former could contain additives and syrups that could add more calories to the drink.
Can you create cocktails with Ciroc Summer Citrus Vodka?
Generally, Summer Citrus can combine different flavors and juices to create a cocktail. You can try it with orange, lime/lemon, Cointreau, spritz, simple syrup, and grapefruit juice. You can go creative with your fruit juices and mix them to bring out something unique.
Are there different kinds of vodka?
Typically, vodka can fall into three classes: plain, flavored, and fruit. The flavored vodka is not different from the plain one, except for the additional flavors infused during the distillation process. However, the fruit vodka has to do with adding fruits to the drink and is allowed to stay for three to five days. You can do it at home, as well. But to get the desired result, you must shake it daily and strain the fruit out when it completes the cycle.
How do I serve Ciroc Summer Citrus Vodka?
You can drink it neat or on the rocks in shot form. However, you can mix it as part of a fruity cocktail drink to derive the best.
Also Read: Smirnoff Spicy Tamarind Review
Cheers!
Ciroc has done awesomely well with the introduction of the unique flavors. Ciroc Summer Citrus Vodka is a healthy option for those who want a healthy drink. The alcohol level is not so much (35%), which is the same thing you can find in any vodka out there.