Crown Royal Vanilla originates from the western shore of Lake Winnipeg in Manitoba in the small town of Gimli.
This town has a committed group of workers who produce and ensure only the best quality of Crown Royal Fine De Luxe Blended Canadian Whisky makes it to the market.
The lifetime experience put into the creation of each batch makes this drink unique, hence the Crown Royal Vanilla stand out.
This article covers a Crown Royal Vanilla Review, he here we will be bringing to the table all there is to know about this drink
Let's get started!
Value for Price

Mixability

Sippability
⇒ Fun Facts ⇐
| Name: | Crown Royal Vanilla |
| --- | --- |
| Brand: | Crown Royal |
| Country: | Canada |
| Spirit Type: | Canadian Whisky |
| ABV: | 35% |
| Released: | 2016 - Present |
Brand History
In 1939, when King George VI and Queen Elizabeth 11 were to visit Canada, the first classy blend of Crown Royal Canadian whisky was created. Only 50 selections were crafted, dressed in the finest cut glass, and wrapped in purple robes to honor the visit. Its bottle was added to the Royal Train to acknowledge Canada's hardworking and true nature.
To date, Crown Royal has maintained that legacy and will not return to producing premium-quality whisky with a smooth taste, highlighting regality.
Crown Royal Vanilla is produced in Gimli, Manitoba, at the Crown Royal Distillery, which Diageo owns. The brand is Diageo's flagship Canadian Whisky.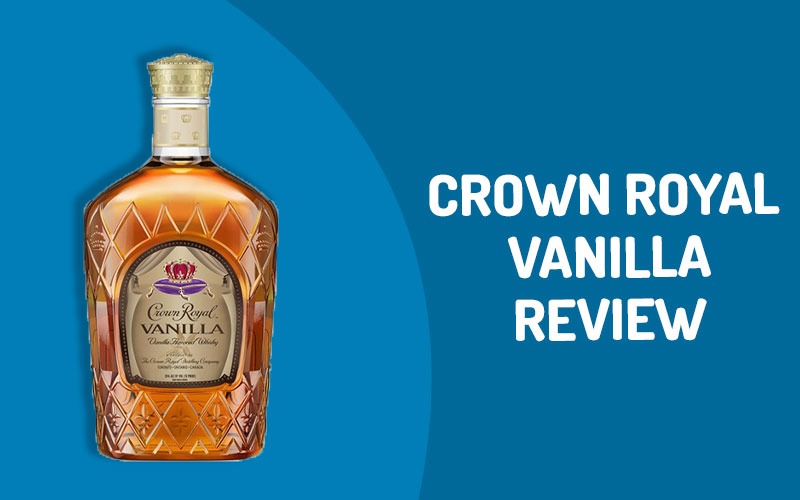 Crown Royal Vanilla Review
Master whiskey blenders created this unusual blend from Crown Royal. They combined whisky with exquisite flavors of Madagascar Bourbon Vanilla. The result is this extraordinary Crown Royal Vanilla, blasting with bold flavors of vanilla and extra smoothness. If you are about to grab a bottle now, here is all you need to know:
Taste: This drink releases creamy vanilla on the palate with a light, velvety whisky finish.
Nose: The aroma of rich vanilla bean with hints of oak passes through the nose
Finish: The end is sticky and warm, with a lingering Crème Brulee.
Alcohol: One 750 ml bottle of Crown Royal Vanilla contains 35% ABV, 70 proof. The whisky is matured to perfection and is excellent for any cocktail party.
Price: A 750 ml bottle costs around $36.
Appearance: The decanter is crown-shaped, with a distinct shape. It is housed in a caramel-color display bag and box with drawstrings. The screw cap is crown-shaped. In the glass, Crown Royal Vanilla has a much richer bronze color. The content is thick and in fat droplet form, which does not fall back into the whiskey.
Also Read: Casino Azul Anejo Jaguar Tequila Review
Should You Drink Crown Royal Vanilla?
Like anything significant, Crown Royal Vanilla should be enjoyed in moderation. It is a sippable drink that can be shared with friends and family during special events. While doing so, consider the following benefits of drinking a glass:
Lowers risk of heart disease: Crown Royal Vanilla has properties that help to reduce diseases. A moderate amount helps to increase the level of good cholesterol in the blood.
Helps to fight cancer: Whiskies contain ellagic acid that helps absorb rogue cells in the body. This helps to keep cancer at bay.
Promotes weight loss: Crown Royal Vanilla contains no fat, simple sugar, and little sodium. Sugar is efficiently processed in the body, which can encourage weight loss. So, you can have a good time and still shed those pounds.
Reduces stress: You deserve a break after the day's activities. Thus, if you are stressed, you can check the bar for a bottle of Crown Royal Vanilla, unscrew it, and calm your nerves. Don't rely on alcohol each time you wish to calm your nerves.
Fights cold: when you feel cold approaching you, you can send it away with a glass of this delicious Canadian whisky. You can mix lemon and hot water to achieve the effect faster. So, drink up!
Promotes digestion: If you feel a rumble in your stomach after a great meal, you can turn to your favorite whisky for help. It stimulates the enzymes in the stomach and gets the food easily digested.
How Best to Serve Crown Royal Vanilla
Crown Royal Vanilla will be perfect for drinking neat, on rocks, or made into cocktails. It is a great whiskey that does not burn the throat or leave a bad taste on the palate. Here are ways to enjoy a glass of your favorite drink:
Neat: To drink it neat, you don't have to chill it. Pour this drink into a glass and sip it.
On the rocks: Pour Crown Royal Vanilla over a few ice cubes in a glass. You can also pour it into a metal shaker with ice into a glass if you want to drink it straight.
In cocktails: You can make your favorite cocktail using this delicious Canadian whisky. There are several cocktails to fit in. The Railroader is one of them. Get 1½ oz of Crown Royal Vanilla, ¾ oz orange Curacao, 1 oz fresh lemon juice, ½ oz sugar syrup, ice cubes, and orange peel. Add the ingredients o a metal shaker, except the orange peel. Shake them until adequately mixed. Then, pour it into a glass and garnish it with an orange peel.
Perfect Pairings
If you love vanilla and Canadian whisky, you may love Crown Royal Vanilla. It is best to enjoy in sips, not in a shot glass. Besides, you can enjoy it with your dinner due to its savor. Some foods pair perfectly with this brown liquor, and some never match it. The latter should be avoided while you kick off with the former. Check out the delicious foods that will make a perfect meal with your Canadian drink:
Dark chocolate: Dark chocolates and whiskies are inseparable. They complement each other well. Try chocolates with orange flavor, as it will enhance the citrusy notes of Crown Royal Vanilla.
Apple pie: If you want a delicious, comforting dessert to pair with your drink, consider apple pie. The caramel flavor of this drink will complement the rich cinnamon filling of the pie. You can add a sweet side of vanilla ice cream to make it ultimate. Alternative, bourbon-caramel sauce on the side will help to enhance the whisky's flavors.
Smoked salmon: This is another beautiful food your drink can't wait to meet. The whisky cuts through the fattiness of the salmon and blends with the flavors.
Dried fruit and nuts: If you want something to snack on while waiting for the main meal, try dried fruit and nuts. They also go well with Canadian whiskies, especially when looking for something light to enjoy at night.
Cheese: Cheeses and alcohol are perfect pairs. People are only used to red wines and cheese, but Crown Royal Vanilla gives you a clap back for your money. The flavored drink brings out the salty flavors of the cheese. Mild and robust cheese will be perfect for this drink.
In addition, you can create your own pairing by exploring some dishes in your kitchen. The four primary tastes always focus on fatty acid, salt, and heat.
Popular Related Drinks
Aside from Crown Royal Vanilla, you can turn to the company for other brands of flavored whisky. They deal in only flavored drinks, which are tested and trusted. Here are some other drinks made by Crown Royal Distillery, Canada:
Crown Royal Regal Apple Flavored Whisky: a luxury glass of this unique drink may be all you need to have a great day. It is infused with regal gala apples and hints of spice and caramel. It is proof at 70 and 35% alcohol by content. Crown Royal Regal Apple is made with the signature smoothness of traditional Crown Royal, matured to perfection, and offers a crisp and sophisticated taste. All you need to have a great day is to mix it with cranberry juice and pour it over ice for a cocktail.
Crown Royal Peach Flavored Whisky: Fresh Georgia peaches are harvested, destined, pressed, and strained to preserve their vibrant, aromatic taste. The master blender then infuses juicy flavor to derive lush notes of creamy vanilla and a sweet finish. This makes Crown Royal Peach Flavored Whisky an astonishing drink. You can enjoy it at a rooftop or poolside celebration by mixing it with iced tea for a cocktail. A 750 ml bottle is 70-proof to give you the boozy feeling you crave.
Crown Royal Fine Deluxe Blended Canadian Whisky: This luxury drink offers hints of oak and sweet vanilla with a smooth texture. It is 80 proof, and the refined flavor makes a great cocktail party companion. Matured to perfection, this deluxe drink is the hallmark of excellence for Canadian whisky. Mix it with cola and pour over ice for a refreshing cocktail.
Frequently Asked Questions – Crown Royal Vanilla
Is Crown Royal Vanilla as smooth as people say?
This drink is made with signature smoothness that is distinct from other whiskies. You cannot describe Crown Royal Vanilla without mentioning its distinctive smoothness. The natural ingredients in making it were planted to weather our challenging Canadian condition. After carefully selecting the ingredients, they were blended with unique smooth water and filtered through the limestone under Lake Winnipeg. They were distilled in the Coffey Still, named after its inventor, Aeneas Coffey. This helps in bringing the signature creaminess of Crown Royal Vanilla.
Are there regulations guiding Canadian whiskies?
The general Canadian regulatory conditions for whiskies are negligible. First, the whisky must be produced in Canada with grains, which have malt and malt enzymes. Then, they must be aged for three years in small wooden barrels with characteristic aromas and tastes found in only Canadian whiskies. Besides, the alcohol content must be at least 40%.
How are Canadian whiskies made?
Canadian whiskies are lighter, created with significant corn, and infused with flavor components of other whiskies. They are easy-drinking spirits and mix well in cocktails.
Also Read: WhistlePig 18 Year Double Malt Rye Review
Cheers!
Crown Royal Vanilla, a luxury drink from the heart of Canada, is here to make you feel great and relaxed. It has all it takes to give you a refreshing moment with friends or when you wish to enjoy your own company.