Made from the best agave, Cutwater Tequila Lime Margarita is a classic that puts a south-of-the-border favorite in your palm.
It combines lime, pure cane sugar, and orange, perfectly balanced with a Cutwater twist. Cutwater Tequila streams from San Diego.
Cutwater collaborated with the Orendain family, which helps distill the company's tequila products.
This article features a Cutwater Tequila Lime Margarita review, bringing to the table all there is to know about this drink.
Let's get started!
Value for Price

Mixability

Sippability
⇒ Fun Facts ⇐
| Name: | Cutwater Tequila Lime Margarita |
| --- | --- |
| Brand: | Cutwater |
| Country: | United States |
| Spirit Style: | Tequila Cocktails, Margarita |
| Spirit Type: | Ready to Drink |
| Released Date: | 2017-Present |
| ABV: | 12.5% |
Brand History
Cutwater is one of America's most awarded cocktail producers in San Diego. It charts the course with adventure in mind, evident in its esteemed portfolio of spirits, including rums, vodka, gin, whiskeys, liqueurs, and tequilas. The company incorporates these drinks into on-the-go, easy-to-sip cans.
The founder Yuseff Cherney started making these drinks at the back of his brewery as a leisure pursuit. His first pot was still customized from an older beer fermenter, which he used to distill his spirits.
His passion drove him to introduce a series of canned cocktails. Today, you can pick a can to the gym while fishing, hiking, or at a backyard barbecue. Cutwater Tequila Lime Margarita is an adventure you will love to embark on.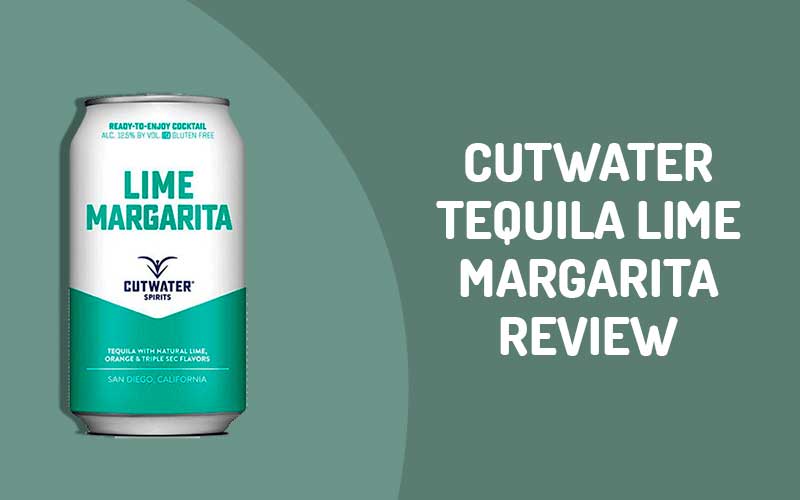 Cutwater Tequila Lime Margarita Review
This canned, ready-to-drink cocktail features Blanco Tequila as its base. It releases a floral aroma, making a velvety finish and complementing a blend of tart lime, tequila, and orange liqueur. It is a combination you wouldn't want to miss.
Besides, Cutwater Tequila Lime Margarita is gluten-free, although with 360 calories. To know more about this drink, below is the flavor profile:
Palate: It has a robust citrus flavor, resulting from the lime juice and triple-sec (an orange-flavored liqueur).
Nose: Cutwater Tequila Lime Margarita has a floral aroma
Finish: The floral aroma leads to a velvety finish.
Alcohol content: Each 355 ml can contain 12.5% ABV.
Process: The production of this beautiful tequila begins with harvesting and trimming blue agave plants from Jalisco. Next, slow-cook the heart in traditional brick ovens, open ferment, and double-distill it in traditional alambique stills. The stills are made of stainless and copper.
Flavor summary: Anything remotely premade is usually too sweet, tart, or offensive. Some give hangovers or are infused with much additives and sugar that you won't want to come near them again.
However, the Cutwater Tequila Lime Margarita is way different. It is pleasantly forward and finishes smoothly. The orange triple sec flavor and tart lime are a perfect blend. The ABV is supposed to make it challenging to drink. On the contrary, it is an easy-to-drink cocktail.
Pros & Cons
This drink contains healthy nutrients that your body may need. If taken in moderation, you are gulping down a healthy drink. It has everything you can find in a margarita. So, no need to worry about the effect of your decision. Moreover, you can learn the following benefits before picking one from the fridge:
Vitamin C source: lime water contains a significant amount of vitamin C. Since Cutwater Tequila Lime Margarita contains lime water, you are taking in a great amount of the vitamin. One can have enough to supply your required daily value.
Gluten-free: Since the majority of alcoholic drinks contain grains, it means there are chances that they have gluten. However, this margarita is not inclusive because margaritas generally do not have it. That is why you need a can now.
Aids digestion: Naturally, tequila aids digestion due to its organic compounds. This makes Cutwater Tequila Lime Margarita an excellent sip because your body mechanism needs it.
Weight loss: although most cocktails contain more than enough sugar, margaritas do not. The natural sugar of tequila is sufficient and does not increase blood sugar.
Lowers bad cholesterol: LDL or bad cholesterol helps to accumulate plaque in your blood vessel. However, the agavins in tequila can reduce the possibility of heart attack and stroke. However, drinking responsibly remains the ultimate.
How Cutwater Tequila Lime Margarita is Best Served
To get the best of this margarita, it is advised you serve it in a way you will enjoy it. Besides, it is a ready-to-drink cocktail and does not require any special serving method. The simplest way to get it down your throat is to crack the can open and drink.
Perfect Pairings for Cutwater Tequila Lime Margarita
There is no good party without a platter of food and drinks to make it lively. For such events, a margarita will make a difference with its kick of lime and saltiness. Several dishes that can go with Cutwater Tequila Lime Margarita exist. Try it on a hot summer afternoon, and you will want to try it repeatedly.
The moment you start sipping this drink, it can trigger an appetite. That is why the smartest thing to do is to have a dish to go with the food. However, you cannot just go for anything; consider any of the dishes below for a perfect pair:
Shrimp tacos: When pairing Tequila Lime Margarita with food, shrimp tacos must always appear on top of the chart. It contains a mix of shrimp, avocado, and garlic-lime mayo, which could give birth to a great taco bite. When that blends with Cutwater Tequila Lime Margarita, it tastes like paradise. The feeling of freshness it provides is out of this world.
Shrimp Ceviche: Those on a keto diet will hardly resist this incredible meal. It is low on carbs and made with healthy ingredients. The fresh ingredients of the food are a perfect mix for any tequila margarita.
Fajitas: If you are Mexican, whether at heart or by birth, chances are that fajita is your favorite dish. An easy-to-make delicious meal will blend well with your Cutwater Tequila Lime Margarita. Take a bite of the fajita and refresh your taste bud with a sip of this drink. Wrap your grilled chicken, pepper, and onion with a heated tortilla and send it down with a can of chilled Cutwater Margarita. That's all!
Also Read: Casino Azul Anejo Jaguar Tequila Review
Grilled Chicken Skewers: Also called joy on sticks, grilled chicken sticks are great finger foods that perfectly pair cocktails. The flavor of the grilled chicken will come together with those of the drink and make a heavenly combination. It will be a sure hit, as the lime and salty liquid cleanse your palate. Keep sipping and biting, and give your palate an unforgettable experience.
Tortilla chips and salsa: If you love light food for company, pairing it with a Cutwater Tequila Lime Margarita can be wrong. Tortillas help protect your cells against damage and supply the eye with good vitamin C, the same vibes this drink brings. Combine them with a scoop of salsa and serve your guests, and watch them nod in satisfaction.
Grilled corn salad: Your Cutwater Tequila Lime Margarita is not complete without a Mexican staple on the table. Pairing the drink with grilled corn salad is non-negotiable. You can toss the corn on a grill and make a salad with grilled kernels, lime juice, salt, pepper, veggies, and mayo. Get cayenne pepper flakes and cheese on board if you want a creamy kick on your palate.
Cheese board: Nothing is sweeter than nibbling at cheese and fruits while enjoying a refreshing drink. The snack board brings its fresh fruits, crackers, nuts, pickles, and cheese on board for a memorable moment. Enjoy a healthy combination.
Popular Related Drinks
Cutwater produces 18 canned cocktails, focusing on vodka, tequila, rum, gin, and whiskey drinks. If you are eager to taste them, you can start with the following:
Cutwater Tequila Paloma: They are regarded as specialty cocktails, are less boozy, and have an alcohol content of 7%, which should make them a great margarita. It is made with house-made grapefruit soda. Moreover, it contains moderate sugar and can be classified as a smooth-drinking cocktail. Cutwater Tequila Paloma also has 212 calories.
Cutwater Whiskey Mule: Although this is not as delicious as the Paloma and Lime margaritas, it is a good drink. It is also made with lime and is a great alternative for someone that wants a mild whiskey drink. The calories in the Whiskey Mule are 220.
Cutwater Tequila Soda: This is another hard-to-pass bang from the stables of Cutwater Distilleries. It is an easy-to-drink tequila soda that offers surprising deliciousness. The Lime Tequila Soda is an excellent option if you are not in the mood for beer or seltzer. Besides, it contains 130 calories. Enjoy the slight buzz the drink gives.
Frequently Asked Questions – Cutwater Tequila Lime Margarita
Is Cutwater Tequila Lime Margarita strong?
Although some margaritas have a hint of sweetness from sweetness, the Cutwater does not. It tilts towards tartness instead. Besides, having an ABV of 12.5% means it is a potent cocktail because most cocktails in the market have a lesser ABV.
Is Cutwater Margarita healthy?
It contains some nutritional elements from the tequila and fruits used as essential ingredients. However, at 360 calories, you must be careful if you don't want too much sugar.
How many shots are in a Cutwater Margarita?
The canned margaritas from Cutwater contain two shots.
Also Read: Tequila Rose Strawberry Cream Liqueur Review 
Cheers!
Cutwater Tequila Lime Margarita is a refreshing drink that should not be handled anyhow. It is an excellent companion in the kitchen, by the poolside, at the gym, on your way out, etc.
The flavor is extraordinary, making a perfect pair with most Mexican dishes. With this, you can kick-start the party.