Tequila has been an excellent drink for ages, giving many a good time and taking center stage at parties. You can't look past it because it is inviting while in a bottle and Dos Artes Extra Anejo Special Rsrv is no different.
Talking about a bottle, Dos Artes Extra Anejo Special Rsrv comes in a unique ceramic bottle that makes taking a sip appealing.
Are you considering getting a Dos Artes Extra Anejo Special Rsrv, this Dos Artes Extra Anejo Special Rsrv review brings to the table all you need to know about this drink.
Let's get started!
Value for Price

Mixability

Sippability
⇒ Fun Facts ⇐
| Name: | Dos Artes Extra Anejo Special Rsrv |
| --- | --- |
| Brand: | Dos Artes |
| Country: | Mexico |
| Spirit Style: | Extra Anejo |
| Spirit Type: | Tequila |
| ABV: | 40% |
Brand History
Dos Artes is family-owned, with its headquarters in California. The establishment aims to represent premium artisanal tequilas from the corridors of Mexico to the doors of the United States.
This business was born over a decade ago and is highly committed to Mexican colors and art. It prides itself in delicately and gracefully highlighting Mexican Folklore while designing products that respect the Mexican tradition.
The products are the best in the market and allow consumers to enjoy the best of Mexico with every sip. That does not come without Dos Artes becoming environmentally conscious.
In addition, making Tequila Dos Artes takes several hours for Mexican artisans. Aside from the aging process, it requires at least three days to create a single bottle of the drink.
If you count from the days of growing the agave plant, you will realize that years of work have been put in place to produce your favorite Dos Artes Extra Anejo Special Rsrv.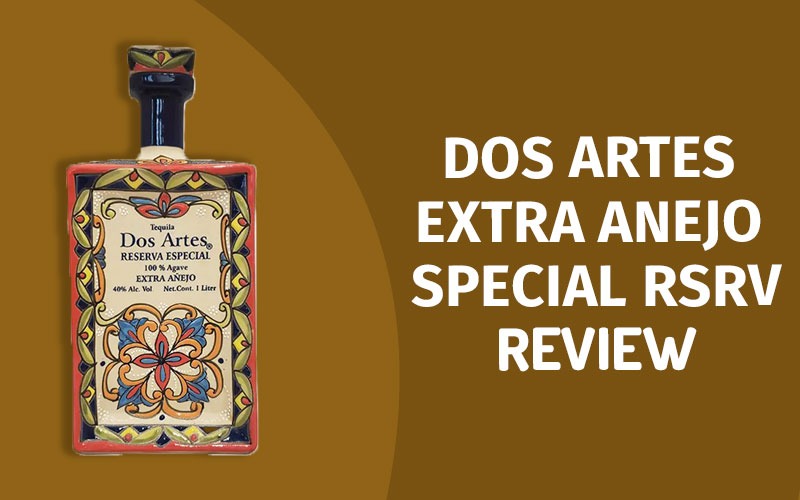 Dos Artes Extra Anejo Special Rsrv Review
To create Dos Artes Extra Anejo Special Rsrv, the Blanco version of the tequila is rested for five years in American and French oak barrels. Afterward, it is combined in a blend of 80/20 between the oak barrels in favor of the white. As a time-honored drink, this spirit only needs the right amount of science and art.
Each ceramic bottle is unique and made with a story behind it. It is also distributed in small amounts, making it a scarce commodity.
Nose: The opening nose of this spirit exposes hints of vanilla and hazelnut, which expand with roasted agave and oaky ending.
Taste: Notes of cooked agave, caramel, and vanilla with hints of oak, maple, and butterscotch hit the palate on each sip.
Finish: You will be surprised at the drier oak replacing the sweetness towards the finish. However, the bold flavor and smoothness remain in the background.
Alcohol content: This tequila is bottled at 40% alcohol by volume (ABV) and 80 proof.
Color: The elegance of this tequila does not lie in the bottle alone. It is bottled in a beautiful light golden tone.
Also Read: Herradura Legend Review (Is it Good?)
Pros & Cons
Is there any need to drink tequila? It is one of the best spirits to drink without fearing for your health if you drink responsibly. It is made from natural sugar with little or no additives. Rest assured that it offers benefits to the body and mind. Consider the following reasons before sipping it:
May promote skin health: Tequila is a natural astringent that aids in cleaning pores and tightening the skin. By drinking it, you may be detoxifying your skin, as well.
May promote weight loss: The natural fiber of tequila, called agavins, may promote weight loss. They make you fuller and less hungry and contain fewer calories than necessary.
Is sippable: Dos Artes Extra Anejo Special Rsrv can be drunk slowly during a conversation, at a party, or after meals. It does not burn the throat or give difficulty in going down.
Is a celebrity drink: Tequila is not an everyday drink. You can only find it where the top men of the society are. Besides, Dos Artes products are among the most expensive, especially this Extra Anejo. Hence, holding a bottle in your hand gives a feeling that other liquors may not provide.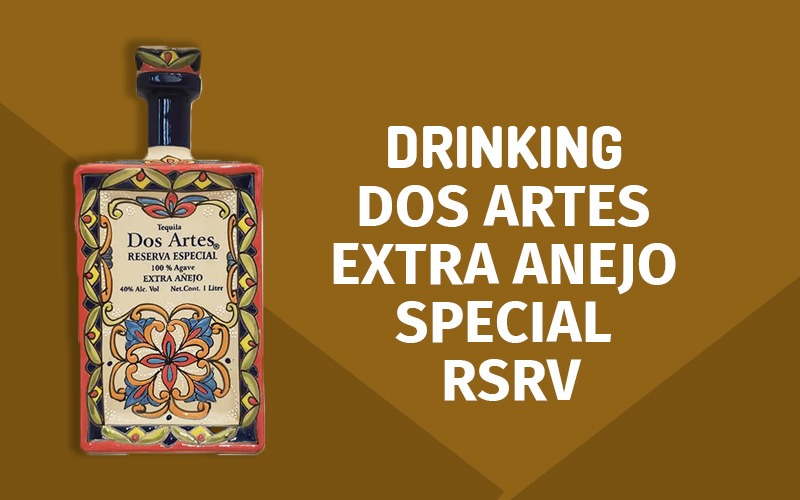 How Best is Dos Artes Extra Anejo Special Rsrv Served?
Drinking this unique tequila is simple, even though it is not a simple drink. You can enjoy it neat, on the rocks, or in cocktails.
Neat: Pour this spirit into a glass and get it rolling down your throat in style. Since it is sippable, you will enjoy the smoothness as it slides down.
On the rocks: Pour it over ice and sip it. Ensure not to put too many rocks because it can water the flavor.
In cocktails: Try it with margaritas or other cocktails, and enjoy the flavor burst from your glass. It is fun and inviting.
Perfect Pairings
Don't look past tequila if you want to pair flavorful dishes with spirits. It matches Mexican or Asian dishes, delectable appetizers, steaks that melt in the mouth, delicious desserts, and more. Next, treat yourself to Dos Artes Extra Anejo Special Rsrv; it does not matter if you drink it neat or in cocktails. All you need is a refreshing moment, and this excellently bottled drink and any of your choice dishes will do justice to that. Here's a perfect way to do it:
Dessert: If you want this spirit to mirror the food flavors, try it with brownies, chocolate custard, or berries (with or without a chocolate drizzle). Pairing them will amplify the sweet flavor of the food and this tequila. You can also try it with savory dishes.
Spicy or salty dishes: Don't skip over salty or spicy food if you want to pair your Dos Artes Extra Anejo Special Rsrv with dishes. You may kick it off with hearty flank steak cuts or rich cuts of filet. Mexican or Asian dishes will be excellent here.
Dark chocolate: Highlighting your Extra Anejo Special Resevera with dark chocolate is the next thing that has happened after the discovery of America. Keep it simple with chocolate cinnamon cake, chocolate chip banana bread, and chocolate ganache.
Sweet and smoked flavors: This spirit will balance overwhelming flavors. In the same way, it is a playground for spicy and salty flavors. It does excellently with sweet flavors incorporating charred ones. Bacon, cheeses, briskets, or pasta pairs well with this luscious drink.
Popular Related Drinks
The Dos Artes family came prepared regarding their tequila brand. They have tequila for every occasion, whether Blanco, Reposado, Anejo, or Extra Anejo. Consider picking up any of the following whenever you visit the shop:
Senor Artesano (Mr. Artisan) Extra Anejo: This Hacienda Architecture-inspired ceramic bottled drink. It is accentuated with gold on the body, and the inside is the delicious Extra Anejo Tequila you crave. Senor Artesano is a unique piece of art with 100% agave and bottled at 40% proof.
In addition, it has herbal, orange blossom honey, and vanilla notes. Light oak, wild berries, lemon, and hints of mint and marjoram are on the palate. There is also a well-rounded sweet finish of dried fruits and chamomile. Finally, Senor Artesano is aged for three years in lightly toasted American and French oak barrels.
Tequila Dos Artes Blanco: Created to honor two Mexican arts of the tequila-making process and ceramic artistry. That is another way to share a part of Mexico with the world. It is made with 100% agave and proofed at 40%.
In addition, Tequila Dos Arte opens up with cherries, peaches, and ripened bananas. Then, contrasting spices and hints of English mint follow them. Notes of cooked agave enter the stage, finishing with vanilla, caramel, honey, and a hint of olive. Finally, the fruity, honey, and agave flavors combine on the palate to give a smooth and sweet taste.
Tequila Dos Artes Reposado: Made in Amatitan and aged in American and French oak barrels, this Reposado tequila is a must-have. It highlights notes of vanilla, butter, caramel, and cooked agave. It is bottled at 40% alcohol by volume in a beautiful ceramic decanter. You can take it alone or mix it into cocktails.
Frequently Asked Questions – Dos Artes Extra Anejo Special Rsrv
How is Dos Artes Extra Anejo Special Rsrv created?
It is made from estate-frown 100 percent blue agave and packaged in one liter, hand-painted ceramic bottle before being distributed. Don't let the price discourage you; you will have a full liter of tequila.
What is Extra Anejo?
Extra Anejo is an aged tequila that spent over three years in oak barrels. Most distillers use different American, French, or wood barrels to rest the tequila. This makes the taste of the barrels add to the drink, giving a unique essence.
Why is Extra Anejo more expensive?
Extra Anejo tequila is the most expensive because of the time and resources spent aging it. It also has an improved flavor; only the best spirit can stay that long in the oak barrels. The best way to enjoy it is by sipping it neat.
What is the difference between Anejo and Extra Anejo?
Anejo tequilas are aged between one and three years, whereas Extra Anejo is aged over three years.
Also Read: Chestnut Farms Bourbon Review
Cheers!
Dos Artes Extra Anejo Special Rsrv is one great tequila reserved for great people. You deserve a glass with your meal, amid your friends, or when reading leisurely by the poolside. Picking up a bottle at the shop will add colorful treats to your weekend.