There are many top-tier Tequilas in the world, and then there is Herradura Legend which has carved a name and reputation for itself as the number-one drink for spirit lovers who need something with a spicy kick.
Herradura Legend is a famous and well-known tequila drink from a country famous for making some of the world's best Tequila: Mexico. A little sip of this drink will show you how amazing it is to have on your bar shelf.
We would be doing a Herradura Legend Review, covering why Herradura Legend is a drink that should not overlook
Let's get started!
Value for Price

Mixability

Sippability
⇒ Fun Facts ⇐
| Name: | Herradura Legend |
| --- | --- |
| Brand: | Herradura |
| Country: | Mexico |
| Spirit Style: | Tequila |
| Spirit Type: | Anejo |
| ABV: | 40% |
| Released: | 2022 - Present |
Brand History
Launched in the year 2020, Tequila Herradura floated Herradura Legend Tequila, and it promised to be the ultimate party rocker that sets the mood at events where people can get to let loose and enjoy the vibe while they take in shots of this impressive Anejo Tequila that will help loosen up their limbs and relax their nerves.
This impressive drink went from 'just another tequila' to 'the main tequila' at parties, events, and even corporate events where drinking is permitted. Its unique properties and essence make it a worthy companion at these gatherings.
Over the years, its growth has remained impressive and exponential as its reach grew, and so did its patronage, with this drink being spotted in classy joints and events of various kinds worldwide.
Herradura Legend Tequila is quite a success for Tequila Herradura, the parent company that distills this drink.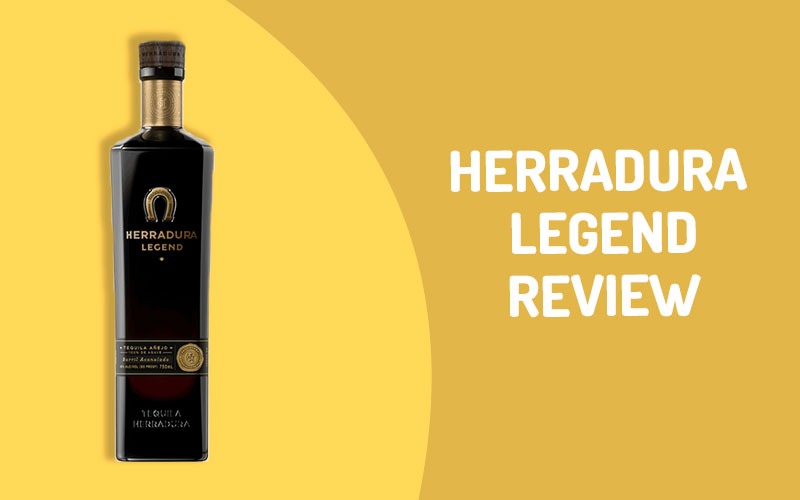 Herradura Legend Review
Category: The Herradura Legend is a premium spirit that belongs to the family of tequilas, a popular distilled spirit made from the blue agave plant. More specifically, the Herradura Legend is a premium tequila blend aged in barrels to give it an exceptional taste you cannot resist.
Color: The color of the Herradura Legend tequila is deep amber, typical of aged tequilas. The aging process of Herradura Legend is responsible for the color, especially when the barrel used is a charred one. Still, the agave plant and the distillation process used in making tequilas can also be partly responsible for their brilliant appearance and amber color.
Nose: Due to being aged in a barrel for a long time, there is a strong presence of a deep oaky feel that ravishes the nose with a burst of woody flavor. Also, there are a few notes of vanilla, nuts, citrus, spices, and other flavors we cannot place our fingers on.
Alcohol Content: Quite typical of a well-distilled tequila, this drink has an ABV of 40%, making it a great drink for those looking for something sharp, fine, and impressively satisfying for a relaxing evening with family and friends or in their solitude.
Palate: On the palate, you can feel the hint of that oaky taste we discussed earlier, with a strong presence of other fruits and elements in the taste and flavor build-up. Then there are notes of citrus and spices, vanilla, nuts, and other fruity feels that are better felt than described.
Finish: The finish of this drink, as with every other Tequila out there, is neat, smooth, and long-lasting, with the taste lingering on your taste buds after you take a sip. To enjoy this drink better, take a deep breath of the cup's content and keep it in until the drop of Herradura Legend hits your taste buds; this will give you a huge dose of the flavor and taste simultaneously.
Price: The price of Herradura Legend Tequila is quite steep, with some retail sites and stores selling it for as high as $129.99, and this is the lowest price of this drink in the whole of the United States.
Herradura Legend Ingredients
Herradura Legend is a premium Añejo tequila known for its rich and complex flavor profile made possible by its ingredients.
Not much is known about the ingredients used to make this drink. Still, we know that the base ingredient for this type of Tequila includes the famous Blue Agave, Oak Barrels for taste and aging, and a host of spices responsible for the nutty and sometimes spicy taste.
Blue Agave: This is the primary ingredient used to make all Tequila. Blue agave is a succulent plant that is native to Mexico. The heart of the agave, known as the piña, is harvested, roasted, and crushed to extract the sweet juice, which is then fermented and distilled to make delicious Tequila that the world enjoys daily.
Extra-Aged Añejo Tequila: Añejo is a type of Tequila aged for a minimum of one year in oak barrels to give it an oaky and smooth taste that blends well on the palate.
Oak Barrels: The oak barrels are used in the aging process to contribute to the flavor and color of Herradura Legend. The oak imparts flavors of vanilla, caramel, and toasted oak to this drink, and the color deepens over time as the Tequila absorbs more of the oak's compounds.
Also Read: Lunazul Blanco Tequila Review 
Pros & Cons?
Herradura Legend is a premium Añejo tequila highly regarded for its rich and complex flavor profile, which many find alluring and irresistible. While it is good to enjoy the many qualities of this drink, which has many notable strengths, there are also some potential drawbacks to consider before purchasing and drinking Herradura Legend.
Pros
High-Quality Ingredients: Mexicans maintain high quality when it comes to making Tequila, as it forms a large percentage of their export and has become one of the good things associated with the country; this is why the famous Herradura Legend drink has a lot of sterling qualities that set it apart from other tequila brands.
Premium Brand (Status Symbol Drink): Herradura is a well-respected brand in the tequila industry with a long history of producing high-quality Tequila.
Cons
High Price: As a premium tequila, Herradura Legend is significantly more expensive than many other tequilas on the market; this can make it difficult for some consumers to justify the cost and purchase it off the shelf to enjoy its pleasant taste.
Strong Flavor: While many consumers appreciate the rich and complex flavor of Herradura Legend, some may find it to be too strong or overpowering; this is a matter of personal preference, and it may not be suitable for everyone who does not fancy drinks with extremely strong taste and flavor profiles.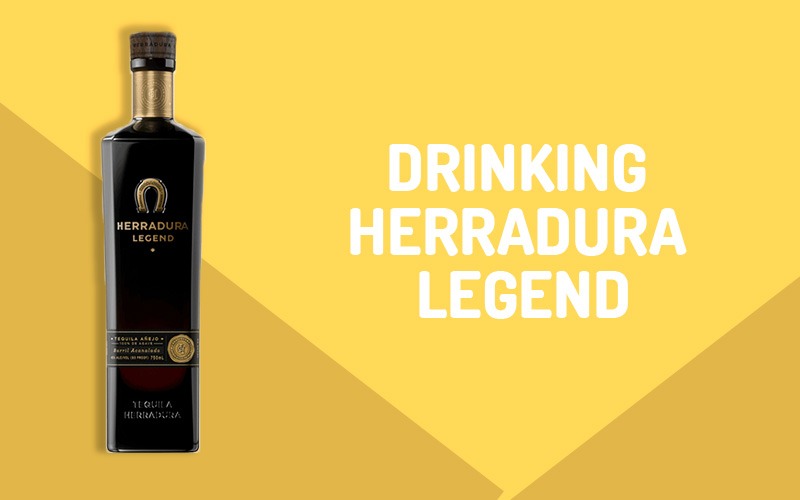 How Herradura Legend Is Best Served
To fully appreciate the complex flavor profile of Herradura Legend, there are some ways this drink can best be enjoyed. Drinking Herradura Legend in these ways is not compulsory, but these serving suggestions will surely enhance your drinking experience by a notch.
Temperature: You should serve Herradura Legend tequila at room temperature or slightly below to allow the full range of flavors and aromas to be enjoyed without interference.
Glassware: It is best served in a traditional narrow, tall glass to concentrate the aroma and flavor.
Garnish: Garnish is unnecessary to enjoy this drink as it is best enjoyed in its natural state with nothing interfering or changing its tone, taste, and feel on the palate.
Perfect Pairings for Herradura Legend
Pairing Herradura Legend with food can be a unique and exciting way to explore the different flavor profiles in it and enhance the overall dining experience one will enjoy while sipping this drink between or after meals.
For your pleasure, here are some pairing suggestions that complement the rich and complex flavor profile of Herradura Legend:
Seafood: The delicate, refreshing seafood flavors, such as shrimp or ceviche, contrast with the full-bodied Tequila to create a perfectly balanced pairing you will enjoy.
Mexican Cuisine: What could be more fitting than pairing a traditional Mexican spirit with classic Mexican dishes like spicy salsas, tacos, and enchiladas? It's a match made in culinary heaven!
Popular Related Drinks
Herradura is a renowned tequila distillery with a long history of producing premium-quality tequilas. Here are some of the other drinks produced by the Herradura distillery:
Herradura Silver: A clear tequila with a crisp, clean taste and subtle hints of sweet agave. It is perfect for sipping or as a base for cocktails.
Herradura Reposado: Aged for 11 months in American oak barrels, this Tequila has a smooth and mellow taste with notes of vanilla and caramel.
El Jimador: A sister brand of Herradura, El Jimador produces a range of tequilas, including Blanco, reposado, and añejo, known for their smooth, authentic taste.
Frequently Asked Questions – Herradura Legend
Is Herradura Legend a limited-edition tequila?
Herradura Legend is a limited edition tequila produced in honor of the Herradura distillery's 150th anniversary.
Is Herradura Legend suitable for cocktails?
Herradura Legend can be used in cocktails highlighting its unique taste and aroma, such as an Old Fashioned or a Manhattan. Note that when using Herradura Legend in a cocktail, it is recommended to use complementary ingredients that enhance its flavor rather than overpower it.
Also Read: Casino Azul Anejo Jaguar Tequila Review 
Cheers!
Herradura Legend is a truly exceptional tequila that embodies the heritage and craftsmanship of the legendary Herradura distillery. With its rich flavor profile, smooth finish, and unique aging process, it is no wonder that Herradura Legend has become a favorite among tequila enthusiasts and connoisseurs alike.
So, grab a bottle of this drink off the shelf for your next fun evening with family and friends or for the next house party you attend, as it can also serve as a well-appreciated gift that no one can resist.