It is no news that hard seltzers are making waves among light alcohol drinkers. They are beautiful alternatives to wine and beer. When you hear about summer drinks, chances are the person is talking about hard seltzers.
The idea of seltzer water was first conceived in the 1700s by William Brownrigg. But it was only an idea for him, as Joseph Priestly became the first to publish the method of carbonating water in the same century. Since then, there have been diverse kinds of expansion and awareness.
This High Noon Pool Pack Review looks at everything you need to know about this drink, coupled with answers to some questions you might want to ask.
Let's start!
Value for Price

Mixability

Sippability
⇒ Fun Facts ⇐
| Name: | High Noon Pool Pack |
| --- | --- |
| Country: | United States |
| Brand: | High Noon |
| Beer Style: | Hard Seltzer |
| Beer Type: | Seltzers & flavored beverages |
| ABV: | 4.5% |
 Brand History
High Noon capitalizes on the sales of canned cocktails, vodka, whiskey, fruit flavors, and tequila to take over the market. It is one of the best-selling adult beverages introducing diverse flavors to its seltzer products. Privately held E & J Gallo Winery, an 89-year-old firm producing top drinks like Carlo Rossi, Barefoot, and Manischewitz Kosher Wine, owns this brand.
Although the company started with brandy in the 1970s, it expanded to include vodka and currently has scotch whiskey and tequila in its catalog. The canned cocktail rave of Gallo came in 2019, with High Noon, a vodka-based mixed drink, as the first. It had many tempting features like zero carbs and sugar, 100 calories, and minimal alcohol.
High Noon's seltzers have gained traction, competing with Bud Light Seltzers and other malt-based seltzers. It eventually became the best-selling alcohol-based canned cocktail, with sales nearing 100%. The aim is to keep it going at the expense of beer.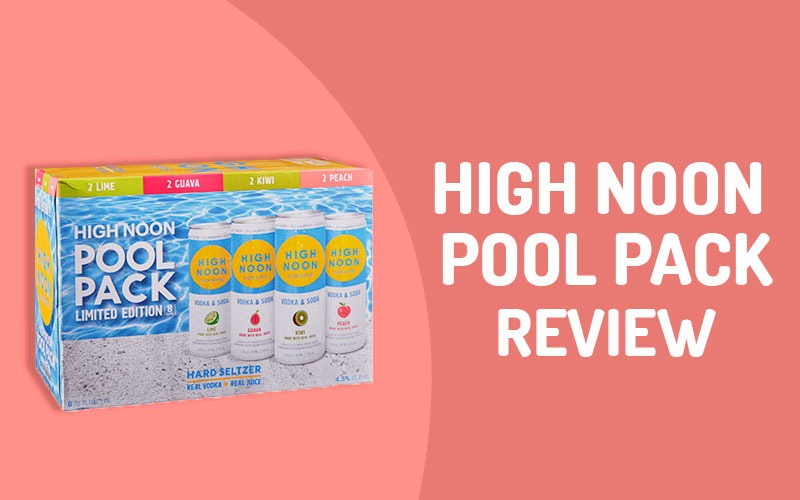 High Noon Pool Pack Review
High Noon Pool Pack is made with real fruit juice, natural flavors, and sparkling water. It is refreshingly crispy with 100 calories, no added, and is gluten-free. You can enjoy it straight from the can or over ice. Besides, each pack has eight cans of slim peach, guava, kiwi, and lime. Let's break their flavor notes down:
Guava: It opens up with aromas of tropical guava, citrus, and green vegetation notes. On the palate, tropical guava, grapefruit, and green vegetation lead, while building to a ripe guava peak. Then, the taste dies away with citrus, foamy seltzer, and tangy guava, leaving sour citrus, guava, and corn vodka finish.
Kiwi: The aroma opens with strawberry, pineapple, and kiwi. However, the taste enters sweet kiwi and banana and builds to a tropical fruit peak. Gradually, it fades with kiwi and banana and finishes with sour strawberry, tangy pineapple, kiwi sorbet, and corn vodka.
Lime: A fresh-sliced lime jumps out once the can is cracked open, joined by corn vodka. They build to a tart lime peak and fade with foamy seltzer and succulent lime. The finish has lime, vodka, seltzer, and hints of grapefruit.
Peach: fresh peach leads on the nose and goes down to the tongue, building to a succulent peach peak. Then, it dies away with kiwi and banana, finishing with sour strawberry, kiwi sorbet, corn vodka, and tangy pineapple.
Alcohol content: This hard seltzer contains low alcohol of 4.5% ABV.
Price: This eight-pack High Noon drink costs around $20.
Also Read: Shock Top Twisted Pretzel Wheat Review
Pros and Cons
High Noon Pool Pack is one drink virtually everyone embraced with open arms. The evidence is in its marketability and popularity. So, if you want to purchase a pack or more and want to know what we think about it, check out the following:
Guava: growing up, most of us did not like guava, including its flavored drinks. But you won't feel the same way when you taste this particular drink from High Noon. It is bubbly, light, and easy to drink.
Kiwi: Although kiwi is not rampant, it is a unique flavor. Finding it in hard seltzer is rare, and High Noon greatly tried to fill the gap. However, it is sweeter than typical hard seltzer and tends more toward a cocktail. You will hardly taste the alcohol in it, making it a great summer drink.
Lime: Typically, lime and vodka are made for each other. In High Noon, the lime flavor is strong but not bad. It is a familiar taste and goes down easily.
Peach: The aroma of peach is the most robust. It is juicy and tastes like the real thing. The taste is light and sweet, although it could be more sugary than the rest.
Undoubtedly, the lime and peach flavors from High Noon Pool Pack are fan favorites. Their popularity with consumers was why the company chose them, which is excellent. However, the guava and kiwi flavors have strong carbonation and are great options with authentic tastes. All four flavors are great conversation starters and simply the best for your beach party.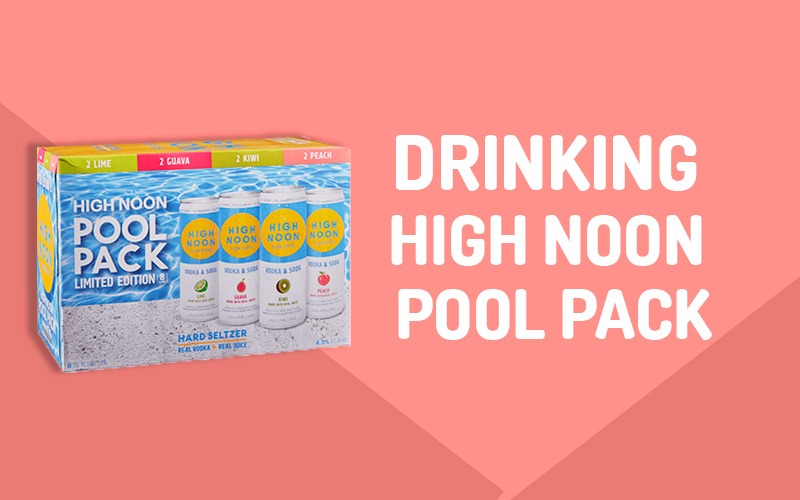 How Best is High Noon Pool Pack Served?
There is nothing much regarding how to serve this delicious hard seltzer pack. The most common way to drink it is to crack the can open and sip it slowly. However, you can pour it over ice, accentuating more flavors from the mix. If you are a cocktail favorite, you will be delighted to mix any of them with your preferred. But they are not recommended for a cocktail since they are already lightly flavored.
Perfect Pairings for High Noon Pool Pack
As you pour your High Noon drink into your glass or sip it from the can, you may combine it with a portion of delicious food. If that is the case, consider the following food options:
Salty prosciutto: The citrus flavor in the background of this hard seltzer blends with this dish. You can add smoky gouda or smooth, mild mozzarella and crackers to reduce the saltiness if that is not what you want.
Taco bites: This will be an authentic option for the lime flavor. You can add radish slaw to the plate. It is better to cut the tacos into tiny pieces to make it easier for your guests to pick and throw them into their mouths.
Peppercorn turkey: If you can get deli turkey with peppercorns, you can make this dish on your own. It is so delicious and would be superb for High Noon Seltzer.
Salted pretzels: you can bake some soft pretzels and sprinkle them with light salt. It is wonderful to the palate makes a memorable combination.
Popular Related Drinks
High Noon has other flavors aside from the four above. There is a 24-pack drink with diverse flavors of mango, pear, cranberry, vodka and soda lime, lemon, etc. You may also like to add any of the following to your cart:
High Noon Vodka and Soda Lime: This outdoor beverage has a warm summer feel. It is an exciting drink for hard seltzer lovers who enjoy a refreshing taste in a tall, slim can.
The scent comes as a lovely, irresistible citrus with a sweet, tangy scent that escapes from the can once opened. As you pour it into the glass, a carbonated bubble goes up, making way for the warm summer feel you get with the first sip. It keeps getting enticing with each sip. If your taste matters, this adventurous companion is a good choice for your outdoor party.
High Noon Vodka and Soda Peach: This is another delicious offering from this fantastic brand. Sweet peach aromas cascade and fill the air as soon as you open the can. When in the glass over ice, this drink has a pale hint of yellow, with small bubbly carbonation.
With a lower ABV and less sugar and carbs, you will enjoy the taste as it hits your palate, transporting you to warm summer days. Not to forget, it is not overly sweet, and neither does it taste fake. Besides, the peach tastes authentic and inviting.
Frequently Asked Questions – High Noon Pool Pack
What is a high noon pool pack?
High Noon Pool Pack Hard Seltzer has absolute vodka, real fruit juice, sparkling water, and natural flavors. It comes in eight packs of four flavors.
Why is High Noon so expensive?
There are factors that contribute to the high price of the High Noon Pool Pack, including the price of ingredients being used. As a brewed drink, it costs more than distilled drinks, which could contribute to its expense.
Also Read:WhistlePig 12-Year-Old World Rye Review
Cheers!
High Moon is an exceptional drink with summer vibes. It is one of the hard seltzers making waves in the market. Its delicious taste and exceptional quality make it a great drink. You can pick a pack for your weekend relaxation by the poolside or beach to redefine your moments.