Hornitos Reposado Tequila was named after 'little ovens' used in roasting agave. First introduced in Mexico, this drink was created in 1950 by Don Francisco Javier Sauza to honor Mexican Independence Day. It was made of 100% pure agave.
If you buy Hornitos Reposado Tequila, check for the inscription "Product of Mexico" or "Hecho en Mexico." If it is produced outside Mexico, it is called an "Agave Spirit" or "Mezcal.".
This guide presents all there is to know about this tequila, to give you the best information which you may need before buying this drink.
Let's get started!
Value for Price

Mixability

Sippability
Quick Facts
| Name: | Hornitos Reposado Tequila |
| --- | --- |
| Brand: | Sauza Tequila |
| Country: | Mexico |
| Spirit Style: | Reposado |
| Spirit Type: | Tequila |
| ABV: | 40% |
| Aged: | at least two months |
| Released: | 1950 |
| Price: | $25 |
Brand History
It all began in 1950 in Jalisco, Mexico, when Don Francisco decided to take chances on creating new drinks. Hornitos Reposado Tequila was created to celebrate the anniversary of Mexican independence. It has, since then, become a signature drink in the country and beyond.
Besides, Don Francisco used only the delicate blue agave, roasted in small ovens, to form the primary flavor. He firmly believed that a drink must be produced using Jalisco's hearts of blue agave to be considered authentic tequila.
With Hornitos Reposado, he introduced the use of 10,000-gallon oak barrels (pipones) to serve as aging vessels for production. The pipones help produce a pure agave flavor and a slight pale golden yellow. Thus, he contributed to the establishment of numerous tequila standards that are currently in existence.
Three categories of tequila exist today, and they are Blanco, Anejo, and Reposado. Each is different in terms of flavor, aroma, and look. Shot takers and margarita fans have found solace in Hornitos Reposado Tequila.
Hornitos Reposado Tequila Review
Hornitos Reposado Tequila is a drink created with blue agave. It is a popular drink because it contains a unique flavor and smoothness. Among other things, the drink does not have carbs, unlike most tequila.
Below are other unique features of Hornitos Reposado Tequila:
Production Description: Hornitos Reposado Tequila is one of the oldest tequilas in the market. It is made from 100% blue agave, baked in little ovens (hornitos), mashed, fermented, and double-stilled. Before bottling this pale gold tequila, it is stored in former bourbon barrels and ages from two months to one year.
Hornitos Reposado Tequila is between the non-aged blancos and the much older anejos. Its prominent aroma is the delicate agave, but it has allusions to herbs and apples.
Color: This great drink comes in delicate light gold.
Nose: There is not much thing here. You may get the agave aroma after a few whiffs. But pepper heat, followed by light clove spice, hits the nose first. Then, fresh-pear fruitiness tags along before diminishing in the face of hot black pepper.
First Impression: It could be more aromatic. It is close to a weary bouquet with some antiseptic and sea salt smell. However, notes of bitter waxy coating of agave and dryness linger behind.
Taste: The flavor note of Hornitos Reposado Tequila is sweet vanilla that blends with agave and oak. Instead of a harmonious mix, you may get a clash of flavors. The reason is simple: there is no way the sweet, savory, and dry notes can ever mingle.
Hornitos Reposado Tequila can have more oak flavor if a classic-size or a new, freshly burnt barrel is used. But using more aged barrels gives it a subtle oak flavor.
Best way to drink: This drink is perfect for tequila shots because the flavor is simple and easy to swallow.
It can also be mixed into other tequila drinks. For instance, mix Hornitos Reposado Tequila with agave syrup, salt rim, and lime juice in a margarita. Try it in a rich tequila sunrise with grenadine syrup and orange or pineapple juice for a fruity outcome.
Finish: After drinking, a brief and warm syrupy sweetness with a bit of dryness hangs around the back of the tongue.
Alcohol Content: 80 proof (40% ABV), the average in tequilas.
Also Read: Herradura Ultra Tequila Review
Production Ingredients
Hornitos Reposado Tequila is mainly made from 100% blue agave, water, and yeast. It does not have any additives or artificial colors. In the same way, it does not expire as long as you can store it in a cool place where it has no contact with the sun.
Agave: is the primary ingredient, which gives the drink a natural taste.
Water: This is used to dilute the main ingredient, agave. Thus, it gives Hornitos Reposado Tequila the desired alcohol by volume (ABV) and general flavor profile.
Yeast: The yeast's role in aiding fermentation, which helps produce the alcohol during the process.
Although the above are the primary ingredients for the production of Hornitos Reposado Tequila, other ingredients could be known to the producers alone as their secret recipes.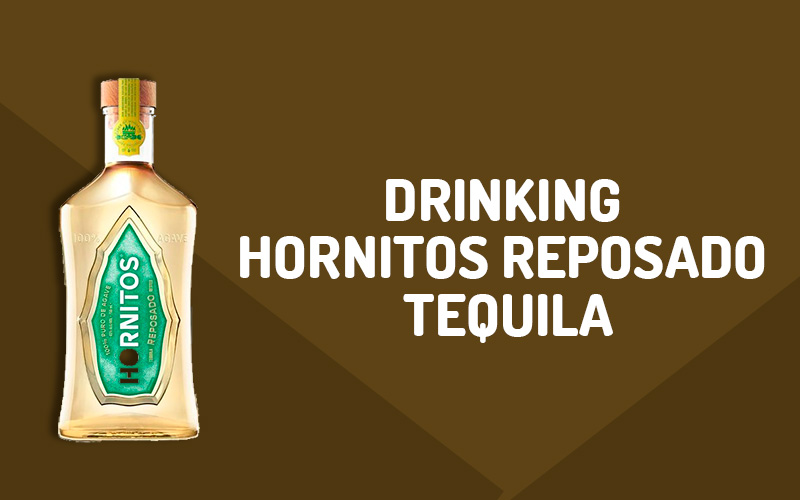 How to drink Hornitos Reposado Tequila
You can drink Hornitos Reposado Tequila as you wish – in a shot or cocktail. However, the drink must be aged in an oak barrel for at least two months and up to one year before you can serve it.
Due to its smooth texture and rich flavor, Hornitos Reposado Tequila is an excellent drink for sipping. If you want to enjoy it, you must sip it down leisurely. You don't need to add salt or lime to avoid masking the flavor of the agave. Nevertheless, some people cut a lime wedge and get a ramekin of salt. After each sip, they dip the wedge into the salt and suck it.
Should you drink Hornitos Reposado Tequila?
Hornitos Reposado Tequila is excellent for the body, and you should drink it for the following and other reasons:
Helps to lower blood sugar: One unavoidable reason to take Hornitos Reposado Tequila is that it can aid in lowering your blood sugar level. This is due to Agavin, the sugar present in the agave plant, which is known for reducing blood sugar levels in the body.
Zero carbs and fats: If you are a dieter or watching your weight, you may take this great drink occasionally. This is because it has around 97 calories per shot, a low-calorie count. It also has no carbs or fats per serving. Hence, it is recommended for people on keto or low-carb diets.
Aids digestion: A post-dinner shot of Hornitos Reposado Tequila can offer digestive relief. The presence of agave makes it easier for digestion to take place.
Gluten-free and vegan option: Hornitos Reposado Tequila has no ingredient that may trigger allergy for those diagnosed with celiac disease. Similarly, since it is not made from any animal product, vegans can enjoy it for its health benefits.
Contains prebiotics and probiotics: this drink contains probiotics, which are the healthy bacteria in the intestine. They help you keep a strong balance while sustaining the immune system. On the other hand, prebiotics help probiotics to remain active. These two are found in fructans, which exist in the agave plant.
Another essential perk is that Hornitos Reposado Tequila has a lower tendency to give you hangovers. Congeners cause hangovers and are more common in barrel-aged spirits like whisky, wine, and brandy. Since Hornitos Reposado is made from 100 percent blue agave and does not age for long, it has less likelihood to cause hangovers.
What are the Nutritional Facts per Serving Size of Hornitos Reposado Tequila?
For one shot of 42g or 1.5fl oz, the following are the number of daily values from Hornitos Reposado Tequila:
Amount per serving (% daily value) *
97 Calories
Total Carbohydrate 0g | 0%
Total Fat 0g | 0%
Sugar 0g
Protein 0g | 0%
Sodium 0.4mg | 0%
Dietary Fiber 0g | 0%
Calcium 0.00mg | 0%
Vitamin D 0.00mcg | 0%
Potassium 0.8mg | 0%
Iron 0.02mg | 0%
*The percentage Daily Value describes the value of a nutrient in a serving of food. In general, 2,000 calories a day is more appropriate.
Perfect Pairings
Hornitos Reposado Tequila will be perfect if you want to drop your vodka or whiskey and try other flavors. You can pair it with American, African, Italian, Spanish, or Mexican cuisines. Here are some excellent tips and hacks for the job:
Pair with the appropriate flavor profile: Usually, Hornitos Reposado, having vanilla and nutty flavors from oak, is ideal for pushier with spicy favors. It can also pair well with grilled or charred food, including veggies, meats, and shrimp. It is best to serve at room temperature or slightly chilled.
After-dinner drinking companion: Since it has a savory flavor, Reposado can stand alone after dinner. You can use a shot if you want something to keep the moment going.
Experiment: Still determining if Hornitos Reposado Tequila will be great with your meal? You never can tell until you give it a shot! Don't be afraid to experiment until you get what you want.
If you are ready to pair your Hornitos Reposado Tequila with your next meal, check out the following flavors:
Tacos: If you are Mexican, you will know that tacos and tequilas are great pairs. Try Reposado with pork, chicken, or other savory tacos.
Vegetables: The grilled veggie char will be excellent with the vanilla in oak flavors of Hornitos Reposado Tequila.
Pork: a spicily glazed pork tenderloin will perfectly match a Hornitos Reposado Tequila. It does not matter if it is grilled or pulled. As long as it is spicy and bold, bring it on.
Popular Related Drinks
The Hornitos Reposado family has two other collections aiming to give the taste buds a unique taste with a satisfying feel. They include Cazadores Reposado, 1800 Reposado, and Espolon Reposado.
Cazadores Reposado and 1800 Reposado: They are similar to Hornito Reposado but in the same price category.
Espolon Reposado: This class is pricier but better than the two categories above. You can sip it on the rocks, as well.
Frequently Asked Questions – Hornitos Reposado Tequila
Are there regulations around Hornitos Reposado Tequila?
The Mexican government is strict on tequilas, regardless of the flavor, thereby controlling their production. Reposado must be at least two months and must be bottled with natural ingredients at around 40% ABV.
Does Hornitos Reposado Tequila freeze?
No, it does not. The presence of the alcohol will keep it from freezing. However, you can leave it chilled for a more pleasing effect.
Does Hornitos Reposado have carbs?
It does not have carbs, which is why it is keto-friendly. But you must consume it in moderation due to its alcoholic content.
Who makes Hornitos Reposado?
Hornitos Reposado is created by Casa Sauza, which has existed since 1873. But it was acquired by Fortune Brands in 2005 before Beam Suntory took over. Suntory Holdings, with headquarters in Japan, own Beam Suntory.
Is Hornitos Reposado Tequila of High Quality?
Although there are higher-end tequila options, Hornitos Reposado is known to be of high value. Besides, the prices are affordable.
Also Read: Blue Motorcycle Drink (Cocktail Recipe)
Cheers!
Hornitos Reposado Tequila is one of the best drinks, as professionals and tequila enthusiasts testified. It offers a smooth feel and could make an excellent pair for most food choices. If you want something to end a good day, you can go for it.