Downhome Punch is one of Jack Daniels Country Cocktails in classic whisky-flavored mixtures. It combines sweet and sour tastes in a soothing punch. Downhome Punch is an ideal drink for a beautiful summer afternoon, evidence that there is no wrong way to drink Jack Daniels.
The malt beverage can be traced back to Lynchburg in Tennessee, United States. It is one of the dominating drinks in the country and beyond, offering a welcoming taste. With its distinct flavor at 4.8% ABV, this low-alcohol content is an enjoyable drink that offers Southern hospitality.
This article covers a review of Jack Daniels Downhome Punch, here, we would learn all there is to know about this drink.
Let's get started!
Value for Price

Mixability

Sippability
Quick Facts
| Name: | Jack Daniels Downhome Punch |
| --- | --- |
| Brand: | Jack Daniels |
| Country: | United States |
| Spirit Style: | Flavored Malt Beverages |
| Spirit Type: | Seltzers & Flavored Beverages |
| ABV: | 5% |
| Released: | Present |
| Price: | $9 |
Brand History
Jack Daniels Downhome Punch was created by the Distillery, a company established in 1866 in the heart of Tennessee. The producer, Mr. Jack Daniel, is one of the prominent producers globally. It is also the US first registered distillery on the National Register of Historic Places.
Since its establishment, the company has been on top of the game, releasing different flavors intermittently. It produces the world-famous Jack Daniel's Old No. 7 Tennessee Whiskey, Jack Daniel's Tennessee Fire, Jack Daniel's Tennessee Rye, and Gentleman Jack Double Mellowed Tennessee Whiskey, among others. The latest addition, Jack Daniel's Country Cocktails, come in diverse flavors.
In addition, the company is renowned by Interbrand as the most priceless spirit band worldwide. It also lives up to that standard and ranking among the best in liquor shelves in over 170 countries.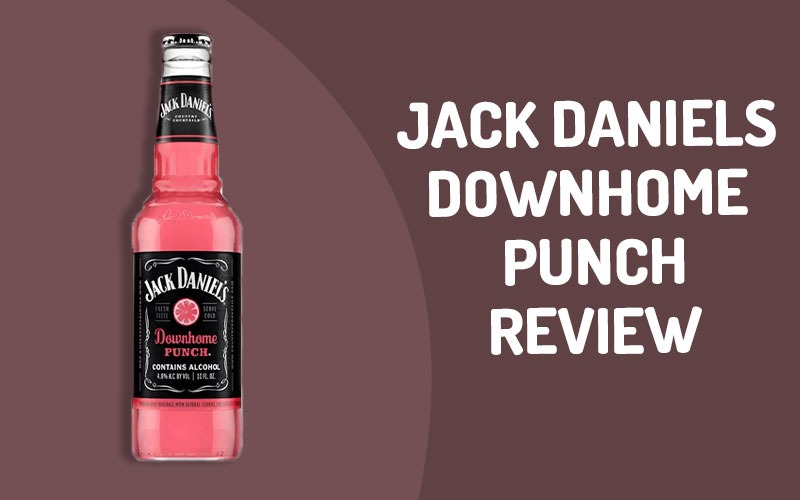 Jack Daniels Downhome Punch Review
Jack Daniels Downhome Punch is an extraordinary flavor blend of classic Jack Daniels with a sweet and sour punch. It combines the sweet notes of cherry, orange, and peach to create a flavorful malt beverage at 4.8% ABV. They are fruity, punch-style flavored, and ready to drink in a single serving. By simply twisting the cap, your favorite drink is ready for sipping.
Category: Jack Daniels Downhome Punch is one of the eight flavors of Country Cocktails released in May 1992. It is a malt-liquor-style beer flavored with peach, orange, and cherry notes. Since it is made with natural ingredients, vegans can find comfort in taking a moderate amount whenever they crave a healthy drink.
Note: Jack Daniels Downhome Punch is light in color with no hops. The lack of hops separates it from a regular beer. It is an excellent option for an evening sip or a little gathering with friends and family.
Flavor Notes (Taste): The drinks offer sweet and sour notes with a peach twist. There is something magical about Jack Daniels Downhome Punch's sweetness. After one sip, you will discover that you are adding a new favorite to the cart.
Nose: A whiff of the sweet flavor of orange, peach, and cherry first hits the nose before the palate.
Alcohol Content: Jack Daniels Downhome Punch has an alcohol content of 4.8 ABV. The alcohol level is considered low compared to many beer selections in its class.
Thus, it can be classified as light beer and are perfect for health-conscious drinkers. One can drink it as a low alcohol-content punch and still comfortably drive without feeling tipsy. It also has low calories, which suits those watching their weight.
However, a significant setback of this drink is that it may require more glasses to feel the buzz of alcohol. If you want to be in the high spirit for a casual evening, you may go for a higher alcohol-content drink. Whatever the case, be careful when taking alcohol because too much of it is detrimental to health.
First Impression: The first taste you will likely get when you sip Jack Daniels Downhome Punch is a mix of sweet and sour flavors. The effect is a refreshing, light-tasting experience. The peach, orange, and cherry flavors are so prominent, offering a fruity flavor to the taste bud.
Finish: The drink is sweet, with a smooth and tasty ending.
Price: The price of Jack Daniels Downhome Punch can diverge based on location and liquor shop. This is because some shops may be located in a highbrow or lowbrow area, where the residents' income margin or lifestyle will determine the price of things. Similarly, hotels, bars, clubs, and restaurants may jack up their prices because of the caliber of patronage they receive.
Aside from that, the price of Jack Daniels Downhome Punch is as low as $2 and higher than $12, as the case may be.
Fermentation: Malt liquors use the same ingredients as beer, except the hops. However, rice, sugar, or corn are added to the fermentation to raise the malt liquor alcohol by volume (ABV).
Alcohol content: typically, regular beer has a five percent ABV lower than malt, while the latter has between six to nine percent. However, the malt liquor could be lower in some cases.
Taste and appearance: The presence of hops (a cone-shaped fruit) aids in balancing of the sweetness of the sugar in the beer. This gives it a smooth and bitter taste. On the other hand, malt liquor is created with little or no hops. Together with the sugar, this raises the alcohol content of the drink. That is why malt liquor is fruitier and more sugary than beer. Regarding hue, malt liquor can range from amber to straw, depending on how the barley is roasted.
Also Read: Teremana Anejo Tequila Review
Should you drink Jack Daniels Downhome Punch?
This popular drink has secured its place in many home bars and deserves some accolades. The taste is consistent over time, offering a smooth and creamy outcome. With that, it has remained one of the top choices for malt beverages.
So, what is in this popular drink? A glass of Jack Daniels Downhome Punch may offer divergent benefits, including:
Good for the health: A fluid ounce of Jack Daniels Downhome Punch contains fewer calories and carbohydrates. In the same way, it does not have high alcohol content. Therefore, you can drink as much as possible and may not easily get knocked off.
Unique flavor profile: The primary ingredients for Jack Daniels Downhome Punch are cherry, orange, and peach. They give the drink the fruity flavor it has been known for a while, staying smooth and creamy.
Popularity: Jack Daniels products are popular, including Downhome Punch. One of the reasons it is so is the background of its production. The company was one of the first distilleries in the United States. It is also located near the mineral-rich Cave Spring Hollow, which adds flavor to the distinctiveness of the drink. Since most unique brands don't have such backstories, it rode on this fame to become the most sought-after.
Another reason for its popularity is that Jack Daniels has been associated with rock music and dive bars. Thus, when people think of whiskey, Jack Daniels (Downhome Punch extension) appears in their minds.
High level of polyphenols: Like other brands of alcohol, Jack Daniels and its products contain a high percentage of polyphenols. They are plant-based antioxidants that reduce the risk of heart disease, blood fat, and bad cholesterol.
How Jack Daniels Downhome Punch is Best Served
There is no special way to serve Jack Daniels Downhome Punch. Drinking straight from the can is easy by just popping the cap and letting it into your mouth. However, if you want to take your time to relish the taste, you can pour it into a glass and sip. Adding a few ice cubes to the drink won't be wrong.
Since the drink is among Jack Daniels Country Cocktails, it is already a cocktail. However, to derive the best, you can mix it with the Tennessee Whiskey brand of the company.
Perfect Pairings of Jack Daniels Downhome Punch
One can pair Jack Daniels Downhome Punch with different food and flavors. If you love Asian and Latin American cuisines, you will love the outcome when you pair them with a malt-liquor drink. Some of the best pairings include the following:
Sushi and sashimi: These dishes are artful, and they can pair with Downhome Punch since it has a smooth taste. For ages, the Japanese have paired Jack Daniels with sushi and sashimi, and the outcome is heavenly.
Cheese: Cheese pairs better with wine, but it can also go well with Jack Daniels Downhome Punch. Both drinks do not have high alcoholic power, meaning they can go with cheese's salty and umami taste.
Grilled steaks: Adding the flavorful Jack Daniels Downhome Punch to the slight hint of smoke on the steak creates a beautiful taste on the palate. Fattier steaks like ribeye and New York strip will tingle the palate once they are exposed to the fruitier notes of Downhome Punch. It is best to grill the meat on medium or medium-rare fire.
Chocolate: Some people have yet to grasp chocolate's wonders on Downhome Punch. Their flavors are at home with each other and hit the taste bud differently. So, blend your favorite drink with any chocolate flavor, and you will love the outcome.
Popular Related Drinks
Jack Daniels is a household name in the US, having produced several celebrated drinks. It has different whiskey-based flavored drinks, which are sippable and can be made into cocktails with other flavors. The family members of Jack Daniels Downhome Punch include Jack Daniels Tennessee Whiskey, Lynchburg Lemonade, and Tennessee Honey, among others. They also provide a satisfying feel after each sip; here you go:
Jack Daniels Tennessee Whiskey: Made with the finest corn, rye, and barley malt, this drink is one of the pride of Jack Daniels. The process takes a natural fermentation, meticulous distillation, and exploitation of the Distillery's iron-free water from the Cave Spring constantly running at 56 degrees F. It is good on the palate and makes an excellent drink for first-timers. The blend of Jack and Coke elicits the finest flavor desirable by many, making the drink stand out among whiskey connoisseurs.
The Lynchburg Lemonade: Named after Lynchburg, Tennessee, the producer's hometown, this version is a popular mixed drink. Besides, this Tennessee whiskey's signature cocktail tastes tremendous and much good on the wallet. The drinks pair well with a well-grilled barbecue for a lazy summer afternoon by the poolside. The official recipe for The Lynchburg Lemonade is a bit more complicated than mingling whiskey and lemonade. However, you can mix something in a tall glass with ice and four ingredients to make a cocktail.
Tennessee Honey: This version is whiskey liqueur with a twist of honey. It is another hot take by Jack Daniels, blending real honey and the famous Old No. 7 Tennessee Whiskey. First released in 2011, Jack Daniels Tennessee Honey is bottled at 35 percent ABV and 70 proof.
Country Cocktail Southern Citrus: this is among the blasts of flavors recently released by the company, together with Downhome Punch. The drink is sold for less than 10 dollars and was released at the nip of summer to give holidaymakers something to celebrate. Jack Daniels Country Cocktails Southern Citrus blends citrus flavors and grapefruit. Besides, the light citrus aromas are supported by hints of Jack Daniel's Tennessee Whiskey, according to the company.
Frequently Asked Questions – Jack Daniels Downhome Punch
Is Jack Daniels Downhome Punch good for you?
The sweet and fruity flavors of Downhome Punch made it a unique drink, leaving a good aftertaste in the mouth. The background malted beverages are made specially, giving it a balanced sweet, and lovely flavor. However, don't let the richness of the drink lead you on. Drink responsibly.
Does Jack Daniels Downhome Punch cause heart disease?
Consuming excess alcohol generally leads to diverse heart diseases and other health risks. However, the opposite happens when you stick to the exact amount per serving. If you are health-conscious, you will be careful how you take it.
Should you drink Jack Daniels Downhome Punch?
While no alcohol is 100% safe for the body, malted drinks offer more beneficial help than others. It is rich in B Vitamins and low in calories, fat, sugar, and carbohydrates.
Is there whisky in Jack Daniels Country Cocktail flavors?
There is no whiskey in any of Jack Daniels Country Cocktails, even though most of their products are whiskey-based. The drink is mixed with water, citric acid, and natural flavors.
What is the difference between malt liquor and beer?
Malt liquor and beer are both malt-based drinks with some differences.
Also Read: Tequila Rose Strawberry Cream Liqueur Review 
Cheers!
Jack Daniels Downhome Punch is a trendy brand for many reasons. It has a great taste, serves the body well, and can pair with other foods and drinks to give you a unique flavor.
It has received much support from famous people, hence, when looking for popular malt beverages, you can count on this drink.