If you order a tequila at the bar, the response to expect is, "What type would you prefer – blanco, reposado, anejo, or extra anejo?"
But hey, that was the aim of the makers of Maestro Dobel Diamante when they went on the adventure to produce this distinct spirit.
Here, we would look at how they arrived at this lovely drink, where it originated, and every other thing you need to know about this tequila.
Let's get started!
Value for Price

Mixability

Sippability
Quick Facts
| Name: | Maestro Dobel Diamante |
| --- | --- |
| Brand: | Maestro |
| Country: | Mexico |
| Spirit Style: | Extra Anejo |
| Spirit Type: | Tequila |
| ABV: | 40% |
| Released: | 2008-Present |
| Price: | $95 |
Maestro Dobel Diamante History & Production
Maestro Dobel Diamante is distilled from 1005 Blue Weber agave plant from Jalisco, Mexico. Besides, it was not something someone down the street decided to couple together to produce tequila.
The spirit was a thoughtful plan of the 11th generation of the Beckmann family, which also owns Jose Cuervo tequila. The leader Juan Domingo Beckmann Legorreta, Luis Yerenas, and master distiller Marco Anguiano (aka Maestro) were the founding fathers of Dobel tequila.
To obtain the latest Diamante expression, Maestro Dobel came up with a blend of reposado (aged 15 months), anejo (aged 24 months), and extra anejo (aged 36 months) tequilas. The company did not stop there but filtered the concoction in its dark and aged form, resulting in this clear fusion tequila.
The clear tequila is called cristalino, aged tequila filtered to extricate the barrel-aged coloring. The essence is to derive the intensity and fullness of an aged anejo with the crispness and brightness of a young blanco. Because Mexico is the origin of tequilas, cristalinos are popular there. Aside from Maestro Dobel, Hornitos and Volcan De Mi Tierra also make the best cristalinos.
Maestro Dobel Diamante combines aged tequilas, instead of one source as other brands do. It can be safe to say that Diamante is the first multi-aged clear tequila the world has experienced. The company blended one, two, and three-year-old tequila in European white oak barrels before filtering and blending them to eliminate any color nuance. While the amber color of the aged tequilas is removed, it must retain the oak flavors because that makes it distinct from other spirits. Diamante lives up to its meaning (diamond) and crystal (cristalino) nature. It is an embodiment of the spirit of redefining.
Another salient point in the processing of Maestro Dobel Diamante is that it is distilled from 100% Blue Weber agave plant densely grown in Jalisco, Mexico. The agaves used must be between eight and ten years when fully matured to produce the original nature of the drink.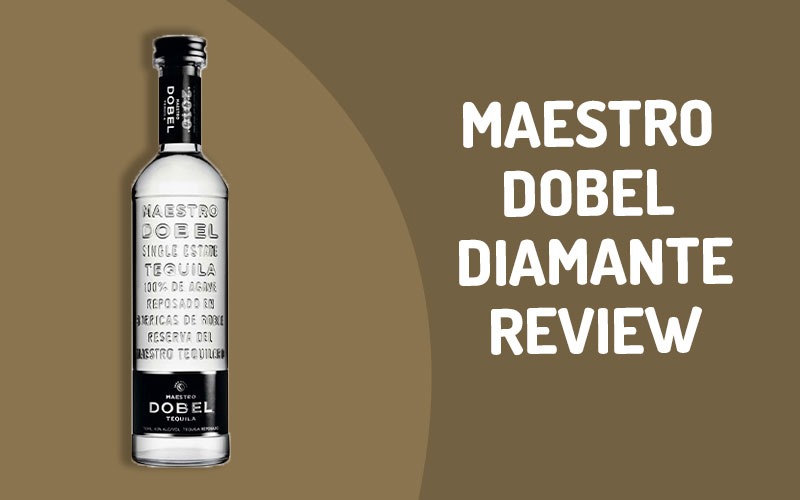 Maestro Dobel Diamante Review
There is much to say about this beautiful drink regarding the notes, distillation process, a perfect pairing, and more.
Category: Maestro Dobel Diamante is a type of tequila obtained from the heart of 100% Blue Weber agave plants, which have been grown for over seven years. It has no artificial flavor or sweetener, meaning it is naturally distilled. As such, it does not expire and can last for ages.
As a highly concentrated alcoholic drink, this tequila does not freeze, although it can be chilled to derive more pleasure. There are other tequila spirits in this category with a bit of variation in the distillation process. However, they are the best of their kind.
Taste: The question in the mouth of Maestro Dobel Diamante connoisseurs is, "How does it taste?" Once the spirit hits your lips, you will get the mouthfeel message. There is no questioning regarding the depth of its agedness because it is felt right at the first sip. The palate immediately feels a hint of fruity sweetness, agave, oak, and vanilla, which are evidence of its superiority over tequila. A bit of black pepper is in the background, which is not apparent.
Nose: Maestro Dobel Diamante has a gentle oak and agave aroma with a hint of vanilla and smokiness.
Finish: The ending note is clean, crisp, and smooth. It moves from medium to long in the background, leaving you wanting more.
Alcohol Content: 40% ABV (80 proof). Typically, tequila contains 40% alcohol by volume, 80 proof. This characteristic makes it a strong drink that should not be taken excessively. If you do so, you are endangering your health and that of others around you. Hence, you must ensure to drink moderately to avoid being drunk.
In addition, the 80 proof of 40% alcohol by volume (ABV) is common in the United States, United Kingdom, and Canada. It is 40-38% in Mexico, yielding 70-80 proof. The reason for the Mexican case is that the government taxes the drink based on the proof.
To get the strength of 40% ABV, the alcohol is watered down (diluted by water), and that is the legal standard. With a few special procedures, the producer gets a unique Maestro Dobel Diamante.
Appearance: Maestro Dobel Diamante is crystal clear (silver) and regarded as the world's first transparent, multi-aged tequila. The color makes it look fully crystalline silhouette on the silver bottle.
Price: The average cost of Maestro Dobel Diamante is $49.99 in the US. Depending on the shop and location, the price could be higher or lower.
Should you Drink Maestro Dobel Diamante?
Maestro Dobel Diamante is a great drink that moves easily with the flow. If you are skeptical about taking a shot or mix into a cocktail because you don't know what's in it for you, here are some reasons to do so:
Good spirit: Maestro Dobel Diamante feels smooth, warm, and satisfying when taken. It is well-rounded, balancing the sweet agave, vanilla, and oak notes. Another reason it is a good spirit that it tastes natural, with no artificial sweeteners or flavors. Although it may be expensive, you can try it if you have some money to throw around.
Tremendously smooth: Dobel Diamante is velvety smooth and is not unconnected with using activated charcoal for its filtration. Hence, it is easy to sip.
Carb and gluten-free: This drink is amazing because it contains no gluten or carbohydrate. As such, it is friendly for keto and those watching their weight. Also, if you want to stay away from gluten, it is 100% safe.
Also Read: London Mule Cocktail (Recipe & Ingredients)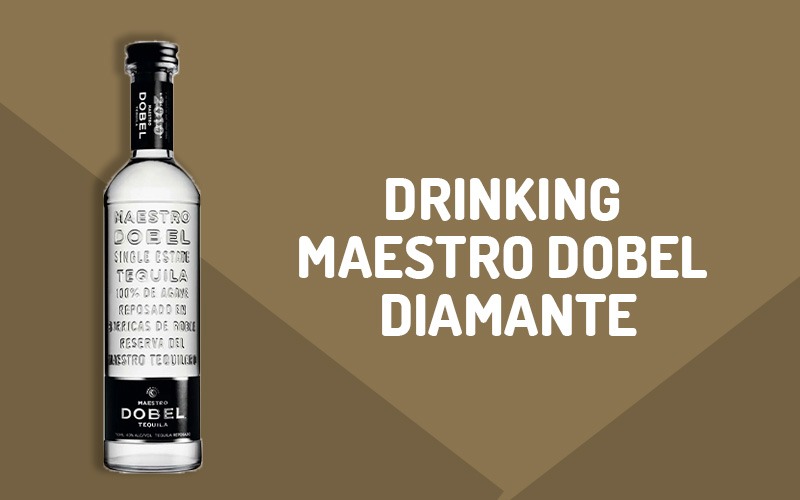 How Maestro Dobel Diamante is best Served
The Maestro Dobel Diamante can be taken in several ways, giving a refreshing feel without losing the citrus and prickly pear flavor.
Neat: Pour this favorite drink into a rocks glass and sip. You can add ice and a slice of lemon to reduce its concentration.
Cocktail: You will feel more of its intensity if you combine it with light and bold drinks. Try these two recipes for an excellent Maestro Dobel Diamante cocktail drink. They are Hibiscus Daisy and Diamante Refresher recipes.
For Hibiscus Daisy, you need 2 oz Maestro Dobel Diamante, 1 oz watermelon juice, .5 oz hibiscus syrup, .5 oz lime juice, and smoked paprika salt for the rim. Shake all the ingredients over ice and pour into a chilled rocks glass with a smoked paprika salt rim. Then, garnish it with a lime wedge and serve.
For Diamante Refresher, get 2 oz Maestro Dobel Diamante tequila, .25 oz ginger puree, .25 oz honey, .5 oz fresh lemon juice, and three dashes of Angostura bitters. Shake all ingredients over ice and pour into a chilled rock glass. Then, top it with Angostura bitters and serve.
Perfect Pairings of Maestro Dobel Diamante
You must understand a few things about Maestro Dobel Diamante and food pairings. First, it is best to sip it slowly to savor the taste. Thus, the food to select must flow in the same rhythm. Second, since it is created from agave, it will surely pair better with agave-based foods, especially fruits, and veggies. Another important observation is that it pairs well with highly fatty and proteinous foods, including steaks and cheese.
Again, Maestro Dobel Diamante pairs perfectly with sweet/sour food like desserts. Hence, if you have a sweet tooth and need a glass of this tequila, you are in luck. In the same way, if you like food with a bit of tartness and have a glass of this drink, be ready for fun. Lastly, savory or spicy food with a few umami pairs excellently with this drink. So, here we go!
Fruits and veggies: Pair your delicious Diamante with pineapples, mango, papaya, grapefruit, etc., and you will enjoy the outcome. Since they contain agave, they will make a great pair.
Cheese: Cheeses contain high fat and protein, matching them with Maestro tequila. You can pair it with cheddar, brie, or Gouda.
Meats: Try pairing your delicious tequila with pork, lamb, chicken, beef, etc. Their fatty nature will make a perfect pair in the mouth.
Spicy and savory food: Many people enjoy spicy or umami-based food because of their unique flavors. Pairing them with Maestro Dobel Diamante will be an excellent gift for your taste buds. Examples include mushrooms, jalapenos, habaneros, and chili peppers.
Also, ensure to try the drink with sweet and sour food.
Popular Related Drinks
Maestro Dobel Diamante is not a lone spirit; it has a class of other drinks that share close similarities. They are all produced by Maestro Dobel and are 100% agave, single estate, and small-batch tequilas. They include Humito, Pavito, and 50 Cristalino.
Humito: This country version of tequila was launched in 2016 but recreated in 17th-century versions. The agave is smoked with steamed mesquite in the baking process before the juice extraction. This extra step infuses Humito with a smoky flavor similar to some mescals. Besides, it is unaged and silver-colored.
Pavito: This is a 2021 Limited Edition release, with uniqueness rare in the modern tequila industry. Pavito is still double-distilled in a copper pot before undergoing a fruit and spice maceration. A pechuga (turkey breast) is placed on top of the tank at the third distillation. This gives the tequila a tasty fruity spice flavor that makes a great holiday vacation. Besides, Pavito is bottled at a slightly below 35% ABV and 70 proof.
50 Cristalino: The distillation process of this tequila is off the chips of Diamante. 50 Cristialino is an extra anejo with its color extracted through filtration. Thus, the outcome gives a rich, creamy mouthfeel infused with vanilla, pineapple, pumpkin, and spicy flavors.
Frequently Asked Questions – Maestro Dobel Diamante
Is Dobel Tequila top-shelf?
When looking for top-shelf tequila, you will get a variety of excellent options from Maestro Dobel. This is because they are made from 100% agave, single estate, and small batched.
What Kind of Tequila is Maestro Dobel Diamante?
The Maestro Dobel Diamante is created from a blend of three aged tequilas – reposado (rested 15 months), anejo (rested 24 months), and extra-anejo (rested 36 months).
Does Maestro Dobel Diamante Have Additives?
This energetic drink is made from 100% Blue Weber agave, estate-grown in the volcanic lowlands of Jalisco. To produce the Maestro Dobel Diamante in its purest form, the tequila was double-distilled in a copper pot still. This makes it clear, rich, creamy, and smooth.
What kind of Tequila is Maestro Dobel Diamante?
It is a Cristalino, meaning the filtration process involves using activated charcoal before bottling. This process removes the amber color and gives it a silver appearance. The exact process makes it smoother and easier to sip while retaining its caramel, vanilla, and oaky notes.
Also Read: Blow Job Cocktail (Recipe & Ingredients) 
Cheers!
Maestro Dobel Diamante is exceptional tequila that gives friendly vibes. It is high in alcohol but can be mixed into a cocktail to reduce its alcoholic volume. Besides, it is naturally distilled and, when taken moderately, offers health benefits. So, check it out on the counter this weekend and grab a bottle.