Have you tried describing the taste of root beer to someone? If you have, you will recall that it is more complex to develop the right description. That means you may not know what is in the glass you take down your throat.
Root teas and medicines were the raves of the moment years before brewing the first root beers. It later became a commercial drink, with one of the recipes overriding others and becoming the universally acceptable recipe for making root beers today.
This Not Your Father's Root Beer Review opens up everything there is to be known about Not Your Father's Root Beer.
Let's dive in!
Value for Price

Mixability

Sippability
⇒ Fun Facts ⇐
| Name: | Not Your Father's Root Beer |
| --- | --- |
| Country: | United States |
| Brand: | Small Town |
| Beer Style: | Herbed/Spiced Beer |
| Beer Type: | Specialty Styles |
| ABV: | 5.9% |
Brand History
Not Your Father's Root Beer is produced and marketed by Small Town Brewery, which is dedicated to using herbs to craft gruit-inspired beers. Gruit is a German word for herbs and describes the ancient practice of using bitter ales with spices, roots, berries, and flowers. The company was established by Tim Kova, who is also the brewmaster.
The company uses a proprietary method of infusing a special blend of herbs and spices into brewing. This creates gruit-inspired beers with a taste that takes you back to traditional American flavors. Although Not Your Father's Root Beer is the most popular, Small Town Brewery has a range of other products. They are packed with flavors and have only 5.9% alcohol, which is insufficient to booze you.
Besides, this root beer was sold in kegs at local bars, and the ABV was 19.5%. Later, the manufacturers introduced a package of 10.7% ABV before the final one, which is 5.9% ABV. There was also a 22-ounce bottle with 10.7% ABV. The company also collaborated with Pabst Brewing Company to distribute Not Your Father's Root Beer nationally. Its success led to the company creating other products in the same brand line, including Not Your Father's Ginger Ale and Not Your Father's Vanilla Cream.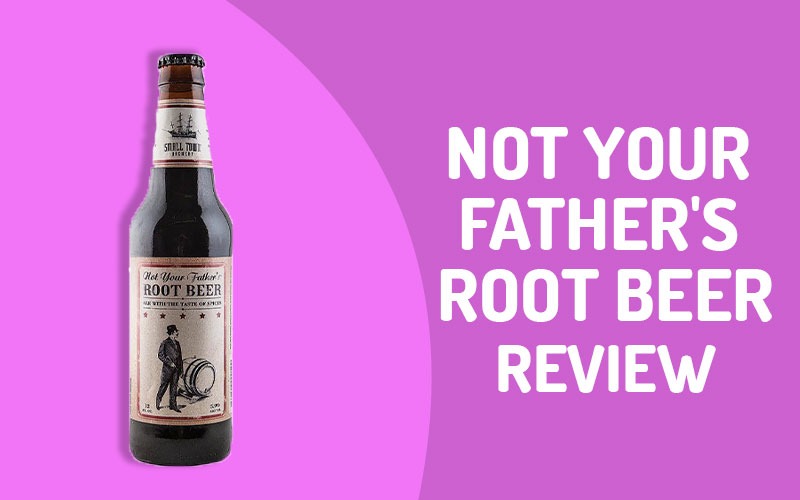 Not Your Father's Root Beer Review
This root beer is brewed with unique spices, making it a specialty drink. Its smoothness makes it appealing to beer lovers and occasional drinkers. Life is sweeter when you take a glass of this drink occasionally. In addition, it is the best-tasting root beer you can imagine. With spicy and vanilla notes, it is smooth and has a nice mouthfeel.
Category: Root beer is a North American soft drink, traditionally made with the root bark of the sassafras tree and infused with sweetness. It is typically non-alcoholic, sweet, carbonated, and caffeine-free. Root beers are usually craft beers.
Interestingly, because of its unique taste and alcohol content, this drink became categorized under hard soda. It also appears as one of the top-selling hard sodas in the US. With its success, other categories of beers penetrated the market and are called 'flavored beer.'
Appearance: In the glass, Not Your Father's Root Beer is deep brown, almost dark.
Nose: The aroma is packed with vanilla, spicy notes, such as clove and cinnamon, and hints of berries. The most dominant flavor is vanilla, although the spice and herbs hit the nose first.
Taste: The notes on the nose come down to the palate and are accompanied by sweet and silky tastes.
Finish: It finishes smooth and long, with a drier mouthfeel.
Alcohol content: When the company created Not Your Father's, there were three drink categories, each with its alcohol content. They included 19.5%, 107%, and 5.9% ABVs. However, with time, they stuck to 5.9% ABV, which you will likely find in any store.
Price: The cost of this drink depends on certain factors, like your location and the number of bottles you need. It is sold in packs of six and 24 bottles, respectively. The six-bottle pack costs as low as $11.99, while the 24-bottle pack is around $42.44.
Also Read: Flecha Azul Reposado Tequila Review 
Pros and Cons
Whether you are a big drinker or not, something is fascinating about Not Your Father's. Here, we will explain the pros and cons to give you a better insight into the drink you are about to take:
Pros
Flavorful and sweet: if you enjoy sweet and savory drinks, you will love this drink. It is one of the best-tasting root beers you can try. It is almost spicy and goes down smoothly.
Gluten-free: Not Your Father's Root Beer is gluten-free and suitable for people with specific health issues. Hence, seeking an alternative drink for gluten-sensitive people is safe and delicious.
Antioxidant qualities: This drink is made from natural ingredients and possesses antioxidant properties. It helps to fight free radicals in the body and keeps you stress-free. There are other health benefits to derive from taking Not Your Father's.
Cons
Less creamy: Compared to some root beers out there, Not Your Father's is not so creamy. But a scoop of vanilla ice cream can add some creaminess to the mix and make it float.
How Best is Not Your Father's Root Beer Served?
This delicious craft beer is refreshing when served chilled or on ice in a glass. You can also make a delicious beer float with it or use it as an ingredient in desserts, cocktails, and dishes.
Perfect Pairings for Not Your Father's Root Beer
Not Your Father's Root Beer pairs well with food choices like BBQ, pork chops, steaks, and cheeses. Vanilla ice cream makes an ideal root beer float with it. Here are our classic dishes to try with your favorite root beer:
Steak: Not Your Father's calls for a cut off the beaten path, one of which is steak. We know that steaks are better off with wines and bourbon. However, its succulent, beefy flavor is an excellent combination with this drink. Take your time and allow both to blend well in the mouth so you can enjoy their flavors.
Macaroni and cheese: this classic combination can be paired with your root beer. Mac and cheese have a rich, creamy profile that allows the penetration of this drink-biting character. If possible, use melting Gouda cheese or any other uncommon one to bring out the flavors of the combo. Sprinkle crumbled bacon on the dish and let your taste buds judge.
Rice pudding: naturally, desserts have sweet flavors that would bring out the sweetness of this root beer. If you don't want vanilla ice cream, rice pudding is a fantastic option. It's dairy richness and rice substance makes it sweeter for the pairing.
Popular Related Drinks
There are different brands out there with exciting flavors when it comes to root beer. However, narrow your options down so you can select the best. Check out the following drinks:
A&W Root Beer: this is among the top trending root beers. A&W is not a new name to the country, as it was established in 1919 as one of the oldest chain restaurants. It also has other soft drinks to its credit. It started as a humble root beer stands in Lodi, California. It was the popularity of the beverage that led to the expansion of the business, which recorded more locations than McDonald's. A&W's Campfire Root Beer Float is another of their best. It is topped with mini chocolate chips, toasted marshmallows, and graham cracker crumbs sprinkles.
Saranac Root Beer: Named after the Saranac railroad line in upstate New York, its origin can be traced back to 1888, courtesy of 19th-century German immigrants. Francis Xavier founded the establishment in Deutschland. Saranac is pleasant to the taste buds and balanced with creamy notes and spices. The flavor is rounded by a zesty tang, which makes it outstanding from the competitors.
Henry Weinhard's Root Beer: the history of this particular root beer dates back to the 1850s, when Henry Weinhard traveled from Germany to Portland, Oregon. The founder was a beer fan and worked in a brewery before making his own. The company he founded kept waxing strong, even after his death. The leading product is their root beer. It has a pleasant mouthfeel, with that hard bite root beers possess.
Read Also: Shock Top Twisted Pretzel Wheat Review
Frequently Asked Questions – Not Your Father's Root Beer
Is there alcohol in Not Your Father's Root Beer?
This craft beer contains 5.9% alcohol by volume, with a smooth and satisfying finish. Craft beer lovers will enjoy its unique taste.
Is Not Your Father's Root Beer still made?
Although Not Your Father's products hit the market, only root beer and lemonade still sell.
What's in Not Your Father's Root Beer?
It is brewed with herbs, spices, and botanicals. The ingredients include sarsaparilla bark, nutmeg, anise, wintergreen, honey, cinnamon, and vanilla bean. They combine to give it an old-fashioned taste.
Cheers!
Not Your Father's Root Beer is a well-known and delicious beer brand. It contains a satisfactory alcohol level and is considered high nutritional value. But you must drink responsibly to protect your health and not get intoxicated.