Most drinks are subtle exhibitions of their origin and why such a drink emanates from there. As we know, tequila is the pride of Mexico, blending the country's rich tradition into a bottle and transporting it beyond the border.
Los Azulejos, the manufacturer of Skelly Tequila Anejo, is one of the numerous brands celebrating Mexican culture in a bottle. Before the need to bottle the drink, the ancient Mexicans, who discovered the importance of agave plants in making tequila, started small-batch production.
This Skelly Tequila Anejo review brings to the table everything to know about this drink.
Let's get started!
Value for Price

Mixability

Sippability
⇒ Fun Facts ⇐
| Name: | Skelly Tequila Anejo |
| --- | --- |
| Brand: | Skeleto |
| Country: | Mexico |
| Spirit Style: | Anejo |
| Spirit Type: | Tequila |
| ABV: | 40% |
Brand History
Los Azulejos Skelly Tequila embodies the Mexican tradition 'Dia Los Muertos,' a holiday set aside to honor their ancestors. It is created at Destiladora del Valle de Tequila in the lowlands region of Jalisco.
The distillery is Casa Maestri and was established by Michael and Celia Maestri. No high-volume distillery in Mexico will be mentioned without featuring this distillery, having around 80 tequilas to its name.
It started a limited edition collector's 'Skeleto' series, made of ceramic 'Day of the Dead' style skeleton bottles. They come in 'Pirate Bandana Wrap' Blanco, 'Straw Hat' Reposado, and handmade 'Mariachi hat' Anejo, the subject matter for this review.
Additionally, the bottle has a Pancho Villa-style ammo belt and mustache. To drink it, pop off the complex Mariachi Hat serving as the head, and pour from the 'neck.' Mexican artisans make the bottles, and they are uniquely done.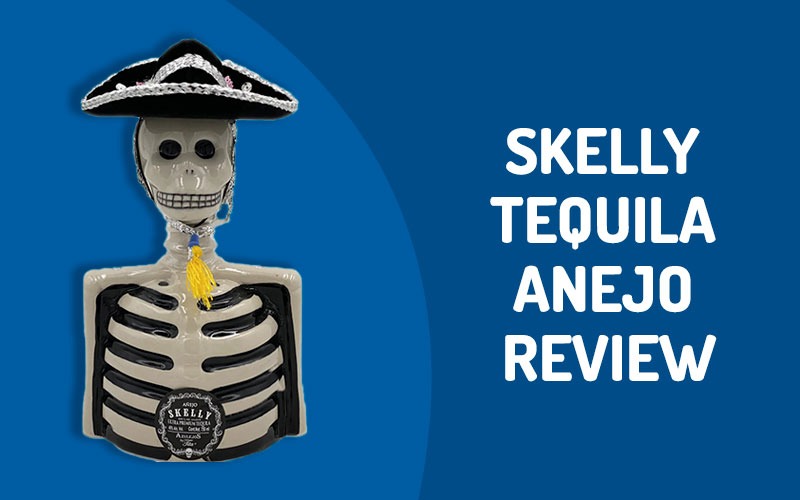 Skelly Tequila Anejo Review
Category: Skelly Tequila Anejo falls under the anejo tequila category. They are aged between one and three years. This more extended aged period makes it sippable and best for a party. There are far longer-aged tequilas like the extra anejo. Once it crosses the third year, it is just there for the age, not necessarily the quality.
Process: Los Azulejos uses only seven to ten-year-old agaves in a 50-50 blend in its tequila production. The agave plants are cooked in traditional brick ovens (the owners said this method is outdated, but they didn't update the current practice). After cooking, they are crushed in a roller mill before natural yeast fermentation is carried out in a slow-to-medium 48-60-hour procedure using 30,000-liter stainless steel tanks. The next step is to double-slow-distill the remains in copper alembic stills. They are aged for 30 months in used American oak barrels. Before bottling, they are proofed at 80 (40% ABV) using distilled water.
Appearance: Skelly Tequila Anejo has the overall anejo dark golden color.
Nose: You will get notes of caramel, oak, spice, vanilla, and cream soda, with hints of honey, light cherry, butterscotch, and a touch of cinnamon.
Taste: On the tongue, the opening bouquet includes medium oil and alcohol heat, with sweet and sugary notes of vanilla, caramel, and cream soda. Sipping it is buttery and smooth, with a touch of light chocolate, tea, and pineapple. Some pepper, honey, spice, and light citrus appear along the line.
Also Read: Ole Smoky Moonshine Pineapple Review
Finish: The aftertaste is sweet, sugary, and long. It is perfect for those looking for full-bodied, sophisticated tequila.
First impression: The vanilla, cream soda, and brown sugar present in this drink are heavy, although not excessive. It is smooth, with a considerable quantity of heat. Hence, you will appreciate it if you love it soft, vanilla, and sweet. The nose is also better than the taste. But as a novelty tequila, it is not bad compared to others.
Alcohol content: It is bottled at 40% ABV (80 proof).
Price: It costs around $149.49 to grab a bottle of this novelty drink.
Pros and Cons
Sometimes, people are enticed to buy a drink due to the bottle's appearance, even when the content is far below average. That is even more complicated when the drink is expensive, and one must show that one can afford such. Is it the case with Skelly Tequila Anejo? Let's find out!
Pros:
Acceptable: If you are wondering whether this Anejo tequila is good, the answer is that it is more than adequate. You are not buying the bottle alone. While it is not something to jump up and down for, it is pretty sippable and gives the feeling of drinking aged tequila.
Prestigious bottle: Even if the content is not up to expectations, the bottle could be repurposed in the house. It can serve as a flower vase, or you may pour a lesser-quality drink into it to show off. As the case may be, people buy these drinks sometimes to have the bottle in their collections.
Copper distillation: In the past, the autoclave-cooking process was used for production. But now, the owners have switched to the copper distillation process. This is highly commendable and rubs off the aging quality.
Cons:
Not worth the price: Even though Los Azulejos did a great job putting fantastic juice in an innovative bottle, the price is not worth it. Except you are buying it for the status it gives, but if it is to uncork the bottle and pour, you are not making a great bargain at that price. Besides, the brand does not resemble that of Don Julio, Fortaleza, G4, and other high-ranking Anejo tequila brands.
Likelihood of additives: This Anejo likely has fewer additives if going by the length of aging on the bottle. However, the owners hinted that it is aged longer than reported. If the latter is the case, there may be no additives. Again, you are paying for the bottle.
A little too sweet: Skelly Tequila Anejo has a heavy presence of caramel, vanilla, and cream soda. This is great for some people because the creators knew where to draw the line. However, it may be a turnoff for some who don't appreciate overly sweet things. It is smooth, anyway.
How Best is Skelly Tequila Anejo Served?
Aside from using the traditional salt-and-lemon combo, other exciting ways exist to serve this Mexico's national drink. Check this out before pouring Skelly Tequila Anejo into a glass:
Shots: You can shoot and unchill the drink by preparing a glass, making a toast, and gulping it down the throat. Mexicans hardly take this route, though. You may take it straight up or add a little sangria.
Neat: This is the most popular method of sipping tequila. You can take it neat at room temperature to sip it 'as it is.' Note that it is not necessary to chill tequila.
On ice: Another finest way to serve this delicious liquor is on the rocks. It is the perfect way to appreciate this dark offer from Los Azulejos. The ice will open up the smooth vanilla and creamy finish and make you want to drink more. If you are new to tequila, stir the mixture to mellow the alcohol content.
As a cocktail: Margaritas and other cocktails make drinking this tequila fun. Opt for the classic version or go for 'Tequila Martini,' another cocktail version.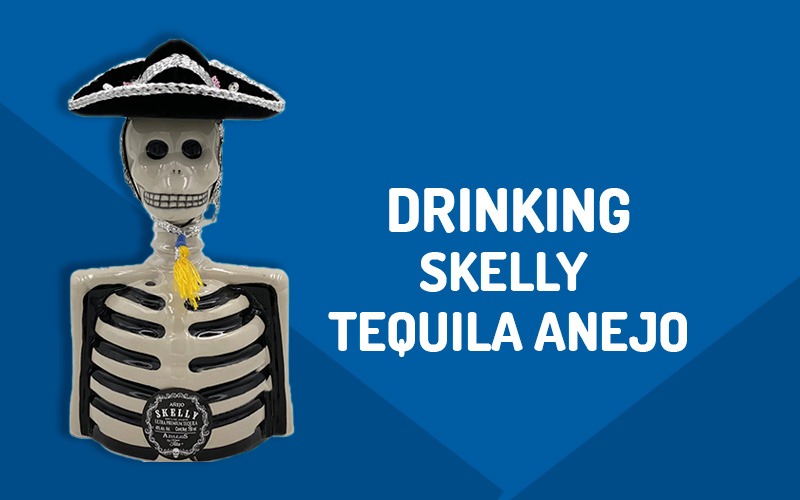 Perfect Pairings for Skelly Tequila Anejo
Tequila anejo is perfect with many dishes. Its flavor is unique because it can be suitable during the main course and as a nightcap with desserts. The richer the food's flavor, the better it can pair with this tequila. Try it with any of the dishes below:
Nachos: As a Mexican dish, nachos are spicily savory and go well with tequila anejo. Since Skelly Tequila Anejo has sweet undertones, it can complement the saltiness of the food.
White meat: Dishes with white meat and citrus-based sauce are best for this drink. Try it with chicken enchiladas, fajitas, fish tacos, etc., and you will surely testify.
Seafood: If you are a seafood enthusiast, you will enjoy pairing it with this tequila anejo, as its agave complements the entrée's natural flavor. Consider shrimp, scallops, fish, etc.
Dark chocolate: Who said tequila can't be enjoyed with dessert? Not when you bring together the bitter undertone of dark chocolate and the sweetness of Skelly Tequila Anejo! It is better experienced than imagined. Besides, desserts with vanilla flavor, like flan, will also be complementary.
Popular Related Drinks
There are several versions of tequila out there, and all of them aim toward the same value: attracting customers. In attracting customers, the packaging and content must represent the value they claim to give. Hence, hobbyists usually have diverse options before them. If you feel the same way, here are other drinks to add to the cart for your perusal:
Skelly Tequila Blanco: This is tequila in its truest form, made from 100% blue agave and unaged. This fresh tequila is from the stables of LosAzulejos, a proud winner of a 2009 Gold Medal from SFWS. It opens with a snappy, smoky, and ashy bouquet. Then, anise, licorice, boiled asparagus, and dill step in with full authority on the nose. Similarly, the taste is freshly pleasant, peppery, vegetal, and zesty, with hints of sugary sweetness as it approaches the mid-palate. The aftertaste lingers with refreshing pepper. It sells for $80.
Skelly Tequila Reposado: This Los Azulejos product is packaged in an exciting, artisanal bottle and aged four to six months in fine French oak barrels. The bottle represents Mexican culture in its glory. The initial nosing releases agave and green vegetation, which gives way to a tart, lean, and acidic palate. The mid-palate consists of smooth vanilla and sweet oak, and the aftertaste is long, vegetal, and sweet. The price of Skelly Tequila Reposado is $93.
Dona Celia Anejo Tequila: This unique Anejo is aged for around 14 months in one-time used bourbon oak barrels lined with agave syrup. It is uniquely smooth and naturally sweet, resulting from distinctively sweet cooked agave. This agave also sips in with honey, improving the hidden vanilla and hazelnut flavors. You are left with a smooth dark chocolate finish. The color is caramel, which results from its aging in bourbon oak barrels. Dona Celia Anejo is priced at $100.
Frequently Asked Questions – Skelly Tequila Anejo
Who owns Skelly Tequila?
Michael and Celia Maestri own it. The distillery Casa Maestri, which produces this drink, is among the most prominent in Mexico.
Where is Skelly Tequila made?
It is made in Jalisco, Mexico, the home of agave plants for making tequila drinks.
Also Read: SQRRL Peanut Butter Whiskey Review 
Cheers!
Here, you have your Skelly Tequila Anejo. Enjoy your weekend, and share the fun with friends and family. But if you want a quiet sip or something to cap the night alone on your balcony, why not?