WhistlePig Straight Rye is a whiskey made by WhistlePig Rye Whiskey, nestled in New England's center. For this purpose, a 150-year-old dairy barn was transformed into the world's finest whiskey-making distillery.
In the past, rye whiskey was the leading American spirit before Prohibition. But a group of rye enthusiasts rose and refurbished a historic dairy into a world-class distillery in secluded Shoreham, Vermont.
Here, we would be doing a WhistlePig 15 Year Straight Rye review getting to know why it is one of the best in the USA.
Let's get sipping!
Value for Price

Mixability

Sippability
⇒ Fun Facts ⇐
| Name: | WhistlePig 15 Year Straight Rye |
| --- | --- |
| Brand: | WhistlePig |
| Country: | United states |
| Spirit Style: | Rye Whiskey |
| Spirit Type: | American Whiskey |
| Release Date: | 2016 - Present |
| ABV: | 46% |
Brand History
The history of WhistlePig can be traced back to 2007 when the owner Raj Peter Bhakta bought a farm in Shoreham, Vermont. He aimed to create fantastic rye whiskey and wanted only the best.
To source only top-quality rye from Canada, he teamed up with master distiller Dave Pickerell, who worked with Maker's Mark for 14 years. The finishing and bottling took place at the WhistlePig farm.
The 15-year expression is not only the oldest rye whiskey the company produced but the most expensive. It is proofed at 92 and is aged in both ex-bourbon barrels before being transferred to Vermont white oak to complete the aging process.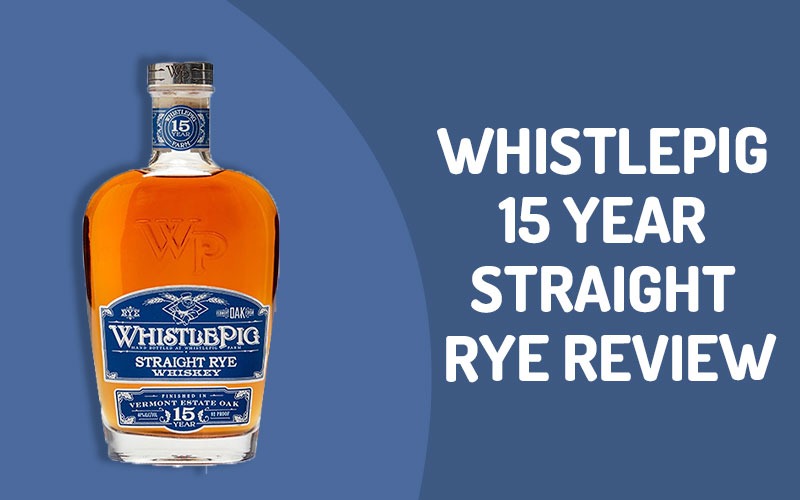 WhistlePig 15 Year Straight Rye Review
Color: This rye whiskey has a light caramel color.
Nose: The aroma is smoky, sweet, and smooth with tropical fruits and fresh-cut flowers. It is a light buttery pastry with hints of cake. While settling in the glass, a blob of rich toffee with fruity flavors appears. This paves the way for darker notes of heavy oak, cooked spiced fruit, and a hint of rye spice. They all converge to create a beautiful nose that lingers.
Taste: This rye whiskey is flavorful, sweet, and gentle, introducing itself with lemon peel, barrel char, vanilla, oak, and soft rye spice notes. This advances to the backstage with juicy red fruit, creamy vanilla, and chocolate. Light herbal and vegetal notes are identified, but they never make it to the front. The mouthfeel is better experienced than imagined.
Finish: Towards the finish, the rye spice becomes more pronounced. Remember, this drink is made with 100% rye mash bill. The rye spice is medium length, accompanied by dry wood. Astonishingly, the finish is more vibrant with a high whiskey note than the palate.
Alcohol content: This whiskey is bottled at 46% and proofed at 92, allowing it to shine on the palate for those who don't mind the alcohol content.
Price: The manufacturer's suggested retail price is $200. However, most retail outlets could sell higher due to some reasons.
Pros and Cons
WhistlePig is a big name in the rye whiskey industry. Many whiskey lovers can easily identify with the products, and it has gained their approval over the years. But that does not mean that everyone must appreciate it. Here are some of our observations regarding the WhistlePig 15 Year Straight Rye:
Pros
Uniqueness: This whiskey is special, especially as an aged one. Once any rye whiskey makes it over ten years, it can take a deep, lovely essence that is more complex and sweeter. Younger rye only has a spicy and untamed character.
Old school: This WhistlePig is a perfect example of an excellent old-school whiskey that rewards patient drinkers. The 12 Year could feel over the top with its complexities and finishing process; it can never beat the reward of drinking this 15 Year version.
Value: The industry is saturated, and it only takes doggedness and fierceness to surpass the average level. WhistlePig has done well throwing its hat into the ring and bringing in something worth the noise.
Also Read: Gran Centenario Leyenda Extra Anejo Tequila Review
Cons
Expensive: Although WhistlePig 15 Year Straight Rye is excellent and rewarding, it has yet to satisfy buyers why they should spend an average of $200 per bottle. Yes, the bottle is impressive, but the content needs to be more convincing to hand that amount over the counter. At 92 proof, it should do better in price. But if money is not a challenge, you can grab a bottle.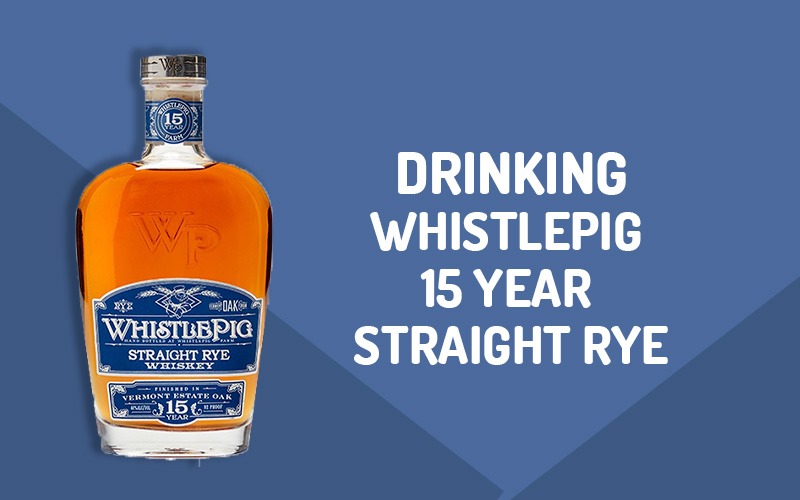 How Best is WhistlePig 15 Year Rye Served?
There are several ways to get this delicious drink down your throat while relishing every flavor. The most prominent include the following:
Neat: This rye whiskey is excellent if you love to get the rye spice while sipping it. Many liquor lovers appreciate not masking the intense and subtle flavors in ice. So, take it at room temperature and taste the fun.
Straight: Drinking it straight with a little water or over ice will open up its bouquet. This method mellows the flavor and cut-down its proof, transforming it into a pleasant sipper.
Perfect Pairings for WhistlePig 15 Year Rye
The food you pair with this whiskey changes the total experience you get from each sip. However, if you appropriately pair it, you will enjoy the effect on your palate. If not, the experience may not be palatable. WhistlePig Rye Whiskey pairs with light snacks, fatty dishes, bitter dishes like dark chocolates, etc. Try it with the following dishes:
Fatty meat and fish: Consider pairing it with smoked or broiled salmon, grilled steaks, and meatloaf. For a healthy dinner, add the barbecue sauce of your choice and relax to relish their complementary flavors. The high alcohol content of this whiskey, with the rich and fatty flavors of the dishes, makes a great pair.
Nuts: Not all nuts pair with WhistlePig 15 Year Rye. Hence, you must be careful in trying it with nuts. When serving this drink with nuts, go for heavily roasted and sweet ones, like walnuts, peanuts, pecans, cashew nuts, and pistachios.
Bitter dishes: This Canadian liquor is an excellent combination of bitter pairings, including dark chocolate and strong cheeses.
Snacks: What is rye whiskey without snacks? It may be controversial to pair it with snacks because whiskey is choosey sometimes. However, rye chips, sesame sticks, pretzels, crackers, etc., can perform the wonders you ignore.
WhistlePig 15 Year Rye Related Drinks
While WhistlePig 15 Year Straight Rye, can never be for everyone. So, if you fall under the category of those who do not fancy it, what should you do? Well, we have helped you figure it out. The best solution is to go for alternatives likely to give you the same experience. You can choose from the following:
Evan Williams 12 Year Bourbon: This bourbon is among the finest from the market. Even if you are not a fan, chances are you know someone who knows someone that can't resist a glass. Most local watering holes sell it in bottles or on tap, and that is because it is nice stuff.
Having a fragrant, rich, and dark aromatic note stands it out. The bourbon flavors swirl around the tongue, dancing through the palate and releasing a great mouthfeel. The unique taste of its rich and robust character is matchless.
Joseph Magnus Cigar Blend Batch 13: This DC-based distillery, a variation of the phrase, 'Magnus Dominus,' meaning 'To Lord Great One,' releases a batch of this whiskey yearly. This batch is available throughout the US with a dark and rich aroma and notes of dried dates, vanilla, honey, orange extract, and candied ginger. The flavor is crazy, with a smokiness loaded with dark chocolate, coffee, geranium, cinnamon, and orange peel.
Manifest Rye (Batch 4): The distillery producing Manifest Rye Batch 4 uses locally grown organic rye grain. The presence of wheat in this drink adds some spiciness and balances out the sweetness of the rye. They are also careful in adding wheat because of its delicateness and ability to impart unwanted flavors.
Give this drink a shot if you want a drink that surprises your palate without sacrificing complexity. It boasts a rich and bright flavor on the nose. Vanilla, wood, and grain lead the way, while orange, pear, and banana tag along.
Frequently Asked Questions – WhistlePig 15 Year Straight Rye
Is WhistlePig 15 Year Rye expensive?
This rye whiskey is well worth the money if you appreciate valuable drinks. Although most rye whiskeys are less than $50, WhistlePig decided to raise the bar and set the price of its 15 Year Straight Rye at $200. Never worry; the flavor is there to give you the value of the money back.
Does WhistlePig 15 Year Straight Rye increase in value?
Generally, good drinks are valued as people get to know them. WhistlePig 15 Year Rye is not left out. Being a high-end whiskey, it is produced from 100% rye grain and aged in hand-selected white oak barrels. The price may be high, but if you
Is WhistlePig a good rye whiskey?
If you appreciate rye spice, you will love it. It can be taken neat if you want to get the flavors as they are. However, taking it straight helps to tone down the flavor or proof. Besides, the flavor complexity and depth are to be appreciated. Only expensive bourbon comes prepared this way.
Also Read: Ciroc Passion Vodka Review
Cheers!
Age is an essential aspect of the maturation of a whiskey. However, there is more to look out for. When you drink the WhistlePig 15 Year Straight Rye, you will discover how masterfully the flavor has been crafted.