This refreshing drink is a fresh approach to iced tea. It is crafted with sustainability in mind while delivering the right sweetness and tartness iced teas are known for. White Claw Refrshr Iced Tea is a refreshing drink in four flavors: peach, lemon, mango, and strawberry.
But it is not just an iced tea, but a hard seltzer with fruit and iced tea flavors. Hard seltzers are produced in the United States of America by a few companies.
In this White Claw Refrshr Iced Tea review, we would look at why the White Claw Refrshr Iced Tea is gaining popularity even outside the country.
Let's begin!
Value for Price

Mixability

Sippability
⇒ Fun Facts ⇐
| Name: | White Claw Refrshr Iced Tea |
| --- | --- |
| Brand: | White Claw |
| Country: | United States |
| Beer Style: | Hard Seltzer |
| Beer Type: | Seltzers & Flavored Beverages |
| ABV: | 5% |
Brand History
White Claw Refrshr Iced Tea is produced and marketed by Mark Anthony Brewing, the fourth largest brewing company in the US. This drink was created in 2016 by Vancouver wine salesperson and alcoholic beverage celebrity Anthony von Mandl. Its popularity rose like wildfire in the American market only after 2019, when it became a staple for alcohol drinkers.
The brand's success will also be attributed to its vast social media presence, with over 100,000 tagged Instagram posts and viral videos by comedian Trevor Wallace. They coined a popular saying that helped it go viral, tagged, "Ain't no laws when you're drinking Claws!"
Another contributor to White Claw's hard seltzer's commercial success among Gen Z is its gluten-free, low calorie-formula. The brand currently provides 11 classic flavors, four tea-inspired flavors, and two White Claw Surge flavors. The brand is committed to growing and innovating, while focusing on consumer retention. Moreover, it has various production facilities across the country, with an investment of $385 million in 2020 in two cutting-edge facilities in New Jersey and Arizona. All thanks go to Anthony von Mandl's efforts to make the company a star brand.
White Claw Refrshr Iced Tea Review
In case you are wondering, White Claw Refrshr Iced Tea is a hard seltzer iced tea created with sustainably sourced brewed tea and the finest flavors. The aim is the deliver a wave of pure refreshment while bringing innovation to the industry. Combining hard seltzer with tea is an inventive way of satisfying hard seltzer fans and tea lovers alike using one product.
It comes in a 12-can variety pack with four tea flavors peach, mango, lemon, and strawberry. Each of the cans contains 5.0% alcohol, 100 calories, and one gram of carbs and sugar. Moreover, the price is around $19 per pack. Isn't it something to be excited about? Below are their details:
White Claw Refrshr Iced Tea Peach: This balances authentic brewed iced tea and a ripe peach flavor, leaving you with a refreshing taste. It is perfect for a summer picnic, barbecue hangout, and fireworks by the lake. A glass of White Claw Refrshr Iced Tea Peach delivers all the vibes of summer and is a staple in most homes and eateries. It is refreshing to know that hard seltzer enthusiasts can join the fun in beating the heat and rejuvenating a boring day.
In addition, this drink ranks top among flavorful hard seltzers with its natural flavor blend. As you sip, you will savor the juicy peach flavor, which leaves a lingering aftertaste in your mouth. Aside from that, the nose is filled with delicious aromas of iced tea and peach, alluring your palate to try it. The moment you crack it open, you will experience a gush of brightness, making your day eventful.
With its low alcohol content and calorie count, White Claw Refrshr Iced Tea Peach is ideal for introducing to your party. It is also an incredible choice when you want to sit alone on the balcony to reminisce about life.
White Claw Refrshr Iced Tea Mango: This brings the vibes of a perfect balance of authentic, freshly brewed black tea and ripe tropical mango flavors. The gentle and stimulating taste of this blend makes a relaxing day. When you combine it with a hard seltzer, another American staple, you will find the whole country running to your doorstep. Hence, you will find tropical fruit, tea, and hard seltzer in one can, which White Claw aims to bring.
The nose opens with a sweet mango aroma, with the tea coming through in the background. The aroma leads the way to the palate, with notes of mango overshadowing the iced tea. This also leads to a lingering finish, with the mango dominating. By the way, the sweet mango attracts people to it. However, you should not be carried away because it may get tiring as you sip.
If you want to enjoy a solitary moment, you will have this White Claw Refrshr Iced Tea Mango to be grateful to. It can still serve as a great party companion with friends and family. The low calories, alcohol, and carbs give you little option to say no. Just take it one sip at a time until the last drop.
White Claw Refrshr Iced Tea Lemon: This is another irresistible option from the stables of White Claw. It combines authentic brewed iced tea with lemon juice to give sweet and tart refreshment. A trip to the beach on a warm summer afternoon will be rewarded with a can of this drink in your hand. Imagine the excitement of drinking an iced tea or a hard seltzer. Now, imagine that both flavors are brought together with a lemon flavor. All three flavors are everyone's favorites.
The aroma is usually the first attraction to this drink once you pop it open. It brings the vibes of a good old-fashioned Lipton Iced Tea to the show. It invites you to take a sip, which spikes the palate with memories of the olden day's summer drinks in Mom's kitchen. However, White Claw Refrshr Iced Tea Lemon is unsweetened tea. The lemon flavor remains in the background, but not without urging you to take another sip.
White Claw Refrshr Iced Tea Strawberry: This brings the authentic taste of brewed tea and ripe strawberry notes to your palate. It brings the right balance between sweetness and tartness, leaving you with a clean and smooth finish. We all love strawberries; at least many of us do. Here you are, with your favorite fruit flavor in a carbonated mixture of hard seltzer and iced tea. This offers an easy sipping experience for your summer days.
White Claw Refrshr Iced Tea Strawberry offers a natural flavor and is made with purified carbonated water and cane sugar, strawberry juice concentrate, alcohol, and natural flavors. The flavor is crisp and semi-sweet. Besides, it can fit the bill and make a great party appearance as you share the fun with your friends.
Also Read: Ole Smoky Moonshine Pineapple Review
Pros and Cons
White Claw Refrshr Iced Tea is among the top in the market, offering natural fruit, iced tea, and hard seltzer flavors in one sip. The pros and cons below will help you to understand this drink you are about to pop open:
Pros
Balanced flavor: Each sip of these drinks offers a nicely balanced authentic fruit flavor with a good level of sweetness. They are full-bodied, full-flavored, and more enjoyable than most hard seltzers.
Good choice: Those who want to limit their alcohol, carbs, and calorie intake may want to go for this drink. It is a great option, and sipping it slowly may help you not to go overboard.
Beer option: Hard seltzers are similar to light beers. Since they have lower alcohol content, they can serve instead of beers. If you want a healthier alcohol option to give you the sensation, yet not overdo it, White Claw Refrshr Iced Tea is perfect.
Perfect for all seasons: Whether you want to walk down the beach with friends during summer or camp around the fireplace during winter, a can of this drink will make a great time. It will help to keep the conversation going while enjoying the moment.
Cons
Not nutritious: No matter how we want to paint it, hard seltzers do not have any nutritional value. This could also mean that they are not healthy. So, you need to drink it minimally and get the proper nutrients from natural fruit flavors.
May knock you down: This drink contains a light taste, which may prod you to take more than adequate. The fewer calories and no sugar make it easily digestible. If care is not taken, you may get intoxicated faster.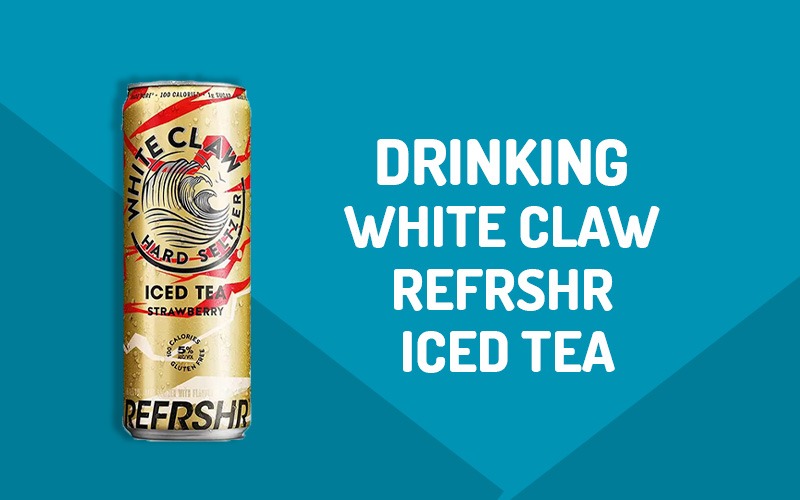 How Best Is White Claw Refrshr Iced Tea Served?
It is best served chilled to derive the fun. You can sip it from the can straightaway. But if you want to pour it into a glass, we recommend serving it over ice.
Perfect Pairings With White Claw Refrshr Iced Tea
Several dishes can pair with White Claw Refrshr Iced Tea. If you are looking for a perfect meal to enjoy your drink over dinner, here are some examples:
Chips and dip: If you are having a casual party or family dinner, you can opt for chips and dip. Consider Mexican-style layered dip with guacamole and tomato salsa. The mild flavor of this hard seltzer will combine with the spiciness of the dip.
Sausage rolls: Everyone loves sausage rolls. You can easily pair it with your favorite White Claw Iced Tea if you want something to snack on. Other homemade snacks will also go.
Fish or chicken: Try any fish or chicken recipe with your favorite White Claw hard seltzer, especially the lemon flavor. The richness of the fish will pair brilliantly with the citrus in the drink seltzer.
Popular Related drinks
Numerous hard seltzers are out there, with diverse flavors to scintillate the taste buds. White Claw also produces them in different flavors. So, you have more options than the Iced Tea hard seltzers. If you are looking for a variety of options, try the following:
White Claw Refresher Blood Orange with a Hint of Raspberry: This flavor combination is unique. Blood oranges are uncommon, and their sweetness is more robust than an orange. They naturally have tart cherry and raspberry flavors infused in them. This is why White Claw took the opportunity to combine blood orange and a hint of raspberry to produce a unique hard seltzer. It is an ideal party drink.
White Claw Refresher Blackberry with a Hint of Red Cherry: blackberries pair well with lemonades, which are close to cherries. White Claws capitalized upon this combination to bring out something for its fans. Lemonade is the pronounced flavor of this hard seltzer. The blackberry flavor with a hint of cherry is light and harmonizes the lemonade. However, the sweetness could be made more noticeable. Hence, if you want a fruit-inspired flavor that is less sweet, you will love this drink.
White Claw Surf Citrus Yuzu Smash: Yuzu fruit is not popular. They are grown in Japan and have a citrusy flavor. You will love to taste it, although it boasts a tart and sour taste. White Claw infused it into their hard seltzer for a unique outcome. It is pure and delicious in a can and will make your summer evening fantastic. Its citrus aroma is manageable. Each sip leaves a lemony taste that pushes for more. Finally, the finish is minty, leaving the palate with a cool impression.
Frequently Asked Questions – White Claw Refrshr Iced Tea
Can you get drunk on white claws?
White Claws contain only 5.0% alcohol, which is too small to get you drunk. However, you may get drunk if you drink many cans at once.
What kind of alcohol is in white claw?
White Claw is a malt beverage made from seltzer water, gluten-free alcohol, and fruit flavor. It is manufactured from cane sugar, an ingredient in several alcoholic drinks.
Is white claw-like beer?
For a drink to be considered a beer, it must have water, malt, yeast, and hops, according to the German Purity Law of 1516. However, White Claws has every other ingredient except hops. That means it is not a beer.
How much alcohol is in a White Claw?
Generally, White Claws contain 5.0% ABV. That means for each ounce you consume, you are taking in 0.05 ounces of alcohol.
Also Read: Dos Artes Extra Anejo Special Rsrv Review
Cheers!
White Claw Refrshr Iced Tea is a drink for all occasions. It does not overwhelm the palate, and the alcohol content is mild. You can go for a pack if you want a summer drink to accompany your occasion. Moreover, each pack has four distinct flavors.