With its bright red-to-crimson color, 19 Crimes Cabernet Sauvignon makes a great party companion. It is a fantastic drink that transports your taste buds to another realm of pleasure. Knowing a few things about it is not wrong, and here is the one question everyone is asking, "Where is this drink made?"
19 Crimes Cabernet Sauvignon is not just a wine; a glass is filled with an amazing history. Dated back to 1788, it is a product of the Australian Cabernet Sauvignon. This cabernet sauvignon is sourced from the Margaret River in Western Australia, near Perth and Coonawarra on South Australia's Limestone Coast.
This Crimes Cabernet Sauvignon Review looks at everything you need to know about 19 Crimes Cabernet Sauvignon and why it stands out amongst wines.
Let's get started!
Value for Price

Mixability

Sippability
⇒ Fun Facts ⇐
| Name: |  19 Crimes Cabernet Sauvignon |
| --- | --- |
| Brand: |  19 Crimes/strong> |
| Country: | Australia |
| Wine Style: | Cabernet Sauvignon |
| Wine Type: | Red Wine |
| ABV: | 14% |
Brand History
It is believed that 19 Crimes Cabernet Sauvignon originated from the tales of Nineteen Crimes turned into Colonists. Upon conviction, British rogues, who were guilty of one of the 19 crimes, were sentenced to live in Australia instead of death. They were to banish through transportation, which began in 1788.
While many died on the way, the tough ones made it to their destination. A new world awaited them at the shore, and that was how they started a new country from scratch. This wine, 19 Crimes Cabernet Sauvignon, is created to celebrate the rules they broke and the culture they built. It is imported and bottled by TWE Imports in Sonoma, California.
Besides, you will always recognize this wine by its labeling, which depicts criminals from the past and the history they portray. It embodies a spirit of rebellion, creativity, and innovation. 19 Crimes Cabernet Sauvignon is a delight to sip and proudly of Australian origin. If you have yet to taste it, you are missing a significant time. Keep reading to learn more about this fabulous wine.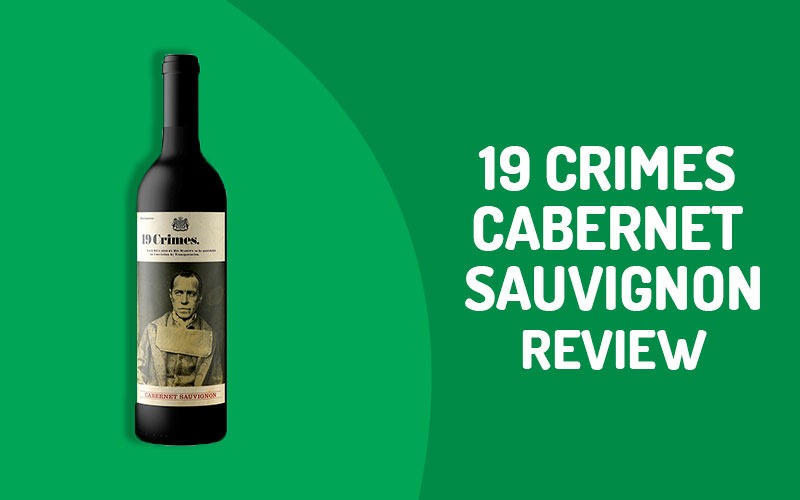 19 Crimes Cabernet Sauvignon Review
Category: This wine is of the cabernet sauvignon family, which has existed several years in California, Australia, Canada, France, Spain, and other countries. It is the most widely recognized grape varietal used in producing wine. Classic wines from cabernet sauvignon are full-bodied with high tannins and acidity that contribute to the wine's aging ability.
Nose: A little burst of strawberry opens 19 Crimes Cabernet Sauvignon. After pouring it, the nose turned to robust medium aromas of red fruits, spice, and leather, with a mild whiff of alcohol. It is not excessively complex on the nose, but you will like it.
Taste: The aromatic red fruits (red currant and cherry) carried on to the palate with a hint of vanilla sweetness and chocolate.
Appearance: This delicious wine is dark crimson when poured into the glass. Its legs were wide and slow to fall, and only a little light could shine through.
Alcohol: 19 Crimes Cabernet Sauvignon is bottled at 13.5% of alcohol by volume.
Mouthfeel and tannins: This wine provides a juicy and well-balanced mouthfeel with fine tannins. Besides, the tannins are not bitter but offer a smooth texture.
Finish: Its soft tannins lead to a long finish with the flavors tagging.
Corks: 19 Crimes Cabernet Sauvignon has 19 corks randomly allocated to each bottle. The name of the crime is imprinted on the side. So, enjoy the adventure of uncorking your bottle and discovering the crime on it.
Price: The suggested retail price of this wine is $10, which is a reasonable bargain for the quality.
Also Read: Golden Road Mango Cart Beer Review
Pros and Cons
Someone may want to know if 19 Crimes Cabernet Sauvignon is a good wine, while others may not bother. Here is what we think about it:
Pros
Good sipping: This wine is light, almost like Pinot Noir, with some Zinfandel sweetness. Whichever way it tastes, it does not take away its cabernet sauvignon nature. It is good to sip, and you will like it.
Rich mouthfeel: It is firm and full on the palate, with a light sweetness, giving a rich mouthfeel. The soft tannins also provide a lingering finish as the red fruits fill the mouth. You will enjoy everything about it.
Fun story: The fun story behind the 19 Crimes makes it an adventurous drink. There are 19 corks; you can only tell your bottle's number once you uncork it. It is something to look forward to.
Mild on the wallet: It offers great value for your money, and you won't regret buying it. It is excellent for all occasions, making this weekend a reasonable option for your cart.
Cons
There is nothing negative about this drink. Even the reviews by other drinkers show that it is not one of those drinks that you won't like to taste again.
How Best Is 19 Crimes Cabernet Sauvignon Served?
It is necessary to serve cabs appropriately. Thus, opening the bottle one to three hours before serving it will be great. Whether you served it at room temperature or a little chilled does not matter.
Perfect Pairings for 19 Crimes Cabernet Sauvignon
Pairing wine and food is an age-long tradition. Some foods highlight the wine's flavor, thereby inciting the taste buds. 19 Crimes Cabernet Sauvignon is a bold wine with robust flavors.
Pair it with lightly seasoned roasted meats or food because heavily seasoned ones could overpower the flavors of this drink. However, you may try it with some bold flavors and be pleasantly surprised. If you do so, ensure the food is richer to cut through the wine. The following dishes can go:
Pasta dish: classic appetizers like pasta with veal ragu, mushrooms, grilled veggies, and onions will make a perfect pair. Although the dish has a strong flavor, it does not overshadow this drink's.
Meats: Have you tried a juicy steak with a glass of red wine before? There is a reason they always go together. The higher level of fatty protein in the meat helps to coat the mouth as you bite it. Sipping 19 Crimes Cabernet Sauvignon, with its high acidity and tannins, will cut through the fatty coating and give you a delicious bite. Roasted lamb is a great option here.
Burger: Although a burger is usually the last option for pairing wines and food, it is something to consider. A good, homemade burger will perform the same duty as a steak. So, why not pair it with your glass of 19 Crimes Cabernet Sauvignon? Remember that a medium-rare temperature is best in preparing this burger to retain the juicy flavor.
Portobello Mushrooms: If you don't like meats or you are a vegan or vegetarian, you may choose the option of portobello mushrooms. You could bake, stuff, or grill it; whichever way, you will always enjoy it with cabs. Don't forget to top it with butter, cheese, and garlic.
Cheese: You may want to stay away from soft cheeses. However, hard cheeses like gorgonzola, gouda, or cheddar will steal the show. Whether making a cheese dish or topping it to a burger, you will appreciate the delectable pairing.
Popular Related Drinks
19 Crimes Snoop Dogg Cali Red Blend: Sold at $15, this wine is worth adding to your cart. The brand collaborated with the popular entertainment icon Snoop Dogg, who has been in the industry for a long time. This is a California red wine blend with black and blue fruit notes from Petit Sirah, complemented by bright red, candied fruit from Zinfandel. The flavor is climaxed by darkly toasted oak, which leads to a lightly sweet finish. This Cali Red Wine will go well with meaty dishes, cheeses, and hearty stews.
19 Crimes Snoop Dogg Cali Rosé: This is another one from the collaboration of the pop star Snoop Dogg. It contains 10.5% alcohol, is light-bodied, and comes in bright pink. The nose has notes of ripe strawberry, floral, and rose petals. You will get fruit-forward notes of fresh strawberry, red cherry, and raspberry on the palate. Besides, the mouthfeel is fabulous and balanced by acidity and sweetness. 19 Crimes Snoop Dogg Cali Rosé contains a blend of 75% Zinfandel, 20% Grenache, and 5% Pinot Noir. Pair it with barbecued meats for a delicious experience.
19 Crimes Uprising Red: This drink is aged 30 days in rum barrels and bottled in a 750 ml bottles and 375 ml cans. It is an Australian wine, full and round on the palate, with a characteristic sweetness that makes it rich. The mouthfeel is excellent with intense caramel, mocha, and sweet spice aromas, balanced with a blackberry and raspberry finish.
Frequently Asked Questions – 19 Crimes Cabernet Sauvignon
Is 19 Crimes Cabernet Sauvignon a sweet wine?
No, it is not sweet. Instead, it is a dry wine. Dry wines contain less than 15g per liter.
How many calories are in a glass of 19 Crimes Cabernet Sauvignon?
A five-ounce glass of this wine contains around 120 to 130 calories. Typically, alcohol contains seven calories per gram. Sugar also contributes to the calorie count. As a dry wine, 19 Crimes Cabernet Sauvignon has four calories per gram of carbs, with its sugar component.
Also Read: 400 Conejos Joven Oaxaca Mezcal Review
Cheers!
19 Crimes Cabernet Sauvignon is a great wine, ideal for casual occasions. Its price offers a good value for your money, and its flavor makes a great pair with meats, veggies, and cheeses.