To relax after a great day, people sip a glass of wine on the patio or any other convenience, enjoying conversations and laughter. If you are looking for wine to start a conversation or make memories, look no further than Barefoot Fruitscato Strawberry Wine.
Fruit wines are derived from fruits other than grapes, including cherries, berries, pears, and apples. But this is rightly flavored with your beloved strawberry to tantalize your taste buds.
You will enjoy every bit of it as we unveil more about this amazing Barefoot Fruitscato Strawberry Wine review in this article.
So, let's get sipping!
Value for Price

Mixability

Sippability
⇒ Fun Facts ⇐
| Name: | Barefoot Fruitscato Strawberry Wine |
| --- | --- |
| Brand: | Barefoot |
| Country: | California |
| Wine Style: | Muscat/Moscato |
| Wine Type: | White Wine |
| ABV: | 5.5% |
Brand History
Barefoot, no doubt, is one of the top winemakers in the US. They march to the beat of their own grapes, becoming the world's most-love wine brand. The brand debuted in 1965 when California winemaker Davis Bynum first produced Barefoot Bynum Burgundy in his garage. He processed it through the crude method of processing wine bare, crushing the grapes barefoot.
Moving forward to 1986, things started better with Michael Houlihan and Bonnie Harvey taking over the company and renaming it Barefoot Cellars. This began their success story, as it provided the blueprint for their unique wines today. Winemaker Jen Wall joined the team in 1995, helping Barefoot to move from offering only four wines to having more than 30 in the US and more than 10 in the UK. Each of the wines is individually branded and labeled. In 2005, Barefoot reached around six continents with their products. This global impact has helped in shaping the brand and making it famous.
Aside from the flavored wines, Barefoot Cellar produces other drinks, including hard seltzers and spritzers. Cabernet sauvignon, pinot grigio, and moscato are other wine variants they produce. They are not just wine but are made from premium-quality grapes sourced from California.
They give the perfect balance on the nose and palate. Barefoot believes that drinking wine should be easy and fun and that there is a wine for every occasion. So, whether you are a wine connoisseur or an occasional drinker, the company has something unique for you.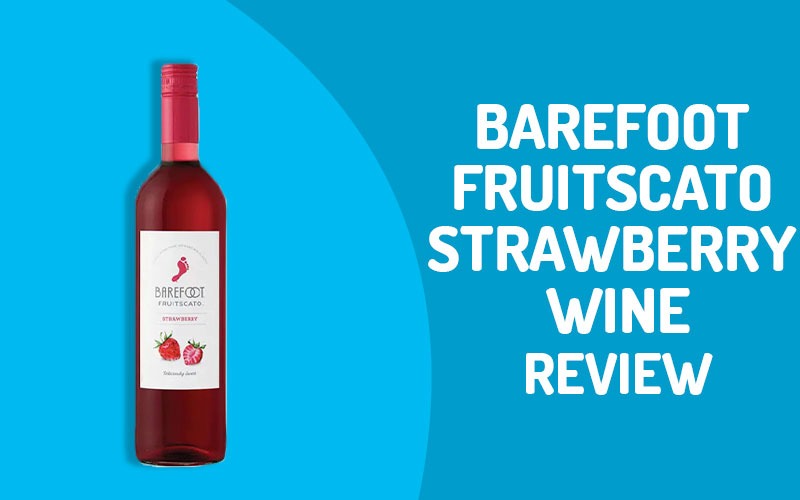 Barefoot Fruitscato Strawberry Wine Review
Barefoot Fruitscato Strawberry Wine is deliciously refreshing and perfect for any occasion. It is a fruit wine that entices the nose and palate with its inviting flavor. This light-bodied wine is made with a combination of strawberry, pear, and peach flavors, delivering a unique flavor profile. See more about this fruit wine and consider it for your next wine party:
Category: Fruit wines are mostly flavored to preserve the flavors and colors of the fruits used. They are also high in acidity and must be diluted with water and sugar added during fermentation. Many of them sold commercially have around 12% alcohol. But if they are fortified with brandy, their alcohol content may shoot up to 20%.
Nose: The aroma of Barefoot Strawberry wine is a mix of sweet strawberries and ripe peaches.
Taste: On the palate, you will enjoy a blend of delightfully sweet and tart flavors from the fruits it is made from.
Finish: The finish is downy and crisp, with a hint of lingering sweetness.
Alcohol content: This wine contains 6.5% alcohol by volume. It is a soft drink that may not easily booze you.
Price: Each bottle of Barefoot Strawberry wine costs $6, as a suggested retailer price.
Also Read: Skelly Tequila Anejo Review
Pros and Cons
Before gulping this delightful wine with sweet and tart notes, you may want to know why you deserve it. Check out the following:
Pros
Perfect pairing: Barefoot Fruitscato Strawberry Wine combines with many dishes, including salad, grilled meats, and desserts. It also gives you dessert wine or aperitif vibes.
Perfect for summer: Barefoot Fruitscato makes a great summer drink when served chilled. If you want an ideal drink to cool off on a hot summer day, it will make a great addition to the picnic basket.
Easy to drink: All Barefoot products are fun and easy to drink. With little alcohol content, you can sip for fun, especially when paired with your favorite dish.
Cons
There is no way you won't love this wine. It has something to look forward to, from the container to the content. Hence, we do not have any negative experiences to share.
How Best Is Barefoot Fruitscato Strawberry Wine Served?
You can take Barefoot Fruitscato Strawberry neat or over ice. Before serving it neat, you can chill if you want something cool for the summer heat. Also, doing so is best because relaxing the drink before serving mellows its sweetness to bring out the flavors. So, go ahead and serve your guests a cold Barefoot Strawberry Fruitscato.
Try not to let it become too cold. However, if there is nothing else you can do, it is better than serving it warmly.
In addition, if you want to enjoy it over ice, you can throw in a few ice cubes and stir it a little. Don't put too much to avoid the ice melting and affecting the flavor. Anyhow you want it, it is refreshing, serving this strawberry-flavored drink to your guests or relaxing on the couch with a cold glass.
Perfect Pairings with Barefoot Fruitscato Strawberry Wine
If you are searching for an ideal food to combine with your fruitscato wine at your next party, we have helped you to research them. Picture a beautiful summer evening by the poolside with a glass of this brilliant blend of sweet and fruity wine. It needs food to complete the experience. Here, we bring you our best options:
Strawberry cheesecake: A hearty slice of strawberry cheesecake, fresh berries, and cream with a glass of Barefoot Strawberry wine is heavenly. Their flavors are complementary, no doubt. Your palate won't be grateful enough, especially if the wine is chilled.
Seafood and veggie dishes: If you have a fillet of zesty lemon salmon or cheesy vegetable lasagna, make it a great pair with strawberry fruitscato. This innovative fruit drink gives you the nod you desire as you sip it and bite the food.
Burgers: When looking for the perfect food for your bottle of this exclusive wine, grab a bite or burger and enjoy the flavor combination. Both make an ideal companion on a summer picnic with friends. Once you have it, the conversation begins. But you don't wait for summer to have fun. Why not enjoy a discussion by the fire on a cold winter while getting your mouth busy with this flavor combination?
Creamy desserts and fruit tarts: When it comes to fruitscato, you must understand that they will do well with food or fruits with underlying flavors. However, avoid cakes because their sugary flavors may overwhelm this wine.
Chinese food: With their aromatic and spicy flavor, Chinese foods can be in the show. The sweet taste of this fruitscato will control the spicy and savory flavors of the food to give you what you crave.
Lighter meat: Although savory meat will blend well with Barefoot Strawberry Fruitscato, lighter ones will also be perfect. Try it with chicken, pork, or fish.
Popular Related Drinks
Barefoot Cellar has numerous extraordinary wines for you to choose from. So, you don't have any excuse not to have fun this coming summer as you pick each bottle from the bar. Look up the store; there is something for everyone. The flavors encompass market needs, and you won't go wrong with them.
Barefoot Fruitscato Sweet Peach Moscato: It is a naturally flavored sweet wine with ripe peaches that costs around $6. As you raise the glass, this drink scintillates the nose with a blend of peach, honeysuckle, watermelon, and apricot aromas. Barefoot Fruitscato Peach is a wine for everyone, releasing curiosity and a warm ambiance wherever it is shared. The bottle has an easy-to-open screw that lets you pop and pour without restraints. Always refrigerate it after opening it to preserve the flavor profile and keep it fresh.
Barefoot Fruitscato Sweet Apple Moscato: This outstanding sweet wine has natural crisp and juicy apple flavor. It is an explosion of flavors from summer apples. Barefoot Apple Fruitscato is perfect for fruit dishes and desserts. It is not sickeningly sweet, and the apple flavor is not overwhelming.
Frequently Asked Questions – Barefoot Fruitscato Strawberry Wine
What does Barefoot Fruitscato Strawberry taste like?
It has a fruity aroma with peach, pear, and strawberry notes. The taste is incredible, combining sweet and tart flavors, leading to a velvety and crisp finish.
Is Barefoot Strawberry Fruitscato sweet?
Barefoot Strawberry Fruitscato is a pleasantly sweet wine with the natural flavors of luscious, ripe strawberries.
How much alcohol is in Barefoot Fruitscato Strawberry wine?
This drink contains only 6.5% ABV. This makes it a soft drink for the evening.
What Barefoot wine is the sweetest?
Barefoot Strawberry Fruitscato is the sweetest. It is packed with fresh aromas and tastes of peach, strawberry, and pear, leaving you with a refreshing feeling.
Also Read: Shock Top Twisted Pretzel Wheat Review
Cheers!
Barefoot Fruitscato Strawberry Wine is for everyone. It is the wine of the moment, bringing good vibes to the party. It pairs with deliciously prepared meals and is perfect for soaking up the cool summer breeze.