Growing up, you could recollect how summer tea was a staple in the home, with its classic flavors that are hard to forget. Now those flavors have been infused in modern alcoholic drinks, of which Bud Light Seltzer Iced Tea Variety Pack is one.
Bud Light, a New York-based company, is a trusted seltzer manufacturer, and the maker of Bud Light Seltzer Iced Tea that brings that nostalgic taste to your glass.
In this Bud Light Seltzer Iced Tea Review, we bring you everything you need to know about its Iced Tea Variety Pack including why it is gaining traction.
Let's begin!
Value for Price

Mixability

Sippability
⇒ Fun Facts ⇐
| Name: | Bud Light Seltzer Iced Tea |
| --- | --- |
| Brand: | Bud Light |
| Country: | United States |
| Beer Style: | Hard Seltzer |
| Beer Type: | Seltzers & Flavored Beverages |
| ABV: | 5% |
Brand History
In a bid to innovate and bring flavors that are more acceptable to the market, Bud Light was established. As a budding brand, it wants to give the fans a drink that fits their lifestyle, so the Bud Light Seltzer Iced Tea variety pack was introduced. Anheuser-Busch manufactures the drink, though it is not their first. In 2017, they released The Best Damn Sweet Tea.
Besides, hard iced tea is familiar to the country. Boston Beer Company, the owners of Truly Hard Seltzer, introduced Twisted Tea in 2001 and was welcomed with open arms. Other drinks from A-B include Bud Light Seltzer, Bud Light Seltzer Lemonade, Bon V!V, Natty Seltzer, and Michelob Ultra Seltzer. There is much to derive from these packs as you crack each can open.
Bud Light Seltzer Iced Tea Review
The Bud Light Seltzer Iced Tea variety pack features four classic summer flavors: Peach, Raspberry, Apple, and Tangerine flavors. The peach flavor is sold in 25-ounce single cans, while the others are sold in 12-ounce slim cans in 12 variety packs. Each 12-ounce slim can contain 100 calories, two carbs, one gram of sugar, and 5.0% alcohol. They are reasons to expect the next summer because they are convenient to hold and make great companions.
This new variety pack is made with cane sugar and natural flavors. Here are what to expect from each of them:
Bud Light Seltzer Peach Iced Tea: Packed with a blend of peach and stonefruit flavors to treat your palates to two iconic Southern favorites. The aroma leads with ripe Georgia peach, which builds to a vanilla peach-tea peak. The peach leads on the palate, while the iced tea is relegated to the background. Next, the taste faints with freshly brewed tea, which finishes with stevia sweetener, sliced peach tea wedge, and iced tea notes.
Bud Light Seltzer Raspberry Iced Tea: Packed with refreshing raspberry flavor, this hard seltzer scintillates the palate until it calls for more. Besides, the aroma opens with freshly picked raspberry. The palate joins with stevia-sweetened strawberry and freshly brewed tea, which build to a raspberry jam peak. Then, it fades with iced tea and finishes with a Swedish fish flavor. The palate is left with a bittersweet tealeaf and stevia taste.
Bud Light Seltzer Tangerine Iced Tea: This brings a new twist to Grandma's traditional recipe. The nose opens with freshly peeled tangerine. If left a little longer in the glass, it elicits the iced tea notes. On the palate, sweet tangerine enters and builds to a juicy mandarin orange peak, which fades with iced tea. Then, the finish is bright tangerine that leaves candied tangerine and a slight iced tea aftertaste.
Bud Light Seltzer Apple Iced Tea: This authentic American beverage has a juicy apple flavor. It opens the nose with Motts Apple Juice. Lipton Iced Tea flavor joins this juice on the palate, which builds to a Snapple Iced Tea peak. The taste goes down with stevia-sweetened apple while finishing with tealeaf and stevia aftertaste.
Also Read: Herradura Legend Review (Is it Good?)
Pros and Cons
While Bud Light Seltzer focuses on innovation and bringing new tastes to the market, not everyone will appreciate the flavor. However, you will enjoy mixing the flavors to match the fun. Check out the pros and cons before proceeding:
Pros
Perfect for summer: This drink is an excellent option if you are looking for a hard seltzer to share with your friends this summer. You can enjoy it on a beach, BBQ, or poolside party.
Easy sipping: Bud Light Seltzer Iced Tea is a great companion and easy to crack open and sip. With little alcohol content, it does not easily knock down. Hence, you can drink as many as you want.
Refreshing when cold: The flavors are excellent if you drink them cold. If you like hard seltzer, you are going to like them. It delivers the most refreshing taste possible.
Does not contain hops: Some people are allergic to hops, and this drink is free from it. For that reason, many will opt for it as their favorite.
Can shape: The can has a fantastic shape that can fit into your hand. So, you are less likely to feel anything while holding it. This makes it easier to sip it while walking along the mall on a Sunday evening.
Cons
Not everyone is cool with iced tea: Even though the flavor combinations are great, iced tea is yet to register its presence in people's minds. Some people will only choose an iced tea flavor if that is the only option left.
Tastes like a cocktail: The tastes are more like a cocktail made with fruit flavors than hard seltzers. If you don't mind the taste, you are good to go. If not, you may want a replacement.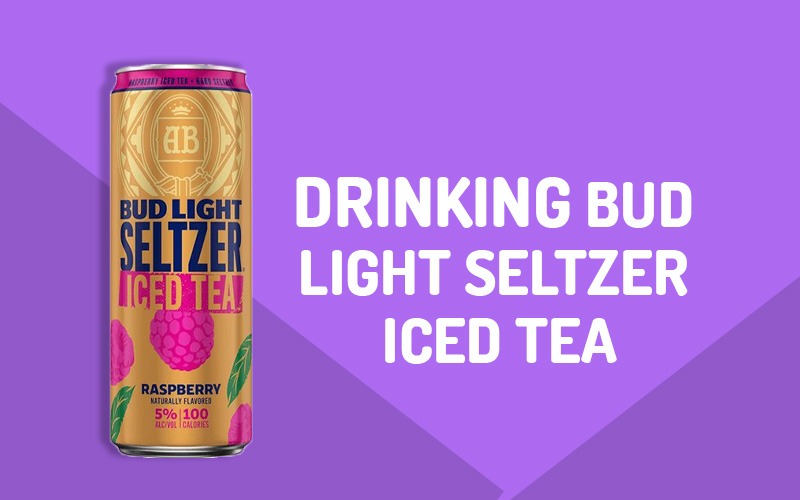 Perfect Pairings with Bud Light Seltzer Iced Tea
Hard seltzers can pair with various food flavors, likewise iced tea. If you are considering drinking your Bud Light Seltzer Iced Tea with any food, the following options are terrific:
Fresh fish: When combined with a light salad, fresh fish will mix well with your favorite hard seltzer. The citrus undertone of the fish seasoning will combine with the fruity flavors of the drink to entice your palate. Try it with the Bud Light Seltzer Tangerine Iced Tea.
Cheese: Mozzarella, burrata, and halloumi are popular cheeses that pair well with hard seltzers. They compliment the fruity notes of these drinks to give you something to reminisce about. You can add summer salad for a more refreshing outcome. The tangerine-flavored iced tea will be perfect.
Spicy, earthy, sweet, and sour food: Asian stir-fries, stuffed Portobello mushrooms, wild mushroom risotto, and oily fish will be perfect for berry-flavored hard seltzers. So, try them with Bud Light Seltzer Raspberry Iced Tea. But they will be fabulous on other flavors.
Chicken and BBQ: Try this drink with bold-flavored food like barbecued chicken and other meats. The smoky taste of the meat will add great flavors to your hard seltzer. Apple and peach flavors will go well with these foods, mainly because combining them with food is difficult. Asian cuisine will also be delicious on hard seltzers.
Popular Related Drinks
Bud Light is a versatile company with many flavored hard seltzers that are gaining footing in the market. Many people are at home with the drinks, and you will enjoy it, too. Here are some of them:
Bud Light Seltzer Classic Cola Hard Soda: This rich, dark-flavored hard seltzer from classic soda is hard to separate from a non-alcoholic cola. It looks like Coke or Pepsi, even the smell is that way. You won't even get a hint of alcohol in the aroma. Bud Light Classic Cola is cool looking and bubble-infused. Besides, it is super-sweet tasting and gluten-free, not high in calories and carbs, has no sugar, and has only 5.0% alcohol.
Bud Light Seltzer Orange Hard Soda: Orange soda was first invented in 1906 by J.M. Thompson of Chicago. The drink was Orange Crush, which stayed in the market long. Combining orange soda and hard seltzer is a natural thing, and Bud Light discovered this secret, which makes it one of the most irresistible hard seltzers you can find.
In addition, it contains a vibrant orange color with orange sweetness and aroma dominating the air. You won't get the scent of alcohol, just the sweet citrus. The alcohol kick is just the typical one you can get from a hard seltzer.
Bud Light Lemonade Peach: Lemonade hard seltzers are popular in the US market. When combined with peach, you will get a sweet citrusy, subtle peach taste. The flavor is pleasant and unique, with an excellent level of carbonation. Those who prefer a strong and distinct flavor may pick something other than peach and lemonade. However, it is an ideal drink for people who like canned beer.
Frequently Asked Questions – Bud Light Seltzer Iced Tea
Does Bud Light Seltzer Iced Tea have alcohol in it?
Each Bud Light Seltzer Iced Tea variety pack flavor contains 5.0% alcohol. This is moderate for hard seltzers. However, it would be best to drink cautiously because too much of the drink is not considered healthy.
Is Bud Light Seltzer Iced Tea carbonated?
This drink has natural carbonation and good quality ingredients, which give it a more refreshing taste. They are light and bubbly and made with real cane sugar and natural fruit flavor.
Are Bud Light seltzers good for you?
Like other alcohol, hard seltzers are not suitable for the body. However, taking it occasionally is helpful since it is low in calories, alcohol, and carbs.
Also Read: Cutwater Tequila Lime Margarita Review
Cheers!
Bud Light Seltzer Iced Tea is a flavored hard seltzer ideal for a summer party. It is friendly to the palate and nose, with little alcohol that gives a mild kick. This drink comes in a variety pack of four unique flavors. Try it, and you won't regret it.