Whether you are a seasoned drinker or you just entered the world of tequila newly, you will be glad to taste Cabrito Reposado Tequila. It is one of the best and most affordable tequila, offering tremendous value for your money.
Made from 100% agave, this spirit is produced in the highlands of Jalisco, Mexico. Mexicans were used to producing this drink in small quantities and selling them to their immediate environment.
In this Cabrito Reposado Tequila review, we would look at why this Cabrito Reposado Tequila makes them happy as a people and individually.
Let's get started!
Value for Price

Mixability

Sippability
⇒ Fun Facts ⇐
| Name: | Cabrito Reposado Tequila |
| --- | --- |
| Brand: | Cabrito Reposado Tequila |
| Country: | Mexico |
| Spirit Style: | Reposado |
| Spirit Type: | Tequila |
| ABV: | 40% |
Brand History
Mexcor, a beverage and spirit company based in Houston, Texas, imports and distributes Cabrito Reposado Tequila. It is home to over 2000 brands with a sales network covering at least 50 states. The aim is to meet consumer demand for tequila, as there has been an increase in recent years.
Since 1989, Mexcor International has recently extended its wings to over 4,900 brands from more than 80 with new brands. They have over 100 suppliers in this regard and have covered their supply network through warehouses in Florida, Texas, Louisiana, and California.
However, this sophisticated tequila is crafted by Centinela Distillery, one of the first distilleries in the highlands of Jalisco, as far back as the 1800s. They produce more than a million cases of tequila annually. But it is Mexican family-owned and operated by the Hernandez Family.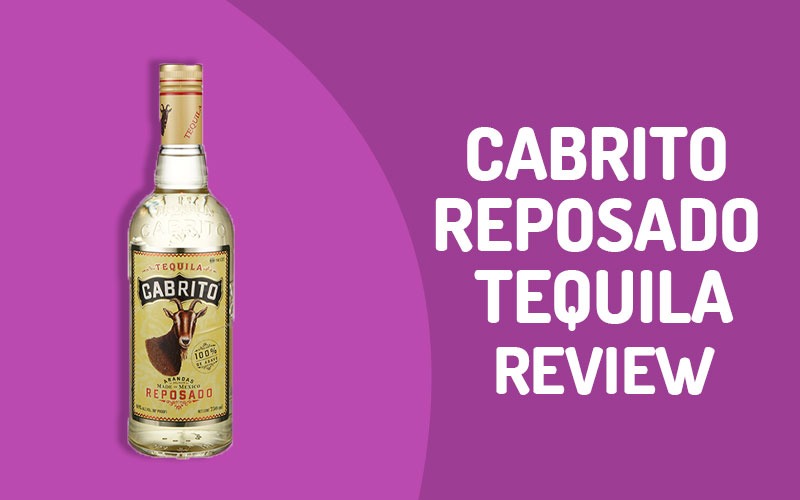 Cabrito Reposado Tequila Review
This tequila is created from 100% agave plants in the Los Altos highlands of Jalisco. It exhibits a robust fruity citrus flavor with hints of hot pepper towards the end. There is a lot to talk about this tequila; let's dive in:
Category: Reposado tequila is aged in American or French oak barrels for twelve months. It has smooth flavor notes of vanilla, oak, and caramel as the leading flavors. It can be savored neat, on the rocks, or in cocktails.
Process: Aged in old American oak barrels, Cabrito Reposado Tequila is smooth and alluring tequila with exciting flavor. It takes six months to cover the production process. This is because it uses the traditional technique of slow-cooking the piñas of agave plants in brick ovens and shredding with a roller mill to extract the juice. Then, it is naturally fermented in stainless steel tanks before aging it.
Appearance: This tequila is packaged in a 750 medium-tall long-necked bottle. The bottle's label pictures a goat, a logo for the brand name 'cabrito.' It is a Spanish word for goat kids. The long neck of the bottle makes pouring easier. It has a plastic-reinforced metallic screw cap closure, which is more convenient than the ones pressed on metal screw cap closures used on economy spirits.
In the glass, this tequila appears with a pale straw color. Small to medium-sized droplets form at the crest when you shake the glass a bit. However, the droplets fall back as slim legs.
Nose: The aroma of this drink includes agave-forward, with vegetal smells of baked squash and grilled pineapple. This is blended with toasted bread and butterscotch. After some time in the glass, peppery agave notes are represented by citrus zest, white pepper, and green peppers.
Taste: The mouth experiences a light butterscotch sweetness and agave with hints of vanilla and almond. A touch of peppery spices follows this. It is much smoother than you may think.
Finish: It is subtly sweeter towards the end, with vanilla, agave, and butterscotch leading. Bite or peppery spice settles in afterward, although there is no noticeable burn. This aftertaste lingers for a long.
Alcohol content: Cabrito Reposado Tequila is bottled at 40% ABV, which is within the average alcohol content of tequilas. This could easily knock off if you sip it in a hurry. So, take your time and take it at intervals.
Price: The suggested retail price of this spirit is around $20. However, depending on their location and standard, some retail shops may go higher or lower.
Also Read: WhistlePig 15 Year Straight Rye Review
Pros and Cons
Tequila Rested Cabrito is an incredible offering in a price range you cannot resist. It is one of the Mexican palate favorites; you will enjoy it, too. Below is what we think about it:
Pros
Cheap: This spirit is affordable. It is one of the cheapest in the market, offering more value for the price.
Versatile: You can use it to prepare different drinks and cocktails. It blends well into other drinks and adds a pleasant taste.
One of the best: Mexicans do not joke with this rested tequila because of its marked softness, sweetness, and agave notes, resulting from the time spent in the oak barrels.
Cons
Highly industrialized: Some people opine that Cabrito Reposado Tequila shows the presence of chemical odors. This could be so, judging from its remarkably low price. It is one of the cheapest tequilas you can purchase.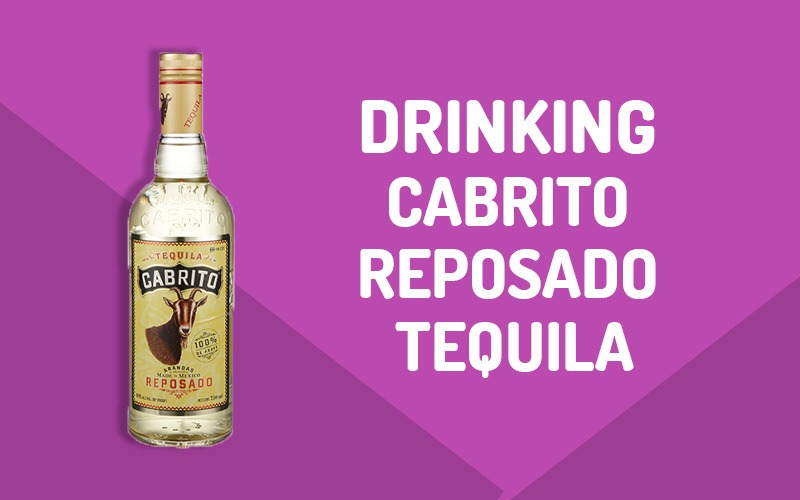 How Best is Cabrito Reposado Tequila Served?
Drinking this rested tequila on the rocks or in cocktails is best. Either way, you will enjoy your drink.
On the rocks: If you enjoy a bit of roughness in your drink, we suggest you drink it on the rocks. Place some ice cubes in a glass and pour this tequila over it. Stir the mixture and sip. It is easy to sip and goes down smoothly.
Cocktail: You can make it into classic cocktails like margaritas or picadors. Due to its low price, you can make it into your choice cocktail. The tequila must not be expensive before it can mix well into cocktails. However, ensure the ingredients are fresh. Below is how to make a picador with it:
Picador is a lemon-based cocktail with Cabrito Reposado Tequila, Bols Triple Sec, freshly squeezed lemon juice, and ice. Add the ingredients to a metal shaker with ice and shake until they are properly mixed. Strain the mixture into a glass and garnish with a lemon slice (optional).
Perfect Pairings with Cabrito Reposado Tequila
Deciding which delicacy is the best for your favorite tequila can be challenging. It becomes even more daunting if everything on the menu looks appetizing. Never mind, we have helped you to figure out what is best for your drink. We highly recommend the following options for your Tequila Rested Cabrito:
Nachos: If you want party food for this tequila, look no further than nachos. Its saltiness is an excellent complement to the sweetness of this drink, especially when blended into a cocktail.
White meat: dishes with white meat and citrus-based sauce, like chicken fajitas, fish tacos, and pork enchiladas, are attractive options for tequila reposado. You will enjoy the blend because the flavor combination is nicely distributed on the palate.
Ceviche: This lovely seafood dish is prepared with scallops, fish, and shrimp. It is served with a tangy sauce from lime juice and cilantro. When paired with this spirit, it easily blends with the agave flavor on the palate.
Popular Related Drinks
There is no competition for Cabrito regarding price because of the value it provides at an affordable rate. But that does not mean you cannot seek another drink of the same value point. You can opt for El Tequileño Reposado or Cimarron Reposado for a few more dollars. They offer a better-refined taste and can compete with some of the best-rested tequilas.
Cimarron Reposado: It is produced at Tequila Distillery by master distiller Enrique Fonseca. It is a blend of 80% tequila distilled from a double-column still and 20% distilled from pot stills. Then, the liquid is rested for six months in American white oak before bottling. Its barrel influence did not take over the vegetal agave character but complements its complex notes of caramel, cinnamon, pepper, licorice, and a hint of vanilla. Cimarron Reposado is distilled dry to allow it to mix well in cocktails. It is best to sip slowly to enjoy the flavor.
El Tequileño Reposado: This rested tequila is aged for three months in American oak barrels after distilling in copper pot stills with mineral-rich water from El Volcan de Tequila. It has a complex, yet balanced taste and nose, with sweet notes of vanilla, light oak, cooked agave, caramel, and tropical fruit on the lead. Besides, El Tequileño Reposado is bottled at 40% alcohol by volume.
Frequently Asked Questions ­­- Cabrito Reposado Tequila
Is it Cabrito Reposado good Tequila?
It is one of the best tequilas in its price category. You will hardly find cheap tequila that offers the same value as it does. Besides, it does not leave a hangover as long as you drink it moderately. Its versatility in mixing with other drinks makes it stand out among its equals. We recommend buying it if you are considering it.
Who makes Cabrito Tequila?
Cabrito Reposado and its Blanco version are created by the Centinela Distillery, a Mexican-based company owned by the Hernandez family. It also manufactures Centinela Tequila, another award-winning tequila.
Also Read: Salt of the Earth Moscato Rubino Wine Review
Cheers!
Cabrito Reposado is a great bargain when you want cheap tequila with good quality. It is flat-out cheap and offers good taste and aroma with a medium-length finish. You can balance the flavor with good dishes. When they say do not judge a book by its cover, this tequila provides a good picture, judging by the price against quality. So, if you plan to stock your bar with this little goat, go ahead, and you won't regret it.