In the hot and humid San Joaquin Valley of California, the lush grapevines grow with heavy sugars hanging on the fruits, these are put to good use to create amazing drinks. Salt of the Earth Moscato Rubino Wine is one of those drinks.
Moscato grapes are cultivated in diverse soil residues of a large inland sea. The long summers with a temperature of 95 degrees help the fruits reach full maturity before the fall harvest.
This article features a Salt of the Earth Moscato Rubino Wine review, and we will be bringing to the table all there is to know about this wine.
Let's get started!
Value for Price

Mixability

Sippability
⇒ Fun Facts ⇐
| Name: | Salt of the Earth Moscato Rubino Wine |
| --- | --- |
| Brand: | Salt of the Earth |
| Country: | California |
| Spirit Style: | Muscat/Moscato |
| Spirit Type: | White Wine |
| ABV: | 7.5% |
Brand History
Behind the creation of Salt of the Earth is a group of people who have put their best to ensure only award-winning wine make it out there.
This has been going on for 30 years. They use their skills the produce unique drinks that underline the down-to-earth character of California.
They discovered that the climate of the valleys was ideal for cultivating excellent Muscat, vermouth, and port. They have made names by coming out with daring and new ideas that keep projecting Quady Winery to the world.
Besides, in 2011, Salt of the Earth was formed as an allegiance between its visionary owners Andrew and Laurel Quady, expert winemaker Michael Blaylock, and veteran Moscato growers Denis and Teri Prosperi. They aimed to develop an unparallel Moscato with the best value. Salt of the Earth is made in Madera, California, home of sweet wine specialists.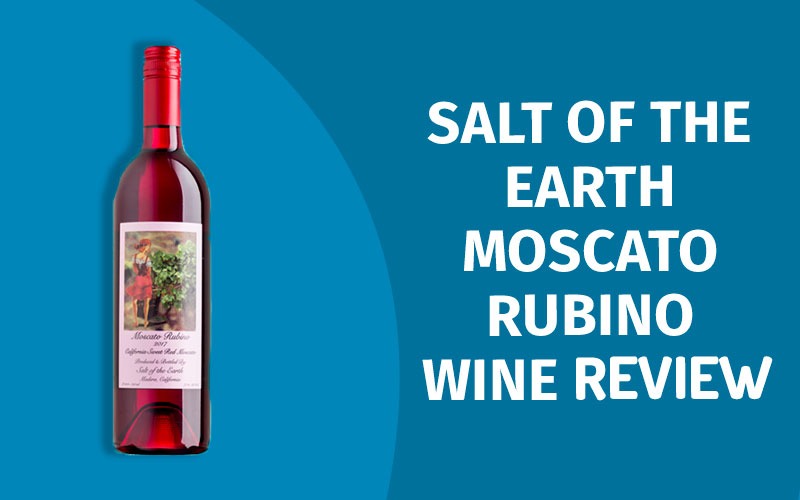 Salt of the Earth Moscato Rubino Wine Review
Because it is uniquely made, Salt of the Earth Moscato Rubino Wine tastes differently. The makers use only premium-quality Moscato grape varietals that are meticulously handled to make the wine. That is why fans of Moscato Rubino can go my length to find this drink and other products of the company. If you are about to buy or drink one and need to know the taste profile, we have broken it down below:
Taste: Ripe black cherry and raspberry flavor notes hit right on the palate. It is followed by a sweet and tangy citrusy marmalade, which tends towards a spicy finish.
Nose: Whiffs of ripe black cherry and raspberry hit the nose once you open the bottle.
Finish: The fruity and citrusy notes are balanced with fruit acidity to finish clean.
Grape varietals: Orange Muscat, Muscat Canelli, and Black Muscat
Alcohol: Per serving of this drink contains 7.5% alcohol by volume (ABV).
Check Out: Smirnoff Pink Lemonade Vodka Review
Pros & Cons
The benefits of drinking Moscato wine cannot be overemphasized. However, drinking it in moderation is vital, as the high sugar and alcohol in it may cause a problem for the body. If you are looking for reasons to take a sip of Moscato Rubino Wine, here are some:
Excellent taste profile: Moscato Rubino has a great taste profile, pleasing to the nose and palate. Most people still love it regardless of the sweetness.
Perfect for summer: With its fruity and refreshing taste, this wine is ideal for hot weather. It is thirst-quenching and cooling, which can help beat the heat if chilled.
Suitable for social gatherings and parties: This Salt of the Earth Moscato is an excellent choice for small groups of friends and family. The unique flavor profile sells it off as a great conversation starter.
Suitable for health: The health benefits of this drink can be obtained from its antioxidants from the grapes and low alcohol content. Ensure to drink in moderation to enjoy all the benefits it offers.
How Salt of the Earth Moscato Rubino Wine is Best Served
To derive the best pleasure from this wine, you should serve it in a way that best suits your taste buds. However, it is best enjoyed chilled. Doing so softens the sweetness of its fruits to bring out the flavor complexities. Don't feel bad if it is too cold, as it is better to serve it that way than too warm.
Perfect Pairings
The secret to combining wine and food is to give balance. Moscato Rubino Wine is sweet and will ideally go with food with opposite flavor profiles – bitter, spicy, sour, salty, etc. It is best with appetizers, desserts, fruits, brunch dishes, or alone as an aperitif. Here are some of the options to go with this Californian red wine:
Spicy food: The low alcohol content and sweet profile of Moscato Rubino Wine suppresses the fiery flames of spicy food. Wines with higher alcohol content may intensify the spiciness of the food instead. Habanero-spiked chicken wings, Indian curries, Thai and Mexican dishes, or anything that tingles the mouth falls under this category.
Cured meats: Their high saltiness makes them ideal for pairing with this excellent wine. Salami and prosciutto are good examples.
Nuts and seeds: The salty-sweet profile of this food category makes it perfect with Moscato wines. Try it with almonds or peanuts and savor the flavor that hits the spot.
Crudités: Have you imagined what a platter with crunchy vegetables like celery, carrots, radishes, and cucumbers will do to your taste palates when you pair it with Moscato Rubino Wine? It is something worth trying.
Solid or soft cheeses: It would be a match made in heaven when you combine Californian red wine with cheeses. The soft cheeses can stand up to Moscato Rubino's bright fruit flavor without suppressing it. Strong cheeses, on the other hand, bring their saltiness to the balance and the flavor.
Popular Related Drinks
Quady Winery has eclectic wines to its brand, which are primarily Moscato. There is nothing wrong with trying some of them and comparing the effect on the taste buds. There are also good products from diverse producers, which will refresh your taste buds if you pick them. Moreover, they are excellent and can seamlessly substitute for Salt of the Earth Moscato Rubino Wine. Here are some of them:
Flore de Moscato: This drink is made with summer in mind. The main ingredients in the manufacturing are Orange Muscat and Muscat Canelli grapes. The juices are fermented in steel tanks and chilled to preserve sugar and natural spritz.
In addition, Salt of the Earth Flore de Moscato is uniquely refreshing and can pair with cheeses, fruits, barbecued fish and beef, and other spicy and savory food. If you want a great addition to your small party, Flore promises a terrific companion. Remember, the drink entices the palate with a cool stream of peaches and citrus. It is bright medium color with a fruity and grassy aroma that finishes quickly with fruit tannins and no oak.
Mirassou California Moscato: Another summer captured in a bottle is this product from Mirassou Winery. It has rejuvenating flavors of melon, peach, honeysuckle, and tangerine. To make this wine, the grapes were harvested at night, skinned, and juiced to ensure a smooth flavor profile. Stainless steel tanks were used for the fermentation by floating, centrifuging, and racking. The production process is simple, yet the flavors create a complex mouthfeel
Terra d'Ore California Moscato: Upon hitting the taste buds, you will experience inviting notes of honeysuckle, white peach, lemon zest, banana, and a hint of anise. Terra d'Ore Moscato is pleasingly viscose on the palate and finishes with enticing acidity.
The grapes are destemmed, crushed in stainless steel tanks, and left overnight before pressing. This helps the grape remain with its skin for a long time to derive a more robust flavor. After pressing the grapes, 70% of the juice is inoculated with yeasts, while the remaining is unfermented and kept at a low temperature. They combine to produce a pale, sweet, delicious wine with low alcohol content.
Frequently Asked Questions – Salt of the Earth Moscato Rubino Wine
Can Salt of the Earth Moscato Rubino Wine be suitable for small gatherings?
If the occasion requires a sweet red wine with low alcohol content and strong fruity and floral flavors, you can trust this Californian Rubino Wine. It is ideal for sharing with your friends and family when you gather for laughter and fun.
What is red Moscato Wine?
A glass of Moscato wine is healthy when taken moderately. It comes in different varieties – red, pink, sparkling, desert, etc. Red Moscato, also identified as black Muscat, is a sweet wine with raspberry, black cherry, and strawberry notes. It is made by blending different Muscat grapes with zinfandel or syrah.
Check Out: Hatozaki Small Batch Japanese Whisky Review
Cheers!
Salt of the Earth Moscato Rubino Wine has proven to be a great option if you want a nice and smooth wine. It is ideal for your evening relaxation and provides excellent benefits. The taste and flavor profile will make you find every reason always to take a sip.