If you are a Scottish whisky fan and have yet to taste any of Chivas Regal, you are missing something unique. This is an opportunity to share in the fun of this world's first luxury whisky by getting on board this Chivas Regal 25 YR review.
The origin of whisky can be traced back to Scotland, where Scotch whisky was popular. The Scottish are known to protect their unique creation, which is why they have international protection of the term 'Scotch.'
It is traditionally created from barley and pure water from the country. It needs a cool, damp atmosphere to mature, which contributes to its bold, robust, and fiery nature.
This article looks at why Chivas Regal is celebrated not only in Scotland but globally.
Let's get sipping!
Value for Price

Mixability

Sippability
⇒ Fun Facts ⇐
| Name: | Chivas Regal 25 Yr |
| --- | --- |
| Brand: | Chivas |
| Country: | Scotland |
| Spirit Type: | Scotch |
| Spirit Style: | Blended Scotch |
| ABV: | 40% |
Brand History
Chivas Brothers can be traced to 1801 when they first started a grocery shop. They dealt in luxury groups and hardly would a grocer blend and sell their own whisky. This singular act made them popular because they were good at it.
Soon, their popularity attracted Queen Victoria's attention, and in 1846, they were offered a Royal Warrant. Thus, they could use the Royal coat of arms on their bottling as a seal of approval. Today, their range of dram is one of the best worldwide.
In addition, this 25-year-old dram dates back to 1909 when it was first released. It is not surprising that the company keeps producing it. It could also be called a legendary whisky, having seen two World Wars and outlived Prohibition. It is a symbol of Scotch's success.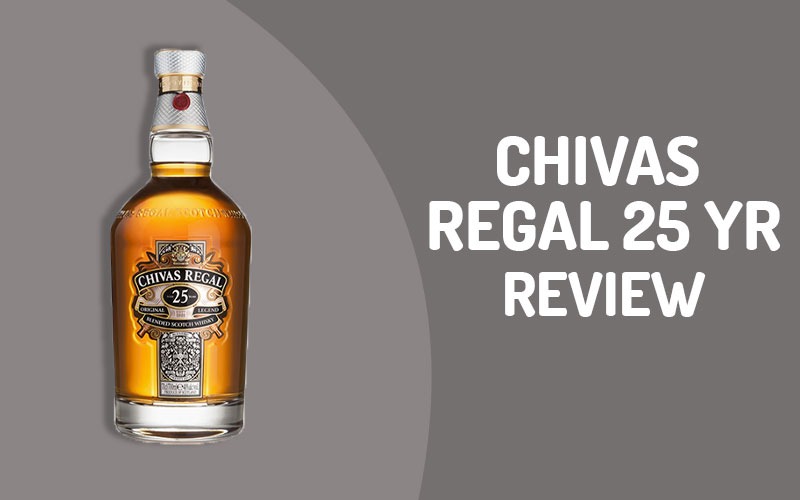 Chivas Regal 25 YR Review
Every drop of this Scotch whisky is carefully combined to portray the intensities and textures of the original Chivas Regal 25 years in 1901. Here is all you need to know about this legendary whisky, and you should add it to your bar:
Category: Scotch whisky is a malt or grain whisky produced in Scotland. They are aged at least three years. however, most distilleries go as far as ten years and more. Chivas Regal is a Scotch whisky and has years of proven track records.
Note: This regal Scotch whisky leads with fruity notes of peach, caramel, and sweet orange, followed by marzipan, toasted walnuts, hazelnuts, and almonds.
Taste: Hints of chocolate orange with fondant creaminess, toasted oak, and warm spices are noticeable on the palate.
Finish: This luxurious whisky finishes with a lingering smoothness and balance.
Alcohol content: It contains 40% ABV (80 proof), within the average alcohol expectations of this spirit category.
Nutritional value: Chivas Regal 25 yr contains 66 calories, 9.6 alcohols, no fat, no saturates, no carbs, and no proteins per 30 ml.
Price: Each 750 ml bottle is sold at around $300, depending on the store. Some people get it as low as $260. However, it would be best if you were careful not to buy an adulterated one in trying to save some money.
Also Read: Crown Royal Vanilla Review (Is it Good?)
Pros and Cons
You should have a heads-up regarding this spirit before purchasing it. Undoubtedly, it is one of the best things in the spirit industry. However, knowing the reason for committing your money is considerable. Below are its pros and cons:
Pros
Meticulously crafted: Each batch of Chivas Regal is created from scratch in the bending room. The company assembles barrel samples from each stock in their Scottish warehouses and crafts the blend in small quantities. The next stage is to evaluate and nose their individual quality before blending them. This is how the brand arrives at the rich final blend that entices your nose and taste buds.
Well-balanced: The nuts, caramel, and fruity notes give it a significant depth on the nose, while the palate adds a full body. The mouthfeel is not left, adding its rich and creamy flavor. The finish also wraps it up with its oaky taste that leaves you feeling great.
Luxury drink: When buying this piece of work, you are buying the content and the luxury surrounding it. As a celebrity drink, it gives prestige to bringing out a bottle and uncorking it for your friends and guests. So, when spending money, don't look at the cost, but the effect on your personality.
Cons
A bit on the higher side: Although some people may see it as their money is well-spent when considering the efforts and work that went into the production and aging of Chivas Regal 25 years. But that does not take away the fact that it could be hard to remove around $300 to buy a bottle of drink. It is hard to recommend it at this price, but it is worth checking out for your next party.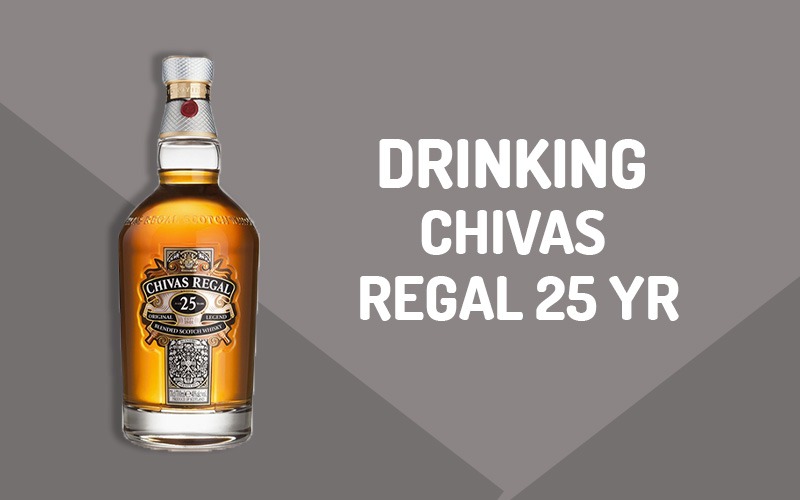 How Is Chivas Regal 25 Yr Best Served?
This legendary whisky is served neat, with a drop of water, or on the rocks.
Neat: To drink it neat only requires a little input. Pour it into a glass and sip. It is suitable for sipping and does not give any bite or burn.
On the rocks: If you like feeling some rocks in your glass while sipping this historical drink, put some ice blocks in it and pour this drink over it.
With a drop of water: If you want it to open up with more flavor notes, add one or more drops of water and sip.
Perfect Pairings with Chivas Regal 25 Yr
What kind of food do you serve at a Scotch whisky party? First, you must consider that this drink has a complex, yet balanced taste. That means you must be careful in selecting food that would not overwhelm or embitter it. We have researched this area and developed simple food ideas that won't break the bank. Try pairing the following with your Chivas Regal 25:
Cheese: Softer cheeses like brie will blend well with this cheese because of its luxurious taste. Try it with sharp cheddar, havarti, gouda, and Swiss cheeses.
Chocolate: Dark chocolates have a thing with Scotch whiskies. The more cocoa on the chocolate, the better they will blend.
Fruit: Peers or apples combine well with whisky, and Chivas Regal 25, in extension. However, avoid citrus fruits like oranges so they don't mask the flavor of this drink.
Pork ribs: Savory food will not just blend with this spirit in your mouth; it goes down to the stomach to soak it up. Consider an oven-slow-roasted rack of pork spareribs. Smoking the meat could add overwhelming flavors you may not like.
Popular Related Drinks
We want to introduce you to other luxury drinks from Chivas brothers, and we hope you will enjoy them if you are looking for perfect alternatives. Some of them are below:
Chivas Regal 50-Year-Old: To celebrate their 50th anniversary, the Chival brothers aged a 50-year drink with limited production. It was produced in 1968 and bottled in 2018. It has a high should bottle, is handcrafted, and is decorated with a bespoke metal plaque. This plaque preserves the victory of 1968 on the bottle's crest. The case is in blue leather, encased in a green leather travel case.
Chivas Regal 12-Year-Old: This is packaged in a 50 ml bottle at 80 proof. It is referred to as 'the blend for grown-ups.' You can go for this option when looking for a polished whisky with honey, herbs, and fruit-forward. At around $20, it represents an excellent value for your money.
Chivas Regal 18 Yr: This uniquely complex Scotch whisky is a blend of single malt. Each sip offers a new experience with hints of butter, dark chocolate, and toffee on the nose. The palate is medium-bodied with dark chocolate, sweet, mellow sweetness, and floral notes. It has a hot, long, and well-balanced finish.
Frequently Asked Questions – Chivas Regal 25 Yr
What does Chivas Regal 25 taste like?
It has hints of chocolate orange with fondant creaminess, toasted oak, and warm spices noticeable on the palate.
Is Chivas Regal 25 single malt?
It is a blend of grain and a high-level single malt whisky, aged 25 years.
Is Chivas Regal a good whiskey?
Chivas Regal is one of the best whisky blends out there. It produces luxury whiskies with unique flavors.
What percentage of alcohol is in Chivas Regal 25?
Chivas Regal 25 is bottled at 40% ABV and remains the world's first luxury drink.
Also Read: Don Julio Ultima Reserva Extra Anejo Review
Cheers!
Chivas has done an incredible job with this finest whisky. With this excellent bottle, Chivas Regal 25 is one of the best the brand boasts. Its rich character and smoothness are one of the reasons not to drop it back from the shelf. Although it is on the high side, that is expected of a celebrity drink. You are not only buying the bottle and content but prestige and status.