Are you looking to buy Don Julio Ultima Reserva Extra Anejo?
The devotion of the founder, Don Julio Gonzalez, to the land of his birth and his passion for caring for his agave plants, gave birth to Don Julio Ultima Reserva Extra Anejo. He chose to create and age the liquids above the usual tequila-making standards.
Although he passed away in 2012, his spirit lives on, and you can find that in this recent limited edition of his tequila. However, the Don Julio family planted their last agave plant in 2006 in Jalisco, Mexico.
In the land of tequila, Tequila Don Julio stands out and we would see why in this Don Julio Ultima Reserva Extra Anejo review.
Let's get started!
Value for Price

Mixability

Sippability
⇒ Fun Facts ⇐
| Name: | Don Julio Ultima Reserva Extra Anejo |
| --- | --- |
| Brand: | Don Julio |
| Country: | Mexico |
| Spirit Style: | Extra Anejo |
| Spirit Type: | Tequila |
| ABV: | 40% |
| Released: | 2021 - Present |
Brand History
First established in 1942, Tequila Don Julio is a brand to reckon with. It was among the first Mexican establishments to focus on creating delicious tequilas, following strict guidelines. The history behind making this unique tequila batch makes holding it an honor.
The company employs only the best caliber of fully matured and ripened blue agave plants. It produces Tequila Don Julio Blanco, Tequila Don Julio Reposado, Tequila Don Julio Anejo, Tequila Don Julio Ultima Reserva, and many more. Through his line of products, Don Julio rebranded the tequila industry, setting a standard for ultra-premium tequila.
In addition, the Don Julio Tequila products are marketed and distributed by Diageo North America, a global leader in beverage alcohol. It also has a collection of other top brands, including Crown Royal, Johnnie Walker, Captain Morgan, Smirnoff, etc.
Their products are sold in over 180 countries. Besides, Diageo is listed on the New York Stock Exchange and the London Stock Exchange.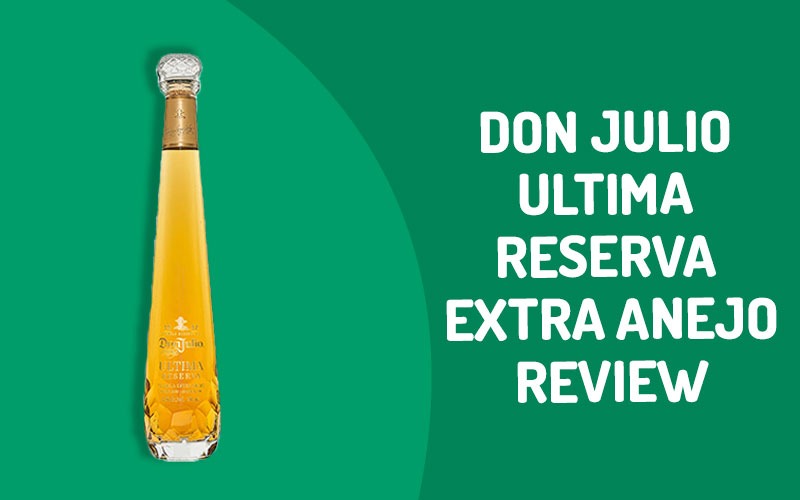 Don Julio Ultima Reserva Extra Anejo Review
This is an exceptional 36-month-aged tequila created to preserve Don Julio Gonzalez's ultimate legacy. Thus, Don and his family planted the final agave plant that gave birth to this batch was planted in 2006.
Four thousand Don Julio Ultima Reserva Extra Anejo cases were released to this effect. Nevertheless, limited quantities of this superior bottling will be released each year until the end of the final agave plant is reached. It means anyone getting this batch is fortunate enough since it won't last long. The company released its second batch in 2022.
To know more about Don Julio Ultima Reserva Extra Anejo, we explained the flavor profile below:
Nose: This tequila fills the nose with whiffs of toasted oak and caramel. This oaky note does not highlight the palate.
Taste: On the palate, hints of apricot and orange are noticed. The flavor is rich and fruity, with a bittersweet taste from the fruits. The tail also has a smoky note that balances well.
Finish: This drink provides a velvety, honeyed agave, which lingers at the end.
Appearance: The bottle is carefully designed with piña-inspired designs, from the etched cap to the multi-faced base. The golden spirit draws attention easily with its oak-inspired and caramel nose and hints of orange and apricot taste, which finishes smoothly.
Aging: The Solera aging system was used to preserve this drink after distilling and barreling the liquid. This system combines and matures different characteristics of tequilas, which are finished in unique Madeira wine-seasoned casks. The tequila is then allowed to remain there for 36 months. The outcome is this exquisite Extra Anejo Ultima Reserva, which harbors the heart of the agave plant.
Alcohol content: 40% ABV (80 proof)
Price: A 750 ml costs $500 per bottle.
Pros & Cons
If taken moderately, tequila greatly benefits health and general well-being. It can aid digestion, promote weight loss and skin health, lower sugar levels, and reduce bad cholesterol. Consider the following perks when taking your Don Julio Ultima Reserva Extra Anejo:
Perfect if you want complex flavors: This drink is good for sipping, taking the flavor profile to a new level. With its silky and rich vanilla and caramel flavors, you will enjoy the lingering finish in the background.
Less sugar: Compared to similar liquors, tequila has less sugar and calories. This makes it a healthier option if you want to drink alcohol. However, if you choose to mix it with other ingredients for a cocktail, you must consider their makeup to understand what you are consuming. Cocktails are high in sugar content and may have other alcohol.
Gluten-free: Don Julio Ultima Reserva Extra Anejo is gluten-free and the best option for celiac patients. This is because it is made from agave plants rather than wheat.
Mood elevation: Tequila is said to be an upper, not a downer, although there are no studies around the notion. Holding a glass of this Mexican pride can never keep you depressed.
Numb pain: Don Julio Ultima Reserva Tequila dilates the blood vessels when it enters your system. This helps to transport blood easily to all body parts and reduces pain.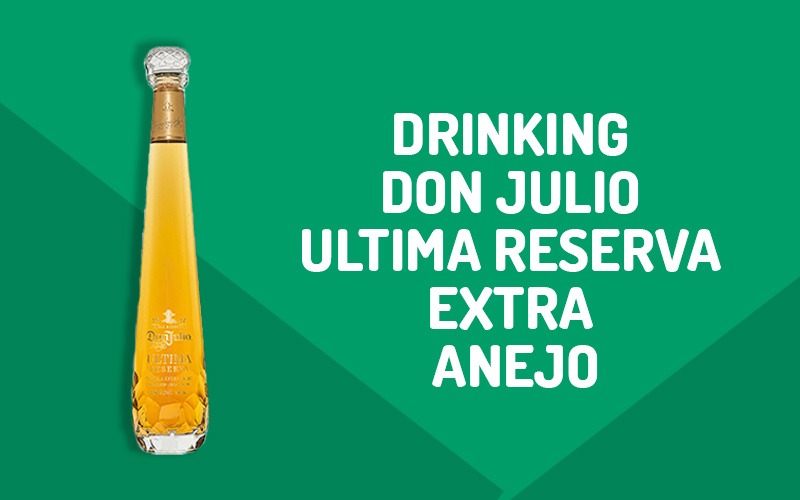 How is Don Julio Ultima Reserva Extra Anejo best served?
This fine tequila is great on the palate whether you drink it neat or on the rocks.
Neat: You can pour it into the glass and sip it at intervals. This makes you appreciate the flavors Don Julio brought to your taste buds.
On the rocks: Pouring it over ice cubes and enjoying each sip is a great option. Let the ice cubes be large and avoid dilution, as well. If you don't want it this way, chill the glass in the fridge before sipping. Don't forget that water reduces the quality of this drink.
Do not mix this Extra Anejo into a margarita or any cocktail. It is not suitable for such an affair. If you want to make a margarita, we suggest you go for the Blanco version of Don Julio.
In addition, this latest version of Don Julio is easy to sip. It is not harsh; neither does it give alcohol burn or a bad bite. In simpler terms, it goes down well.
Also Read: Jenni Rivera Tequila Blanco Review
Perfect Pairing
Tequila has more complex, vanilla, and woodsy notes as it ages. This drink is also smoother and warmer than the white versions that did not stay long in the barrel.
Hence, you must pair them with great foods to balance well in the mouth. Like Mexican food with sauces, dishes with more robust flavors make perfect combinations. Beef cuts with high content of fat are good to go. Here are some examples:
Fried chicken: Hot and crispy fried chickens give extra anejo, a perfect blend as if they were made for each other. You may add a rock to the glass and sip the Mexican pride and joy with each bite of the meat.
Bacon, banana, and peanut butter sandwiches: The sweetness of the peanut butter and banana with the salty and meaty bacon strips pair well with this drink's caramel, vanilla, and smooth finish. You can drink it neat to get the best of the complex flavor combination.
Apples: All kinds of tequila can pair well with apples because their tartness revives and balances the agave in this drink.
Smoked beef cheek: The sweetness of the barrel used in aging Don Julio Ultima Reserva Extra Anejo goes well with meats. Try it with smoked beef cheeks.
Banana: It is like banana and tequila come from the same mother. You can play around with the duo and enjoy the versions of sweetness they each bring.
Popular Related Drinks
Aside from the Don Julio Ultima Reserva, there are other products from this award-winning brand. They include the Blanco, Reposado, or Anejo in different forms. Here are a few of them:
Don Julio Blanco Tequila: This is Don Julio Tequila in its truest form. It is the base upon which all the other tequila variants are derived. Due to its color, it is typically referred to as silver tequila and is unaged at 40% ABV. The agave flavor is crisp with hints of citrus and fruits and a slight menthol finish. Besides, it can be taken neat, on the rocks, or in cocktails, margaritas, and Palomas. It has no harshness, so you will take your time to relish the flavors. You can pair it with lime juice and a little salt.
Don Julio Reposado Tequila: Aged for eight months in ex-bourbon casks, this tequila variant is golden amber with a rich and smooth finish. It makes a good blend in a cocktail, although you can drink it on the rocks. Don Julio Reposado is more agave-forward and bottled at 40% ABV. The agave plants are sourced from the highlands of Los Altos in Jalisco, Mexico. Moreover, it contains the grassiness and earthiness you may look forward to. Thus, you may not like it if you have a sweet tooth.
Don Julio Double Cask Tequila Lagavulin Aged: This spirit is a variation of Reposado Tequila produced by the company. It was created by Enrique de Colsa, a master distiller, together with Lagavulin Distillery manager Colin Gordon. It is finished in casks containing Lagavulin Islay Single Malt Scotch whiskey for two weeks, giving it a peaty and smoky outcome. Like other variants of Don Julio Tequila, this double cask is rich and smooth.
Frequently Asked Questions – Don Julio Ultima Reserva Extra Anejo
Are there other spirits made from agave plants?
Aside from tequila, which is protected and created using the same formula, the agave plant can produce mezcal. The mezcals are made with less than 51% blue agave plant, which is not up to a standard. Hence, the remaining percentage includes sugar and additives.
Is Don Julio Ultima Reserva good?
It is premium tequila from a 100% blue agave plant. This drink will always make it to the list of the best tequilas to go for. The taste notes are complex and rich, making it a competitive spirit.
What type of tequila is Ultima Reserva?
Don Julio Ultima Reserva is an Extra Anejo aged 36 months. To be an extra anejo, the tequila must spend at least three years in the casks.
Is Don Julio Tequila top-shelf?
It is a top-shelf tequila and among the most expensive out there. Each bottle is meticulously handcrafted from the heart of the blue agave. The essence is to ensure the quality stays at the top.
Also Read: Sam Houston 15 Year Old Bourbon Review
Cheers!
Don Julio Ultima Reserva Extra Anejo has come to stay, although it has a limited time. This is an excellent option if you want a version of tequila that is aged for a long. Besides, Don Julio brands are among the top in the market. So, go for your taste if you have the money.