Enjoy a deluxe and decadent holiday with the rich and delicious flavor of Ciroc Limited Edition Pomegranate Vodka. It is made with vodka from French grapes, which are distilled five times and finished in a customized copper pot to give a rich taste.
Ciroc is classified as an alcoholic beverage and was produced in France in 2003. However, a British-based multinational, Diageo, is responsible for its distribution. This newest Limited Edition is a flavor that fans can relate to, having known what to expect from France.
Here, we will be doing a Ciroc Limited Edition Pomegranate Vodka review, bringing to the table all there is to know about this drink.
Let's get started!
Value for Price

Mixability

Sippability
Quick Facts
| Name: | Ciroc Limited Edition Pomegranate Vodka |
| --- | --- |
| Brand: | Ciroc |
| Country: | France |
| Spirit Style: | Flavored Vodka, Pomegranate |
| Spirit Type: | Vodka |
| ABV: | 35% |
| Released: | 2021-Present |
| Price: | $25 |
Brand History
Ciroc has made a name for itself with this luxurious and inventive drink. Ciroc Limited Edition Pomegranate Vodka is a powerhouse alliance between Diageo and Sean Diddy Combs.
Sean Diddy is a rap artist and entrepreneur known by many for his first profession, but not the second. He has been the brain behind the marketing and promotion of the drink since 2007. The venture has been smooth since both personalities must split the profit equally.
As expected, Ciroc Limited Edition Pomegranate Vodka is a sweet and aromatic mix of ripe pomegranate flavors. They are made with the same smooth, ultra-premium vodka base with a complex and unique flavor. The brand has other family members, which include vodka, flavored products with a base of vodka, and brandy.
The venture is a multi-million-dollar partnership, reflecting Ciroc's commitment to innovative and award-winning flavors. Both sides of the partnership have been doing excellently well in the sales of all of Ciroc's products, including the Limited Edition. Undoubtedly, the deal will advance the brand's reputation, leading to more sales and public acceptance.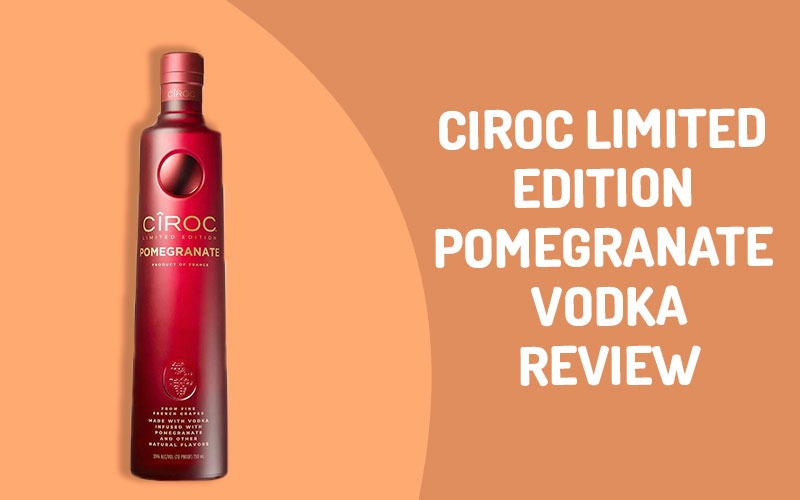 Ciroc Limited Edition Pomegranate Vodka Review
Drinking this favorite drink is the perfect way to begin or end beautifully. However, before then, let us consider what made it stand out among its peers.
Process: While most vodkas are products of grains, Ciroc Vodka, and its products are made with the finest French grapes. After harvesting the grapes, they are made into wine. It did not stop at that; the wine is distilled four times to get a unique quality. At the fifth distillation, Ciroc Limited Edition Pomegranate Vodka is produced in a traditional, custom-made copper pot still. This process is inspired by over a century of winemaking skill at the historic Distillerie de Maison Villevert – Chevanceaux in the South of France. It is a family business that has existed for over 500 years.
Nose: A whiff of sweet and fruity pomegranate is what you will get once it passes through your nose. It is particularly soothing and inviting.
Flavor Notes (Taste): This particular Ciroc product hits the palate with hints of fresh strawberry, blending sweet and rich pomegranate notes.
Finish: Ciroc Limited Edition Pomegranate Vodka ends with a silky-smooth feel. It offers a fantastic alternative to many of the healthy drink options out there.
Taste Summary: Ciroc masterfully blended pomegranate and other natural flavors to produce this unique, delicious, silky-smooth drink. It offers tantalizing red berry notes and hints of fresh strawberry, all draped with rich and flavorful pomegranate explosions. Ciroc Limited Edition Pomegranate Vodka is worth picking up for a lavish fête this holiday.
Alcohol content: 35% ABV and 70 proof. This means Ciroc Limited Edition Pomegranate Vodka is considered strong liquor. The 35 percent alcohol by volume of vodka is considerably high, compared to that of beer or wine (which is below 15 percent).
As such, it is advised that anyone taking this drink must do so by exercising caution. Do not drink while driving or in a situation that can endanger lives. by adhering to instructions, you will avoid unsafe exposures.
A few shots can easily hit you within 30 minutes. Hence, you can sip it slowly so it does not hit you quickly.
Appearance: Ciroc Limited Edition Pomegranate Vodka is appealing, but the most stunning part of it is the striking red and gold bottle. You only need to sample it in your drink trolley during the festive season and admire the eye-catching pride before you. You will not want to remove it until the last drop is gulped down.
First Impression: You will get notes of succulent red berries and hints of fresh strawberries bursting with sweet and rich pomegranates. It is sweeter than other Ciroc-flavored vodkas. However, the sweetness helps to chill and easily serve it in a martini glass.
Price: The price of Ciroc Limited Edition Pomegranate can vary depending on location, personalities buying it, and and shop. However, you can get it at an average price of $31, excluding tax.
Also Read: El Padrino Blanco Tequila Review 
Should you Drink Ciroc Pomegranate Limited Edition?
There are diverse reasons people choose Ciroc Pomegranate Limited Edition Vodka. Here are some of them:
Holiday gift: It is a deluxe holiday gift for friends and family. Presenting one to yourself to celebrate your small wins is not a bad idea.
Health-conscious drinkers: Ciroc Pomegranate Limited Edition is a perfect option for those looking to limit their carb consumption. This is because the drink is low in carbohydrates and calories, with no fat or protein. So, it makes a healthier choice for health-conscious individuals who want to drink vodka.
Low sugar content: If you are unsure about the sugar level of Ciroc Pomegranate Limited Edition, it could make you skeptical about gulping it. However, the reality is that it contains no added sugar at all. Since it is distilled at a high temperature, it does not need any additives to preserve it. Hence, those looking for an alternative to low-sugar beverages can safely drink a shot of Ciroc Pomegranate Limited Edition.
Easy to drink: Whether you drink Ciroc Limited Edition Pomegranate Vodka on the rocks or mixed up in a cocktail, it goes down smoothly with any choice. Thanks to its fruity and refreshing flavor, you can enjoy it as a casual drinker or vodka enthusiast.
How is Ciroc Limited Edition Pomegranate Vodka Served?
Ciroc Limited Edition Pomegranate Vodka is a sippable drink that can be enjoyed neat or on the rocks. It can also be mixed up with other drinks and serve as a cocktail. If you opt to drink it neat, you may add a few ice cubes to make it more sippable and fun.
Cocktail: Ciroc Limited Edition Pomegranate Vodka is excellent for a delectable cocktail. All you need to do is to mix 50 ml Ciroc Pomegranate with 150 ml cranberry juice and garnish with a lime wedge. The outcome is the signature Pomegranate 'Passion' cocktail.
If you want to go all out and try something spectacular, you can create a Soda Spritz with your Limited Edition. Mix 150 ml soda water and 50 ml Ciroc Pomegranate, and garnish it with a spray of rosemary and pomegranate seed.
Another way is to make a 'Jewel' out of your Ciroc Pomegranate Limited Edition. It only requires you to add grenadine, a twist of lemon, and 100 ml sparkling wine to 50 ml Ciroc Pomegranate.
Perfect Pairings for Ciroc Limited Edition Pomegranate Vodka
Ciroc Pomegranate Limited Edition is vodka-based liquor with sweet and fruity flavors that perfectly mix with other ingredients. Whether you want to pair it with simple meals like salad or more complex seafood, you will find something to soothe your thirst. So, grab a glass and explore any of these possibilities:
Baked ricotta: some people think ricotta or good cheese goes with wine alone, but that is not true. With perfect creamy baked ricotta, Ciroc Pomegranate Limited Edition covers your taste bud with its fruity taste. It is better to relax in the evening and enjoy this meal and a glass of this drink for a more exquisite outcome.
Pickles: Interestingly, pickles are low on calories, so you don't have an excuse to say no. Get it skewered with some Limited Edition and have a refreshing combination of salt with this smooth drink. Don't forget that moderation is vital because salt and alcohol could combine to drain water from your body, leading to dehydration. For a more enjoyable meal, add veggies to the pickles.
Sashimi: If you love Asian dishes, you will love sashimi, and pairing it with Ciroc Pomegranate is excellent. In bars, vodka and sashimi or sushi is a popular combinations. Combining the raw fish with the freshness of this drink gives you a spectacular taste you will love. Besides, both flavors do not overpower each other. Make it the next option for your dream dinner.
Caviar Sweet Toasted Bread Triangles: Although caviar may be pricey, you can indulge it occasionally. Add some toasted bread triangles to make the rich flavor a little crunchy. Your dinner will be splendid with Ciroc Pomegranate Limited Edition and the combination hitting the palate.
Smoked fish: It does not matter if it is smoked salmon or any other fish; Ciroc Pomegranate Limited Edition will make a great pair. The smoky flavor of the fish will offer a lovely aromatic feel in your mouth once it mixes with the drink. The feeling is indescribable!
Popular Related Drinks
Ciroc Ultra-Premium Vodka: It is a distinctively flavored drink with a fresh and citrus tang. The drink is gluten-free and distilled from superior French grapes. Ciroc Ultra-Premium Vodka was named among the World's Best-Selling Vodkas at the 2020 International awards.
Absolut Vodka: This vodka version is a smooth blend with citrus-infused flavors. Even though it is fruity, Absolut has several spices and herbs, making it an excellent option for those looking for a more complex beverage.
Ciroc Pineapple and Peach flavors: the Pineapple flavor is created using a blend of fresh pineapple and white grape. This gives a smooth and sweet flavor with vanilla hints. Similarly, the Peach version is meticulously infused with a distinctive mix of peach and other natural flavors, giving a succulent taste with orchard fruit hints.
All of the flavors above are tasty and refreshing. Hence, you can choose any option and still get the same value, depending on your mood and availability. Their prices are also within the Ciroc Limited Edition Pomegranate range, making them perfect options for a healthy and lovely drink.
Frequently Asked Questions – Ciroc Limited Edition Pomegranate Vodka
Is Ciroc Pomegranate Limited Edition sweet and healthy?
Ciroc Pomegranate Limited Edition is an exclusive drink with a delicious flavor that gives the palate a sweet and tart taste. With this taste, the liquor is an excellent option for those who love something light and fruity.
Similarly, a 1.5-ounce Ciroc Pomegranate Limited Edition shot contains 124 calories for 100-proof vodka and 85 calories for 70-proof vodka. That is to say, the liquor is healthy, and you can indulge in it without worrying about your health. Anyone looking for a guilt-free drink can add it to their home bar. Remember to drink responsibly.
What is the age limit to drink Ciroc Limited Edition Pomegranate Vodka?
The legal age to drink alcohol in some countries is 18 or 21. Ensure to know what is obtainable in your country and adhere strictly to it.
Is Ciroc Limited Edition Pomegranate vegan-friendly?
Since it is made from fruits and natural ingredients, it is particularly okay for vegans. It is also a healthy drink; you should not be skeptical about taking a glass.
What is the primary ingredient for Ciroc Pomegranate Limited Edition Vodka?
Ciroc Vodka is created from fine French grapes distilled five times to produce the exclusive drink. The majority of other vodka drinks are made from grains.
Also Read: Hornitos Reposado Tequila Review 
Cheers!
Ciroc Limited Edition Pomegranate Vodka is an exceptional drink from the finest ingredients. It serves a good purpose for those looking for something nice to drink or gift to friends and family.
You can always grab a bottle from the bar and enjoy a beautiful time alone or celebrate with loved ones. The flavor is quite relatable.