Made in remembrance of Jenni Rivera, whom her fans knew as 'La Diva de la Banda' or The Diva of Banda Music, Jenni Rivera Tequila Blanco captures its essence.
Jenni Rivera Tequila Blanco is a drink that has many raving about it, it is one of many that stand out in the world of Tequila.
The history of tequila is traced back to Mexico. Due to the climate and soil strength, the agave plant, the primary ingredient for producing the drink, is densely grown there.
For ages, Mexicans discovered the strength of the agave plant and took advantage of it in making the tequila spirit.
In this article, we will be doing a Jenni Rivera Tequila Blanco review, bringing to the table all there is to know about this drink.
Lets get started!
Value for Price

Mixability

Sippability
Quick Facts
| Name: | Jenni Rivera Tequila Blanco |
| --- | --- |
| Brand: | Jenni Rivera |
| Country: | Mexico |
| Spirit Style: | Blanco/Silver |
| Spirit Type: | Tequila |
| ABV: | 40% |
Brand History
Tequila is one drink that may take a little time to be acclimatized with your palate, and once you get the 'memo,' there would be no going back. One of those finest spirits is the new rave of the moment, Jenni Rivera La Gran Senora Tequila.
This tequila was created by the famous Mexican-American singer and songwriter Jenni Rivera. She was a Mexican music legend whose life was caught short recently through a plane crash.
Jenni Rivera Tequila was one of her final projects, which included the Blanco, Reposado, and Anejo versions. The idea was to compete with the dons of tequila and even go beyond them, as the theme of her music suggested.
In 2009, Rivera started working on her tequila by collaborating with 3 Crowns Distributors. They planned, tested, and adopted tequila between 2009 and 2012. In September 2013, the tequila was released as Tequila La Gran Senora, and in 2014, the brand won Best in Class for its Blanco and Reposado versions.
On the other hand, the Anejo version won the Tequila Anejo Gold award, a position that Don Julio had maintained for a long time.
Her tequila line is undoubtedly superb, with complex flavors and a velvety feel. Those with more refined tequila palates will always relate to this drink. Besides, it is an example of well-thought-out and meticulous branding against some celebrity-endorsed spirits.
It is a sad reality that Rivera passed away too quickly. However, knowing her great legacy live up to expectations keeps the hope alive. The Jenni Rivera Tequila Blanco and the other versions would make a great gift for tequila fans. Popping a bottle this weekend is one way to renew the fun.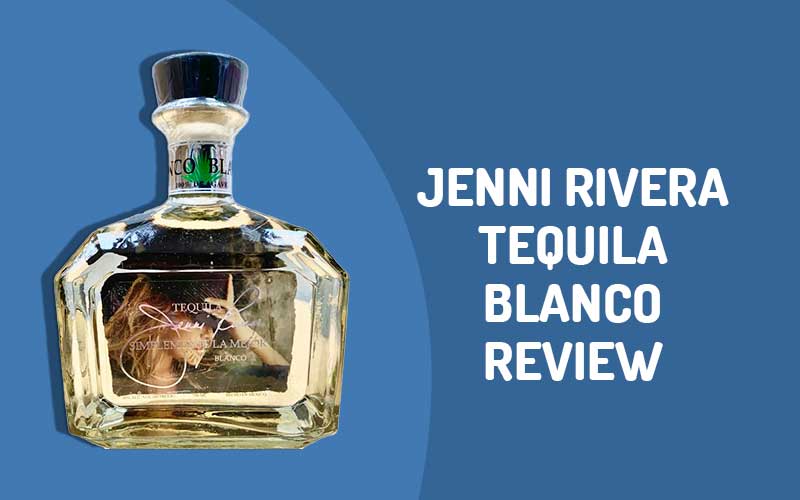 Jenni Rivera Tequila Blanco Review
This drink was created using traditional manufacturing techniques. The company obtained the best agave species from the highlands and lowlands of Jalisco, Mexico. Then, they combine the baking conventional oven process covered in stone masonry and autoclaves. Besides, this Blanco tequila is distilled twice to proof.
Jenni Rivera Tequila Blanco is a silky blend of the agave plant, vanilla, and chocolate wood flavor. It is best served in an ice-filled glass and a lime wedge, although you can drink it neat. Consider the tasting notes below before going ahead to pay for it.
Palate: The taste is smooth, fruity, and herbal balanced. You will notice hints of fruit and citrus as you keep sipping it. Also, the drink is full-bodied, offering a good mouthfeel.
Nose: The aroma contains a note of brown sugar, which most Blanco tequilas do not possess. This comes with a trace of cooked agave and nail polish.
Finish: This drink lingers towards the end, with a touch of black pepper in the background and a burn.
Alcohol content: Jenni Rivera Tequila Blanco contains 40% ABV (80 proof), the average tequila alcohol content. The alcohol in the drink is on the high side, meaning you should be meticulous while taking it. Besides, it is made from 100% blue agave plant, which makes it contain healthy sugar and is classed as real tequila. This is why alcohol may not easily knock you down.
Price: This drink costs an average of $38, which is fair compared to other tequila in the same category. However, for smaller stores, the price may be lower than this, the same way, bigger shops may add extra dollars to its prices. Hence, whenever you want to buy Jenni Rivera Tequila Blanco, you must consider the location.
Should you Drink Jenni Rivera Tequila Blanco?
If taken in moderation, this tequila can offer different bodily benefits. It promotes skin health and weight loss and aids a healthy body. The presence of agave in the drink will nourish your body while you enjoy a great moment with your favorite drink.
Ensure to drink within the daily or weekly recommendation limit. Here is what you will derive from taking a good shot of Jenni Rivera Tequila Blanco:
Helps to lose weight: The agave in tequila has some weight-loss components. They do not store their calories in the body, unlike other alcohol sugars. Rather, they help in dissolving fats and stimulating the metabolism.
Helps with digestion: By stimulating your metabolism, this tequila helps bowel movement. It is good to take a shot of tequila before or after meals to aid digestion.
Contains prebiotics and probiotics: Probiotics are healthy bacteria naturally found in the intestines. Their job is to maintain a healthy balance and immune system. Prebiotics, also located in tequila, help prebiotics to function well.
Reduces the risks of dementia: Studies show that there is a connection between moderate tequila drinkers and the chances of dementia. It also shows that people who drink too much alcohol have a higher chance of dementia. Hence, moderation remains the key.
Hardly gives a hangover: As high-quality tequila, Jenni Rivera Tequila Blanco does not give a hangover. Hangovers are not caused by alcohol, but the sugars in them do so. They dehydrate the individual and make them feel like a mess. Since tequilas contain healthy natural sugars, they will likely not affect you negatively. So, if you want to take some sips, you will enjoy a great time.
Taking liquors in moderation provides health benefits to the body, but when taken in excess, you may invite sickness and other negatives. For women, moderate consumption is around one per day. Men should take at most two for a positive effect, as well.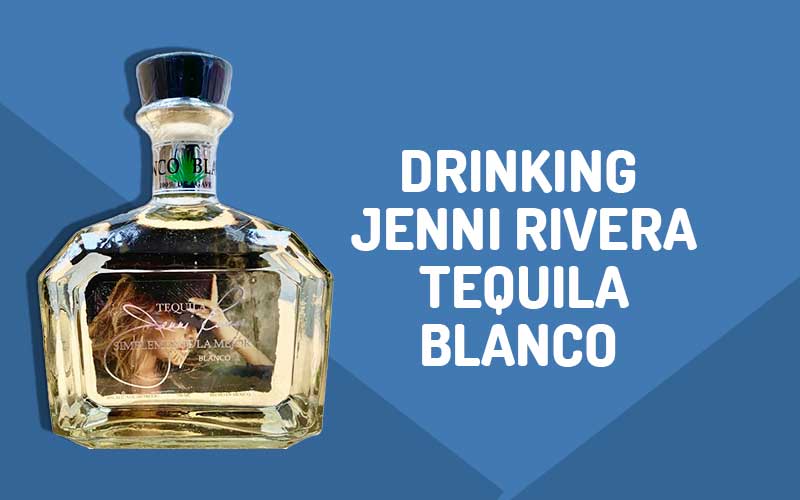 How to serve Jenni Rivera Tequila Blanco
This tequila is the most common type and is loved because of its lightness, drinkability, and use in most shots, cocktails, and margaritas. However, if you choose to sip it neat, you will still enjoy the taste since it is of great quality. But tequila Blanco is not typically good for drinking neat because of its burns. Another way to enjoy it is by pouring it over ice cubes and drinking it on the rocks.
In addition, tequila is not usually a drink that occurs to one during or after a meal. It will most likely be brandies, whiskies, or other alcohol. However, if you want to aid digestion or have a relaxed sleep, you can serve it during or after dinner.
Also Read: Hornitos Reposado Tequila Review
Perfect Pairings for Jenni Rivera Tequila Blanco
If you love Jenni Rivera Tequila Blanco and enjoy pairing your favorite dishes with alcohol, we will expose you to more food options you never knew could work wonders. So, prepare to move from the world of tacos and margaritas to discover other possibilities. As high-class tequila, you can pair this drink with the following food options:
Fish or chicken tacos: pair your favorite taco dish with Jenni Rivera Tequila Blanco and relish the delicious blend. It symbolizes a combination of a light meal with white tequila; anyone who has done so has a positive review. Hence, this tequila cannot blend with steaks or pork because of the meats' heavier savor.
Ceviche and sushi: These dishes are a great pair with Blanco tequila because of the light and airy features of the drink. You can also try seafood, like oysters and shrimp, or sashimi to get the same influence on the taste buds.
Grilled food: Whether chicken, fish or any other barbecued food, Jenni Rivera Tequila Blanco will make a perfect blend. They deliciously go well and release some happy feelings at the end.
Vegan or vegetarian dishes: Since veggies pair well with this Blanco tequila's lighter and smoother flavors, vegetarians and vegans can combine it with their food.
In addition, if you mix Jenni Rivera Tequila Blanco into cocktails, you can choose food with flavors like those other ingredients. If you do, the Blanco taste will not overshadow your drink. Instead, it will mingle and add flavor.
Popular Related Drinks
Aside from Jenni Rivera Tequila Blanco, the company produces the Reposado and Anejo versions, which are also great if you want more aged tequila. Find out more about them below:
Jenni Rivera Tequila Anejo: Bottled at 40% ABV, this spirit is of premium quality. It is one of the finest and most sophisticated Mexican drinks. The amber color, combined with hazelnut, chocolate, wood, and vanilla notes, makes it a great anejo. It is also aged between one to three years in American oak barrels. Enjoy sipping it neat, on the rocks, or in a cocktail.
Jenni Rivera Tequila Reposado: This Mexican celebrity tequila is rich and complexly flavored. The aroma is chocolate, toasted wood, and hazelnut, with a deep, complex, and rich finish. Besides, Jenni Rivera Tequila Reposado is perfect for sipping neat or on the rocks. This one is an excellent choice if you want more robust tequila.
Frequently Asked Questions – Jenni Rivera Tequila Blanco
Is Jenni Rivera Tequila Blanco good?
Undoubtedly, this tequila is much better than expected. It is something you wouldn't resist if you wanted a nice drink. Besides, if you are a fan of Jenni Rivera, you may fix something for yourself from the shelf while listening to Por Que No Le Calas. Similarly, the price is reasonable for the value you get.
Who makes Jenni Rivera Tequila?
Casa Maestri crafts the drink and is located in Jalisco, Mexico. The company also creates other celebrity tequilas, including Elon Musk's Tesla Tequila and Michael Jordan's Cincoro. But the one calling the shots at Casa Maestri is Celia Maestri, one of the few women in a traditionally male-dominated business.
How is it best to drink Jenni Rivera Tequila Blanco?
This tequila is versatile and so can be taken in several ways. However, it is warm and gives a little burn. You can add some ice or chill it a bit to make it more approachable. Add only a few ice cubes to avoid watering it down, which may affect the quality.
Jenni Rivera Tequila Blanco is also suitable for mixed drinks, as it works well in cocktails and margaritas. Try it with mixed pineapple juice, Paloma, or Cantaritos, popular in Mexico.
Finally, it is suitable for shots if you don't mind a good burn while washing down. Since it contains 100% blue agave, you will surely not experience a hangover.
Does Jenni Rivera Tequila Blanco expire?
Tequila made from 100% blue agave does not go rancid for years if stored at the appropriate temperature and not opened. Once opened, ensure to finish it pretty soon, as oxidation and evaporation could affect it. Again, always store it at room temperature and away from direct sunlight.
Does Jenni Rivera Tequila Blanco freeze?
The alcohol content of Jenni Rivera Tequila will not permit it to freeze. However, you can still keep it in the freezer if you wish to.
Also Read: Sauza Tres Generaciones Anejo Tequila Review
Cheers!
Jenni Rivera Tequila Blanco is an attractive option for tequila lovers. It is an award-winning drink with a significant market share based on its value. Since it is made from 100% blue agave, you will surely not experience a hangover after taking it.
Besides, it contains only a little sugar, carbohydrates, and calories, making it an excellent option for those on keto. So, grab a bottle from the liquor store to create a memorable weekend.