The origin of tequila is one with many stories surrounding it. However, you cannot talk about it without mentioning Mexico. This drink is sourced from the heart of the agave plants, which are solely planted in this country.
Today, many US-based companies and others all over the country collaborate with Mexicans in producing and marketing this unique drink.
This Gran Coramino Cristalino Tequila review looks at everything to know about Gran Coramino Cristalino Tequila and why it is the perfect drink for your Mexican cuisine.
Let's begin!
Value for Price

Mixability

Sippability
⇒ Fun Facts ⇐
| Name: | Gran Coramino Cristalino Tequila |
| --- | --- |
| Brand: | Gran Coramino |
| Country: | Mexico |
| Spirit Style: | Cristalino |
| Spirit Type: | Tequila |
| ABV: | 40% |
| Released: | 2022- Present |
Brand History
Gran Coramino is the collaboration of two personalities to create an award-winning drink. Juan Domingo Beckmann, an 11th-generation tequila maker with years of experience, collaborates with Kevin Hart, an American artiste, to craft this lovely tequila. They gave their passion and attention to every bottle, from the beautiful decanter design to the delectable fluid. They have two tequila categories: Anejo and Cristalino.
Although this is another spirit brand with a celeb name, the producers have given it their all to ensure the Gran Coramino brand keeps ringing bell. Aged in Eastern European oak barrels, their drinks promise the best.
In addition, Gran Coramino's liquors are produced by Proximo Spirits, a private alcoholic beverage company located in New Jersey. It was established by the Beckmann family in 2007, who also operate the popular Jose Cuervo tequila brand. The Cristalino category was created over ten years ago and has competed with top tequila brands.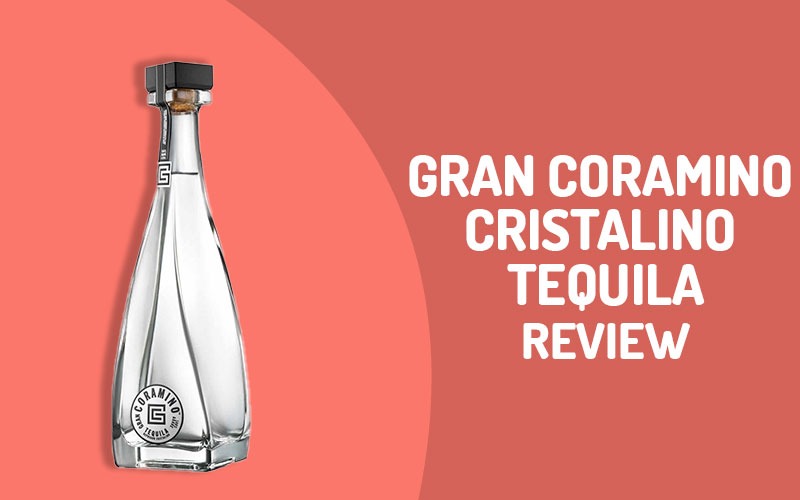 Gran Coramino Cristalino Tequila Review
Process: the company plants and harvests the blue agave in Tequila Valley. They are cooked in traditional brick ovens before distilling in copper pot stills. Next, the liquid is aged in Eastern European oak barrels and finished in California Cabernet wine casks. Finally, it is carefully filtered for smoothness and flawlessness.
Category: cristalino tequila is among the newest forms, although it has recently saturated the market. It is produced using an aged reposado or anejo and filtering out the colors, leaving crystal clear and exceptionally smooth cristalino tequila. However, the source of this Gran Coramino Cristalino is reposado.
Appearance: The liquid is crystal clear with platinum shades. The bottle is a stretched rectangular form with a square base and flat walls that twists as it slims upward. It is capped with a wooden and cork stopper. The label is a tiny sticker that does nothing much to obstruct your view of the liquid.
Nose: With aromas of oak, cooked agave, caramel, black pepper, and ripened stone fruits, this cristalino tequila infiltrates the nose with inviting fragrance.
Taste: the palate opens with vanilla bean, dark berries, light spices, and toffee.
Finish: The finish is laced with oak, lingering, and balanced until it fades.
Alcohol content: Typically, tequilas are bottled at 40% ABV, and this cristalino is not an exception.
Price: This tequila sells at $50 per bottle, which is higher. But since it is produced with the influence of a celebrity, the price is not surprising.
Also Read: Corzo Silver Tequila Review
Pros and Cons
This tequila has been one of the most talked about since its debut entrance into the market. Although a lot went into the marketing, and the presence of Kevin Hart could have influenced the fans, having a personalized experience is essential. Consider the following observations from us:
Pros
Decanter: The brand put so much effort into designing the bottle. From the body to the capping and labeling, everything looks impressive. The level of transparency on the label gives the spirit another level of clarity.
Mr. Hart's influence: the press release specifically mentioned that this spirit was produced to appeal to Kevin Hart's fans. This idea became one of the most significant factors in easily getting it off the shelves. Probably, if not for this influence, this tequila would have been just another addition to the plethora of unmemorable tequilas.
Cons
Awkward to pour: even though the effort put into place in designing the bottle is much, the square shape of the top makes it difficult to pour. Hence, you may apply some care in doing so.
Price: There is nothing special about this spirit; it is another release on the market. The price is high for no reason other than it is produced to entice a celebrity's fans. It means that an average person may be unable to afford it, even though some of his fans are still these average people. So, you mostly pay for the bottle and celebrity influence since it is just another Cristalino tequila out there.
Filtration: the concept of Cristalino tequila is a welcoming idea. However, certain things refuse to fall into place. For instance, the filtration makes it wonderfully clear, but it is obvious some of the aging notes were lost in the process.
How Best Is Gran Coramino Cristalino Tequila Served?
There are many ways to get this delicious drink down your throat. And your choice is acceptable whether you drink it neat, on ice, or in cocktails.
Neat: even though this tequila has lost its colors to the filtration process, its aromas and taste made it through. The nose is healthy, and it moves down smoothly if you choose to drink it neat.
On ice: despite the addition of some ice, the barrel-aged components of this tequila still linger in the glass. These flavors lend their characters and depth to this spirit's quality, making it nearly impossible for the ice to water down the most potent flavors.
In cocktails: this tequila makes a great companion when blended with other drinks. However, you may have to be careful not to let the other flavors override this since the filtration process may have affected its subtle flavors.
Overall, the best way to sip Gran Coramino Cristalino Tequila is by taking it neat.
Perfect Pairings for Gran Coramino Cristalino Tequila
There are certain food options to enjoy Cristalino tequila with friends or if you want alone time. If you are looking for excellent suggestions, we have the following for you:
Dark chocolate chip banana bread: The bread's heavier sweet flavor complements this drink well and does a better job if you slightly toast the bread.
Salt and vinegar popcorn: this could be the closest you would go to enjoying your tequila with salt the traditional way. The combination would make movie-night snacks with the salt enhancing this drink's notes.
Mango sorbet: the caramel notes of this Cristalino tequila hit the spot as they blend with the fruity flavors of the mango. Consider doing this during a mango season so you would get to eat to your satisfaction.
Tajin sweet potato fries: this food is found in virtually every bar. You can easily request it if you are staying out. The tahini flavor works well with this tequila's vanilla, caramel, and oak notes.
Popular Related Drinks
If you want an alternative to Gran Coramino Cristalino Tequila, there are numerous brands to select from. Some are good, while others are just another drink to decorate your shelf. This is where we come in – to help you choose the best for your party. Even though they may be pricey, the reward is priceless.
1800 Cristalino Anejo: it has a smooth aroma with hints of anise and vanilla. The taste opens with a robust cherry note, accompanied by subtle oak, vanilla, and a touch of black pepper. It leaves a short, sweet aftertaste and no burning sensation at the finish. Its export barrel aging offers an exceptional flavor, which lands it between traditional tequila and flavored vodka. However, it lacks the complexity and agave flavors of tequilas.
Volcan de Mi Tierra Cristalino Añejo: the aroma is marked by agave notes and hints of caramel and vanilla. On the palate, the texture is silky and gives a pleasant mouthfeel. The finish has no burning, as it makes its long and satisfying escape. It is an easy sip, so you will have fun at it. In addition, the blend is made of anejo tequila aged in ex-whiskey barrels and extra-anejo aged in ex-cognac casks. They are kept separately and washed in the barrels before blending.
Maestro Dobel Diamante: this is one of the best tequila brands you can trust. The taste and nose are pleasant, with lemongrass leading and agave, vanilla, and oak following. The mouthfeel is smooth and flavorful, leading to a rewarding experience. Besides, Maestro Dobel has paid the price, and it is well-rounded, striking a balance between the flavors.
Also Read: Barefoot Fruitscato Strawberry Wine Review
Frequently Asked Questions – Gran Coramino Cristalino Tequila
What does Gran Coramino Tequila taste like?
Gran Coramino Cristalino tastes excellent with vanilla bean, dark berries, light spices, and toffee. It can be enjoyed on its own or in cocktails.
How long is Gran Coramino Cristalino aged?
It is aged three to four months in Eastern European casks before it is in Napa Valley cabernet casks.
Does Gran Coramino have sugar?
Gran Coramino Cristalino Tequila does not have artificial sugar. Instead, the sugar is from blue agave plants.
Cheers!
Gran Coramino Cristalino Tequila is an excellent drink with celebrity status. It makes a great conversation starter and offers a class to your fun fair. The price may be high, but you won't regret going for it.