When looking for five to six-year-aged whisky for a grand celebration, you should not wink before selecting a bottle of Hatozaki Small Batch Japanese Whisky. It is worth the hype and promises to give your palate something to relish.
These days, you hardly come by Japanese whisky. So, it is exciting to discover a new product that hit the market, and here, you have your branded Hatozi Small Batch.
This article presents a Hatozaki Small Batch Japanese Whisky review, bringing to the table all there is to know about this drink.
Let's get started!.
Value for Price

Mixability

Sippability
Quick Facts
| Name: | Hatozaki Small Batch Japanese Whisky |
| --- | --- |
| Brand: | Hatozaki |
| Country: | Japan |
| Spirit Type: | Japanese Whisky |
| ABV: | 46% |
Brand History
Small Batch Japanese Whisky is produced by Kaikyo Distillery, whose story dates back to 2018. The distillery is owned and operated by Kimio Yonezawa, who established the business to symbolize Japanese hospitality. The drink was named after the oldest stone lighthouse in Japan, Hatozaki, which was built in 1657 in the port of Akashi.
In addition, the Yonezawa Family has been brewing since 1856 but started distillation in 1917. To celebrate their centenary of spirit production, the business decided to substitute with new copper twin pot stills produced by Forsyth's, a prominent Scottish company.
The pot stills are designed for manufacturing Japanese Single Malt Whisky and other spirits. The name is The Kaikyo Distillery, a derivative of the famous Akashi-Kaikyo Bridge that lies opposite the distillery.
Notably, the Hatozaki line is still in the early stage of production, with only a little information about its brand.
Hatozaki Small Batch Japanese Whisky Review
Created from a blend of five to six years of single malt, this drink is light in color and expressive in character. The whiskey is a great malt pick for highballs, which can be served with apple or citrus fruit garnishes. Check out the processing and flavor profile to see if you won't fall in love:
Process: Hatozaki Small Batch Japanese Whisky is a blend of 100% malt whiskies aged five to six years. The drink is in batches of 20 barrels or less and rested in a mix of sherry, bourbon, and Mizunara casks (Japanese white oak from the Hokkaido and Tohuku forests). The Mizunara oak makes the flavor spicy and smoky, though not in excess. It also distinguishes it from scotch or any American single malt. The whisky's character is preserved by not coloring or filtering the drink.
Nose: Small Batch has notes of lemon zest and melon. There are also traces of oak, overshadowed by the fruit elements.
Taste: When it hits the tongue, the first impression is a light and fruit-forward whisky. On the next swirl, you will pick other flavor nuances, with the fruit elements taking the front lead.
Finish: The fruit elements mingled with a touch of pepper and mild richness from the barrel gave it a final addition.
Appearance: The color is slightly pale yellow. It also has a slim leg in the glass.
Alcohol content: 46% ABV (92 proof). This shows that Hatozaki Small Batch contains a high-level alcohol. To avoid being knocked off, drinking it moderately and at intervals is suggested.
Price: The drink costs around $60 per 750 ml
Flavor summary: Hatozaki Small Batch Japanese Whisky has something more going on. The tasting experience is in-depth – more floral and sweet, possibly because of the barrel finish. The drink is full-bodied, offering an enticing experience. It is worth any price you pay.
Also Read: Terra Lager Beer Review (Is it Good?)
Should you Drink Hatozaki Small Batch of Japanese Whisky?
While it can pair with different foods of Japanese and non-Japanese, it offers various benefits to your health. Some of the reasons to take a glass today:
Defined by climate: Japan's climate, water, and altitude are favorable to the crops, which also affect the ingredients of whisky. The effect is a deep and smooth drink that features sweetness and fruitiness.
Prominence: Japanese whiskies are some of the most respected across the globe. Therefore, when you are drinking Hatozaki Small Batch, you drink whisky and class.
Japanese culture: The drink is bound by Japanese culture, which is laced with perfection. While you may argue that perfection is impossible, the quest to improve and perform better is in every Japanese producer. This could also affect the price.
Aged for years: You don't just drink Hatozaki Small Batch; you drink years of maturity. This makes the drink scarce in the market. The price is also high; only a few can usually afford it. If you come across them, ensure to try them.
Accessibility: A drop of water will open up the drink and helps you to gulp it easily. This is unlike some Scottish Islay whisky that knocks off so fast, which made fans drop it. Enjoy the fruitiness and sweetness of Hatozaki products.
Health advantages: This Japanese whisky offers a myriad of health benefits. It decreases the possibility of diabetes, increases memory and the immune system, enables blood circulation, etc.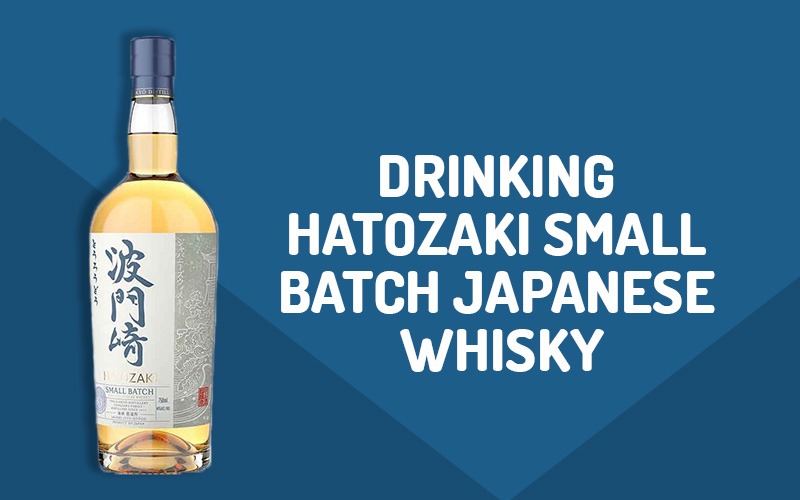 Drinking Hatozaki Small Batch Japanese Whisky
Here are some of the best ways to derive pleasure from drinking your Hatozaki Small Batch:
With water: When tasting a new drink, adding a few quantities of water is always advisable to open up its flavor profile. This makes you easily get acquainted with the flavor blend.
Highballs: Enjoy a Highball, and you won't regret it. Grab a chilled Highball glass, some ice cubes, and Small Batch, and top it with soda. Then, garnish with a mint sprig to enhance the aroma.
Neat: You may use the snifter glass to drink it neat to enjoy the aroma. If there is no snifter, use a wine glass and add water to open it up.
Perfect Pairings for Hatozaki Small Batch Japanese Whisky
If you have yet to pair whisky with a meal or snack, start with Hatozaki Small Batch. Pairing this whisky with your favorite food takes enjoyment to a different level. The primary goal is to bring out the hidden flavor of the drink while enjoying your food. Although Japanese whiskies can be a perfect blend for many dishes, not all flavors can accompany the drink.
Again, this whisky can be a stand-alone beverage, but pairing it with savory food leads to bursts of flavors. Are you wondering what to eat with Hatozaki Small Batch? Here are our top picks:
Meat: As a single-malt whisky, Hatozaki Small Batch is a flavorful and intense drink that can improve the taste of smoked or grilled meat. Try it with the ribeye or New York Strip steak. If you are on a budget, pairing it with meatloaf won't be wrong since it has fatty content. The rich flavor profile of the whisky works well with red meat flavors.
Cheese: Everyone is so used to wine and cheese that they forget that other drinks exist. We recommend hard blue cheese regarding what to eat with your Hatozaki Small Batch Japanese. Because the whisky has denser flavors, it can blend with sweet cheese. Gouda also makes a great combination since it shares the same smokiness with the drink.
Seafood: Hatozaki Small Batch perfectly matches smoked salmon and other seafood dishes. You may grill, smoke, or season your seafood before serving. You may also prefer to serve it as pasta sauce, like Lobster.
Desserts: Some desserts and cakes add whisky to their recipes. If Hatozaki is a base ingredient, it will pair well with the food. Dark, chill-flavored, or spiced chocolates complement the drink's intense flavor.
Japanese dishes: Combining whisky matured in oak casks can give expressions of Japanese gastronomies. The spicy notes of the dishes make an ideal blend with the sweet character, honey, and hints of spices in the drink.
Popular Related Drinks
Hatozaki thrills its fans with more than one flavor, making it a versatile brand. So, if your palate craves some unique whiskies blended in Kaikyo Distillery, you have the following options to go for:
Hatozaki Finest Japanese Whisky: This pale yellow drink, with several legs in the glass, is a fantastic product from the heart of Japan. The nose is soft fruit and pepper, with notes of honeydew and a hint of heat. Not a long finish, but the end has pepper. On the palate, Hatozaki Finest is bold, not the best for a light whisky. It has 40% alcohol and 80 proof, is aged 12 years, and a 750ml goes for around $40.
Hatozaki Blended Whisky: This drink was matured in diverse casks, including bourbon, sherry, and Mizunari oak. It has a complex character, with pears, caramel, and cherry blossom notes on the palate. The aroma comprises dried apricots, sandalwood, toasted spices, and sweet toasted malt. The finish is warm and lingering, with a surprisingly smoky finish.
Hatozaki Blended Whisky is something to share with friends. It opens up when served in Highballs or Highball cocktails. For entry-level drinkers, it is perfect since it is light and can be enjoyed neat or in cocktails.
Frequently Asked Questions – Hatozaki Small Batch Japanese Whisky
How are Hatozaki whiskies made?
Every one of the Hatozaki whiskies is created using a two-fold blending process. The master blend first chooses the foundational spirit blends. The whiskies will also be the carrier of the character and prevailing flavor of the final spirit. They blend quietly in the barrel while regular monitoring continues as they mature.
Second, the distiller takes a portion of each whisky (while the character and flavor keep blending in the barrel) and re-casks them with other whiskies to add depth, florality, and refinement to the final blend. After resting and harmonizing the blend, the whisky is bottled. The essence of this process is to allow for balance and complexity of the drink.
What is so special about Hatozaki Small Batch?
The drink provides sheds of complex flavors. Most of the ingredients are sourced from Japan, creating unique flavors.
How long is Hatozaki Small Batch aged?
A premium blend of this whisky is aged five to six years in imported bourbon, sherry, and Mizuna oak barrels. It is bottled at 46% alcohol.
Is Hatozaki Small Batch a real Japanese whisky?
The Small Batch combines whiskies distilled in Japan and imported from Scotland.
How do you describe Hatozaki Pure Malt?
Made with 100% malt whiskies, this drink is a fantastic one. It features spirits from bourbon, sherry, and Mizunari casks. While it is young, fresh-start, and solid, little is happening. Whiffs of light honey, fresh grapes, floss, lemon candy, and fresh grass pass through the nose. Hatozaki Pure Malt tastes light honey, light toffee, lemon ice cream, grapes, vanilla, and more. It gets a little drier at the finish with a hint of malt. It can also be called Small Batch.
Also Read: Taj Mahal Beer Review (Is it Good?) 
Cheers!
Hatozaki Small Batch Japanese whisky is not an ordinary drink to sip and let it slide down. It requires some rituals around it to celebrate its uniqueness. Aged five to six years, the drink is worth its price and is best enjoyed where happiness is found.
Grab a bottle from the shelf and have fun!.