Regarding premium beers globally, Terra Lager Beer stands tall among beer lovers. It is made with the finest malts and follows a well-detailed brewing process, which leaves you with a classic beer.
Terra Beer has become a household name in South Korea, where the drink originated. It stands out for being crisp and clean. Many beer lovers choose it for others, and you may be wondering why it is so.
In this article, we will do a Terra Lager Beer review, bringing to the table all there is to know about this beer.
Let's get started!
Value for Price

Mixability

Sippability
Quick Facts
| Name: | Terra Lager Beer |
| --- | --- |
| Brand: | Terra from AGM |
| Country: | South Korea |
| Beer Style: | Czech Pilsner |
| Beer Type: | Lager |
| ABV: | 4.5% |
| Released: | 2019-Present |
Brand History
Made by Hite Brewing Company, Terra is a European pale lager that has become one of the most sought-after beers in South Korea. In 2021, the country started distributing it in the United States and other countries. Since then, it has recorded tremendous success.
Terra Lager Beer has made a name for having a regular green bottle like Heineken. To make it attractive, the bottle is crafted with a tornado pattern. This has helped to push it out more into the market, attracting more fans.
In addition, Hite Brewing Company is a South Korean brewery focusing on beers, stouts, English bitters, and rice wine. It is among the breweries making waves in the country. Aside from Terra Lager Beer, the company specifies on producing American, European, and Schwarzbier-style beers. Some of their top beers include Max, Hite, Red Rock, Canita, and Terra.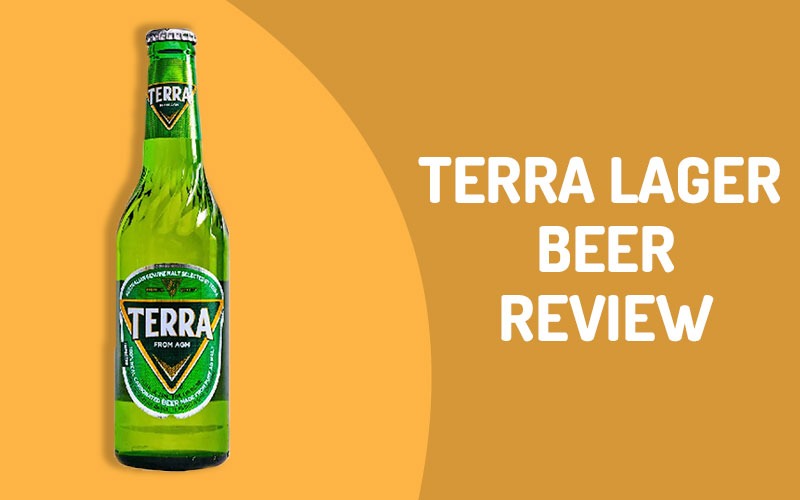 Terra Lager Beer Review
Terra is created from premium-quality, handpicked malts; the same is carbonated and fermented naturally. It is a European pale lager that pairs with diverse food options due to its brewing process. This light-bodied beer has a way of leaving you feeling fizzy and tingling after sipping from your glass.
The best way to serve Terra Lager Beer is when chilled because the coldness improves the flavor. You can garnish it with salt, a lime slice, or a little lime juice. It is ideal for the palate, and you can enjoy it anytime since it has a little alcohol content. All you need to know about this favorite drink is explained below:
Appearance: Terra Lager Beer opens to a clear golden color when poured into a glass. The clearness is proof that the drink was properly filtered. As the drink pours into the glass, you will see a sign of carbonation with floating bubbles on top.
Above the golden liquid is a froth that disappears quickly but enhances the aroma. To enjoy Terra better, drink it from a glass or mug instead of directly from the bottle.
Nose: The aroma of Terra Beer is crisp and light, just like other pale lager beers. The whiff is slightly sweet, which reminds you of a Japanese lager. A strong note of malty sweetness, combined with the corn smell, lingers in the background.
In addition, you will get hints of grains, cereals, and grassy notes emanating from the malt. You will hardly identify the scent of hop in the aroma. Another thing is, since the alcohol by volume is negligible, it will quench any form of booziness.
Mouthfeel: Terra Lager Beer is heavily effervescent, sending some tingling sensation to your taste bud. It also makes your mouth fizzy, but the cleanness and crispiness of the drink cleanse your palate of the fizziness.
Hence, the mouthfeel is light and refreshing, with traces of grassy notes and a slippery feel. But the beer is a bit watery, which is typical for a pale beer.
Taste: Terra Lager Beer has the usual flavor expected from a pale beer. It is simply crisp, light, and refreshing. The flavor could be more exciting, even though it is of high quality. The dominating taste is malt, with a slight hoppy bitterness, lacking in the nose. Moreover, the light malt flavor blends with corn to produce little sweetness as the drink hits the palate.
Price: The average cost for Terra Lager Beer in the US is $7. This may vary in other locations, depending on several factors. Hence, you may research the price in your locality before ordering it.
Alcohol content: 4.6%. This indicates that the alcohol by volume (ABV) of the drink is 4.6 percent, which is considered low. Therefore, it is a light beer, and perfect for health-conscious persons. As a low alcohol-content beer, Terra Lager is low in calorie, which is a good option for those targeting a lightweight.
A major setback of this kind of beer is that you need to take in so much before you can get the high-spirit mood. Nevertheless, sharing it with friends on a cool evening is a great way of having fun with it.
Serving temperature: 38 – 40 degrees Fahrenheit. This means that the drink is best served cold, rather than frozen.
Also Read: Jack Daniels Downhome Punch Review
Nutritional Facts
There are around 150 calories in Terra Lager Beer. It also has 1gm of fat, 2gms of protein, ad 13gms of carbohydrates. Hence, when calculating your daily diet, consider this. Due to its high carb content, the beer is unsuitable for those seeking to lose weight. It also contains gluten, so those who only eat gluten-free food should avoid it. Check the body for more information.
Should you drink Terra Lager Beer?
This light and refreshing beer are unique in the history of alcohol. It is a good recommendation for every beer lover due to several factors. Some of them include the following:
Refreshing taste: It is a light and refreshing beverage, perfect for the summer sun when chilled. It offers sweet grainy flavors with a slippery feel. The beer is easy to approach and hits the spot at each sip.
A perfect companion: Terra Beer is a great delight when you need something to keep you busy. Whether you desire to crack one bottle open while relaxing on the balcony or as you light up the BBQ pit, the beer is just right. The refreshing effect keeps you nodding at each sip.
Perfect food pair: Terra Lager Beer pairs well with appetizers, sandwiches, or desserts. The low alcohol content makes it easier for the drink to blend with any food without overshadowing its flavor.
Health benefit: When consumed in moderation, this beverage offers different health benefits, including lowering of sleep enhancement, stress reduction, prevention of kidney stones, minimization of blood pressure, enhanced heart health, and prevention of type 2 diabetes.
A drink for any occasion: Terra Lager Beer is an excellent option for special events and social gatherings. The unique flavors can help in starting conversations and clicking with strangers. Besides, beers release endorphins, which are responsible for elevating the mood.
Regardless of the reason for taking it, don't forget that moderation is vital.
How best to serve Terra Lager Beer
Terra is best taken when fresh if you want to savor the flavor. Try to consume it as soon as you open it. There is no need to store it for later use. Also, serve it in a glass and sip it slowly. Drinking it from the can may not offer the fun you desire.
Perfect Pairings for Terra Lager Beer
Terra Lager Beer blends with eclectic dishes because it is a palate cleanser. The clean and crisp flavor notes do not overshadow the food. From American classics to Italian dishes, the drink does not disappoint.
BBQ: Terra is a good combination with barbecues, especially fish, chicken, or pork. It also pairs with other food like burgers, tacos, pizzas, and sandwiches.
Italian cuisine: this pale beer also tastes excellent with Italian dishes, particularly the flavor-forward ones. Try it with pasta, sauce, salad, cheeses, or seafood combinations.
Japanese dishes: Asian cuisine pairs with most drinks due to their spicy nature. Since this beer offers a clean taste, it can accommodate virtually every flavor. Sushi rolls, sashimi, and other food options are plentiful. Mexican food also falls under this category due to its spiciness. You will enjoy every bit of it.
Popular Related Drinks
Aside from Terra Lager Beer, other drinks in the same category are fantastic to the palate. These drinks include the following:
Kloud: With an alcohol content of 5.0% and no-water fermentation, this drink stands out among the trending beers in South Korea. Lotte created it in 2014, which falls under the pilsner beer type. Kloud is fruity with a light body, very easy to drink, and can pair with snacks.
Cass: Another spectacular drink from Korea is Cass, introduced in 1994 and winning back-to-back awards as the best beer. It is an adjunct lager that boasts a current market share of 36%, dominating the local beer market. Cass has won the hearts of many by offering a crisp, refreshing, and lingering taste. Aside from being the best Korean beer, it is excellent for soju cocktails and pairs well with food.
Hite: Made by Hitejinro and famous for its extraordinary taste, this pale lager is one of the best. Hite Extra Cold contains only 4.3% alcohol and has a golden color. It is best drunk chilled with no solid or rich taste. Moreover, Hite is the Korean edition of Budweiser.
Frequently Asked Questions – Terra Lager Beer
How strong is Terra Lager Beer?
The beverage contains only 4.6 percent of alcohol, the same as most current lagers in the market. It is something you can quickly go for if you are at a restaurant.
Why is Terra beer popular?
Terra is the most popular beer in South Korea due to its uniqueness. It is clean and crisp to the palate, offering a refreshing finish. Aside from that, everyone loves it because of its minimal alcohol content of 4.6%. Plus, it competes with Heineken in the market due to its popularity. If you are unfamiliar with beer, try Terra Lager, and you will enjoy it.
Does Terra Lager Beer improve mood?
Studies reported that beers contain endorphins that are responsible for mood improvement. Hence, consuming a reasonable amount of Terra Beer offers the same benefit.
What are the ingredients for Terra Lager Beer?
Terra Lager is crafted with 100% pure Australian malt, handpicked for authenticity. It also contains 100% absolute carbonic acid, produced during fermentation. Besides, the beer has no artificially-added carbon; everything follows a natural process. The prominent ingredients in making Terra Beer include malt, hops, and cornstarch. The drink's malt and corn flavors are more pronounced, giving a malty sweetness and corn taste. In the same way, the hop provides a hoppy bitterness you get in the background. Other active ingredients include zinc sulfate, phosphoric acid, calcium sulfate, pure water, and others.
Also Read: Maestro Dobel Diamante Review
Cheers!
Terra Lager Beer is light-bodied, with 4.6% alcohol by volume. It will easily appeal to any beer lover's palate, as it provides an excellent equilibrium between sweetness and bitterness.
If you desire a sip of Terra, you may find it at great prices in liquor stores around you or online.